10 years ago cars with Cd players were the trend. They were standard and available in most cars. Despite their popularity, technology changed and Cd players are no longer the talk of the town.
Vehicles manufactured today don't come with Cd players. They come with newer and better song playing options.
For example, the Android Autoplay and Apple CarPlay. These systems allow you to play music from your phone music apps and playlist.
If you own a new car without a CD player and you're wondering how to play your favorite Cd, read on because in this article we will give you the best tips on how to play CDs in newer cars with no cd player.
How to play CDs in newer cars with no cd player?
External USB CD drive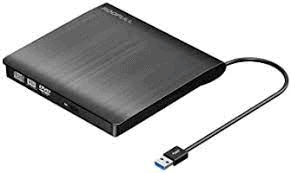 One of the best and easiest ways to play a Cd in a car without a Cd player is through an external USB cd drive.
Even though external USB CDs are scarce and quite expensive, they are easy to use and the best way to listen to your cd collection in your new car.
But, you must ensure that you buy the right external USB drive because of some only work with computers. Your CD drive must be compatible with the car.
For this reason, conduct extensive research before purchasing a Cd drive. This way, you won't buy the wrong product.
Here's how to connect the external USB CD drive to your car:
Identify the USB ports on your car and external USB CD drive.
Get a USB cable and connect one end to the external USB CD drive.
Connect the other end of your USB cable to your car's USB port
Turn on your car radio or screen and cd player
Now press the external device on your Cd player and insert your favorite CD.
You can adjust settings like volume, play, and pause via the car screen system and radio.
The best thing about external USB Cd drives is that once you pair and connect them with your car system, they start to work immediately. All it takes is a maximum of 20 seconds and after that, you're good to go.
A quick tip: Mount the cd player on your car perfectly so that it doesn't jump over anytime you skip a bump.
Driving doesn't have to be boring; you can enjoy it by playing your favorite cd collection with an external USB cd drive.
Use cassette tape adapter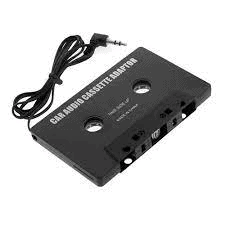 Another great way to play CDs in a new car is through a cassette tape adapter. You'll need your CDs, a cassette tape adapter, and a portable CD player.
Using a cassette tape adapter is simple. Cassette tape adapters come in a compact cassette shape.
First, insert the cassette tape into your stereo system. Secondly, Insert the other end of your adapter into your portable cd player.
Now turn on your car stereo system and adjust the volume to the lowest settings.
Turn on your portable cd player and insert your favorite cd. Adjust the volume settings to your liking as your audio plays. Lastly, when you're done, eject the adapter slowly and carefully like you would a tape cassette. Or you can leave it in.
Use a wireless FM modulator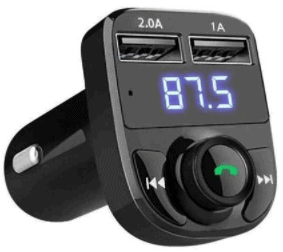 Read Also: How to Fix Bluetooth Lag in Car? – 8 Super Quick Solutions
The third option is using a wireless FM modulator, your CDs, and a portable cd player.
A wireless FM modulator is an audio device that transmits and injects audio signals to your car stereo system directly.
A wireless FM modulator is also known as an FM transmitter. It works by broadcasting a signal to your car radio and stereo system.
Here's how to use a wireless FM modulator to play CDs in a newer car without a cd player.
Turn on your ignition so that your stereo powers up.
Connect your wireless FM modulator to your cigarette lighter.
Turn on the portable cd player and insert your cd.
Press the play button.
Once you press play the wireless FM modulator will broadcast the channel (specific frequency) to your car system and connect with it to play the songs from your cd player.
The disadvantage of using a wireless FM modulator is poor sound quality that mostly arises due to weak connection.
Bluetooth enabled Portable CD players
Thanks to new technology, manufacturers now produce Bluetooth-enabled portable cd players as well.
These devices save you from the stress of connecting your cd player physically to your car stereo system.
But they are quite expensive and have slightly poor sound quality.
For this reason, ensure that you get the right model so that pairing with your car stereo is effortless.
Turn both of the devices on and pair them by operating your car's stereo Bluetooth system. Once the pair, insert a cd into the cd player and enjoy your music.
Quick reminder: Before connecting your cd player to your car device ensure it has enough charge.
Convert your CDS into mp3 on your laptop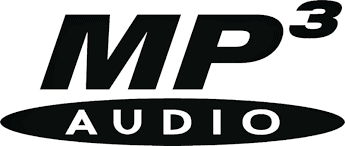 This method is quite different from the others. It involves getting rid of all the CDs altogether.
All you need is a computer with a cd drive. Take the CD that you would like to listen to while driving and insert it on your laptop.
Thereafter, copy or rip the files into your computer. Repeat this procedure with the other CDs.
Once you're done, now transfer the music to a USB disk or your smartphone. Then, pair your car's stereo system with your phone and play the songs from your phone playlist.
Install a new media player that is Bluetooth and cd enabled

If you're really eager to listen to your CDs in your car, you can install a new media player. It will make your work easier. But it's a long, complicated, riskier, and expensive procedure.
These media players are Bluetooth enabled and they also have a cd player. Always ensure that the media you install is compatible with your car.
Note: Installing them properly requires stereo knowledge, therefore, hire professionals who won't get it wrong. But we don't recommend this method because it's risky and it can interfere with your car's system.
Conclusion
There you have 6 amazing ways to play CDs in newer cars without a cd player.
Now you don't have to struggle to enjoy your favorite music as you cruise on the midnight drive.
Don't get rid of your CD collection anymore and put them to use as discussed above.
The methods discussed in this article are simple and will get the work done.
Most of them are inexpensive except for installing a new media player which we don't recommend you do. Since it messes up your new car system.
Let us know which of these procedures you'll try first. Goodluck.