Affiliate disclosure: In full transparency – some of the links on this website are affiliate links, if you use them to make a purchase we will earn a commission at no additional cost for you (none whatsoever!). Will this be a problem? This is how we manage to create free content for you. Please know that your trust is so important for us. If we recommend anything, it is always because we believe it is worth exploring. And, buy me a coffee ☕️
Having a deep voice is a bittersweet rollercoaster ride. You may woo your listeners during speeches or podcasts, but it's not always so when it comes to singing. Usually, the audience gets excited when the singer hits those high notes. More often than not, it leaves people awestruck because few can shine with shrill voices.
Nonetheless, there's something special about songs that emphasize baritone or bass sounds. People with deep voices, of course, can attempt higher numbers. But there are some songs made for deep voices. And when they're sung, the outcome is mesmerizing.
Today, we've compiled a list of 25 iconic songs that work well with deep voices. So, if you love singing and have a bassy vocal texture, try these songs for your next performance. We guarantee you will turn heads.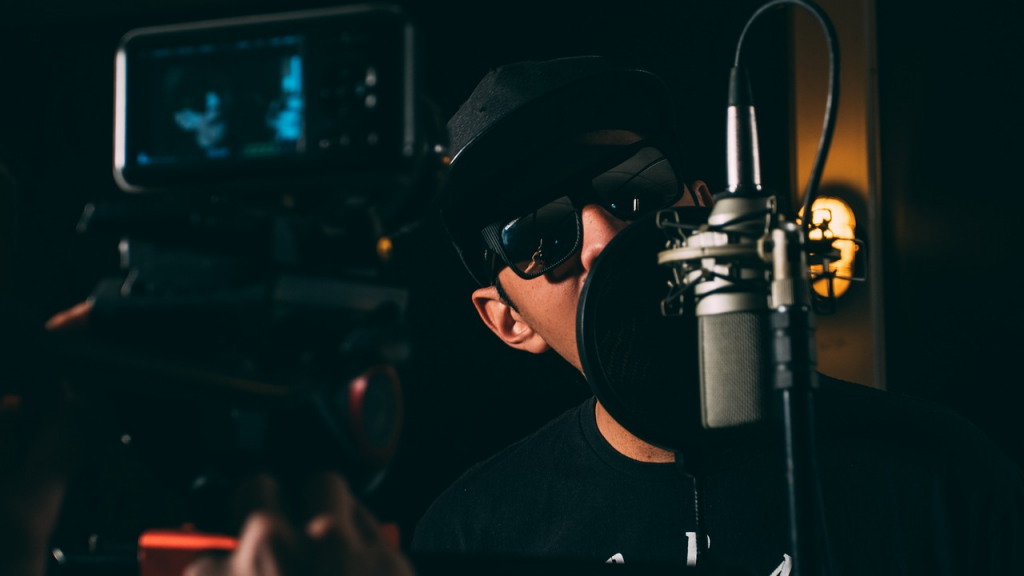 Here's our list:
You must have heard this track trending on Tiktok and Instagram. "Human" was the first hit single by Rory Charles Graham, aka Rag'n'Bone Man. It came out in 2017 and became an instant favorite.
The song has gritty beats and synth sounds. Genre-wise, it is a mix of R&B, soul, and blues. Rory himself has a deep baritone voice and does perfect justice to the song. No wonder it is so loved.
Recorded in 1971, this song took social media by storm in 2021. Scottish singer Nathan Evans made a cover of this iconic song called "Wellerman." It gets its name from the original singers, the Wellerman brothers.
The low vocal effect of this song, coupled with catchy beats, draws all the attention. It also has a melodic, harmonizing quality to it. Given its popularity, singing this song will get you instant crowd support, even with a deep voice.
This vintage number by Rick Astley is definitely the right pick for deep voices. "Never Gonna Give You Up" is a groovy, fast-paced song. and an absolute crowd-pleaser.
It is peppy for a love song, but it does the trick. Watch people tap their feet and sway their bodies as you sing. It might need some practice because of the tempo. But once you get a hold of it, you can win hearts.
"Ain't No Sunshine" is absolute gold by Bill Winters. The lyrics, the composition, and the singing—everything about this song is right on.
For something bluesy and melancholy, this song is ideal for baritone vocals. This song checks every box.
Are you an Elvis fan? If so, this classic by the King is going to be the right pick for your deep voice. "Are You Lonesome Tonight?" is one of those songs capable of winning hearts.
The instruments playing in the background are subtle. All the focus is on the vocals. You wouldn't have to worry about not getting any attention. Feel the song as you sing it, and you're gold.
A powerful ballad from one of the most legendary bands of all time. This song needs no introduction, especially if you're a Metallica fan.
What makes "The Unforgiven" so commanding is its enhanced use of baritone vocals. The voice of James Hetfield is one of a kind. If you are someone with heavy bass vocals, go for it. You'll guarantee yourself some fans!
A song that taps the gloomy chords. Jim Morrison, a member of the infamous band The Doors, has a captivating take on this rather dark song.
Imagine you are at a karaoke night in a pub, and you want to shake things up. "Riders On The Storm" will get the ground running. Singing such a familiar song in a deep voice is going to get you nothing but appreciation. And who knows, maybe even some autographs?
Nothing can get better than a romantic song in a deep voice. "Fly Me to the Moon" is one such song. The maestro, Frank Sinatra, justifies the swing feel of the song with his gripping vocals.
Perfect for a jazzy atmosphere. Be it a cafe or a casual evening gathering, this song is definitely going to make people look up at the moon.
Interestingly enough, "Hurt" is an original composition by Nine Inch Nails. But all credit goes to the deep, calm voice of Johnny Cash for his rendition of it. Even though it was a cover, this version got way more recognition than the original one.
For those who are comfortable singing in lower scales, this one here must be on your playlist.
Let's dive into a little alternative rock now. "The Calling" may not be a popular name for many. But once you discover their collection of songs, there is no turning back. You will find yourself in a world of songs interwoven with mellow tunes and baritone voices.
This is a powerful song filled with emotions and impact. The guitar riffs complement the deep vocals.
How about a little country number? "Lay Low" is one of the finest country songs for deep voices. Josh Turner steals the show with this slow-paced song.
The right song to take your mind away from the monotony of life. If you ever find yourself with a group of friends in a cabin amidst the woods, don't forget to strum along to this song. It will make them lay low and relax!
It would be a sin if we did not include this chartbuster of a country song in our list. "I Love This Bar" by Toby Keith is the perfect song to be sung in a bar on karaoke night.
The easy-going nature of the song blends well with the low, deep voice. It is a total crowd-pleaser. Don't forget to ask the audience to join in on the chorus!
Alternative rock band Hinder will always be applauded for releasing this banger. "Lips of an Angel" will never fail to move listeners' hearts.
The heartbreaking guitars in this song make it right for anyone with a baritone voice. The lyrics linger around the theme of lost love. The low, yet powerful, vocals project that pain to the listeners and connect their hearts.
You might know Lynyrd Skynyrd for "Sweet Home Alabama." But if you haven't yet, you should definitely check out this heartbreaking ballad by them. It is a song about a mother and her child.
Nothing can be more right than deep vocals for this sad yet powerful number. Throw in some vibrato, and your performance will become magical.
Quite unlike most of Ed Sheeran's songs, this one suits deep voices coming right out of the chest. "How Would You Feel?" has a husky texture to it.
It is a slow-paced and melodious tune. A piano or guitar—or both—would go well with the vocals if you are in an acoustic setting. Yet, you can always sing along to the karaoke.
R&B lovers would dig this number. Sung by none other than John Legend himself, the song is suitable for deep voices. It is unlike Legend's other famous tracks, which need a good grip on the higher notes.
"Save Room" also has a Nirvana and Kurt Cobain vibe to it. All in all, it is the right song to jam to and perform.
You will hardly ever come across a music lover who hasn't heard of Michael Buble. He makes good music that freshens up your mind every time you listen to his songs. His wide vocal range and music with a mix of old and new is what sets him apart.
"Home" is one of his masterpieces and a great choice for deep-voiced singers. It is jazzy, nostalgic, and easy on the ears.
With over 1 billion views, this popular James Arthur song made waves among pop music fans. "Say You Won't Let Go" is for lower registers. This is why deep-voiced singers love singing this song.
There are some parts that need falsetto. But that is not at all repulsive. One can maneuver it with some practice.
"Your Song" is one of the many beautiful ballads by the great Elton John. It is an excellent choice for baritone vocals. Heavy-voiced singers can sing this without needing to go very high.
Once the piano hits and you start singing, everyone around you is bound to get into it. The lyrics are easy to remember, and it can definitely become your song!
The list of great songs by the Beatles goes on and on. "Here Comes the Sun" is one such iconic song that millions love. The Beatles composed songs of all kinds that people with different vocal ranges could sing.
Singers with deep voices can pick it up. The chorus section itself is an earworm that will compel anyone to sing along.
John Mayer is a musical blessing of the modern era. There is something about his songs, and his fanbase speaks volumes. Almost all his songs are a go-to selection for deep-voice singers.
"Daughters" is popular among a wide range of listeners. All you need is a guitar, and you can start jamming anywhere you want.
One Direction fans are aware of who Niall Horan is. When he went solo, "Put A Little Love on Me" made everyone fall in love with him all over again.
This ballad fits with deep vocals. We recommend singing it along on the karaoke machine for a sublime effect. The arrangement of the instruments makes the song easy to love.
Wondering if EDM songs are right for deep voices? You bet they are. Avicii still manages to mesmerize with his creations from his heavenly abode.
"Hey Brother" is a perfect example of how baritone vocals mingle with the country taste. Once you start singing, you are going to set the dance floor on fire.
If this is the first time you are hearing about Snow Patrol, stop everything and go check out their songs. The melody of "Chasing Cars" is easy to catch.
It is simple and constant, with subtle highs and lows. It is a comfortable track to have in your quiver of songs.
The Arctic Monkeys have emerged as a revolutionary band with their one-of-a-kind originals. Right from the moment the track begins, any avid music lover will recognise "Do I Wanna Know".
The tune is graspable by deep-voiced singers. The lyrics may seem a little wordy. But it's only a matter of time until you memorize it. And once you do, the sky's the limit.
Conclusion
Being well-versed in these songs will give any singer enough confidence on stage. They are popular numbers and remain on the tips of audiences' tongues. Your days of regretting having a deep voice are gone. What are you waiting for, then?
Hi, I'm Jennifer I'm a passionate singer and an audiophile from Detroit, MI. 
I'm on a mission to help music creators to create fine music that help them position uniquely in the saturated music space.
Follow my blog for regular content :-)