Cubase and FL Studio… The whole internet keeps talking about them, but which one should you select?
Your friend that makes beats said FL Studio was the way to go, but your cousin who records bands says you should get into Cubase.
Who is right?
Which music production software or digital audio workstation are you supposed to pick?
Which one of these two could be considered the best daw for beginners? Or the best daw for Windows?
Today we will compare these big brands Cubase vs Fl Studio and help you decide which is best for you.
Cubase vs FL Studio: In-Depth Comparison
Overview
FL Studio is a DAW developed by Image Line that has been in the music market for over 20 years.
It is well known for their "lifetime update" policy. It is easy to use and has great embedded virtual instruments and devices, making it a great choice for modern music producers and beat makers.
Cubase is a DAW developed by the company Steinberg. This program works on both Windows and MacOS platforms. It is well known for its vast MIDI, production and scoring features, making it very famous among classical music producers as well as sound designers.
User interface
The FL Studio UI is very standard, presenting a horizontal timeline where you can see all the tracks and arrangement. As well as an optional mixer window where inserts can be added and faders can be moved up or down depending on the desired volume for each track.
Cubase's UI is very well-known in the industry because of its easy-to-operate timeline as well as the channel's effect window that lets you apply all sorts of inserts, embedded EQ, and other processors to each track.
There is also a mixer window that resembles an analog console.
Both of these programs look very alike and feature the "dark mode" theme.
Compatibility (Device / Plugins)
Both of these companies use the VST and VST4 plugin format, so basically they work exactly the same.
The only difference here is the devices that come pre-installed with these programs.
Cubase tries to focus more on the scoring, editing and heavy mixing. So there are plenty of devices included that can help you achieve these goals.
On the other hand, FL Studio tries to capture the production side of things, including a good amount of virtual instruments, samplers and synths that will make your life easier.
Compatibility is the same on both softwares, the only difference is the focus they present on devices.
Ease of use
Most users will agree FL Studio is easier to use, because it simply has less functions.
On the other hand, Cubase can have a steeper learning curve, but once you master it, you can really do anything you want with it.
If you are starting out with simple music making, FL Studio might be your best bet and then you can progressively move into Cubase.
Setup and Installation
FL Studio presents a very straightforward installation method. You simply need to log into their website with your Image Line account and download the installer executable file from it.
Once downloaded, you can simply double-click the executable file and the installation will begin.
After the installation ends, you must make sure you register the program so that it is authorized and can easily be opened in your system without further process.
In the case of Cubase, you will need to first make sure you have your license registered in your account using the eLicense Control Center software. This will help you assign the license to a USB dongle that you can carry so Cubase can be opened in multiple systems.
Once the licensing has been done, you can simply download the installer from the Steinberg website, open it and follow the instructions.
After installation has finished, you can simply plug your dongle and run the program.
The bottomline here is, Cubase needs a dongle, while FL Studio does not.
Storage requirements
The storage requirements of these programs vary a lot, depending on the virtual instruments and packs you wish to install.
If you are using Cubase with all of its embedded software, you need around 30 GB of free hard drive space for the installation and sample libraries.
On the other hand, FL Studio only requires 2 GB of free hard drive space for its installation.
So yes, FL Studio is for sure lighter and less heavy than Cubase.
Features

FL Studio features 103 virtual instruments already pre-loaded with the software, giving you the ability to produce as soon as you finish the installation! Ideal for new producers and upcoming engineers.
On the other hand, Cubase comes with 11 virtual instruments and samplers that you can use for your productions and sound design, but with the ability of loading unlimited amounts of these devices. The only constraint will be your system's horsepower.
FL Studio also features 64 different audio processors that range from dynamic processors, time-based effects, modulation effects, harmonic emulators and analog hardware emulators.
This vast amount of embedded tools are ideal for users who are trying to do all within the same program, without the need of a third party tool.
Meanwhile, Cubase features 75 different audio processors!
In other words, with Cubase, you will not need a third party software to mix your songs. It is all there!
Cubase has all you will ever need.
Audio Editing Tools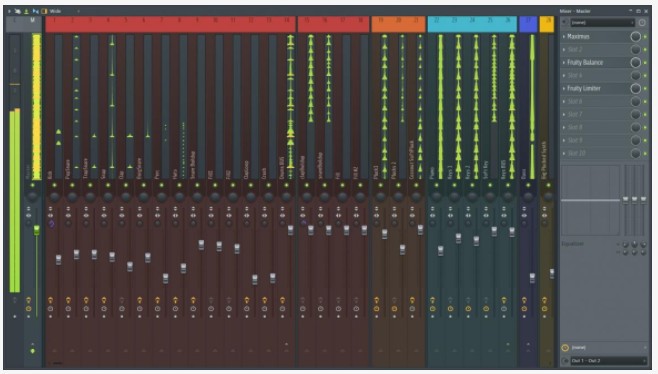 Cubase, gives you the ability to edit audio material with 11 different editing procedures, that range from warping, hitpoint detection and audio slicing, which are ideal for producers and engineers working with real bands.
Meanwhile, FL Studio features 3 different audio editing tools that will let you virtually edit any audio content with a more simplistic approach, that will be perfect for beat makers and producers that typically record simpler content such as vocals or guitars.
In this field, Cubase is king.
Pricing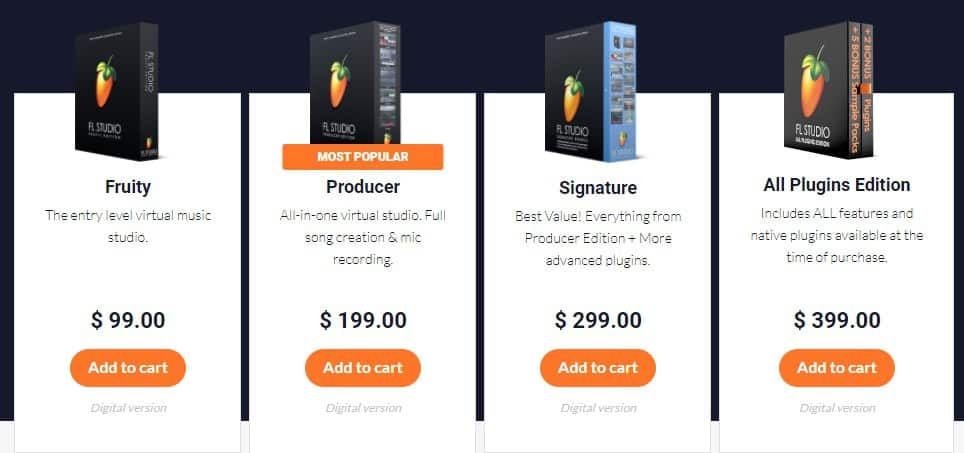 FL Studio

"All Plugins" Edition: $399 – This basically comes with all you need, as well as all instruments and functions.
Signature: $300 – This version comes with a bit less effects and instruments than the All Plugins version, but still great for modern commercial producers.
Producer: $200 – This version is considered the standard because it contains the flagship FL Studio functions and some of its instruments.
Fruity: $100 – Simplest version, no audio editing. Good for beginner producers and beatmakers.
Cubase

Pro 11: $587 – This is the full Cubase program with all of its functions, features and instruments. No need for third party plugins. Ideal for professional producers and engineers.
Artist 11: $338 – This version comes with all you need to record and produce your own tracks when you are an artist or musician. Some of the editing options have been disabled.
Elements 11: $100 – This is the simplest version of the software. Very basic sound manipulation and editing functions included. Designed for people just getting into music.
Similarities and differences of Cubase vs Fl Studio
Similarities
Both of these programs work with the standard horizontal timeline that presents the arrangement from left to right that increments time to the right.
So in that aspect, both programs follow the standard non-linear editing and playback approach.
Also, these programs both feature the very famous dark mode, which is basically a color theme that is especially useful during late night studio sessions, that helps your eyes not get tired after hours in front of the screen.
The automation system also works pretty much the same on both programs, giving the user the possibility to write automation with a controller, or simply the mouse in "draw" mode.
Once automation has been written or drawn, it can be played back accordingly.
Differences
Cubase includes a vast amount of MIDI functions that are related to keys, chords, transposition and other advanced music scoring features that are oriented to composers and producers working with film scoring and sound for picture.
On the other hand, FL Studio does not include these options, but it does include others related to drum machine creation and programming, that actually make it really easy to operate when you are a beat maker or producer involved in urban or electronic music.
Pros and cons
Pros – Cubase
Extended amount of processors for audio manipulation and mixing.
Versatile functions oriented for the music composer and film scorer.
Cons – Cubase
Too many functions turn this program into a very steep learning curve.
Pros – FL Studio
Extremely easy to use software, ideal for beginners.
Drum machines and synthesizers are optimized for beat makers and EDM producers.
Cons – FL Studio
MIDI and score-related functions are reduced and not very versatile.
FAQs on Cubase vs Fl Studio
Among Cubase and FL Studio which is best for beginners?
FL Studio is perhaps the best for beginners because of its streamlined workflow designed to play sound from the moment you finish the installation process.
Is Cubase good for music production?
Cubase is an amazing tool for music production because of its large amount of effects, digital signal processors and editing possibilities.
Which DAW is best for orchestral music composing?
In the case of orchestra music composing, film scoring and sound for picture, Cubase is by far the best option of the market. The included MIDI and scoring-related functions are simply unbeatable.
Conclusion
Okay so we have 2 different programs that at the end of the day, were designed for different approaches.
FL Studio is best if:
You are a beginner in music production
You want to start with EDM, urban music and programmed material
You want fast workflow and drum machine oriented behavior
Cubase is best if:
You are a producer or an engineer with years of experience .
You are looking for the Swiss Army Knife of Digital Audio workstations that can virtually do whatever you can imagine.
You can handle a steep learning curve.