I know, it might be extremely complicated to find them…
But we totally need them in our computers.
What?
Yes! MP3 to MIDI converters!
We all need them, especially in our recording studio systems.
You know how it is… The producer or client sends an MP3 of a song or an instrument part, and they want you to interpret it with another instrument type.
Well, how do you do that?
Simple. You convert that MP3 to MIDI and just load another virtual instrument with that MIDI data.
Result?
BOOM! Now you have the same part, played by another instrument.
But, which one should you choose?
Which are the top MP3 to MIDI converters?
Read this article, and by the end you will know which one to choose.
Top 6 MP3 to MIDI converters reviewed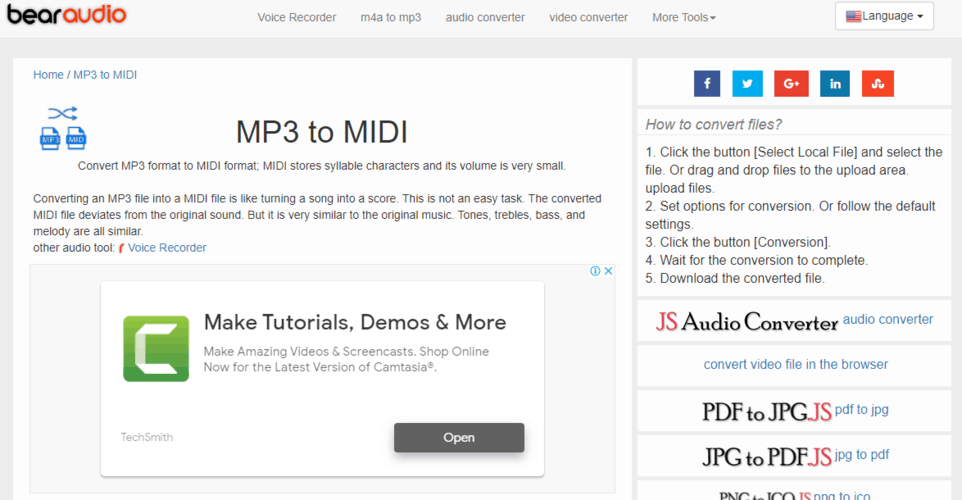 BearAudio is an online-based platform that lets you convert MP3 files into MIDI data easily and quickly.
You can use this tool if you are on Windows, Linux and MacOS, but you will need to have an internet connection active.
Since it is completely online, there is no need to install anything! So you don't have to think about the hassle of viruses, installation files or third party plugins.
It is extremely easy to use, with a simple drag-and-drop philosophy of operation, no need to read a manual!
The file conversion is all done in a cloud, so your computer does not need to have any kind of audio software installed. So basically you can do this from your mom's computer if needed!
Pros
It can convert all kinds of formats such as MP3, WAV, WMA, AAC and OGG.
Drag-and-drop functionality available.
File conversion is all cloud-based.
Cons
Cannot operate disconnected from the internet.
The free subscription is limited to a certain number of conversions per day.
The conversion algorithm is not very precise and you cannot edit the files once converted.
Bottomline: BearAudio is a nice, free, online-based and easy to use MP3 to MIDI tool.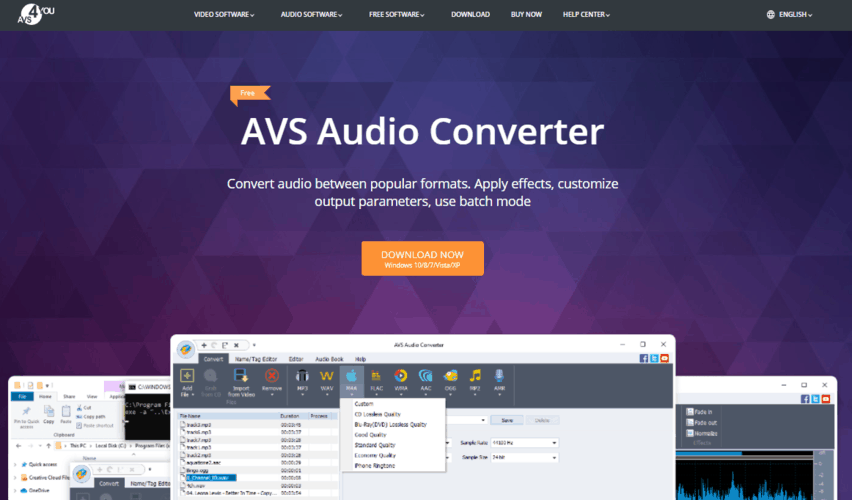 AVS Audio Converter is another free tool developed by the company AVS4YOU.
This is a free software that you can download directly from their website that lets you convert between popular audio formats, apply effects and do batch conversion.
It is available only on Windows systems, so if you are a MacOS or Linux user, you won't be able to use it. Sorry for that!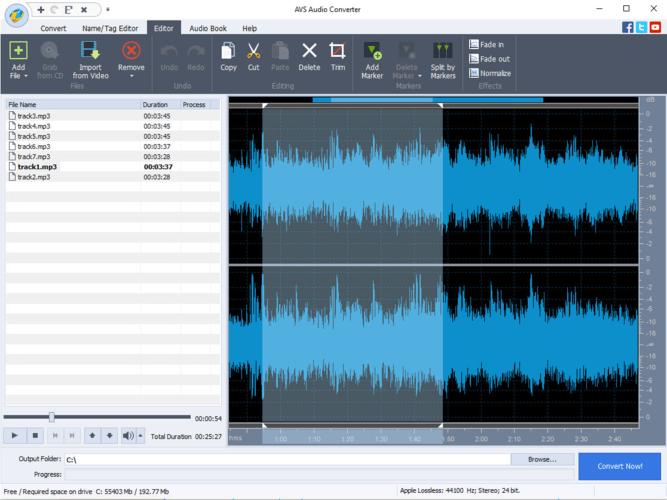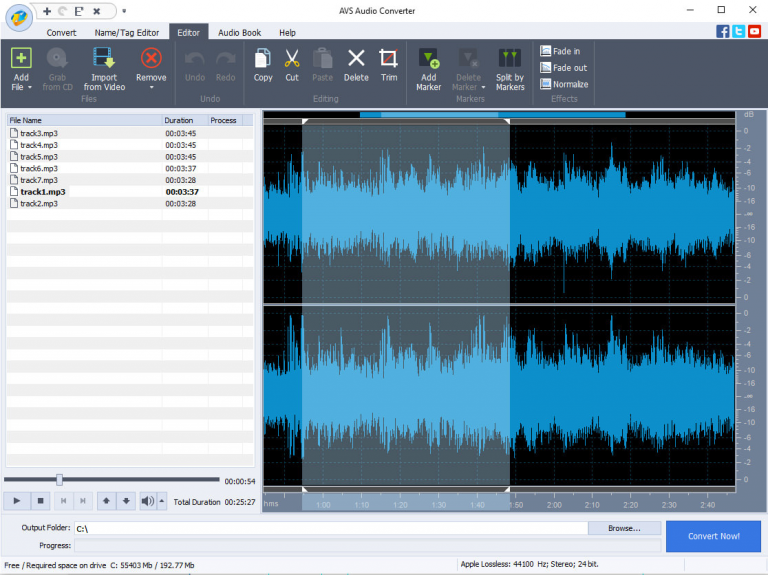 This tool lets you convert several audio formats such as MP3, WMA, WAV, M4A, AMR, OGG, ALAC, FLAC, AC3. So pretty much all audio formats are included!
The program lets you apply simple editing such as trimming and cutting.
This tool also lets you apply effects with the conversion in order to "embellish" the final sound of your converted file!
Pros
Any audio format you can imagine is compatible.
Editing options and miscellaneous effects are included.
Batch conversion mode lets you convert multiple files at the same time.
Cons
Cannot convert audio to MIDI with this tool.
The program needs the internet to operate.
Not working on macOS and Linux.
Bottomline: If you are working in Windows and you need a stable solution for audio file conversion, and you don't need MIDI, then this is a great pick.
Audacity is a free, open source, cross platform, digital audio workstation that can do-it-all from recording, editing, mixing, mastering, rendering and converting audio formats.
This is not a dedicated audio conversion tool, but a fully equipped audio workstation software.
If you are looking to convert audio to MIDI, you would need to import the audio file, convert it to MIDI and then export that MIDI file for later use in another DAW or virtual instrument.
You can install it in your computer and operate it under any recording studio environment.
This program is capable of loading VST3 plugins in order to expand its mixing and audio processing capabilities.
You can slice, trim, copy, paste and edit audio as much as you want because this is a complete Digital Audio Workstation.
The program lets you convert, export, and import both audio and MIDI information that you can modify or re-record if needed.
Pros
You can record any type of audio by using an interface, microphone or mixer.
All kinds of editing and mixing features are included.
Audio and MIDI import and export are available.
Cons
The program is hard to learn since it has too many features.
The graphic user interface (GUI) looks outdated and poorly designed.
Bottomline: Audacity can do-it-all related to audio because it is a DAW. Just keep in mind, if you are looking for something just to convert MP3 to MIDI, this might be a bit too much for you.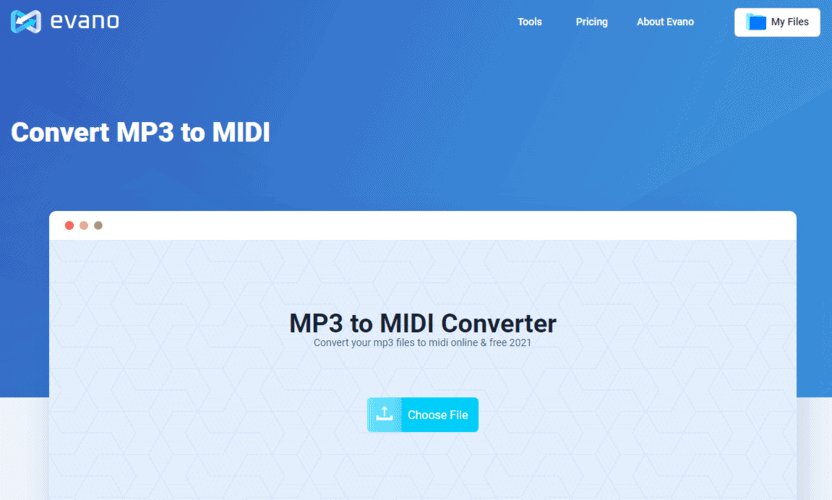 Evano is an online-based tool for multimedia conversion for video and audio files.
The platform works on any operating system because it is all done online where files are uploaded, converted adnd downloaded from a proprietary cloud.
Files can be uploaded directly from your computer's hard drive or from a cloud-based drive such as Google Drive or Dropbox.
This tool is completely free, but it has some limitations such as the file size you can convert and the amount of conversions you can achieve per day.
The program lets you convert all types of audio files such as MP3, WAV, FLAC, MIDI, AAC, WMA and OGG. You will never run out of conversion possibilities.
You can edit, cut, trim audio files prior to the conversion, if needed. All within the software.
Evano also lets you apply dynamic processing such as compression to the files before applying the conversion, which is really nice, especially when you are converting for radio or streaming purposes.
Pros
Vast amounts of audio file types are compatible.
Editing options are available.
Compression is also available to reduce the dynamic range of the audio.
Cons
The maximum file size for uploading and conversion is 100 MB.
You can only convert 5 files per day with the free license.
More features only included in basic and pro-paid licenses.
Bottomline: If you are looking for a completely free audio conversion tool that will properly convert your MP3 files to MIDI under an online-based system, Evano is the one!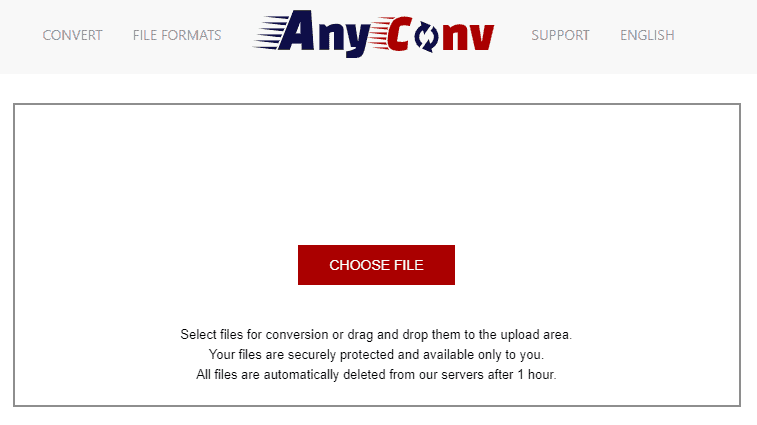 AnyConv is another online-based file conversion tool that is available on all operating systems and free of charge.
AnyConv is not just an audio file converter, but also a tool capable of converting images, ebooks, fonts, documents, videos, archives and CAD's.
So honestly, it can convert any multimedia-oriented data file.
This platform is completely free but as most free options, it has a file size limit.
It lets you convert all types of audio, video, picture and document files. So you can really use it for anything related to multimedia.
The developers from AnyConv actually offer user support by mail, which is really nice specially when you are "stuck" trying to convert something and you don't know how.
Once you convert a file, only you (the uploader) can have access to the download link. And once it has been converted, the original file gets deleted automatically!
Pros
More than 400 multimedia formats are included!
User support available, for free.
Complete security of converted files due to private links and automatic elimination of raw files.
Cons
It has a file size limit of 100 MB.
It cannot convert files that are found in URL links.
Bottomline: If you are looking for an extremely easy-to-use tool that can convert from MP3 to MIDI in seconds and you don't care about the 100 MB limit, then go get AnyConv!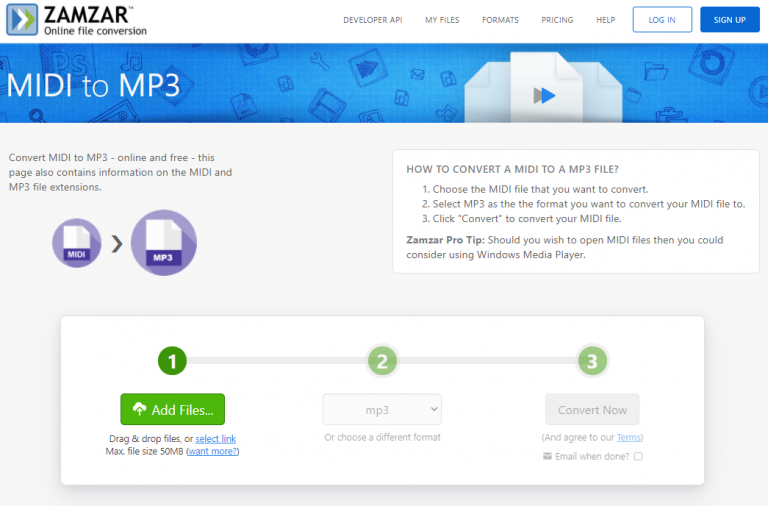 Zamzar is an online file conversion tool that can be operated under any operating system because it is web-based.
This tool lets their users convert document, audio, video, images, CAD, ebooks and compressed file formats.
It has been used and recognized by the most famous companies and entities such as The New York Times, Dupont and Princeton University.
It has several different subscription options as well as a free option.
Once again, this program can convert any type of multimedia file such as audio, video, image and document.
The developers guarantee a conversion time of less than 10 minutes in all cases!
Customer support is offered via email, but unfortunately you must be under a paid subscription model.
Pros
More than 1200 file formats are compatible with this conversion tool.
Customer support is offered.
Subscriptions can be paid monthly or even per day if needed!
Cons
It cannot convert MP3 to MIDI, but it can do the reverse.
The free option has limitations such as the number of files and size.
Bottomline: Looking for a conversion that can convert pretty much anything, with the exception of MP3 to MIDI? Then Zamzar is the best bet.
Conclusion
If your mission is to easily convert MP3 files into MIDI files, and you do not want to install any software on your computer, you should get Evano. There is no way to beat how easy it is to operate online!
Now, let's assume you are a more experienced user, and you actually run a recording studio so you have more audio software knowledge, my recommendation is that you get Audacity. This program can not only convert but also edit, mix, master, and modify audio as needed.
Last, but not least, if you want to convert anything that you can imagine and you do not care about the 100 MB file size limit, just go get AnyConv. It is an online tool, free and simple to operate.