Affiliate disclosure: In full transparency – some of the links on this website are affiliate links, if you use them to make a purchase we will earn a commission at no additional cost for you (none whatsoever!). Will this be a problem? This is how we manage to create free content for you. Please know that your trust is so important for us. If we recommend anything, it is always because we believe it is worth exploring. And, buy me a coffee ☕️
In this post let us review the three great microphones Blue Yeti, Rode NT USB, and AT2020.
[amazon box="B002VA464S,B00KQPGRRE,B0006H92QK" grid="3″ button_text="Buy from Amazon"]
If you're familiar with audio recording gear, Blue Microphones should not sound strange to you. If you're not, let me give you some perspective: Blue has only one product; microphones!
Of course, other companies diversify and make a range of different products, and to be honest, some of them are pretty good at it.
On the other hand, when you consider manufacturers like Blue Microphones, you expect some level of sophistication to their products.
Is this the case with the Blue Yeti USB mic?
Well, we'll see about that as we proceed.
For the audio heads, there's a certain level of trust that comes with acquiring a Rode gear. You tend to have this "It's a Rode; what could possibly go wrong?" feeling. It's expected. Rode have paid their dues over the years as far as quality is concerned.
That being said, coming head to head in a Rode NT vs Blue Yeti vs AT2020 comparison is no mean feat. Reputation alone will not win this for the Rode.
We'll examine all aspects and see who comes out top.
Before then, let's check out our third contestant.
The Audio Technica AT2020 USB microphone is one of those companies that make diverse audio gear, but you can be sure that the same attention to detail that has earned them their current reputation was put on display in the AT2020.
Well, this is obviously an all-star matchup, so let's dive right in.
Let's have a look at the specifications of these three mics:
[amazon table="10717″]
Blue Yeti vs Rode NT USB vs AT2020
Build and design: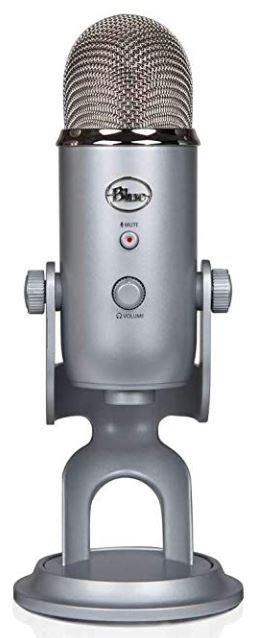 The Blue Yeti sports a 100% metal exterior, and it comes with its own stand. Podcasters and YouTubers will find this feature very useful.
This is quite similar to the Rode NT USB and AT2020 too, as they have an all-metal body, though the AT2020 does not have a metallic color, it's black.

At times, during a recording, you tend to knock things against each other—sometimes it could be your mouse, other times it's just you shifting on your chair. You don't have to worry about these things during your recording.

The Blue Yeti and Rode NT USB have small stands that you can use to balance them on the table or whatever surface you're using. The AT2020, on the other hand, does not come with a stand.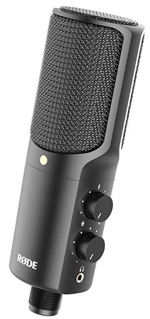 In terms of connectivity, the Blue Yeti is a USB mic, so is the Rode NT USB. This essentially means that you can connect the microphones to your computer via a USB cable.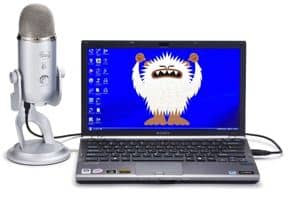 This can be a huge advantage, especially for amateur audio recordists. What I mean is this; if you are not familiar with the use of audio interfaces or external soundcards, the USB connection will definitely make things easy for you.

As Blue Yeti costs more people are looking for its alternatives. We have reviewed the best alternatives to Blue Yeti. Have a look at this post if you too are looking for an alternative.
The AT2020, on the other hand, can only be connected via the XLR port. The XLR is a 3-pin connection port, sometimes used for microphones and other instruments.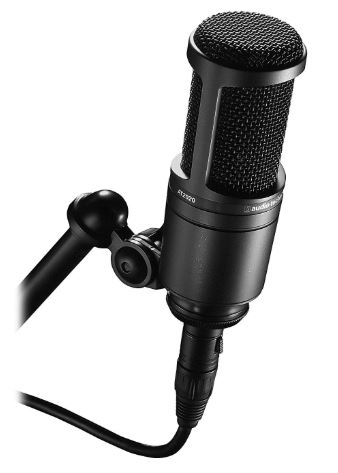 It is widely believed that it delivers better audio quality than the ¼" jack and the USB.
Is that a fact?
Well, today is not the day for that.

Moving on: The XLR port on the AT2020 can make it a little difficult to set it up with your computer. You will need a soundcard or audio interface.
To make things more difficult, some external soundcards need their drivers to be installed to get them working. This can be a lot of work if you're not familiar with the process.
The gain knob is another interesting feature of the Blue Yeti and Rode NT mics. You can increase or reduce the levels of the audio signal going into the mic. This will be very useful since you probably plugged the mic directly into your computer in the first place.

It also makes it easier to set the mic up; just push the knob a bit and you're good. No fancy gear playing middleman.
Again, the AT2020 is the odd one out here or I should say the different one. You won't find any gain knobs or buttons on it. Just a plain smooth capsule beauty.
Features:
The Rode NT USB and the AT2020 are cardioid pattern microphones. What this means essentially is that your recording will only be effective if you are facing the microphone directly from the front.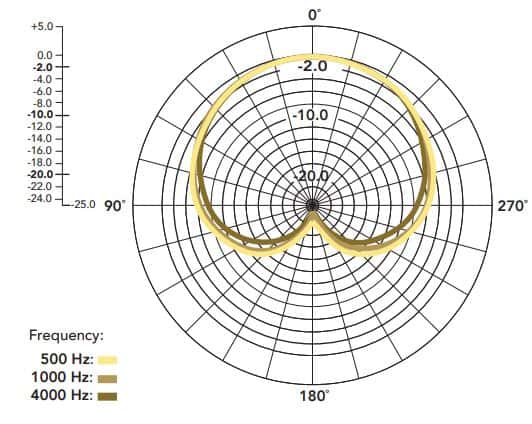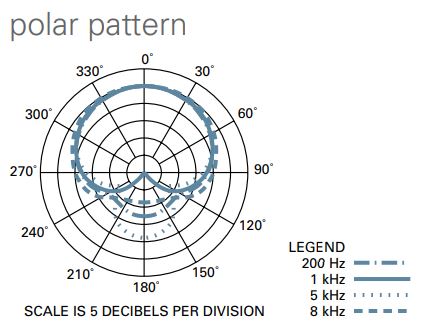 The mic won't pick audio quite well is you're positioned otherwise. The Blue Yeti is a big flex in this pattern thing. It literally has a knob that helps you to choose between FOUR patterns. Omnidirectional, cardioid, stereo, and bidirectional.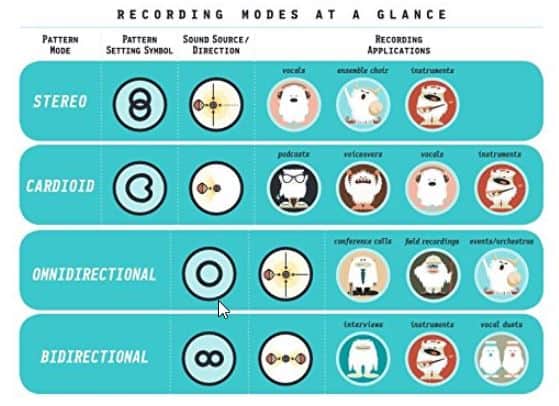 The omnidirectional option makes it possible for you to record from any position around the mic. This means you can have a podcast or stream a video while having a roundtable conversation with just one mic.
The cardioid, of course, only allows you to record optimally when you are facing the mic directly. The bidirectional pattern allows optimal recording from two opposite sides; good for a 2-person conversation recording or streaming.
The last one is the stereo mode, good for music recordings, especially musical instruments.

In terms of features and designs, we can say the Blue Yeti has a head start. This is because apart from the knobs on the mic itself, it is capable of recording in four different patterns, compared to the cardioid only patterns of the Rode NT and the AT2020.
Sound quality:
Talking about sound quality, we may have divided opinions, because these mics have a wide range of use, so pro for a musician may be a con for a podcaster and vice versa.
Not to worry though, the umpire remains unbiased!
Bass:
Usually, when you speak into a mic with your mouth pretty close, you often expect some low-frequency boost in the production. It is not so with the Rode NT USB. Close voicing has little to no impact on low-frequency production.

This is quite impressive when you consider the fact that it's a cardioid polar pattern microphone, and this particular plus is usually found in the omnidirectional ones.


The overall frequency distribution of the Rode NT USB shows a preference for vocal clarity. A little bump around 4.5kHz ensures that lift in high mid clarity. For the AT2020, the emphasis of the distribution is on warmth; that little lift on the low mids make sure of that.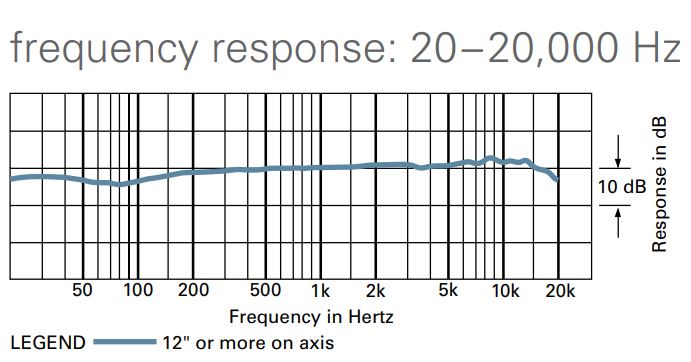 The low frequencies in the AT2020 are what I'll call responsible. It has a general flat response; this is seen in the low-frequency production-no exaggeration or understatement of audio material.

For the Blue Yeti, low frequencies are underemphasized; in my opinion, since you probably may not be doing any mixing with using this mic, I think the manufacturers decided to do a little bass roll off for you.
Mids:
The real character of the Rode NT shines through in the mid frequencies, especially between 4kHz and 5kHz. There is an increase here that enhances clarity of vocals and some other instruments whose tonal core lie within this frequency range.

Again, the distinct character of the AT2020 is found in the mid frequency response. The lower mids 500Hz -1000Hz are slightly raised to make the speech or music a little warmer. This can be a big plus for singers; most singers like a little warmth on their voice.

A little lift across the high mids to ensure clarity. Warmth is considerably lacking, much unlike the AT2020.
Highs:
For the Rode NT, the high frequencies are crisp enough to give audio material the needed brightness and prevent excessive harshness. Additionally, the noise is below audible levels. In other words, there's background noise, but you can't hear it—it's that low.

The AT2020's high frequencies are pretty flat enough to produce clarity without introducing harshness. If you record an acoustic guitar with the AT2020, you'll hear that slight tingling of the thinnest string in the production.

The Blue Yeti's high frequency produces some brightness which can be a bit too much if you turn up the gain knob.

You may have noticed that we have been a bit quiet about Blue Yeti when it comes to sound quality. The reason is simple; there's really not much to talk about. It's clear that Blue Microphones did not intend this one for specialized musical use.

The sound quality is targeted at streamers and podcasters. It will deliver your speech with the needed clarity to your audience. However, if what you're looking for is a studio level sound quality, I'm afraid the Blue Yeti may not be able to help in that regard.

Don't get me wrong; the sound quality is pretty good, but there are levels to being good. We can say the Blue Yeti is good enough for podcasting and streaming functions.
Similarities:
The three mics are able to record in cardioid pattern.
In terms of design, they are all capsule-shaped.
Differences:
The AT2020 is not a USB mic; the other two are.
The AT2020 has no gain control; the other two do.
Let's have a look at AT2020 vs Rode NT USB comparison video:
Rode NT USB vs Blue Yeti review video:
Pros and cons:
Blue Yeti:
Pros:
Easy to set up and use
Handy controls reduce the need for DAW
Different recording patterns to choose from.
Cons:
Sound is not up to pro studio quality
Rode NT
Pros:
Vocal clarity is great
Background noise is inaudible
Cons:
Cardioid only option limits range of use
AT2020
Pros:
Cons:
Needs extra gear to set up
No gain or filter control
FAQs on Blue Yeti vs Rode NT USB vs AT2020
What are the connectivity options available with these mics?
As Blue Yeti and Rode NT USB are USB mics you can connect your computer and also audio interfaces or external soundcards. AT2020 comes with only XLR port.
Is it possible to adjust the audio levels manually?
Yes. You can do this with Blue Yeti and Rode NT USB as they come with gain knobs whereas this is not possible with AT2020.
What is the best thing about Blue Yeti in terms of sound quality?
The ability to choose among four polar patterns – omnidirectional, cardioid, stereo, and bidirectional.
What are the system requirements of Yeti and Rode NT USB mics?
All modern Windows and Mac OS, USB 1.1/2.0, 64 MB RAM
Conclusion:
Let's end the this discussion of Blue Yeti vs Rode NT USB vs AT2020.
It's time to make a final decision.
This is a bit hard.
Remember we agreed that the outcome may be different, depending on what we wish to use the mics for? Right.
So, here we go.

The Blue Yeti seems to have everything handy; a headphone output jack, a gain control, and an option to switch patterns.

That's too much features to ignore. However, it does not measure up to the others in terms of sound quality. That also, cannot be ignored. The reason is simple: it's a mic, so sound is everything.

The Rode NT USB also has control buttons, but not like the Yeti. It does not offer the option of different patterns. However, its noise reduction feature is a big plus, even for semi-professional users.

Actually, it's low noise would be more useful to semi professional users. I think we can safely assume that non-professional mic users are not skilled in audio editing, therefore they can't remove noise from their recording manually.

Also, for the purpose of this discussion, if you edit your audio with Audacity, you are considered a semi/non-professional microphone user.

The AT2020 has almost all the same advantages as the Rode, except the need for an audio interface when recording with it.

Personally, I wouldn't advise any serious music maker to use a USB mic to record a major project. This is because it usually places you at the mercy of your computer's internal soundcard/interface, which may not be good enough.

Considering all the above-listed factors, I'll choose the Blue Yeti for podcasting and Streaming purposes, and the AT2020 for music recording purposes.
Also, if your podcast or video content has elements of music; like playing an instrument live, you should consider choosing the Rode NT USB.

Well, that's the verdict.
Looks like we managed to squeeze in "one for the rode" there.
I hope I was fair enough though….

Hi, I'm Jennifer I'm a passionate singer and an audiophile from Detroit, MI. 
I'm on a mission to help music creators to create fine music that help them position uniquely in the saturated music space.
Follow my blog for regular content :-)