What are the best tower speakers for your home?
If this question has been on your mind, then you're in the right place. Tower speakers or floorstanding speakers are great because they don't take up a lot of space, and they give great sound for watching movies, enjoying music and gaming.
In this article, I explore the best tower speakers you can get today. Each one is unique and you'll surely find one that suits you. Also, I'll be answering questions like:
Which tower speakers are best for movies?
Which floorstanding speakers are most suitable for smaller or larger rooms?
And many other questions as we explore the features and performance of these speakers.
So, let's dive in:
Top 5 tower speakers reviewed
Specifications:
Total Frequency Response 38 Hz → 24,000 Hz
Nominal Impedance 8 ohms → 6 ohms
Lower and Upper -3dB Limits 40 Hz → 30,000 Hz
Peak Power Handling 150 watts
Audio Inputs –
Speaker Inputs (1) Set of 5-Way Binding Posts
Sound quality and performance
Most consumer speakers these days are made with enhanced bass and treble. It makes most electronic music sound more energetic.
But this comes at a cost of losing some midrange details, thereby making other genres like jazz sound subpar.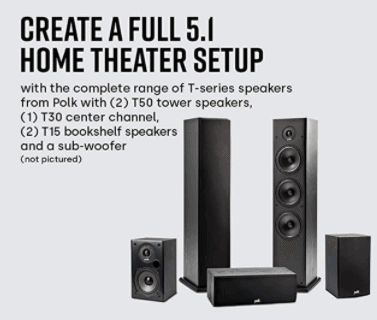 Thankfully, the T50 is the opposite. It has a balanced sound that makes it suitable for different music styles. However, if your music has quite a lot of elements overlapping in the midrange, you may notice some muddiness.
The speaker comes with one active woofer and one horn tweeter. The lower two "woofers" are passive bass radiators that help the speaker maintain a clean, solid bass.
Features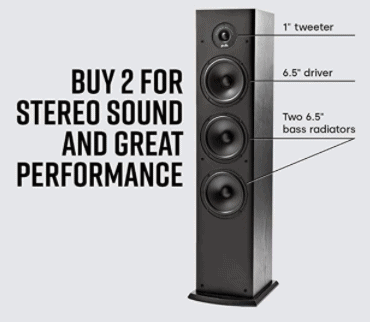 This tower speaker is made of MDF material but has a black oak finish. Not only does it have quality sound, it looks quite good too. The frequency response range is 60Hz to 24 kHz – it gets to the highest treble but does not extend to sub bass.
If you want deeper bass for your trap music, you may need to get a woofer to complement this floorstanding speaker.
You don't need too much power to get the Polk Audio T50 firing. A small amp can give you lots of loudness. But if you want superior quality sound, you must go for better amps. Also, this tower speaker sounds best in small to medium sized rooms.
Pros
Balanced sound – good for different genres of music.
Detailed sound production
Quality black oak finish is a great addition to room furniture.
Cons
Not suitable for larger rooms
Sound quality depends on the amp used.
Bottomline: The Polk Audio T50 gives you value for your money. It sounds great too. If your room size and design accommodate it, you should go for this.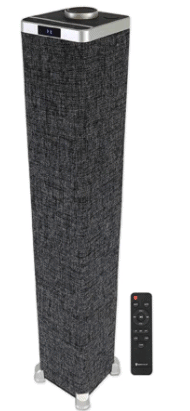 Specifications:
Frequency Response: 32Hz-19KHz
Power supply: AC 120V 60Hz
Dimensions of each speaker (inches): 5.31" W x 5.31" D x 33" H
Net Weight of 1 speaker combined: 11.1 Lbs
Peak Power: 200 Watts
RMS Power: 60 Watts
Sound quality and performance
The Rockville Bluetooth tower speaker comes with two full-range drivers, two 4-inch woofers, and a rear bass port.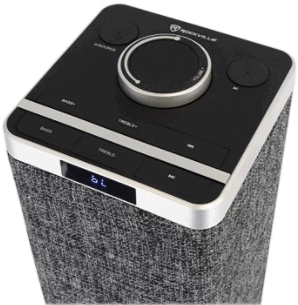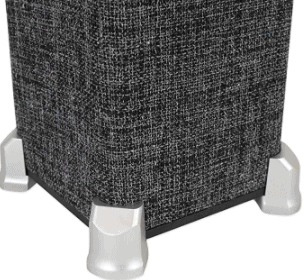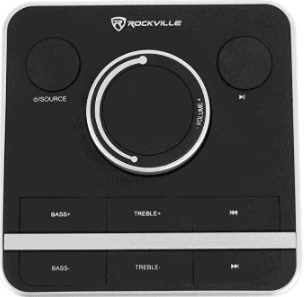 The bass extension is quite good, since the frequency response is 32Hz to 19kHz. The treble is also well controlled, so, you won't get any harshness even when playing at high volumes. However, for your pop and EDM music, you may miss some "air" at the high frequency end.
This floorstanding speaker does not fill up large rooms so well – it's better suited to medium to small spaces like living rooms, bedrooms and other less spacious rooms.
Even though the speaker has clean, solid bass, the bass boost control allows you to crank it up to your preferred level.
Features
This Rockville tower speaker is compatible with almost any device. It has HDMI, RCA, optical and USB inputs.
So, you can enjoy audio playback from your phone, computer, TV, DVD or gaming console. If you're big on wireless connection, you can use Bluetooth to connect your device to the speaker. The speaker's remote also helps you to control it from a distance.
This speaker clearly wins many points for convenience. In addition to the multiple input options, it does not need an external amp to work. The speaker is powered and has its own built-in amp.
Pros
Works with any device
Deep bass production
Sleek design and finish
Cons
The treble may miss some air and sparkle in some songs.
Bottomline: If you have an array of devices that you would want to connect to your tower speaker, this Rockville One Tower Speaker is perfect for you.
Specifications:
Enclosure Type Bass-Reflex
Ports 1 x Front-Firing
Frequency Response 45 Hz to 50 kHz
Frequency Range 45 Hz to 50 kHz
Impedance 6 Ohms
Wired Connectivity 1 x Binding Post Pair
Sensitivity 88 dB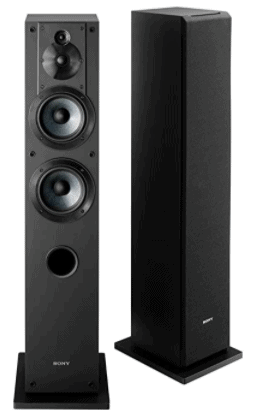 Sound quality and performance
The Sony SSCS3 is a tower speaker with the great bass sound. Even though the bass does not go below 50Hz, it's clean and does not overshadow other elements. The treble likewise is crisp and clear, bringing out the shine in most of your electronic pop music.
The midrange is a bit recessed, so some elements like guitars, pianos and some vocals may not stand out as intended. Also, if you're using this speaker as a stereo setup, you will enjoy the soundstage. It's not super-immersive, but it's wide enough to make your movies feel good.

That's not all. The SSCS3 does not have a wide sweet spot. You have to get the positioning right to enjoy the sound.
Generally speaking, you'll get better results when the speaker is placed against a wall. Also, you can raise the speaker by placing an object at the foot so that it tilts backward. This improves the treble quality.
Features
The Sony SSCS3 is made of MDF material with a finish that fits into most rooms. It's a 3-way, 4-speaker bass-reflex system.
The woofer is a 5.25-inch cellular reinforced unit. It also has a 1-inch polyester tweeter. A ¾-inch Sony super tweeter was also added for better sound staging.
The speaker impedance is 6 ohms, which means they can be easily powered by small amps.
Pros
Lots of treble detail
Sounds great with electronic music
Cons
Guitars and vocals may sometimes take a back seat.
It does not have a balanced sound.
Bottomline: The Sonny SSCS3 is great for your living room stereo sound system, for more bass, hook it up with a subwoofer.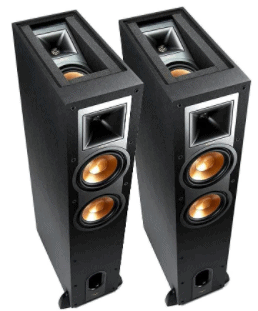 Specifications:
Mounting Type – Floor Standing, Ceiling Mount
Speaker Maximum Output Power – 400 Watts
Frequency Response: 38Hz – 24kHz +/- 3dB
Sensitivity: 97dB at 2.83V / 1m
Nominal Impedance: 8 Ohms Compatible
Sound quality and performance
The Klipsch R-26FA floorstanding speaker is another great-sounding unit. It's standout audio quality feature is the tweeter response. The treble sounds so crisp and clear. It brings out the shine in most EDM and pop music.
Another great quality of this speaker is to get very loud without distorting. However, no matter how loud it gets, the speaker is not suitable for large rooms. The sound will not fill the room or have the desired immersive effect.
Some speakers sound better when you place them with their backs to a wall. These speakers are not like that. No matter the position, they give an immersive sound experience.
Features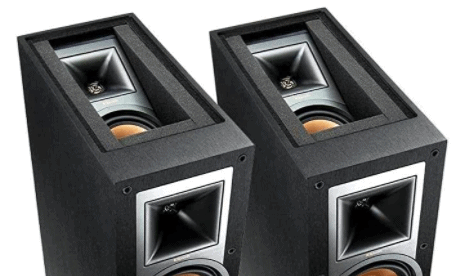 The R-26FA is made of polymer veneer material with wooden finish. It will fit into most rooms. However, the gold-plated cones may prove too flashy for some users.
In that case, you can cover it with the grille. Connection to this speaker is made easier because it has two sets of binding posts. This means that you can connect to the speaker from two separate sources.
With a frequency response of 38 Hz to 24 kHz, the Klipsch R-26FA will give you enough bass without needing a subwoofer. For audiophiles, who still need the extra 20Hz bass extension, you would need a subwoofer.
Pros
Great sleek design
Immersive listening experience
No distortion even at high volumes.
Cons
Not suitable for larger spaces.
Bottomline: The Klipsch R-26FA is a budget-friendly speaker choice that you can use without a subwoofer.
Specifications:
Transmitter frequency: 5.2 / 5.8 GHz Dual Band
Frequency response: 10Hz ~ 23 kHz
Signal-to-noise ratio: >80dB
Audio Output Level: 2V
Dimensions (transmitter & receiver): 2.6" x 2.3" x 1.1" (66mm x 59 mm x 29 mm)
Sound quality and performance
This tower speaker system has the superior audio quality and it's easily recognized once you listen. Its stereo separation is top-notch. Even without Dolby Atmos or any other surround feature, it gives a wide soundstage and makes your movies immersive.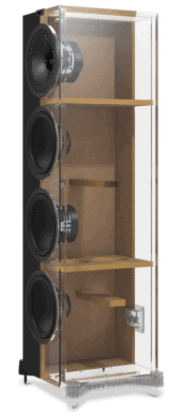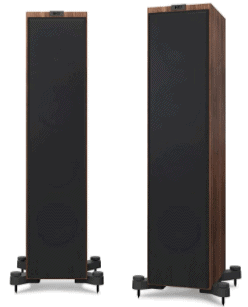 The bass is clean and solid. If you're not a critical listener, it may be hard to notice that it doesn't go below 58Hz. The midrange has a lot of detail.
Vocals, guitars, and pianos shine through without crashing. Likewise, the treble is crisp and clear without any harshness.
You will enjoy any kind of music, movies, and even games on these tower speakers. If you're looking to assemble a high-end home theater system, the KEF Q550 floorstanding speakers are a great place to start.
Features
The KEF Q550 has an elegant and attractive design. It's not surprising that they don't come with the grille. Most users will want to use these speakers without covering them up.
They come in three colors – black, white, and walnut. The walnut design is a wooden finish that sits right at home in almost any room.
Also if you're placing the speakers on a carpet, there are spikes for the base so that the speaker sits well. Unlike most speakers on this list, the Q550 is great in both large and medium rooms. The sound may be too big for smaller rooms.
It only comes with one set of binding posts, so you can only connect one amp at a time. If you often play audio from different sources, get an amp that can accommodate all.
Pros
Great sound detail
Clean, solid bass
Elegant design
Cons
Not suitable for smaller rooms
Grille has to be bought separately.
Bottomline: If you're an audiophile or you love to listen to a wide range of music styles, the KEF Q550 will give you a great experience.
Also read:
6 Best Budget Subwoofer for Cars in 2023 (Bass-Heavy)
Conclusion
Now that we have our top 5 options, it's time to show my top 3 picks. They are Polk Audio T50, Rockville One and the KEF Q550.
I like the Polk Audio and Rockville speakers because they make it easy to connect different devices to them. Rockville's Bluetooth option is a game changer for me – it means I don't have to get up from the couch to change anything.
KEF Q550 is just a premium speaker that sounds amazing. I'm choosing it strictly based on its sound quality.