Are you looking for the cheap Dolby Atmos soundbars?
Best Soundbar for TV
VIZIO SB36512-F6 Dolby Atmos 5.1 Soundbar Home Speaker (Renewed)
Best Soundbar Under 300
Soundcore Infini Pro Integrated 2.1 Channel Soundbar with Dolby Atmos and Built-in Subwoofers, TV Surround Sound System with 4K HDR Pass-Through,HDMI Arc,Bluetooth 5 Wireless Music Streaming
Comes With Alexa Built-in
Yamaha Audio YAS-109 Sound Bar with Built-In Subwoofers, Bluetooth, and Alexa Voice Control Built-In, Black
Best Soundbar Under 300
Soundcore Infini Pro Integrated 2.1 Channel Soundbar with Dolby Atmos and Built-in Subwoofers, TV Surround Sound System with 4K HDR Pass-Through,HDMI Arc,Bluetooth 5 Wireless Music Streaming
Last update on 2023-09-29 / Affiliate links / Images from Amazon Product Advertising API
Everyone loves the immersive feeling of surround sound when watching a movie. It's the kind of experience you get when you go to a cinema and it feels like you're right there in the movie. Dolby Atmos gives you this kind of feeling right in your home.
These Dolby Atmos soundbars give you 3D sound experience within your budget. The best part is that it does not take all the space in your room. The Dolby Atmos soundbars only take the space below your TV.
Having said that, there's a lot of soundbars out there that promise surround sound. This article brings you the best ones that won't cost you an arm and a leg.
Before I start listing, let me shed some light on what Dolby Atmos really is.
What is Dolby Atmos?
Dolby Atmos is a new technology pioneered by Dolby, the creators of the popular Dolby Digital sound. Dolby Atmos is a unique way of bringing 3D sound experience to smaller speaker units.

The 3D sound already exists, but was previously only available to people with 5.1 surround and 7.1 surround systems.

Such systems require a number of speakers strategically placed around the room to give the immersive feeling. For wireless options, you may even need ceiling Bluetooth speakers to give full effect.

With Dolby Atmos, you can have a similar experience with just a soundbar and subwoofer. This is achieved by using upward facing drivers in the soundbar.

The upward facing drivers pump sound towards the ceiling and the sound reflects back, giving the effect of height in the sound. The more reflective your ceiling is, the more you feel this effect.

The end result is that you not only have left, right and centre as your soundstage, you also have up and down.

If you watch movies with such a speaker, it puts you right in the middle of it all. The movie doesn't just sound like it's happening in front of you, it feels like it's happening around you.
Our 5 cheap Dolby Atmos soundbars – Editor's picks

Specifications:
Analog Audio Input: 3.5mm stereo min- jack
Digital Audio Input: Digital RCA (Coaxial/SPDIF)
Optical Audio Input: Optical (Toslink)
USB Input: Yes, for WAV Audio Playback
HDMI Input: Yes
Ethernet Input: Yes
HDMI ARC: Yes
Sound Enhancement Technology: VIZIO SmartCast, Dolby Digital®, DTS Virtual:X
Speaker Channels: 5.1.2
Build and design
This Vizio collection of speakers consist of a soundbar, a subwoofer and two satellite speakers. All the speakers have similar build and design, with the front and top covered with fabric and the bottom and back frames made of plastic.
Controls are done via remote control. Most of the operations are straightforward, but for more complex ones, there's an LCD screen on the remote to display the process.
For aesthetic purposes, it's good to use the speaker with 40-55 inch TVs, since the soundbar is 36 inches.
Connectivity options: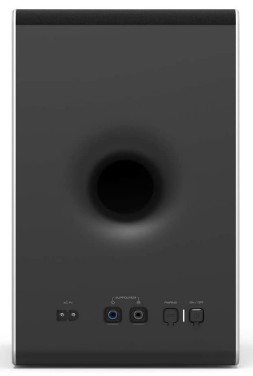 For connection, you can use the HDMI, coaxial/SPDIF, 3.5mm stereo, Toslink optical input or the USB port. There's also an option of Bluetooth and /wi-Fi to make it easier to select music and stream from your device.
Power requirements:
To power this unit, you'll need two outlets at least; one for the subwoofer and the other for the soundbar.
Setup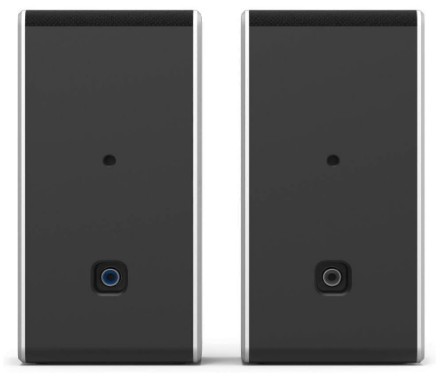 The soundbar itself contains most of the drivers; 5 of them. There are three drivers delivering left, right and center sound while the remaining two faces upwards to give the Atmos effect.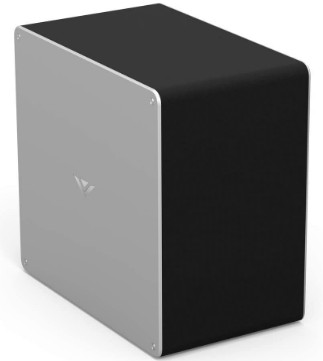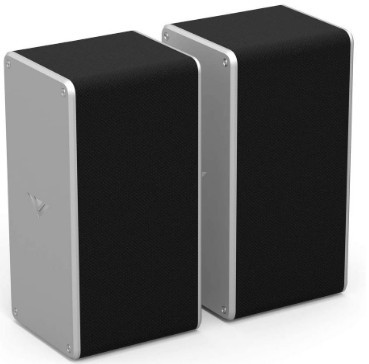 With the upward-facing drivers, you don't need wifi ceiling speakers. The satellites and subwoofer have one drive each, facing forward.
To set up the soundbar, place it in front of your TV, plug it into power then plug the appropriate cable. If it's HDMI, plug the HDMI cable into the designated port. If your TV is ARC-enabled, you can configure your TV remote to control the Soundbar.
Sound quality and performance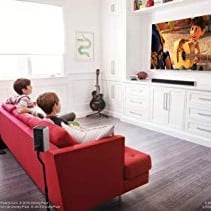 Watching movies with these speakers brings out the intended effect. It feels like you're right at the center of the action.
The upward-facing drivers do a real nice job of sending the sound up to the ceiling and reflecting them back down.
Action scenes are sounds quite good with the explosions and other thunderous sounds. Dialogue is also clear enough for you to pick out everything that's being said.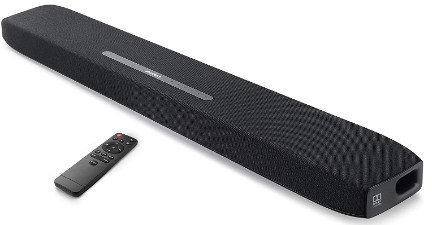 Specifications:
Channels: Integrated 2.1
Power: 120 Watts
Dolby Decoder: Yes
Dolby Atmos: Yes
AUDIO INPUT: 1 HDMI / 1 OPT / 1 AUX
HDMI OUT (ARC): Yes
4K Pass Though: Yes
Bluetooth Music Streaming: Yes
Soun: 36.61 x 4.72 x 2.4 in
Build and design
The Infini Pro is a soundbar with the typical shape and design. It's a long rectangular box with a black mesh grille. Its length is 36.6 inches, so it will look small when used with 60-inch TVs. It's better to stock with 45-inches to 55-inch TVs for its size. This is the best soundbar under $200.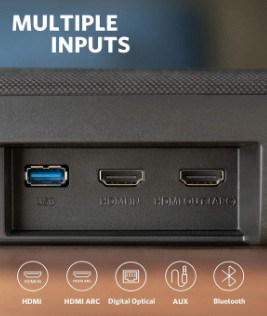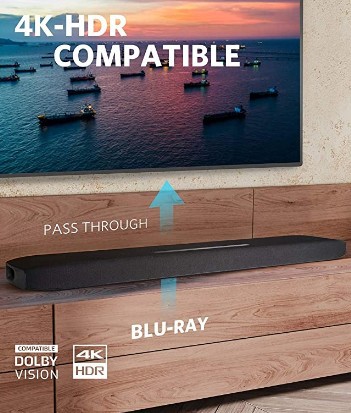 The controls are located at the top of the speaker. It's a selection of buttons that help you control the volume, input source and switch the system off or on.
One little issue here is that the display is also on the top of the soundbar. This means it may not be visible to you in a sitting position.
Soundcore Infini gives you the best of two worlds when it comes to connectivity. Wired and wireless options are readily available.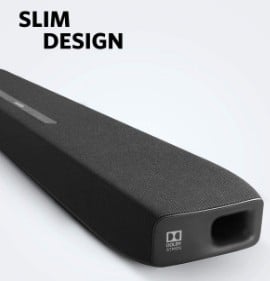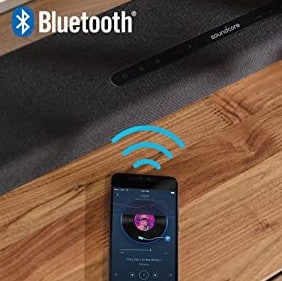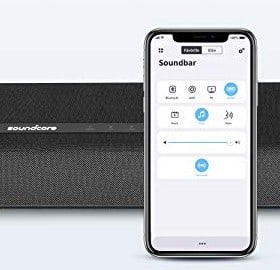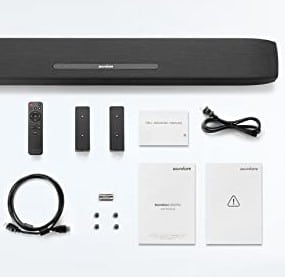 HDMI and optical audio ports are available for wired while Bluetooth 5.0 is there as the wireless connection. Bluetooth gives you an added benefit of wireless surround sound. However, you should be aware that the optical audio port doesn't support Atmos.
Setup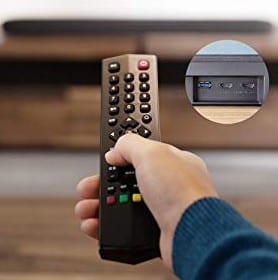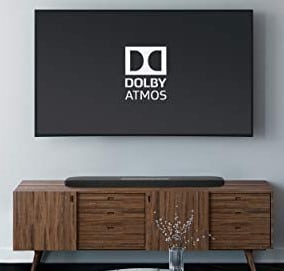 This speaker unit consists of subwoofers, midrange drivers and subwoofers that face towards the ceiling.
Connecting the soundbar to your TV is as easy as simply using the HDMI cable in the input and output ports. To feel the full Atmos effect, select surround sound in the options.
Sound quality and performance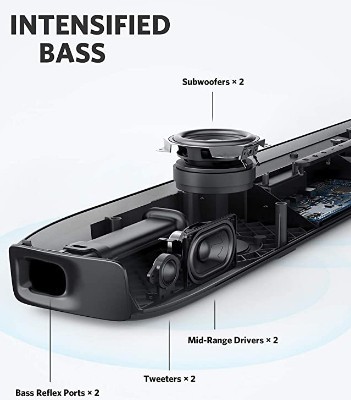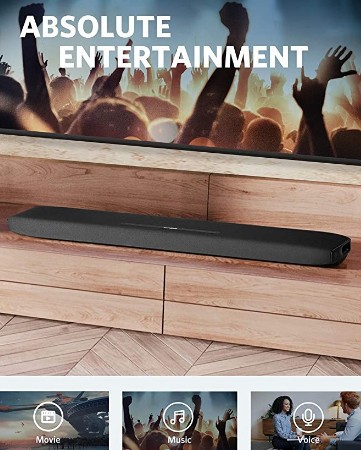 The Infini Pro has deep and well-rounded bass that brings out roars and explosions to full effect. The speech and dialogues also are not lacking. However, in a surround mode, the Atmos effect is felt more in width than in height.
While the left to right soundscape is wide, the vertical space is not as full. This means that the soundbar does better in the horizontal soundstage than the vertical.
Specifications:
Inputs: 1 x HDMI – Audio/Video, 1 x Optical TOSLINK – Audio
Outputs: 1 x HDMI – ARC/Audio/Video, 1 x RCA – Subwoofer
USB Ports: 1 x USB (Version Unspecified) (Service)
Bluetooth: 4.2
NFC: No
Audio Decoding DTS Digital Surround, DTS Virtual X, Dolby Digital, Dolby Pro Logic II, LPCM
Supported File FormatsAAC, ALAC, FLAC, MP3, WAV, WMA
Like most other soundbars on this list, the YAS-109's frame is part plastic and part fabric. The fabric is quite tough and won't tear off easily. Controls are available on the top of this soundbar. However, you don't need to get to the soundbar to control your sound.

There's an app that allows you to use your phone as a remote. This app gives you options such as EQ presets and Voice command activation.
YAS-109 comes with Alexa, which enables you to control the soundbar with your voice, so no need for extra Alexa ceiling speakers. For connecting your device, you have the options of Bluetooth, Wi-Fi, and HDMI.
Setup
This soundbar packs 6 drivers in all; two each for the subwoofer, mid and high frequency. There's a port on one side of the soundbar to make the bass sound better.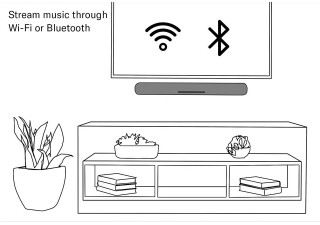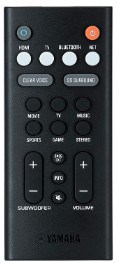 For wired connection, connect the HDMI from your soundbar to your TV or other devices. For wireless, use Bluetooth or W-Fi for pairing.
Sound quality and performance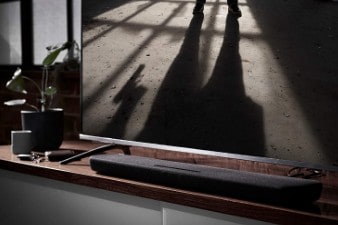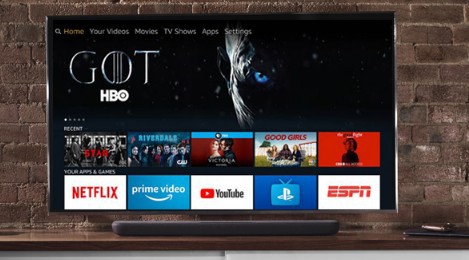 Even though the unit does not have a dedicated subwoofer, the bass drivers do a good job of producing explosions, rumbles and other bass-oriented sounds. Also, the speech can be heard clearly.
The YAS-109 uses DTS Virtual technology to create surround sound. It does not have multiple speakers or upward facing subs.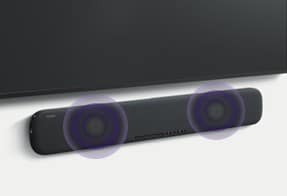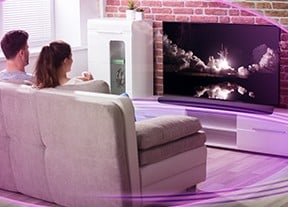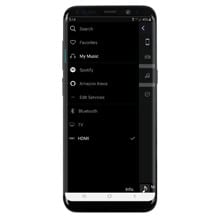 DTS virtual surround technology gives you the surround sound effect without the traditional arrangements.
The technology works well with this soundbar, putting you right in the middle of the action. Since it's just one unit, you don't need to worry about atmos speaker placement to get the desired effect.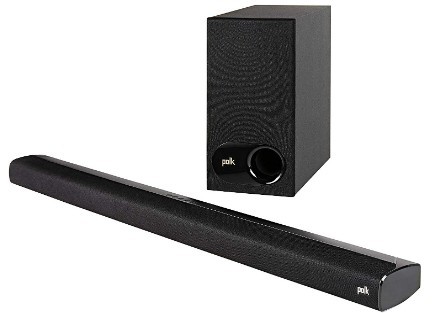 Specifications:
Audio Inputs: HDMI (ARC), Toslink Optical, Analog 3.5mm Mini-Jack (AUX)
Connectivity Technology: HDMI, Wireless
Wireless Subwoofer: 5.25" (165mm) subwoofer
Sound Bar Drivers: (2) 1.25" x 4.4" (32 x 112mm) full-range
Oval drivers, (2) 1" (25mm) tweeters
Inputs: HDMI ARC, optical, AUX(3.5mm), Bluetooth
Wall Mountable: Yes
Frequency Response: 45Hz-20KHz
Dimensions: BAR (WxHxD):90cm x 5.5cm x 8.4cm, 1.8kg
SUBWOOFER dimensions(WxHxD):17.1cm x 34.1cm x 31.2cm, 5.2kg 45Hz-20Khz
Design
Half of the soundbar is a mesh grille and the other is solid plastic. The grille has to be that wide to accommodate the up-facing drivers.
The available controls include the on/off switch, choosing the source device, switching Bluetooth on/off and volume adjustment.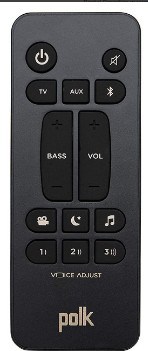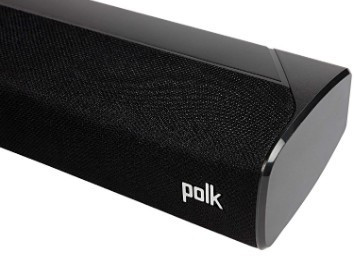 If you're using the soundbar with your TV, it's better to use the remote rather than going to the soundbar every time you need to change something.
The remote has all the controls you need, but you'll need to keep an eye on the buttons because they're quite close to each other.
For wired connection, HDMI is the best option available. The HDMI is ARC enabled. This means that you can use your TV remote to control the soundbar.


The soundbar also has a 3.5mm aux port, and digital optical input. The Bluetooth offers you a wireless streaming option from your phone or other devices.
Setup
Sigma S2 has a soundbar and a subwoofer. The soundbar carries two full-range drivers and two tweeters behind the grille.
The full-range drivers are on either side of the soundbar while the tweeters are at the center.
For your TV, you only really need to connect through the HDMI or Digital optical port. The soundbar and subwoofer are usually aired, so you should have no issues in that regard.
Sound quality and performance
The Sigma S2 really does justice in the bass production department. Action movies sound quite well, with all the majestic sound effects translating accurately. You may have to increase the bass level from the control to get the full experience though.
The major area where this speaker unit is lacking is in surround sound production. There is no attempt at making surround sound, either by driver placement or virtual DTS technology.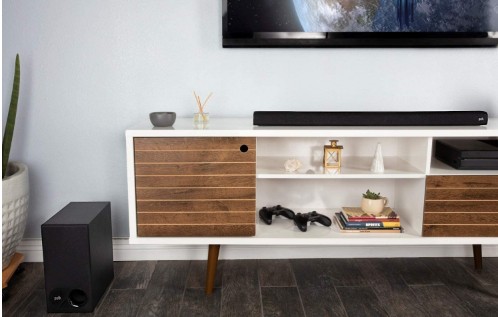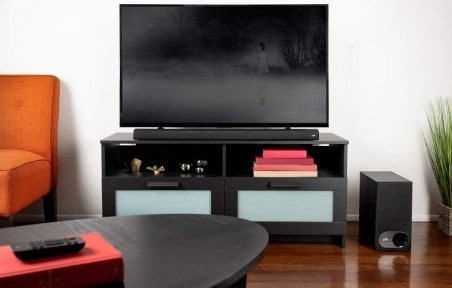 So, you may not feel like you're in the middle of the action; it feels more like the action is happening in front of you. However, the stereo soundstage is impressive.
JBL Bar 2.1 – Best home theater speakers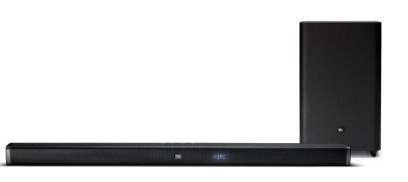 Specifications:
Inputs: 1 x HDMI, 1 x Optical TOSLINK, 1 x 1/8" / 3.5 mm – Audio
Outputs: 1 x HDMI
USB Ports: 1 x USB (Version Unspecified)
Bluetooth: 4.2
HDMI Compliance: ARC
HDCP Compliance: HDCP 1.4
Dimensions: 38 x 2.3 x 2.7" / 96.5 x 5.8 x 6.8 cm (Soundbar), 8.9 x 8.9 x 14.6" / 22.5 x 22.5 x 37 cm (Subwoofer)
Weight: 4.2 lb / 1.9 kg (Soundbar), 11.5 lb / 5.2 kg (Subwoofer)
Design
JBL Bar 2.1 looks just like your run-of-the-mill soundbar with its shape, build and physical features. The controls are on the top, while the front and the rest of the top of the soundbar are covered with a mesh grille.
The controls on the soundbar are basic at best, so, for more advanced options you need the remote. The remote allows you to adjust numerous features including, power, eq setting, night mode, light dimming and so on.

Like all the other soundbars on this list, the Bar 2.1 gives you HDMI, optical input and Bluetooth connectivity options.
JBL added the 3.5mm port as an extra option in case you're playing from older devices. The soundbar and subwoofer are connected by wireless connection. You don't need any special pairing for them because they come pre-paired.
Setup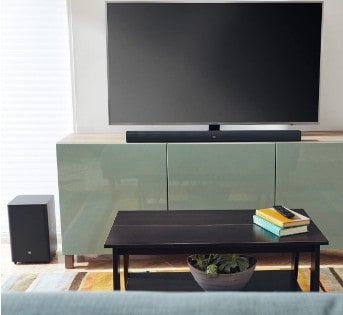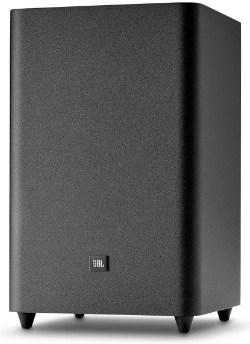 The soundbar packs six drivers, and these do not include the subwoofer. Four 2.25-inch midrange drivers and two 1.25-inch tweeters. The subwoofer has a 6.5-inch driver that pumps the bass.
Setting up the Bar 2.1 is as easy as plugging in the HDMI cable from the bar to your TV, or turning on your phone's Bluetooth and pair like any other device.
Sound quality and performance
JBL bar 2.1 has a number of sound profile options that you can choose from, but the surround is what we'll be talking about here.
The surround sound generally gives a "larger than life" feel. The 6.5-inch sub does its full job in bringing explosive sound and rumbling effects to their true potential.
The dialogues are also clear, thanks to the multiple midrange drivers and tweeters. However, the height expected with Atmos speakers is not really felt. While there's a wide horizontal soundstage, the vertical is quite narrower.
Related articles:
Conclusion
The soundbars on this list are all really good, but my favorite three are the Vizio, Yamaha and Polk Audio.
These are the three that give you the most immersive 3D sound feeling. They have a wide soundstage in terms of both width and height.
They also give you the Audio Return Channel (ARC) option. This enables you to control the soundbar with your TV remote.
This means that the audio adjustment buttons on your TV remote automatically controls the soundbar. It removes the added stress of controlling two gadgets at once.