Are you looking to buy the best soundboards for TCL Roku TV?
TCL Roku is a smart TV with a lot of modern features that make your entertainment an amazing experience.
Like most devices that give high-quality video, Roku TV's internal audio does not match up, hence the need for external TV speakers like soundbars.
Best Wireless TV Speakers
Bose Solo 5 TV Soundbar Sound System with Universal Remote Control, Black
Amazon Alexa Built-in
Sonos Beam - Smart TV Sound Bar with Amazon Alexa Built-in - Black
Has Built-in Subwoofers
YAMAHA YAS-108 Sound Bar with Built-in Subwoofers & Bluetooth
Last update on 2023-09-21 / Affiliate links / Images from Amazon Product Advertising API
There are a lot of soundbars on the market today, and some may not even be compatible with the Roku tv. So, to save you the trouble of searching for the whole of the internet, this article brings you the 5 best soundbars for your TCL Roku TV.c
Our best soundbars for TCL Roku TV

Specifications:
Inputs: 1 x Optical TOSLINK, 1 x Digital Coaxial, 1 x 1/8" / 3.5 mm – Audio
USB Ports: 1 x USB (Version Unspecified) (Service)
Wireless Audio Protocols: Bluetooth
Power Consumption: 30 W
AC Input Power: 100 to 240 VAC, 50 / 60 Hz
Physical
Dimensions: 21.6 x 2.8 x 3.4" / 54.9 x 7 x 8.6 cm
Weight: 3.7 lb / 1.7 kg
Bose Solo 5 is a black soundbar with a simple design. It's made of plastic, and the mesh grille is at the front. There's a status light in the front too, which indicates what mode the soundbar is in. This is the best soundbar under $200.
The Solo 5 soundbar is better for smaller Tvs; around 32 inches. Interestingly there are no control buttons or knobs on this speaker.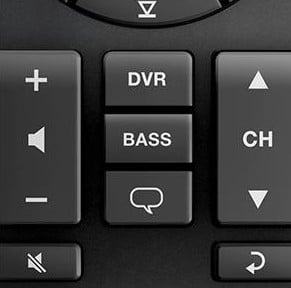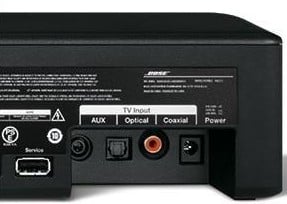 You are only able to do adjustments via the remote. The remote is not your regular kind. It's a universal remote that can be used for other devices, provided you have the manufacturer's IR code in the database.
You can either hang the soundbar on the wall or just place it in front of your TV. However, you should be aware that it does not come with its own wall bracket. You'll need to purchase that separately.
To connect your TCL Roku TV, use the optical port. Unfortunately, there's no HDMI port on this soundbar.
Setup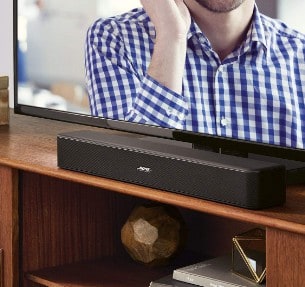 The Solo 5 soundbar has two speakers in it. These speakers have one driver each. The drivers are at the center of the soundbar but tilt in an outward-facing manner.
As I said previously, to connect the soundbar to your TCL Roku TV, you need to use the optical audio input.
Sound quality and Performance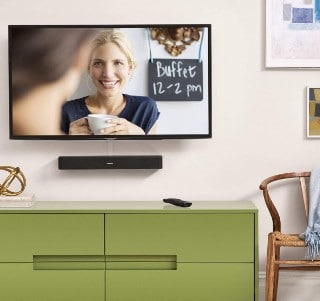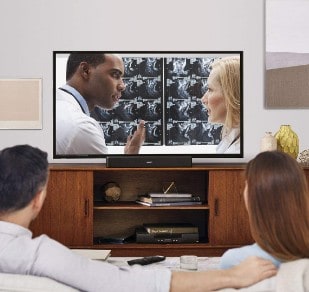 The best part of this soundbar's production is speech and dialogue clarity. The midrange and high frequencies are quite crisp, giving your movies the brightness it needs.
The bass is a bit lacking though. Even after increasing the bass response in the controls, the explosions and roars still do not reach very low depths.

Specifications:
Speaker specs: Four full-range woofers, one tweeter, three passive radiators, five Class-D digital amplifiers
Power: 100-240V
Voice Assistant support: Alexa, Google Assistant (coming soon), Siri via AirPlay 2.0
Streaming services supported: Google Play Music, Deezer, Amazon Music, Spotify, Apple Music, etc.
Sonos Beam is a 25-inch long soundbar that's made of a combination of plastic and fabric. The fabric covers the speaker drivers.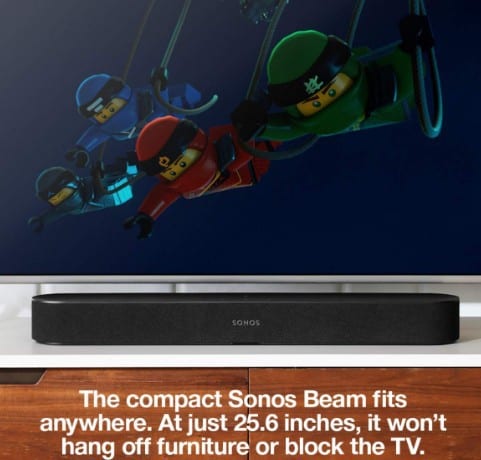 For effective use, it's better to pair this soundbar with a 32-inch TV. For TVs more than 32 to 40 inches, go for a larger soundbar.
You can choose to go either hands-on or hands-free for the controls.
The hands-on option is given via the touch-sensitive buttons on the top, while the hands-free control is done by voice command.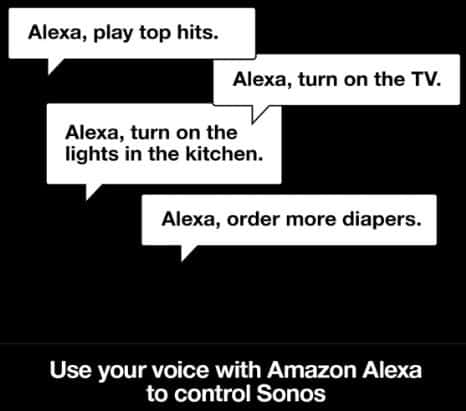 The popular voice assistants are available; Siri, Alexa, and Google Assistant. Also, Sono Beam is wall mountable, so you can either fix it to a wall or prop it up next to your TV.
The connection options include wi-fi, Bluetooth, HDMI, and ethernet. You only need the HDMI port to connect the soundbar to your TCL Roku.
Setup
The Sonos Beam has five drivers and three radiators. Four of those drivers are full-range while the remaining one is a tweeter. The three passive radiators are for extended bass response.
Sonos Beam does not come with a remote.
To control the soundbar, you need to use the HDMI-ARC feature. This enables you to use your TV remote to control the music. Thankfully, the Roku has the ARC feature, so the lack of a remote shouldn't be an issue.
Sound quality and performance
Sonos Beam only gives three channels of audio; left, right and center.
However. With the Trueplay feature, it can give something close to surround sound. The Trueplay feature works by calibrating your room first and then playing the sound that fits the room.
The only downside here is that Truplay is only available on iOS for now. Hopefully, the Android version will soon be available.
Dialogue is crisp and the sound effects are deeply felt. The sound stage is more like in front of you, rather than being thoroughly immersive.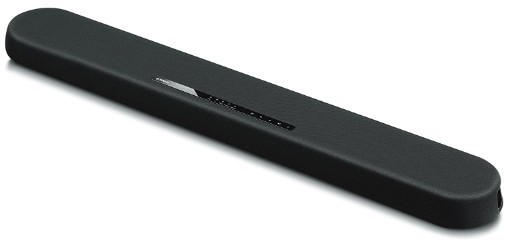 Specifications:
Connectivity Technology: wired, wireless
Controls: input selector, mute, power on/off, volume
Supported audio formats: Dolby Digital, Dolby Pro Logic II, DTS Digital Surround
Surround Technology: DTS® Virtual:X™
Surround mode: Music, TV program, Movie, Sport, Game
Bluetooth Maximum Communication Range: 10 m; 33 ft (*without obstructions)
Input / Output: HDMI: 1 in / 1 out
Digital Optical: 1 in, Analog Audio: 1 in, Subwoofer output: yes
Design
Yamaha YAS-108 soundbar is wall mountable. You can also place it in front of your Roku TV. It also offers you a number of connectivity options which include HDMI, Toslink optical port, 3.5mm input, and Bluetooth wireless.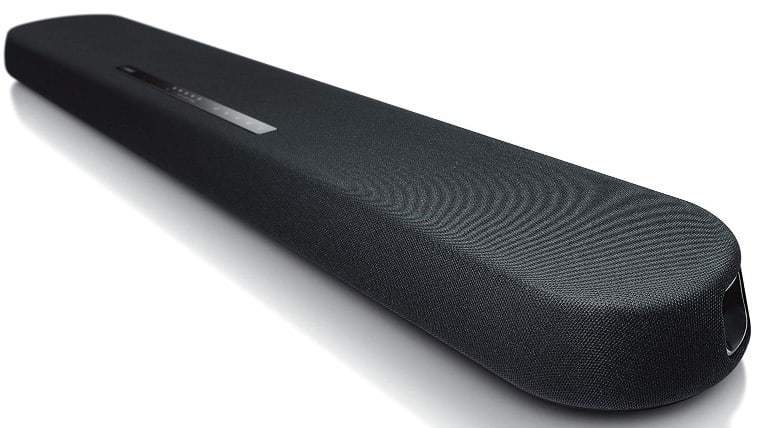 For your TCL Roku TV, the HDMI connection will be most efficient. You will need to purchase an HDMI cable separately though because the soundbar does not come with one.
For the Bluetooth connection, it uses Bluetooth 5.0 and allows you to connect two devices at once.

The remote is the best way of controlling the soundbar. The remote is designed such that the basic functions are easily accessible. It also includes a button to dim or switch off the LED.
Setup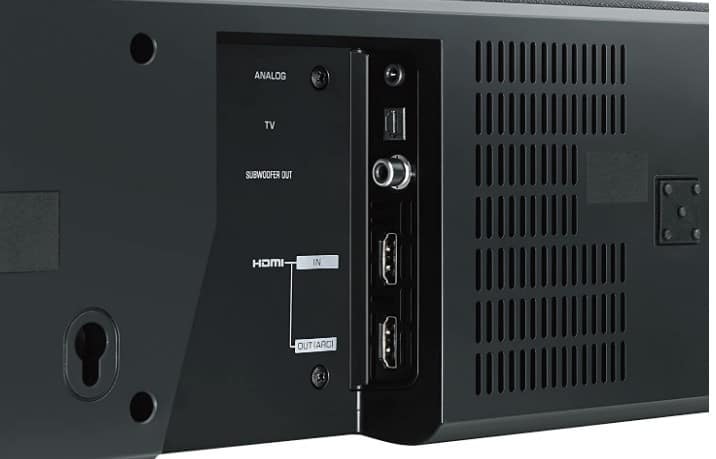 There are a total of 6 drivers in the soundbar. Two 3-inch subwoofers, two 2.125-inch midrange drivers and two 1-inch dome tweeters.

To set this up with your Roku TV, use the HDMI cable. YAS-108 is ARC enabled, so once it's connected, you can use your TV remote to control the audio coming from the soundbar. To achieve this, make sure HDMI CEC is enabled on both TV and soundbar.
Sound quality and performance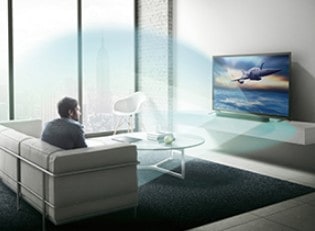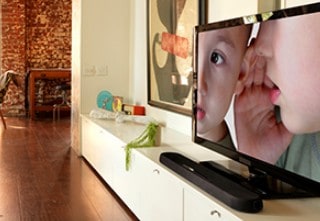 YAS-108's two subwoofer drivers do a good job of giving the sound a lot of bass. The bass is abundant in quantity but is not very deep
.
The soundbar can't produce those very low frequencies. This means that you may miss out on those when it's used in the movie score. Dialogue and other mid to high-frequency elements are crisp and clean. For extended bass depth, you'll need an external subwoofer.

Specifications:
Inputs: 1 x HDMI – ARC, 1 x Optical TOSLINK – Audio, 1 x 1/8" / 3.5 mm – Audio
Outputs: None
USB Ports: 1 x USB (Version Unspecified) (Audio)
Wireless Audio Protocols: Bluetooth
Bluetooth: 4.2
NFC: No
Audio Decoding: Dolby Digital
Supported File Formats: FLAC, MP3, WAV
Design
The Alto 7+ looks like your run-of-the-mill soundbar – plastic frame with a front grille. There's an LED indicator that changes color depending on the input source.

The controls are on the top with buttons to adjust input source, volume, Bluetooth pairing and switching the power on/off. The remote gives you more options including EQ settings. Also, Alto 7+ is wall mountable and usually includes the bracket for fixing it.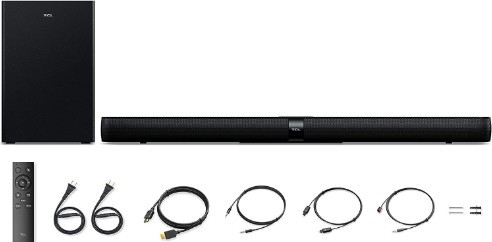 For connection, the options available include 3.5mm aux in, IR pass-through, optical input and HDMI with all the cables included. There's also wireless connection, made possible by Bluetooth connection. This pair is a good Bluetooth speaker for TV, if your Tv has Bluetooth.
Setup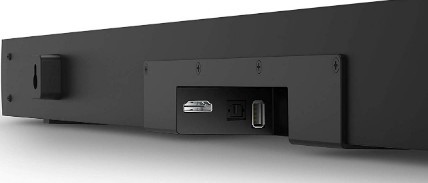 The speaker unit consists of a soundbar and subwoofer. The subwoofer has a 6-inch driver and a bass reflex port for extended bass.
The soundbar has two 1.5-inch tweeters and two 4.5-inch midrange drivers. The soundbar connects to the subwoofer via wireless connection. The pairing is factory-fitted, so you don't need to do it yourself.


Setting up the soundbar with your Roku TV is as easy as slotting the HDMI cord into its place. The soundbar is ARC (Audio Return Channel) enabled, so you can configure your TV remote to control the soundbar.
Sound Quality and Performance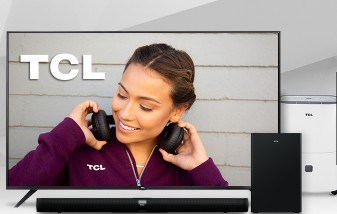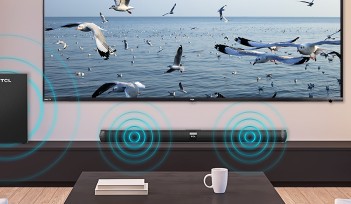 The Alto 7+ does a really good job of producing all the frequencies from low to high.

While Yamaha YAS-108 delivers loud volume levels but less bass depth, the Alto7+ gives deeper bass but doesn't get very loud even when turned up.

Sub-bass frequencies come out well, making movie rumbles and thunder strikes sound super realistic.
The speaker does not offer surround sound, and it makes movies sound like they're in front of you. The soundstage is wide in stereo sense only, and not in 3D.

Specifications:
1 HDMI™ output with Audio Return Channel (ARC)
1 HDMI input
1 optical digital audio connection
1 power input
1 Ethernet port for SoundTouch and software updates via a network
1 3.5 mm jack for ADAPTiQ system setup
1 3.5mm jack to hardwire the bass module
1 micro-USB connection
Design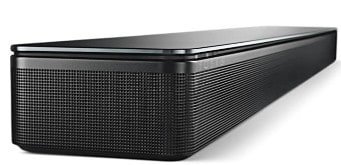 The SoundTouch 300 is the only soundbar on this list to have tempered glass at the top. The advantage of tempered glass is that it doesn't crack easily and fingerprints do not stay on it.
You can either place the soundbar on the same cabinet as your TV or mount it on a wall. If your TV is wall-mounted, it would look better if you mount the soundbar just below it too.
Alexa is perhaps the most effective way to control the soundbar. You can put the amazon voice assistant to work by saying "Alexa, ask Bose to…" .followed by your command. This makes it easy to differentiate if you have more than one Alexa-enabled device.
The wireless connection options are up to date. It's a full package that includes Wi-Fi and Bluetooth options.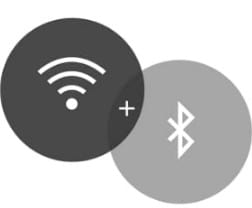 The wi-fi allows you to stream music from Spotify and Pandora, while the Bluetooth gives you impressive features like multi-room sound and NFC. Multiroom sound lets you connect the SoundTouch 300 to other Bose SoundTouch speakers for louder sound.
For your ROKU TV, you need the wired connection which includes HDMI (ARC enabled). Optical audio and 3.5mm ports. The HDMI is the best option here. This is because it gives the most effective connection.
Setup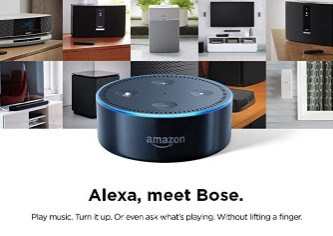 Connecting the speaker and setting it up is fairly straightforward, but the major part is the room calibration process. The SoundTouch 300 uses the Acoustic room calibration to tune the sound of the speaker to your room size, in order to give a better listening experience.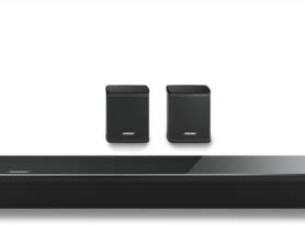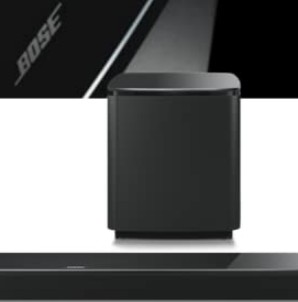 This is achieved by using a headset mic. When you wear it, the mic is naturally positioned at listening height. The calibration helps the soundbar to produce the sound that is well suited to your room.
Sound quality and Performance
The soundstage is really wide, but only horizontally. You won't really feel the height as much. The soundbar does not have Dolby Atmos or virtual surround features, but it manages to give a pretty wide soundscape.
If you are looking for the soundbars with Dolby Atmos technology, you can refer to my post on cheap Dolby Atmos soundbars.
Even though it places the action in front of you, rather than immerse yourself in it, it's still an engaging experience all the same.
Dialogues and other mid to high-frequency effects are well reproduced. The only place that's a bit lacking is the bass. Explosions and rumbles are loud, but not as deep as an external subwoofer would give you.
Things to look at while buying the best soundbars for TCL Roku TV
The soundbars that would be compatible with your Roku TV are those with corresponding input ports. The audio ports on the TCL Roku TV are the 3.5mm analog output, digital optical output, and HDMI output.
3.5mm analog output
This is the regular ⅛-inch size audio port that you find on most headphone jacks. It carries the audio from your TV to the soundbar.
However, it only gives you stereo sound quality. It cannot deliver surround sound, whether real surround or virtual surround. You should only use it with your RokuTV if the soundbar has no other viable options.
Digital optical output
This port gives a better audio quality than the 3.5mm output. It's better for movies, especially if the soundbar is equipped with Dolby digital plus.
Its best performance is when your soundbar can give surround sound. The digital optical output transfers pre surround sound from the TV to be produced by the soundbar.
HDMI ARC
A lot of soundbars have HDMI ports but not all are ARC enabled. ARC means Audio Return Channel. It's a technology that allows the soundbar and TV to have a two-way signal exchange.
The result of this is that you can control the audio output of the soundbar with your TV remote. It removes the trouble of using different remotes for both gadgets.
FAQs on best soundbars for TCL Roku TV
How to connect a soundbar to TCL Roku TV?
Depending on the input that your soundbar has, you can hook up your Roku TV to the 3.5mm output, optical audio port or the HDMI port. Once this connection is made, your soundbar should pick up sound automatically.

For some soundbars, you may need to apply the input source with the remote or on-board control. If your soundbar is ARC enabled, then continue by setting the soundbar with your remote.

What is ARC HDMI?
ARC is a feature that enables your soundbar and TV to have two-way communication. As a result of this, you can use your TV remote to control the soundbar.

This means that the volume buttons and other audio controls will automatically control the audio from the soundbar.

How to connect Roku remote?
The remote comes pre-connected to your TV. To connect the Roku remote to your soundbar, the soundbar must have the HDMI ARC feature. Also, you must connect the TV to the soundbar via the HDMI ports.
How to pair a Roku remote?


For you remote to pair well with your TV. make sure that there is no obstruction between you and your TV. If you're having any problems with the pairing, test the remote by checking for an infrared signal. You can do this with your phone camera in a dark room.

Point your remote at the phone camera and press and hold a button. If you look through the phone screen, you should see a blinking purple light.
Does Roku have Bluetooth?
TCL Roku TV doesn't come with Bluetooth. This is why you need a wired connection to hook it up to your soundbar. Not all smart TVs have Bluetooth or wi-fi on them.
Conclusion
This is all about the best soundbars for TCL Roku TV.
All these soundbars are actually pretty good, but my top 3 picks are Alto 7+, SoundTouch 300 and Sonos Beam.
I like Alto 7+ because of its low-frequency quality. The presence of an external subwoofer makes the sound much better.
SoundTouch 300 has a large soundstage. It can be really immersive if you do the Acoustic room calibration well.
Sonos Beam may not be up there in terms of immersive sound, but it's ahead of the rest in terms of voice command. It's like a soundbar version of Amazon Echo. It has Alexa, Siri and Google Assistant at your fingertips.