Owning a good-looking car is not enough sometimes if it is missing out on a proper in-car entertainment system.
A good car stereo system makes driving even more fun. Sure, the factory speaker system will do the job as far as music is concerned. But you don't want to be old-school anymore.
Thus, presenting before you the top 5 single din flip-out screens. This year, get yourself one of the finest entertainment units for your car and change your driving experience.
So which one would fit your needs perfectly? Read on to find out more:
Top 5 single din flip-out screens reviewed
Specifications:
Compatible With Apple Carplay, Android, Auto, Appradio, Mode +, Flac Audio, Spotify & Pandora Internet Radio
Siri Eyes Free With Compatible iPhone
Music Streaming & Hands-free Calling With Compatible, Bluetooth – enabled Devices
1.5a USB Port
Features
One of the most popular head units, the Pioneer AVH-3400NEX is an absolute favorite for car owners.
The 7-inch touchscreen display leads the list of features. It offers a sharp resolution of 800×480 pixels.
The AVH-3400NEX supports both Android Auto and Apple Carplay. It impresses with its user-friendliness as it can be controlled via voice. Thanks to Google Now and Siri support, this head unit will let you go hands-free by virtue of its Bluetooth capability.
Furthermore, you can customize the voice control features to control several music streaming applications such as Spotify, Pandora, and Apple Music. Also, AVH-3400NEX prioritizes safety by easing voice calls and allowing you to concentrate on the road while driving.
Coming to the graphic EQ, it comes with many presets to enhance your music listening experience. If you are a rock or hip-hop fan, you will certainly be satisfied with its bass boost. Other worth mentioning audio features include the delay function and crossover controls.
The rearview camera comes in real handy, especially for city drivers. Safety is notched up even more with its removable faceplate to prevent thefts.
Pros
Removable faceplate security gives added security
Loaded with latest features like Mirrorlink, LED backlight, and many more
Numerous video and audio sources and connections
Works fine even with older car models
Fully customizable graphic EQ
Cons
Only selected USB cables can be inserted into the USB ports
Some issues of glitching with the touchscreen display
HD radio is not present
Buttons are not easily pressable
No music sorting option for flash drives
Bottomline: If you are searching for a 21st-century entertainment head unit for your car, Pioneer AVH-3400NEX is the right choice. It has a unique budget and will transform your driving experience into a safe, fun, and interesting one.
Specifications:
Supported Internet Services Pandora, Spotify
Item Dimensions LxWxH 8 x 7 x 2 inches
Output Wattage 340 Watts
Item Weight 5.1 Pounds
Inputs – USB/SD Ports, auxiliary, a rearview camera
Outputs: Video, Front, Rear & Sub Pre-Amp
Features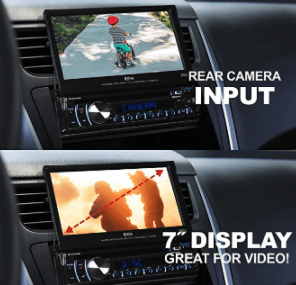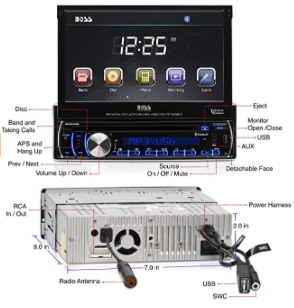 BOSS is known for its high-quality products and the Boss Audio Systems BV9986BI is an apt manifestation of that fact. It is a modern car head unit that combines advanced technology and user-friendliness.
One of the most liked features of BV9986BI is its Bluetooth support. With just the touch of a button, you can make hands-free calls safely while driving. You can pair your phone with the unit in seconds and play your phone's music or stream music on Spotify or Pandora.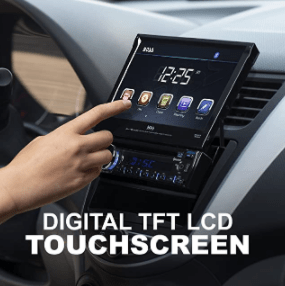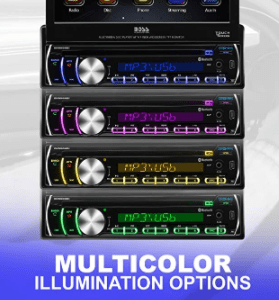 BV9986BI comes with a 7-inch LCD touchscreen that is motorized. That means it can slide back into the receiver when not in use. There is a DVD player where you can insert DVDs or even choose to play movies or videos directly from your phone.
Now, let's shift your focus to its connectivity options. BV9986BI is equipped with USB ports, SD card slots, and AUX inputs compatible with smartphones, MP3 players, and other suitable devices. It also has AM/FM stations. You can connect your car's speakers to BV9986BIs's dedicated front, rear, and subwoofer preamp outputs.
The 7-inch LCD touchscreen display comes with more than 16 million color combinations. You can customize it according to your choice and mood. The changes can be made at any time.
Also, for further security purposes, BV9986BI has a detachable front panel to be safe from theft.
Pros
Instant Bluetooth pairing
USB ports support old devices as well
Labeled wires quicken the installation process in less than 30 minutes
Decent amount of power output
Cons
Absence of GPS facility
Supportable audio formats restricted to MP3 and WMA
Navigation of files in SD card is difficult
Cheap feel to the control buttons
Bottomline: BOSS Audio Systems BV9986BI is an affordable option for a single din unit for your car. It comes with some pretty neat features. The brand value of BOSS makes it very dependable.
Specifications:
Power Output: 4 x 80 Watt (320 Max.)
Wide Screen TFT – LCD Display
Aspect Ratio: 16:9 High Definition
Pixel Resolution: 800 X 480
Impedance: 4 Ohm
Signal to Noise Ratio: 70dBA
Frequency Response: 20Hz – 20kHz
Video System: NTSC/PAL (Auto Recognition)
Features
Pyle PLBT73G is yet another single din flip-out screen car entertainment unit that is showcased by its flawless Bluetooth connectivity. It facilitates you with the safe hands-free calling feature.
Another useful trait is the voice-controlled music streaming function. By this, you can listen to music from Spotify, Apple Music, and Pandora.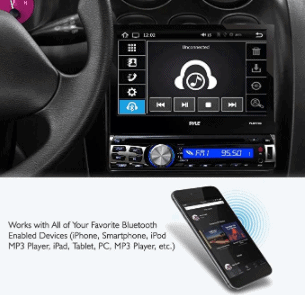 The built-in navigation is another important feature of PLBT73G. It provides assistance for every turn while cruising on the road.
Usually, people prefer to use the navigation system on their smartphones. But the GPS of PLBT73G is more accurate. Plus it is displayed on a larger screen and voice prompts are delivered via the car's speakers. So you can keep your eyes on the road at all times. You do not want to compromise with safety.
The 7-inch flip-out touchscreen is fully detachable. It comes with a resolution of 1024×600 pixels. The video quality is crystal clear and sharp.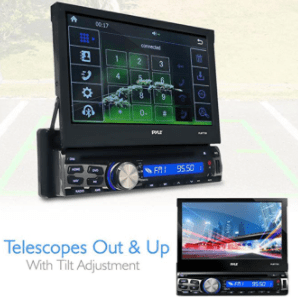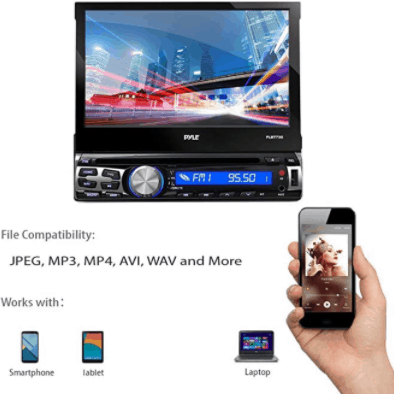 Other connectivity options include 2 USB ports and 1 SD card port.
However, it will take some time for you to get used to the touchscreen's control system and navigation system.
Pros
Perfect car unit for music streaming
Tablet-like user interface
Can be customized by downloading many apps from Playstore
High video quality and sound output
Solid build quality
Has been inbuilt with a good microphone
Cons
No DVD and CD slot
Not easy to update the system software
Bottomline: The Pyle PLBT73G is a good midrange alternative to your older car stereo system. It is better than most cheap single din units available in the market.
Specifications:
USB Flash & Micro SD Memory Card Readers
Front-Loading CD/DVD Player
Aux (3.5mm) Input Connector Jack
Video Backup Camera Support (RCA Video Input/Output)
Subwoofer (RCA) Output
AM/FM Radio with 30 Station Memory
Includes Remote Control
Features
Don't let the rumors of Pyle PLT85BTCM being a lesser-known product. Its bunch of unique features will change your mind instantly.
First of all, its electronic shock protection compatibility is an interesting characteristic of PLT85BTCM. This single din car unit also supports a vivid range of audio format files such as MP3, MP4, AVI, and JPEG. It also comes with an inbuilt DVD and CD player.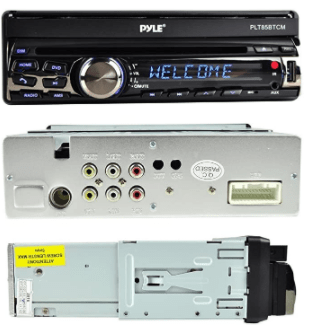 In the visual department, the PLT85BTCM features a 7-inch HD retractable touchscreen. The resolution is 800×480. The picture quality is colorful, sharp, and vibrant, especially during the night.
Bluetooth connectivity allows you to make hands-free calls safely. You can use the voice control feature for music streaming.
The quality of the backup camera is pretty impressive as well with its marine-grade build quality. It is IP67 rated with all-weather proofing attributes. The camera offers 420 TV lines high resolution and a wide-angle view up to 170 degrees.
The micro SD slot has a storage capacity of up to 64 GB and it supports video files and playback as well.
Even the radio in PLT85BTCM is pretty good. There is an option for saving your favorite stations.
Pros
The installation process is straightforward and easy
Seamless bluetooth connectivity and convenient for making hands-free calls
The large LCD touch screen makes it control friendly
Cons
No GPS navigation system
The range of the microphone is very bad
Connection lag in the case of smartphones
Back up camera has to be activated manually
Bottomline: If you are choosing Pyle PLT85BTCM, you will get absolute value for money. All-in-all, this is a durable and well-designed single din flip out the head unit for your car. It is definitely a dependable investment with many basic features. The backup camera is a worthy add-on.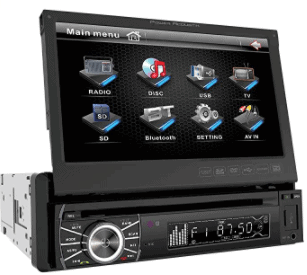 Specifications:
Anti-Theft Security – Detachable Faceplate
Motorized Faceplate – Yes
Remote Control – Yes
Peak Power Output – 52 watts x 4 channels
RMS Power Output – 17 watts x 4 channels
Preamp RCA Outputs6-channel (3 pairs)
Features
First and foremost, Power Acoustik PTID-8920 comes with a 7-inch WVGA resistive touch panel. The icons are big and friendly to use and even the settings are pretty straightforward.
The high clarity display may not be suitable for watching videos and movies but works fine for viewing the rear while parking.
So yes, the PTID-8920 can be easily hooked with the rearview camera or parking camera.
This stereo also houses a good AM/FM radio to listen to music channels and local news with ease. On the front panel, there are subwoofer controls that let you amplify the bass for some heavy musical experience while driving.
PTID-8920 is compatible with both Android and Apple devices. The Bluetooth support enables audio streaming and hands-free calling features.
This single din unit can flawlessly read SDHC cards. Installation becomes easy by using the rear connectors. There is also a voice-control feature that lets you control hands-free calling.
Pros
Excellent sound quality
Supports rear view parking camera
User-friendly software
Cons
Picture quality not impressive
Drop-in bass quality when music played via Bluetooth
There is no equalizer for music playback
Not many input and output sources
Bottomline: Power Acoustik PTID-8920 is a reasonably priced single din flip out stereo unit for your car. It is extremely reliable and will definitely fit your strict budget. It may not have the fancy features but it's spot-on for the basic functionalities.
Read Also: How to Fix Bluetooth Lag in Car? – 8 Super Quick Solutions
Conclusion
Have you made your decision yet? Or are you still confused about making a choice?
Wait, let us simplify it even more for you. Out of the above, we liked 3 of them the most and for some valid reasons.
Beating all odds, the Pioneer AVH-3400NEX takes the pole position. This is by far one of the most advanced car entertainment systems. Packed with features, ensures safe driving and comes with many fun functionalities. All of this does come for quite a price. But it is definitely worth the investment.
Up next, BOSS Audio Systems BV9986BI caught our eye. As it goes without saying, BOSS has a brand reputation for making trusted and reliable devices. It is complemented by its unique features. Plus, it does within a humble budget as well!
And finally, we liked the Pyle PLT85BTCM. The backup camera is an interesting highlight. This single din unit is very well-designed, has a durable build quality, and will give you absolute value for your investment.
So here was the top 5 single din flip-out screen review at your disposal. Quick, make your pick now!