Canon R6 is a camera made for both enthusiasts and professionals.
With its full-frame 20MP sensor, you can record high-quality videos and shoot movies up to an 8k pixel resolution. Plus, the in-body image stabilization, autofocus, articulating full screen, and many other features make it a fantastic choice for professional videographers and vloggers.
Great audio is equally essential for videography as the graphics, whether you're vlogging, shooting a film, podcast, or covering a wedding event. This purpose cannot be achieved with the built-in mic of the Canon R6, making an external microphone a need.
This blog will talk about the 7 best Canon R6 external mics so that you can make some super cool videos with great audio.
Top 7 Canon R6 external mics
The Rode VideoMic NTG is a broadcast-quality microphone optimized for on-camera use, making it the best on the list. It is a must if you're a vlogger.
Why?
Because the acoustic design will bring you unmatchable audio transparency and record an authentic, natural sound.
The microphone is not only highly compatible but user-friendly too. You can connect it directly to your laptop with the USB output. Also, the 3.5mm jack can sense what device it is connected to and accommodate accordingly. Furthermore, the battery life is massive, offering you over 30 hours of uninterrupted usage.
This microphone has a surprising sound quality. With the super-cardioid pickup pattern, you can focus the sound right in front of the mic. And, the flat frequency response will add an excellent essence to the surrounding sound. So whether you're a filmmaker, vlogger, or record documentary, this combination will amaze you.
Suppose you're recording in a boisterous environment like in a market or traffic, in that case, you'll find the high-pass filter of the microphone really helpful. It reduces the effect of background noises and boosts the sound quality of your vocals, giving you crisp, transparent audio.
The attenuation pad works great in extremely noisy environments. It can actually reduce signal levels down to -20db, so you get the same audio as the input but with lesser noise. Plus, the DB peak warning light keeps you informed as soon as the distortion begins.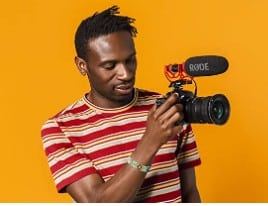 The microphone also has a high-frequency boost. What this does is that it enhances and clarifies the sound quality if you record in an environment with wind noises and similar sounds. All three options of a high-pass filter, attenuation pad, and high-frequency boost can be enabled and switched from your device.
The high-quality shock mount will ultimately end your worries related to sound quality. It will protect your recordings against unwanted vibrations and noises usually caused during camera operation. Plus, the sliding rail allows positioning the mic as per your requirement.
Pros
The db peak warning light warns you when your audio starts getting distorted.
The microphone has excellent compatibility, allowing you to connect to your laptop, desktop, mobile and headphone using the 3.5mm jack and USB output
The built quality is not high, so it can damage if it falls from a height.
The microphone requires an electric source to work.
Bottomline: This microphone is for every content creator, videographer, and vlogger because of its fascinating and unique features.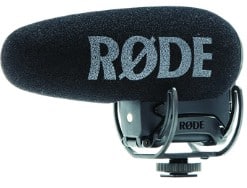 The Rode Videomic Pro+ is a popular on-camera microphone due to its unique features and versatility. The main highlight of this microphone is Rycote Lyre which is the world's best shock mount system. This system lacks the Rode VideoMic NTG, making this microphone a better choice
This system effectively eliminates the unwanted handling or moving sounds that usually arise while you're operating the camera. This results in crisp, crystal clear audio.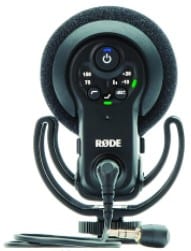 Another highlight of this microphone is its power. Unlike the DEITY V-MIC D3 Pro, this microphone has a built-in battery door. So, even if you forget to charge, you can replace the battery with 2 AA batteries. You can also continuously use and charge the mic using the USB output.
One advantage it has over the Rode VideoMicro is that it comes with a user-replaceable connectivity wire. You can manually change the wire if it gets damaged. You can also switch it with a longer wire in case you are shooting a film and the mic and camera are far away, without affecting the sound quality.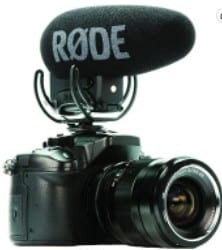 The onboard digital switching system makes controlling your sound quality real easy. The option includes a high-pass filter for eliminating unwanted background noises. The attenuation pad reduces the noise levels, while the high-frequency boost makes your vocals clearer in a relatively noisy environment. These options save a lot of post-production and editing time of audio.
This microphone lets you control the power functions of the mic with the camera. This means as soon as the camera opens, the mic will automatically turn on and vice versa. You'll love this feature if you try new techniques and tricks while shooting and don't want to miss a rare shot.
You don't have to control the mic and camera separately with the automatic power function. The mic will follow the camera.
The built-in battery door allows you to change the battery and never stay out of power.
The microphone is a bit pricey compared to the features.
The microphone needs an external wire to be connected to a mobile or tablet.
Bottomline: This mic is great for podcasters, filmmakers, vloggers, and casual video creators. Multiple power options make this mic a must if you want to record and lack the availability of electricity.
The DEITY V-MIC D3 Pro is the most durable on-camera mic on the list due to its aluminum build. So, if you are looking for a rugged mic for daily use, this is it. This is where it beats the Rode VideoMic NTG and the RODE VIDEOMIC PRO+.
You don't need to worry much about the power in this microphone. Its lithium-ion battery charges in less than 2 hours, giving you a battery life of around 50 hours. This feature gives it an advantage over the Rode VideoMic NTG.
The automatic power function allows your microphone battery not to be wasted. Plus, it is an easy solution for you if you record on and off frequently. So, it's a better option in this domain than the Deity V-Mic D4.
The microphone comes with a 14mm condenser capsule and gives you an ultra-flat frequency response. This will allow recording the same audio to the way it was performed, refraining from adding any bass boost or coloring.
The microphone will not disappoint you in noisy or windy environments. It has two different levels of low cut to reduce such unwanted sounds. Plus, the tight acceptance angle of the super-cardioid polar pattern ignores the background noises and sounds of minor frequencies, ensuring uncompromising audio clarity.
This is the only microphone with a step-less gain knob, putting you in charge of your audio input levels. With this, you have the versatility and features of an audio mixer without the addition of any extra weight.
Unlike the RODE VIDEOMIC PRO+, this microphone offers broad compatibility. With the Canon R6, you can connect it with your phone, tablet, or laptop with the USB output and use it for different purposes.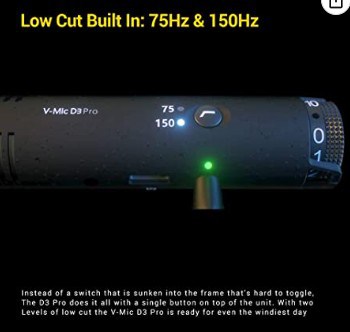 The Rycote shock mount gives this mic an advantage over the Rode VideoMic NTG. It holds the microphone in a position, leaving it contactless from the mic's body. This eliminates the camera's unwanted vibrations and moving noises, thereby giving you crystal clear audio.
This microphone gives an excellent competition to the RODE VIDEOMIC PRO+ at a way lower price.
The microphone charges fast and has a long battery life of around 50 hours.
The ad shows that the mic doesn't come with a case.
The customer support is poor.
Bottomline: The microphone is a gift for videographers and vloggers with a tight budget. Plus, its uncompromising built quality and good battery life make it an excellent option for daily users.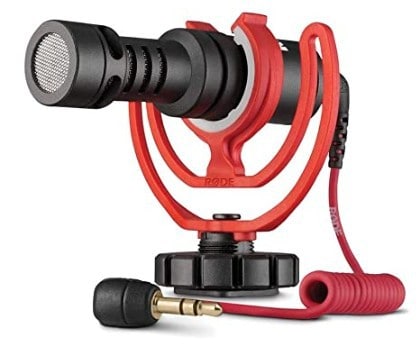 The Rode VideoMicro is a lightweight, compact size microphone, great for on-camera use. This microphone will pretty well serve the purpose of improving the audio quality of your videos. This is definitely for you if you record videos daily and have a low budget.
You should go for this microphone if you're starting vlogging or videography and want to try things out.
Why?
Because the microphone records high-quality audio for great videos. Plus, the built quality is good enough for everyday use, all this at a competitive market price. The price tag is where it leaves behind every other mic on the list.
You should go for this microphone if you want to get rid of power issues. It works directly on the camera battery, making usage easier than the Rode VideoMic NTG and the RODE VIDEOMIC PRO+.
This microphone comes with a deluxe furry windshield, making your audio sound clearer despite being recorded in a noisy environment. Plus, the microphone has the best shock-mount system, the Rycote Lyre. It is way more efficient in delivering clear audio for your videos compared to the built-in shock mount of the SONY ECMCG60 microphone.
The mic has a good built quality and is available at a low price.
The Rycote Lyre system delivers the finest audio quality.
It has limited compatibility.
The microphone has no onboard control.
Bottomline: This microphone is for beginners and casual videographers looking for an excellent on-camera microphone at a low price.
The Sennheiser MKE 400 is another tremendous on-camera microphone for Canon EOS R6. The microphone will provide you with the most acceptable quality audio with its super narrow, super-cardioid pickup pattern.
The camera has a built-in suspension mount which will eliminate unwanted vibrations from your audio to some extent. Plus, the integrated wind protection will prevent your audio from getting exposed to distorting noises.
This microphone will allow you to do live monitoring of your audio. How? This comes with an integrated headphone jack. You can connect your headphones to it using the 3.5mm jack. You can also adjust its volume with the onboard volume adjustment control. This feature makes it a better choice over the Rode VideoMicro.
The microphone increases the flexibility of your audio with the 3-step sensitivity feature. With the built-in low-cut filter, you can take charge of your audio quality by allowing the desired amount of surrounding sound in your audio. You will lack this feature in the Deity V-Mic D4.
Unlike the DEITY V-MIC D3 Pro, it comes with an interchangeable 3.5mm connectivity option. This means that it will work efficiently with your camera and mobile phone.
Pros
This shotgun microphone is excellent for recording vocals.
The microphone works only on 2 AA batteries.
The microphone is pricey compared to its features.
Bottomline: This microphone is for videographers who require wider compatibility and hassle-free power options. You can also choose this microphone if live audio monitoring is what you want.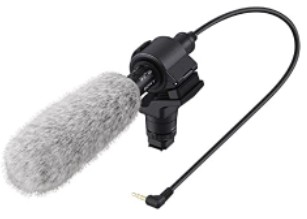 The Sony ECMCG60 is an excellent shotgun microphone that delivers good quality audio for your vlogs or videos of other kinds.
The microphone has a super-cardioid polar pattern. Its tight acceptance angle restricts unwanted background sounds and noises to be part of your audio, making your videos more transparent. This makes it a better option than the Rode VideoMicro.
You also get a windscreen with a microphone, which comes in handy in noisy environments for producing clear audio.
Unlike the Rode VideoMic Pro, it does not need an external wire to connect to your cell phone. Instead, the microphone has its own 3.5mm connectivity option for connecting to your Android or iPhone.
This microphone would fit many different cameras with its supplied holder. So, if you have two different types of cameras, you should go for this microphone.
Also, the microphone holder can make your audio clearer as it can absorb the unwanted sound arising from which you are recording with it.
Furthermore, you can use the low-cut mode to allow only the sound you want in your audio.
The microphone is easy-to-setup and has a smaller size compared to its previous version. Plus, it only requires a single AA battery to work. You are gonna love this hassle-free combo if you don't like complex videography setups.
The narrow super-cardioid polar pattern of the microphone produces clear and focused audio for your video.
The microphone has a 3.5mm compatibility option, connecting to various devices.
The customer support service is poor.
You would need an external adapter to connect to a few cameras.
Bottomline: Along with various other features, this microphone is for those who have more than just one camera and are looking for a minimal videography setup.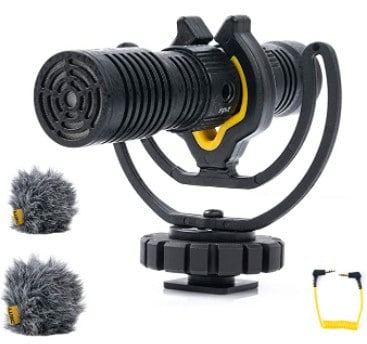 The Deity V-Mic D4 is a perfect camera if you want to record vlogs or interviews with it. Why so? Because of the presence of two built-in mics. This way, you can record audio from both sides (front and back) of the microphone. This is the only microphone on the list with this feature.
You can control whether you want to use both the mics or only the front one with the onboard toggle switch.
This microphone, too, has a Rycote Lyre shock mount, holding the mic in place to protect it against unwanted vibrations. This boosts your audio quality and makes it better than the Sennheiser MKE 400 in this domain.
The microphone does not have a power source or battery and works using the camera battery it is attached to. Using 3.5mm output, you can connect the rear mic to a lavalier mic, which will boost your interview recordings. This is a unique feature and is absent in other mics of the list.
The microphone records audio from both the front and back sides of it.
This microphone is excellent for recording interviews and vlogging at a competitive price.
The microphone does not work great in windy environments.
Bottomline: This microphone is built for recording one-on-one interviews, podcasts, and vlogging. Plus, it comes at a surprisingly cheap price, so if you are low on budget, this is what you need to get.
Conclusion
So these are the 7 best Canon R6 external mics with great audio. Each of these has a unique feature and a different price. I recommend choosing from my top 3 mics on the list: Rode VideoMic NTG, Rode Videomic Pro+, and DEITY V-MIC D3 Pro.
The Rode VideoMic NTG has a design that records raw audio and filters, eliminating noise. The 3.5mm jack widens compatibility, and the shock mount is good enough to remove unwanted vibration. These features make it one of our best picks.
The Rode Videomic Pro+ has the best shock-mount system, recording clear audio. The automatic power function reduces the chances of battery loss. Plus, it has different power options, which eliminates the power issue. All the benefits combined make it our best pick.
The DEITY V-MIC D3 Pro has rugged built quality, suitable for daily usage. The battery charges super fast and has a long life. The flat frequency response produces a peaceful, just like real audio, while the pickup pattern is perfect for noisy environments. This is the reason it is our best pick.
Read Also: How to Earrape Mic? (Discord, Zoom) – Don't Miss this Guide