In this post, today we are going to review the best alternatives to Zoom H1.
Do you need to have a recording ASAP?
Our Best Pick
Zoom H4N PRO Digital Multitrack Recorder, Black (H4nPro)
Best Value for Money
TASCAM DR-05 Portable Digital Recorder (Version 2)
Great Features Over Zoom H1
Zoom H5 4-Track Portable Recorder for Audio for Video, Music, and Podcasting, Stereo Microphones, 2 XLR/TRS Inputs, USB Audio Interface, Battery Powered
Our Best Pick
Zoom H4N PRO Digital Multitrack Recorder, Black (H4nPro)
Best Value for Money
TASCAM DR-05 Portable Digital Recorder (Version 2)
Last update on 2023-12-08 / Affiliate links / Images from Amazon Product Advertising API
Most times we look to our smartphones for our on-the-go audio recording needs. A lot of times, what we record with them can't be used for anything serious; except personal and very unofficial uses.
Also, if you're a videomaker, one of your major concerns is how to have crisp, clean audio for your videos. I accept that Zoom H1 is a highly recommended audio recorder to record on the go.
But it has some drawbacks.
Accept it!
It doesn't come with overdub functionality, no XLR inputs. It has the problem of batteries getting drained out faster. Zoom H1 lacks overdubbing feature, audio editing features also.
This is where the zoom H1 alternatives come in.
Zoom recorders are portable multitrack recording devices, which can be used to record on their own, or while connected to another microphone.
There's one thing a multitrack recorder offers you: i.e. Options. It's always better to have high quality audio on ground, either you deem it necessary or not.
Things might change along the way. Imagine your "unprofessional video" goes viral and millions of people keep saying "wish the audio was clearer".
You're probably asking "why h1 alternatives?" Well, the Zoom H1 has been discontinued by the manufacturers, so even if you get brand new ones, it won't be for much longer.
Also, there are much better options on the market now, so you might as well check them out.
What to look for while buying Zoom H1 alternatives?
XLR Input:
If you'll be hooking up your recorder to an external mic, you should consider the input port of the recorder. This is because most high-end mics work with XLR. If yours doesn't, you must use XLR to ¼ inch jack cables. The Zoom H1 does not have XLR inputs.
Battery life:
Most people choose to use recorders because of mobility. So, it may be counter productive if you have a recorder whose batteries don't last long.
I would recommend at least 5 hours of battery power for any recorder to be considered effective.
Maximum SPL:
A Zoom H1 alternative should have a maximum SPL of 120db or higher, to ensure that it's useful in different conditions. You can take it along for both one-on-one interviews, requiring moderate volumes to heavy metal concerts, with high volume recording.
Here are our top 3 Zoom H1 alternatives:
#1. Zoom H4n Pro –
Our best Zoom H1 alternative
Build and design
At 9.9 ounces, the Zoom H4n Pro is a lightweight digital multitrack recorder that allows you to record up to four tracks simultaneously.
It gives you the option of a wider stereo image by allowing you to change the angle between the unidirectional mics, 120 degrees being the widest.
It is powered by 2 AA batteries, which can last between 6 and 10 hours of use. The Zoom H4n Pro has a lot of functions for a device of that size; the onboard effects include reverb, delay, high pass filter, and a compressor.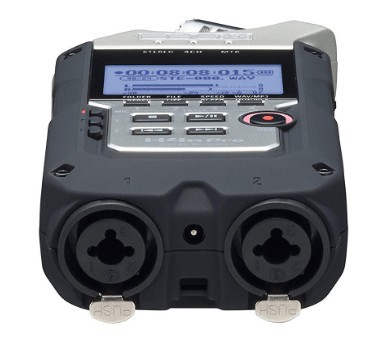 Zoom H4n pro comes with rechargeable battery whereas this is not the case with Zoom H1n. It also has a few editing options, like the tempo and pitch change options. Zoom H1 doesn't have any audio editing feature.

Also, Zoom H4n comes with A-B repeat feature which means you can listen to any particular recording track by marking the beginning and end. Zoom H1 lacks this feature.
You're probably wondering how you'll navigate all of these functions on that screen alone. It may seem daunting at first, but once you get the hang of the buttons, you'll be fine.

You can record up to four channels at once since the H4n Pro has in-built X/Y mics, you can add a shotgun or lavalier mic to the mix to have different sound sources. If you'll be recording up to 4 channels of audio, I would advise that you have a sound guy on set to handle the audio recording. This recorder comes with XLR input which allows you to connect with your devices.
Sound quality
Zoom H4n Pro has a maximum SPL of 140db. That means that provided the sound you're recording is not up to 140db by the time it hits the mic, you have no problems with distortion.
If you're using an external mic with a much lower SPL, things might change, because you may have distortion even before the sound reaches the H4n Pro. The 140db maximum SPL is only a guarantee with internal X/Y mics.
A 140db maximum SPL means that you can record a live band with no worries. It also gives you the advantage of doing some close up audio capturing, which can be very good for the soundscape.
When you have a very good recording, the editing phase becomes much easier; this is important in both audio and video production.
Pros:
Low noise floor
High SPL; you can record at loud volumes
Compact design
Cons:
Slow booting (20 seconds)
Battery life not very predictable
Bottomline
If you're looking for a digital multitrack recorder with more stable handling than the Zoom H1 with great audio editing and A-B repeat feature, then, the Zoom H4n Pro is your best bet.
#2. Tascam DR-05 –
Best value for money
Build and design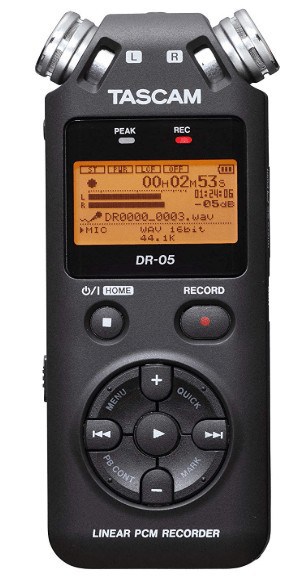 The Tascam DR-05 is a compact multitrack audio recording unit with an in-built stereo condenser mic and XLR inputs.
With the DR-05, you have little worries about the microphone breaking off. This is because its not protruding unnecessarily out of the rectangular frame of the whole unit.
To add to the available memory and reduce breaks, you have the option of adding up to 32GB microSD card.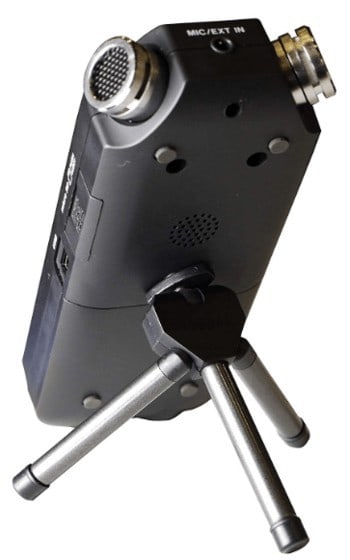 The record button is well separated, located to the right of the stop button, which also doubles as the on/off switch. You only have the option of a microSD though, so be careful not to lose it. You can connect it to an external mic or sound source via the line inputs.
Tascam has found an intuitive way to reduce the number of buttons and also to make navigation easier.
Even if you're a first time user, you can find your way around the DR-05 in a couple of minutes.
Also, the position of the line in connection port is quite convenient, especially if you'll be keeping it in your pocket while holding the external mic. The port is right on top, so you'll have less handling noise this way.
It comes with 2 AA batteries fully charged and you can use the whole day without any worries.
Sound quality
The Tascam DR-05 has a maximum SPL of 125db, which is good for recording from most sources. You would need some monitoring though, because some sources can become suddenly loud while recording videos.
Also, if you're recording a concert, be careful of high volumes; the levels can easily reach up to 130db when there's a lot of energy. The Zoom h1 has a maximum SPL of 120db, making it less applicable in loud situations.
The DR-05 also has effects that work for your recordings. The chromatic tuner for example, and the feature that increases or decreases playback speed without any change in pitch.
Additionally, if you're a novice or you don't know what to expect in certain recording situations, just set the DR-05 to automatic level control, and let the device figure things out.
There's a limit to the effectiveness of this auto mode, but it helps you to keep things in check.
With Tascam DR-05 you can overdub your files which comes handy while recording multi voice performances. This feature lacks with Zoom H1.
Pros:
Compact design, easy for mobile use
Easy navigation
Bottomline
The Tascam DR-05 is a better and cheap alternative to the Zoom H1 because it is useful in more situations, and with the easy navigation, it's good for emergency use.
#3. Zoom H5 –
Great features over Zoom H1
Build and design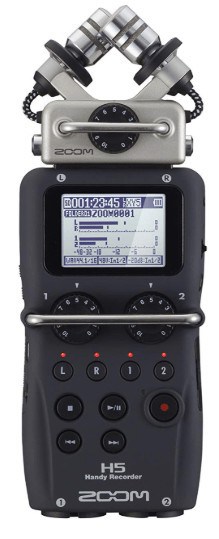 The Zoom H5 is a recorder I'll describe as "made to last". This device really looks like it doesn't need too much supervision; it can take care of itself.
The body has a very good grip, so it's not likely to slip out of your hand while using it. This is really important, because with the size of the Zoom H5, it's not likely to fit in your jeans pockets.
Another interesting feature of Zoom H5 is the control buttons and knobs. Even though it has a display screen, the knobs are quite accessible and parameters such as volumes or gain levels of input channels can be easily adjusted. With Zoom H1 you don't have audio gain control knob.
If you're familiar with knobs on handheld devices, you would agree that it's easy to accidentally turn them during movements.
Zoom thought about that too, and added a metal protective bar to prevent accidental adjustments either by unintentional hand movements or during a fall.
Zoom H1 lacks headphone jack whereas Zoom H5 comes with a special headphone jack which makes it easy for you to listen to the recordings. Zoom H5 also has XLR inputs.
Sound quality
The Zoom H5 does a really good job of multitrack recording and even takes it a bit further into multitrack live editing.

You can add effects to individual input channels. As an example, if you're recording audio from a concert, and you hook the line in ports to the mixer.
You can record the audience sound via the in-built mics. As you know, even with high SPL ratings, audience noise can bring some levels of distortion into your mix.
You can add compression to the audience channels, while keeping the line in channels free of any effects. Other effects present in the H5 include, reverb, high pass filter and delay.
The inbuilt mics of the H5 are shock mounted, so there is minimal noise from handling. This means that your hand movements and vibrations from the H5's body will not be captured.
However, note that the mics are exposed, so you must take adequate care, so you don't knock them against hard surfaces.
Also, if you're using the Zoom H5 outdoors, make sure to use a windshield, so that wind noise doesn't compromise your recording (unless the wind noise is what you're actually recording)
Also, Zoom H5 comes with special chromatic tuning which allows your instruments to be tunes with different pitches which is not possible with Zoom H1.
If you want to make a wise decision among Zoom H4n Pro vs H5, then refer our previous post.
Pros:
Easily accessible controls
Rugged body with good grip
Cons:
In-built mics too exposed
Quite large
Bottomline
The Zoom H5 is a better alternative to the H1 in many ramifications; I really don't need to spell them out anymore now, do I?
Recommended read: Zoom H1 vs H1n – Top 5 Differences You Need to Consider
Conclusion
Of course, there are more alternatives to Zoom H1 multitrack recorder, but we have given you our best top three, based on first hand experience and research.
As you may have noticed, all alternatives that we have listed each have their unique strengths, and reasons why we have chosen them.
Therefore, if you have been looking around for H1 alternatives, you have the best three you'll ever get right in front of you, just a click away.