Today in this post I am going to present you the music streaming stats.
Music streaming has gained a lot of popularity as a major medium of enjoying our favorite songs.
Platforms like Spotify, Apple Music, and Tidal keep rolling out interesting offers to woo music lovers onto their platforms.
The artists are not left behind. The streaming platforms have helped fans reach their favorite artists' work easily.
Also, a good number of artists had their big breaks as a result of these platforms. Rappers like Juice World and Travis Scott blew up on SoundCloud first.
Whether you're a music lover or creator, these stats will show you the progress in music streaming.
Music streaming services statistics
Spotify streaming service has 286 million monthly active users. Out of that 130 million users are premium subscribers
Currently, Spotify is available in 79 markets worldwide.
As of April 2019 data, the Apple Music streaming service is growing at a faster rate than Spotify.
As of April 2019, U.S. Apple service subscribers [28 million] are more than the Spotify subscribers [26 million]. Whereas globally, Spotify is leading the industry with 108 million subscribers compared to Apple Music's 60 million as of June 2019.
CounterPointResearch shows that as of 2019, music streaming subscriptions increased by 32% year-on-year.
As of June 2019 data, Apple says that there were 60 million premium subscribers.
January 2020 data shows that Amazon Music has 55m customers.
Alphabet, the parent company of YouTube has announced that YouTube Music and YouTube Premium have over more than 20 million subscribers.
Streaming services paid subscriptions accounted for 80% of all the music revenue.
The number of paid music streaming subscriptions increased by 29% in 2019.
As per the RIAA data in the U.S. the streaming service market has increased from 7% to 80% in 2019. On the other hand, paid subscriptions increased from 1.5 million in 2010 to 611 million by mid-2019.
Globally, 89% of listeners listen to music through on-demand streaming.
27% of users have used smartphones for consuming music streaming.
51% of users having smartphones have used radio for listening to music, followed by standalone radio 45%, and voice-activated speakers 10%.
In 2019, 58% of the music downloads are done by male users while female users have 42% downloads.
28% of the users who have downloaded the music in 2019 have a high income, while 33% have medium income, and 39% have low income.
Music streaming revenue statistics
Streaming services paid subscriptions alone generate 62% of the industry revenue.
The U.S. music industry streaming revenue:
Global music streaming paid subscriptions in % [By brands]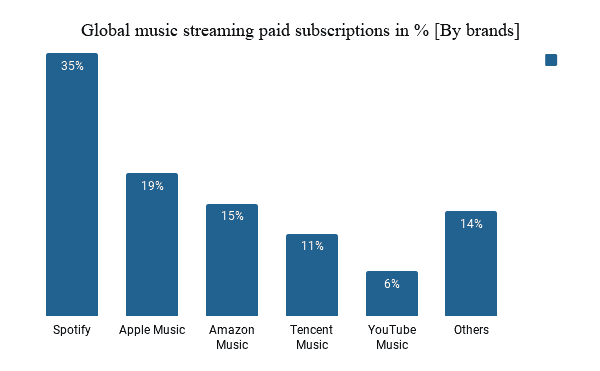 Spotify has a 35% market share, followed by Apple Music 19%, and Amazon Music 15%.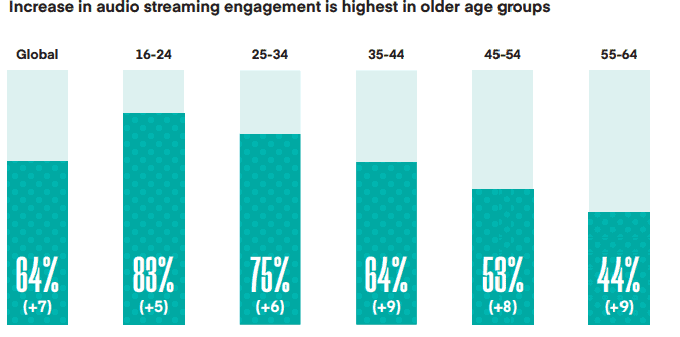 The above chart shows that the increase in engagement rate is higher in the age group of 55-64. It is less in the younger age group of 16-24 years.
Music streaming genre stats
The younger age group of 16-24 years are 4x times more likely interested in listening to hip-hop or rap songs compared to other age groups.
Top 10 favorite genres globally
Pop
Rock
Oldies
Hip-hop/Rap
Dance/Electronic
Indie/Alternative
K-Pop
Metal
R&B
Classical
23% of users use stream-ripping for music consumption.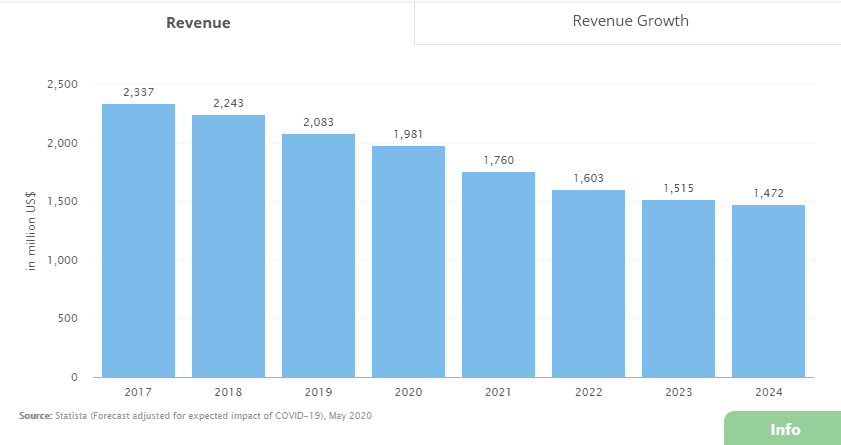 The revenue generated from the music downloads was $2083 million in 2019, and it reached US$1,981m in 2020.
Spotify stats
As of April 2020 data, Sheeran is also the most followed artist on Spotify with followers of 62.9 million
On average, the user listens to 41 unique artists per week
Spotify is now available in 74 countries globally.
As of writing this post, there are over more than 50 million tracks available to users on Spotify.
There are 286 monthly active Spotify users as of now. Out of these, 130 million are premium subscribers.
On a daily basis, 44% of the users listen on Spotify
Apple music stats
AppleMusic is now available in over 167countries around the globe.
As of 2020 data, there are 68 million Apple Music subscribers.
There are 60 million music are there in its library
As per the latest 2019 data:
In the U.S., 28% of Android users use AppleMusic.
There are 28 million paid AppleMusic subscribers in the U.S.
SoundCloud stats
In India, SoundCloud is the 8th most popular streaming service
HumbleBundle is the top 1 referring site for SoundCloud.
YouTube is the major source of the search traffic for SoundCloud with a contribution of 40.63%.
25% of US mobile users are using SoundCloud.
On a monthly basis, 76 million users use SoundCloud
More than 200 million tracks are available on SoundCloud.
Sources:
GoodWaterCap
MacObserver
Statista
CounterPointResearch
Musically
Musically
TechCrunch
VarietyRIAA
IFPI
Expanded Ramblings
Conclusion
It's clear from the numbers that Spotify is the streaming service with the largest user base, even though it isn't available in a number of countries.
For artists, this is the best time to put out your work for streaming. Take advantage of these stats for your music creating and listening.