The Rode NT-USB and NT-USB Mini are quite similar in looks, function, and even names. The NT-USB is famous as a go-to mic for content creators – podcasters, vloggers, gamers, and others.
Last update on 2023-09-21 / Affiliate links / Images from Amazon Product Advertising API
Most people like the mic because of its plug-and-play feature. No need for any technical gymnastics. The same things can be said of the NT-USB Mini.
So, are there any differences between these two mics? If so, how do these differences affect their performance?
Which of the mics is better, and in what cases?
I will answer all of these questions in this article.
| | | |
| --- | --- | --- |
| Features | Rode NT-USB Mini | Rode NT |
| Frequency range | 20 Hz – 20 kHz | 20Hz – 20kHz |
| Maximum SPL | 110dBSPL | 110 dB SPL |
| Weight | 585g | 520g |
| Polar pattern | Cardioid | Cardioid |
| On-Board Controls | Not Specified | Headphone Volume |
| Operating Principle | Pressure gradient | Pressure gradient |
| Buy now | Buy Rode NT-USB Mini | Buy Rode NT |
Rode NT-USB Mini vs Rode NT
Build and design
The NT-USB looks and feels solid, and is built quite similar to the NT-USB mini. The frame is made of steel and it has two plastic knobs by the side. The Mini only has one knob in front of the mic. I will discuss the use of these knobs later.
If you're recording musical vocals or instruments, you may have to get a mic stand. However, if you're recording a podcast or vlog, you only need the desktop tripod – it's included in the box.
One fundamental difference is the pop filter. Rode NT-USB comes with a pop filter made to fit the shape of the mic. A regular pop filter may look awkward, especially if the mic will appear in your video.
Rode added a curved filter that makes the sound better and looks good at the same time. The NT-USB mini doesn't have such a pop filter.
Both mics are only available in black – a good choice if you don't want to draw attention to your mic in your vlogs.
The mic's weights are also quite similar. With just 60 grams difference between them. Interestingly, the 'mini' is the heavier one.
Features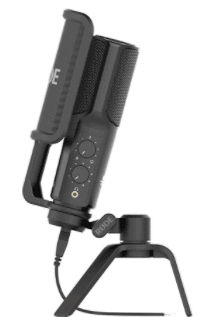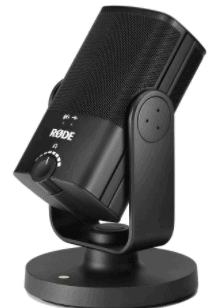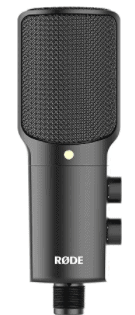 Both mics come with the essential components you need to set them up. The NT-USB comes with a USB cable, pop filter, desktop tripod in the box. The Mini has a USB mini cable and no pop filter in its box.
Both mics have a cardioid pickup pattern. It means that they pick sounds from subjects in front of the mic. Of course, other sounds can find their way in, but they'll be much quieter than the ones directly facing the mic.
The Mini has just one knob, which controls the monitor gain. You can monitor the sound through the 3.5mm port on the mic. It's zero-latency monitoring, which means there's no delay between what the mic captures and what you hear from the headphones.
The NT-USB has two knobs. One of them enables you to adjust the gain of the monitoring headphones, just like in the Mini.
The other knob allows you to adjust the balance between the direct monitoring and the sound that comes from your computer.
So, this mic gives you two monitoring options – to hear from the mic directly, or to hear it after it's passed through your computer.
Of course, the latency here depends on your computer's performance. If yours is lagging, simply adjust the knob to only give you the direct monitoring only.
Also noteworthy is the fact that both these mics are USB mics, so they will only work directly with your computer.
There's no need for connecting them through any audio interface. That's pretty straightforward – good for content creators who have no experience with audio production.
Verdict: The major difference here is the control knobs. Frankly, I don't see myself picking the NT-USB just because of the second knob. However, some musicians may like it because you can apply some effects on their voice before monitoring.
Sound quality
Rode NT-USB has is not lacking in any part of the frequency spectrum. The bass, low mid, high mid, and treble frequencies are well captured.
Also, there's no obvious boost of frequencies either. Your voice will sound clear, provided you did a clear recording.
On the other hand, the Mini has a slight reduction in bass and low-mids. This can be a pro or con, depending on the use case. If you're a podcaster who just wants their speech to be heard, it's a big plus.
Apart from adding voice clarity, it will limit the amount of low-frequency background noise in your recording. These rumbles from the environment are usually the hardest to deal with. A reduced bass and low mid response help in this regard.
However, if you record music, the Mini may cut useful frequencies in your sound. The external pop filter that comes with the NT-USB also enhances its sound quality.
It deals with plosive sounds and helps in reducing the effect of room reflection. The NT-USB Mini has an internal pop filter but doesn't come with the external one. Adding an extra pop filter will work, but may not look so good in a video.

Verdict: Your choice will depend on what you want to use the mic for. If you're a podcaster, The NT-USB mini will serve well in making your voice clear. This goes for vloggers and gamers also. If you want a more solid sound, you need the NT-USB.
Similarities and differences
Similarities:
Both mics have the cardioid pickup pattern that pics sound from the front of the mic primarily.
Both Rode mics connect to your computer via the USB port.
The mics have a similar weight, with just 0.1lbs difference.
Differences:
Rode NT-USB comes with an external pop filter while the NT-USB Mini comes with none.
Rode NT USB has a more balanced sound – the NT-USB Mini sound supports voice clarity more.
The NT USB allows you to monitor sound from your computer, while the Mini only allows monitoring from the mic.
Pros and cons
Rode NT-USB
Pros:
The balanced sound makes it useful in multiple cases.
The built-in external pop filter improves the sound.
Plug- and play feature makes it easy to set up for inexperienced users.
Cons:
It has only one pickup pattern, limiting its use cases.
NT-USB mini
Pros:
Plug and play feature makes it easy to set up for inexperienced users.
Its sound gives more clarity to voice.
It has an internal pop filter that reduces the effect of pop sounds.
Cons:
It has reduced bass response, which makes deep voices sound a bit different.
It has no external pop filter.
Conclusion
Obviously, these two mics have a lot of similarities, but there are a few subtle differences. I can't say one is better – I think it's more accurate to say that they are useful in different cases.
NT-USB Mini is good enough for podcasters, gamers and YouTubers who need their voices heard clearly, and nothing more. If you want more from your microphones, as an accurate representation of deep voices, instruments, and musical vocals, the NT-USB is better for you.