Today in this post, I am going to review the best solar powered speakers for outdoors.
Our Best Pick
ION Audio Solar Stone | Wireless Solar-Rechargeable Outdoor Speakers (Pair)
Best Value
Eton Rugged Rukus Rechargeable & Solar Powered Wireless Bluetooth Sound System & Smartphone Charger
Long Battery Life
ABFOCE Solar Bluetooth Speaker Portable Outdoor Bluetooth IPX6 Waterproof Speaker with 5000mAh Power Bank,60 Hours Play Time Dual Speaker with Mic, Stereo Sound with Bass Home Wireless Speaker-Black
Best Value
Eton Rugged Rukus Rechargeable & Solar Powered Wireless Bluetooth Sound System & Smartphone Charger
Last update on 2023-09-21 / Affiliate links / Images from Amazon Product Advertising API
I assume you like hiking, camping, and outdoor activities in general, right?
Now, what is the problem with being outdoors?
There is no electricity.
But there is a solution to this… Solar-powered speakers!
Yes! Solar energy powers these systems so that you do not need to connect them to a battery or any kind of external electricity network.
Solar power is completely free and is always there for you (well, half of the day).
These speakers integrate solar panels that capture solar energy and convert it into electricity to drive the amps that make the speaker's cone produce the sound of your music. Marvelous!
They are outdoor bluetooth speakers so you can connect them to your phone with no cables. Also, they are mostly water-resistant and very strong!
Have you heard about outdoor bluetooth rock speakers? Wall mount speakers? Bluetooth speakers with a light show? Or even the smallest stereo speakers? You will get to know in this article.
This article will show you the best solar powered speakers in 2020 so you can decide which one to buy!
Speaker Output – 20 W (peak)

Controls – power on/off, volume

Compatibility – Android, Apple, and Bluetooth devices

Compatible with tablets, smartphones, and laptop computers

Detachable aluminum carabiner hooks and velcro straps

Power source - battery-powered, solar-powered

Battery Cell Type
Lithium Ion
Best solar powered speakers reviewed
Key features:
Speaker Size – 6.5" / 16.5 cm
Speaker Output – 20 W (peak)
Solar Output – 1 W
Battery Life – Up to 35 Hours
Recharge Time AC Cord – 6 Hours
Solar Panel – 52 Hours
Water Rating – IPX4
Bluetooth Profile – A2DP
Design and style

This system looks like a stone, literally. This is great for "hiding" it within the backyard or the pool area of your home.
It weighs around 9 pounds and its solar panel is capable of delivering 48 hours of continuous operation. You can charge it in 5 hours with an AC adapter or 55 hours with solar energy.
The whole speaker's physical volume is around 1000 cubic inches, but it is designed to be set and left there, not necessarily for portability.
It features IPX4 so it is water-resistant, perfect for rain or splash.
The device can be paired to the player using Bluetooth.
Also, the speaker can be operated using voice control commands, that way you don't need to "get out of the pool" to manipulate its settings.
Sound quality and performance

This system features a 20-watt amplifier with a 6.5" full-range speaker that delivers a decent amount of mid frequencies.
The lack of a dedicated subwoofer driver makes it hard for the ION Solar Stone to reproduce accurate lows.
At the same time, its single driver makes it hard for the higher frequencies to pass through, yielding a reduced spectrum feel.
This is a mono system, meaning you will get all the audio information coming out of one speaker, perhaps creating some frequency masking.
However, two ION Solar Stone's can be linked together to create a stereo system that will in fact "clean" the frequency spectrum.
What do we like?
The stone look is great for patios and pool areas where the system must be "hidden"
Linking capabilities are great when you are looking to get stereo sound effects.
What we don't like?
The sound quality, in general, isn't very good due to its lack of a bass driver.
It takes up to 55 hours to charge on solar energy, you will most likely need to charge it with the AC adapter.
Key features:
Amplification Type – active
Connectivity Technology – Wireless
Controls – power on/off, volume
Compatibility – Android devices, Apple devices, Bluetooth devices
Rechargeable Battery – rechargeable
Technology – lithium-ion
Run Time – (Up To)8 hour(s)
Design and style
The Eton Rugged Rukus has a very cool square-shaped design that can be carried around with its side handles.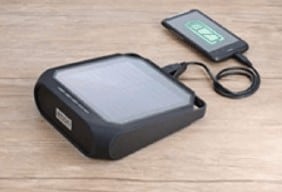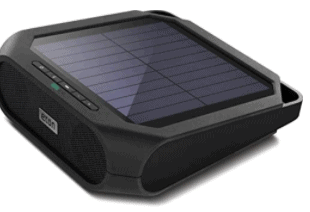 The solar panel delivers up to 8 hours of continuous operation and it can be charged using solar energy in 5 hours, or using the power adapter in 2.5 hours.
The device comes with a rugged casing that resists droppings or about 3 feet and it is also water-resistant due to its IPX4 capabilities.
It has buttons that control all the operations such as the volume switches, ON/OFF switch and Bluetooth toggling. They are very well-identified so you don't have to "guess" what each does.
In order to connect the playback devices, you can use Bluetooth which turns it into a completely wireless solution, or alternatively use a 3.5 mm auxiliary port.
It has a battery indicator so you know exactly how much "gas" you have left before the need to recharge.
The Rukus also features a USB port that you can use to charge your own phone when it is about to die! Extremely versatile.
Sound quality and performance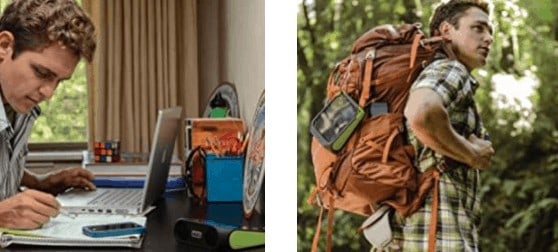 This unit comes with two individual full-range drivers that deliver a decent stereo image on a more pronounced sound field, ideal for users trying to achieve better sound quality on outdoor environments such as camping, hiking, or even a pool party/gathering.
Having 2 drivers that work in stereo also helps with frequency masking on the high part of the spectrum, making the sibilance of vocals, strings, and guitars less problematic and ultimately clearer response.
The bass is still lacking because it has no dedicated subwoofer or radiator. However, you can always compensate by simply cranking the volume up.
What do we like?
Dual drivers give the user a more pleasant stereo experience.
Bluetooth and aux input capabilities, ideal for all kinds of devices.
Rugged casing and water-resistant makes it ideal for outdoor situations where the weather is strong.
What we don't like?
No dedicated subwoofer speaker.
Rechargeable batteries only last for about 8 hours
Key features:
Speaker Type Outdoor
Item Weight 1.06 Pounds
Power Source Battery-powered, solar-powered
Bluetooth 4.0 Technology
Detachable aluminum carabiner hooks and velcro straps
Compatible with tablets, smartphones, and laptop computers
60+ Hours Playtime & Mobile Power
Design and style
This solar-powered speaker features a special high-performance single crystal silicon laminated solar panel, that can absorb and transform solar energy into electricity faster than others.
The device is capable of running for 30 minutes for every 10 minutes of solar charging, very impressive. The internal battery can run up to 60 hours straight!

However, it can also be charged using a USB cable with a power adapter when you are at home or indoors.
The frame is made of a silica gel material that makes this speaker waterproof, shockproof, and dustproof.
In order to connect your device to these speakers, you can use Bluetooth technology or the auxiliary input that can take a 3.5 mm cable.
The internal rechargeable battery also works as a power bank for your phone, using a regular USB cable.
A flashlight LED is also included so that you can use it when it is dark at night when camping or hiking.
It comes with a special handle that you can attach to your backpack or keys. The USB cable for charging as well as the 3.5 mm cable is included!
Sound quality and performance
This system features dual speaker drivers that are capable of reproducing a stereo image that also sounds great because of its clarity, intensity, and powerful bass.
Considering its size, the low-end reproduction from these speakers is actually very convincing. Instruments such as the bass guitar, kick drum and pads can be easily identified.
The mids are typically well reproduced on this system since most of the drivers are actually designed for this area of the spectrum.
High frequencies are also clear. Hi-hats, strings and high sax will be heard fine!
What do we like?
Up to 60 hours of continuous playback, impressive performance!
All cables are included
Flashlight and power bank features are ideal for the user looking for a "one-stop-shop" on solar speakers.
What we don't like?
The controls on the side of the unit are not very easy to access due to the silicon casing.
Key features:
Batteries 1 Lithium-ion batteries required. (included)
Battery Cell Type Lithium-Ion
Item Dimensions LxWxH 4.8 x 4 x 9.8 inches
Battery Weight 9 Grams
Design and style
The design is this speaker is based on an aluminum frame covered with a black silicone case, making it extremely rugged.
All the ports are protected with caps so that nothing can manipulate or break them.
The system is IPX7 rated so it can resist rain and water.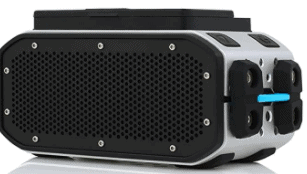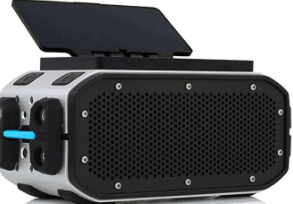 The internal rechargeable battery is capable of running up to 15 hours on a full charge.
You can charge it using the embedded solar panel or via the USB port using a power adapter.
You can connect your device to this using the Bluetooth option or with a 3.5 mm cable into the auxiliary input.
Another cool feature of this system is the number of accessories you can add.
The strap lets you set the speaker on a tree or pole. They also offer a Go-Pro style adapter that you can use to set it on your surfboard or bike. You can buy a bigger solar panel and even another battery pack in order to expand its life.
Sound quality and performance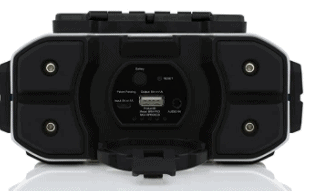 The enclosure of these speakers is bigger than most competitors, making them sound louder than the rest.
However, this system still does not have a dedicated subwoofer driver, so technically low frequencies cannot be reproduced as loud as mids and highs.
The drivers let you reproduce clear high frequencies where sibilant elements are located, as well as mid frequencies where most of your guitars and vocals are mixed.
In general, these speakers sound very balanced across the spectrum.
What do we like?
This speaker is louder than most other speakers on the market.
The design is extremely rugged, it can basically resist it all.
The added accessories are great expansion features.
What we don't like?
The low-end response is still poor.
15 hours of battery life is still too short compared to others.
Conclusion
If you are looking for the longest battery life of all of these speakers, your solution is to buy the Solar Speaker ABFOCE. There is simply no way you can beat 60 hours of running time!
Let's say now that your goal is to find the most rugged of these speakers because you are going to be using it outdoors, hiking, camping at the lake, or even doing extreme sports… The most solid frame is the one featured on the Braven BRV-PRO+SOLAR Bluetooth Speaker.
Last, if you want a solar speaker that you can "set and forget" and just hide it in your backyard for daily use, don't look further, get the ION Solar Stone speaker.