Affiliate disclosure: In full transparency – some of the links on this website are affiliate links, if you use them to make a purchase we will earn a commission at no additional cost for you (none whatsoever!). Will this be a problem? This is how we manage to create free content for you. Please know that your trust is so important for us. If we recommend anything, it is always because we believe it is worth exploring. And, buy me a coffee ☕️
Today in this post I am going to review Logitech z313 vs z323 vs z333.
Table could not be displayed.
Do you need speakers that are better than your computer's built-in speakers?
Then you need to go for quality stereo PC speakers. If all you need is a sound improvement, then you're probably not looking for high-end bookshelf speakers.
From the many PC speakers you will choose, the Logitech z313, z323, and z333 are three of the viable options.
Which one of these three speakers is the best?
Which one sounds better?
Which one of z313, z323, and z333 fits best for music or movies?
I will answer all of those questions in this article.
Logitech z313 vs z323 vs z333
Build and design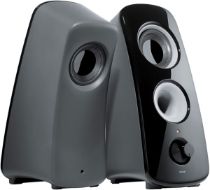 Looking at all three speakers, it's easy to see that they're from the same family.
The z313, z323, and z333 all have compact satellite speakers that can sit comfortably on your desk. Also, their subwoofers are built such that they can sit under your work desk and leave enough space for your legs.
Having said that, we still notice a slight difference in size. Z313 and z323 are more similar in this regard.
On the other hand, z333 is a little larger. Its satellite speakers are bulkier than the other two speakers'. You will need more room on your desk to place them. The z313 subwoofer takes less space than the other two.
In terms of aesthetics, z313 and z323 are similar here also.
The satellite speakers have curved surfaces and multiple color shades. Z333 on the other hand is pure black. Also, the satellite speakers are box-like in shape, not curved like the other two.
Additionally, while z313 and z323 have their control knobs on one of the satellite speakers, the z333 comes with a control pod that carries the knob.
Bottomline: I believe the z313 and z323 look sleeker. Also, the control pod on the z333 surely makes it look different, but I'm not so sure if that was a necessary addition.
Setup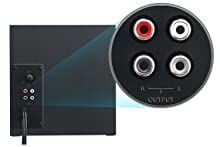 You don't have to be a techie to set up these speakers. The first thing you need to go is to connect the satellite speakers to the subwoofer. Afterward, connect the system into the power outlet.
The last thing is to connect the system to the device you want to play the music from. This connection system works for all three speakers.
The only difference here is that for z313, you can only use devices with 3.5mm output. The z323 and z333 allow you to connect RCA inputs in addition to the 3.5mm input.
When placing the subwoofer, make sure that nothing blocks the speaker outlet and air vent. This is for undisturbed connection and smooth bass sound.
For the z333, make sure that you place the control pod where your hand will reach it easily.
Bottomline: It's a pretty straightforward setup process for all three speakers; something a novice will do easily.
Sound quality and performance

To have a fair review of these speakers' performances, we need to add some context.
These Logitech speakers are not designed to appeal to audiophiles or give you an earth-shaking sound. They are primarily improvements over your computer's built-in speakers.
Having said that, we still expect some level of quality sound from them.
Bass
Z313 and z323 are similar in this area. Their subwoofers give a deep bass that can be described as a little punchy. Of course, it's not what I would recommend for a basshead.
The low frequency does not reach sub-bass levels. However, where the bass does reach, there's an incredible boost on the bass. You may turn down the woofer if you're not a fan.
Z333's bass is slightly better; it has a little more punch than its other two siblings. The bass boost remains though.
Midrange
Here is where the z313 and zz323 are lacking. There is a huge cut that takes most of the lower mid frequencies.
The result is that your music will lack warmth, and some instruments may not come out as expected. If you're a lover of classical and jazz music, I would suggest you check other speakers.
The z333 is a little better in this regard, but the lower midrange still feels insufficient.
Treble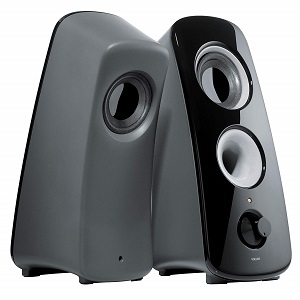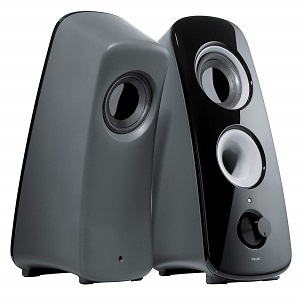 First, you should know that the speakers lack actual tweeters. Those small holes in the front of the speakers are purely for design.
Logitech, the makers of the speakers stated this. Without dedicated tweeters, we can't have very high frequencies. You would hear the hi-hats and cymbals, but they would not give the shimmer that you expect.
In terms of overall volume without distortion, z333can go highest, followed by z323 and z313 respectively.
Bottomline: Z333 sounds better than the other two in all honesty. You can have a decent balance if you can adjust the bass boost and treble anytime it sounds off.
Features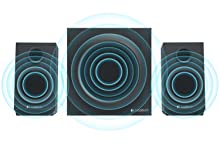 All three speaker systems are of the 2.1 stereo kind. This means that they consist of two speakers and one subwoofer each.
If you space the speakers well enough, you may get something close to a wide stereo image. It's more immersive and makes movies and games sound more realistic.
The z313 has just the 3.5mm as its input option. Z323 and z333 have both RCA and 3.5mm inputs.
Another interesting feature that is common to all the speakers is the control pod. These pods typically house the volume knobs and power switches.
If you want to adjust the treble or bass alone, you have to do that on the speaker or subwoofer itself. The control pod allows you to make adjustments when your hand can't reach the speakers. So, you can place the satellite speakers a little out of your reach.
While z333 has two 3.5mm inputs, z323 and z313 have one each. Also, z323 and z333 have headphone jacks while z313 doesn't.
The headphone jacks on the speakers are useful especially if your computer has just one audio port and you want your speaker connected.
Bottomline: Z333 easily outpaces the other two here, too. It offers more options for inputs. However, if you don't fancy more multiple input options, there's not much difference in features.
Device compatibility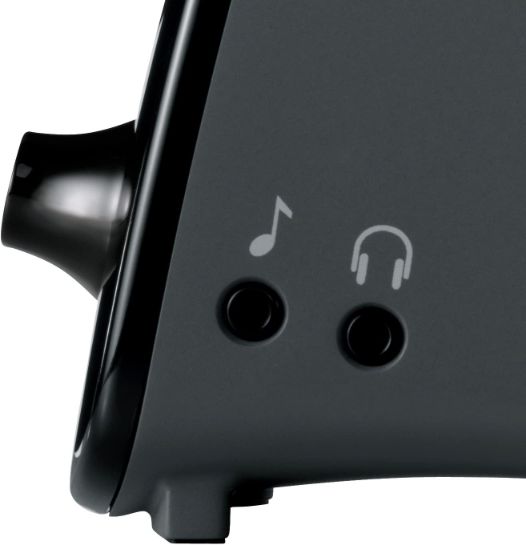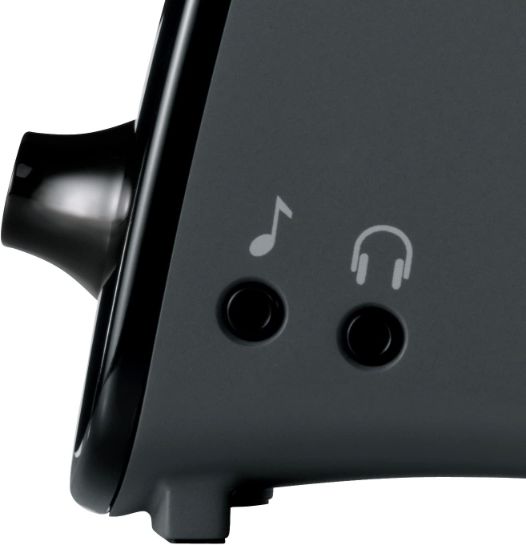 Z313 will only work with devices that use 3.5mm output. This includes TVs, computers, phones, PS3, Xbox, and other game consoles.
For Z323 and z333, they will work with any device that has either 3.5mm or RCA output.
With the appropriate adapter, you can make z313 work with a device that only has RCA output.
Additionally, phones without headphone jacks cannot work with any of these 3 speakers. This includes all iPhones from the iPhone 7 upwards.
Bottomline: Z313 lags behind in terms of compatibility due to its lack of an RCA input. If you9 don't have RCA devices, you have no problems. Just make sure you check any future gadget you wish to buy in the future.
Battery requirements
The z313, z323, and z333 do not have batteries. The source of power for every one of these speakers is a power outlet.
Also, you can't power them through your computer's USB port. Since the power cables are not very long, you should place the speakers reasonably close to an outlet to prevent overstretching.
Similarities between Logitech z313 vs z323 vs z333
All three speakers have the stereo 2.1 configuration; two stereo speakers and one subwoofer.
The volume and power switch for each speaker is on the control pad. A separate unit that is connected to the speakers via a cable.
Bass boost and treble adjustment knobs are located on the subwoofer and satellite speakers respectively.
Differences between Logitech z313 vs z323 vs z333
While the z313 and z323 satellite speakers have curved shapes, z333 are made of straight sides and edges.
Z313 has only the 3.5mm input port, while the z323 and z333 have both the RCA and 3.5mm inputs.
The z333's satellite speakers are notably larger than those of z313 and z323.
Conclusion
As you must have noticed, the three speaker systems have a lot in common.
However, if I have to pick one of the three, I'll pick the z333. To be honest,
I'm not a fan of its satellite speaker designs, but I'm still swayed by the edge it has in terms of sound quality. It can attain reasonably loud volumes before its sound gets distorted.
Hi, I'm Jennifer I'm a passionate singer and an audiophile from Detroit, MI. 
I'm on a mission to help music creators to create fine music that help them position uniquely in the saturated music space.
Follow my blog for regular content :-)