Bose headphones are popular among music lovers, gamers, and just about anyone who loves headphones.
Bose QuietComfort 25 Acoustic Noise Cancelling Headphones for Android devices - Black (Wired)
Bose QuietComfort 35 II Wireless Bluetooth Headphones, Noise-Cancelling, with Alexa Voice Control - Black
Bose QuietComfort 25 Acoustic Noise Cancelling Headphones for Android devices - Black (Wired)
Bose QuietComfort 35 II Wireless Bluetooth Headphones, Noise-Cancelling, with Alexa Voice Control - Black
Last update on 2023-09-21 / Affiliate links / Images from Amazon Product Advertising API
The Bose Q25 and Q35 are examples of some quality products that we've come to associated with Bose over the years.
Out of these two headsets, which one is better?
Which is more expensive; theQC25 orQC35?
Are the extra bucks worth it?
Which should you choose and why?
These are the questions that I address in this article.
| | | |
| --- | --- | --- |
| | | |
| | | |
| | | |
| | | |
| | | |
| Active noice cancellation | | |
| | | |
| | | |
| | | |
| | | |
| | | |
| | | |
| | | |
| | | |
Bose QC25 vs QC35: In-depth comparison
Build and design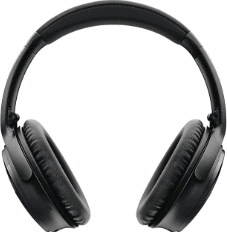 The QC25s are made of plastic, but that doesn't mean they're weak. Sure, it may feel that way, especially when you also consider their lightweight.
However, after a few weeks of use, you'll find out that they are quite solid. If you still have worries over the strength, you are still covered. These headphones come with a case in which you can place them when they're not in use.
For the QC35 headset, Bose went with glass-filled nylon instead of plastic. This build material resulted in a light, flexible, and durable product.
The earpads on the QC35s cover your ears better. They're a bit bigger than QC25's. These cans also come in a carrying case.
This case is built to carry the headphones through most unfavorable conditions. Other than the slight size differences, the QC25 and QC35 are quite similar in build and design.
The QC35s are available in silver and black; nothing catchy, just a sleek unit. The QC25s are available in white and black only. However, you can order a custom color. This option will cost you $100 more.
Comfort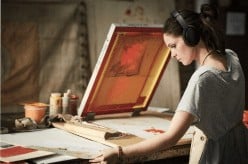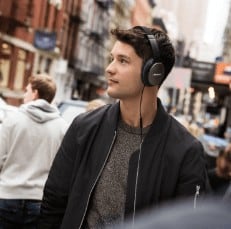 The QC25s are well padded both on the headband and the earpads. The earpads are also well-cushioned and large enough to cover the whole of your ears.
Since it's an over-the-ear design, your outer ear won't have any direct pressure. The earcups will sit on the skin around the ears.
You can wear these Bose headphones for hours without feeling any discomfort. When you switch on active noise cancellation and you haven't played any music, it can feel a little weird.
The Bose QuietComfort 35s are every bit as comfortable too. With this pair, you won't feel the weight of the headband or earpads too much, because the pressure is well distributed.
This Bluetooth headset can be an excellent companion on your long flights. You can wear them for long hours before you feel any discomfort.
However, for both headphones, you may need to let in some air after a few hours. They tend to get warm on your ears after a few hours.
Sound quality and performance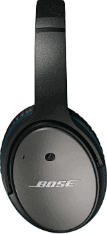 The QC25 is not what I will call a bass headset even though its bass production is good.
It doesn't give so much emphasis to the bass boom like some other headphones. Instead, the QC25 goes for balance.
The balanced response also ensures that the midrange is in proportion. The pianos and guitars in your music will be rich and well rounded. The voice is also very clear, so you won't struggle to hear your audiobooks and podcasts.
The highs are also balanced. Although the midrange is open, the treble is the best part of these headphones. It brings out that sizzle that we love in pop music.
The QC35s have a better bass response. Also, they have some presence boost in the high mids. This makes them good for hip hop, EDM and bass head generally. They also work just as fine for other forms of music.
Noise cancellation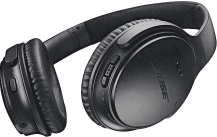 With active noise cancellation, the QC25s keep out outside sounds from all frequencies.
Of course, this comes at the cost of shorter battery life. If you're in a plane, it will drown out the engine rumbles perfectly. The QC35 gives similar results with active noise cancellation.
Without active noise cancellation, it's a different story. The QC25s keep out the low frequency and midrange sound to a large extent.
So, plane engine rumble and traffic noises are reduced. However, high-frequency background noise like squeals and whistles will get in. So, if there's a baby by your side in the place, hope they don't start crying.
Battery life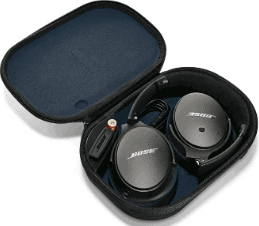 The QC25 uses a non-rechargeable battery. It's a single AAA battery, so if you're going on a long trip, remember to get a few extras.
There's space in the headphone case for additional batteries. With active noise cancellation, the battery can last up to 35 hours.
That's more than a day of continuous use. The best part is that if the battery dies, you can still listen to music on the headphones. However, active noise cancellation will not be available to you. Also, the sound won't be as good, especially the bass.
The QC35 battery is rechargeable and can work for up to 24 hours.
Of course, it will die faster than QC25. However, note that it has Bluetooth connectivity. This has its own effect on the battery too. 24 hours is pretty impressive for Bluetooth headphones with active noise cancellation.
Other extra features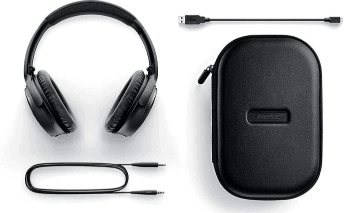 The QC25 only offers wired connections. The controls are on the in-line remote as well as the mic.
When you connect the headphones to an android phone, you can only use the remote to play/pause the music.
For iPhones, you can have some added functionality. Also replacing the cable may not be as easy as some other wired headphones.
The cable is detachable and has 3.5mm jack at one end and a 2.5mm jack at the other. This kind of cable is not so common, but you'll find it.
The QC35 is a wireless headphone, so you don't need to bother your head about cables.
The Bluetooth connection gives you up to 15 meters without solid obstacles. The connection type is the standard Bluetooth audio, not AptX.
If you run out of battery power, the Bluetooth will stop working. You can attach a cable and keep enjoying your music but without active noise cancellation.
Similarities
Both headphones have a good fit and are comfortable to wear.
The QC25 and QC35 can work with a wired connection.
Both pairs of headphones have active noise cancellation.
Differences
QC35 is a Bluetooth headset while QC25 only offers a wired connection.
QC25 battery is non-rechargeable and lasts longer, but QC35 has rechargeable batteries with shorter battery life.
Pros and cons
QC25
Pros
Longer battery life
Balanced sound
Comfortable for long hours of use.
Cons
No wireless connection
Battery is non-rechargeable
Cable type is not common
QC35
Pros
Deep bass sound
Works even when the battery is dead
Uses wireless technology
Cons
Active noise cancellation does not work while charging
Sound changes when active noise cancellation is not engaged
Conclusion
Of course, these two headphones are different, and they each have their pros and cons.
However, after looking through these headphones, I would prefer the QC35.
First, it's wireless, and it has the option of using it as a wired headset. Additionally, the fact that theQC35's battery is rechargeable makes me prefer it.