LG has become a reputed name in the television market. For many years now, they have produced some of the best televisions with excellent features.
Alongside that, the advent of home theatre systems has revolutionized the home cinema experience altogether.
However, it is seen in most cases that the newer versions of LG TVs do not support standard external audio speakers. To connect speakers directly to your LG TV, you will have to get an external audio device, like a home theatre receiver.
Likewise, there are certain LG TV models that do support a wide range of external audio equipment connections. In fact, LG makes some amazing audio consoles themselves.
But in order to enjoy a superior audio experience, you have to tweak a few settings.
So how do you connect external speakers to your LG TV?
What are the settings that you need to change?
This is the place to find out everything.
Read on:
How to connect external speakers to LG TV?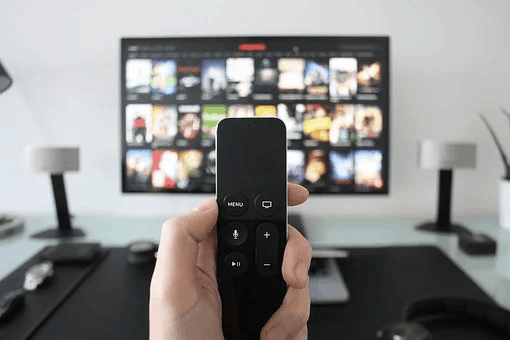 There are several ways by which you can experience unmatched sound quality with your LG TV.
It may seem quite straightforward, right? Just plug in the speakers and that's it? Well, there's a little more into that actually.
Here we will be giving you an elaborate walkthrough on the various ways of connecting external speakers to your LG TV.
Depending on your TV model, the connections will change. Choose whichever method suits your requirements.
Here goes: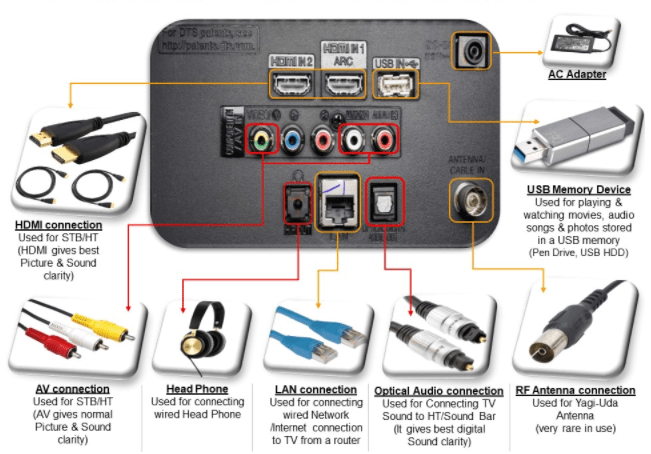 Analog audio outputs
Some of the older models of LG TV feature analog audio output ports. They are marked in two colors – red and white. However, you cannot just plug the speakers directly into these sockets.
Instead, you have to connect a Hi-Fi audio system to them, such as a home theatre receiver, surround sound system, soundbars, or any audio device that links the amplifier and speakers.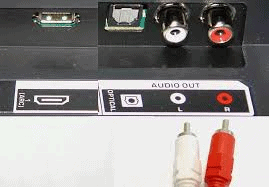 Whenever you are buying an LG TV, just check if they have analog audio outputs. You will not always find them in the newer LG TV models.
With that being said, there are times when you can directly plug speakers into the analog audio outputs.
But they have to be powered speakers – they should have an in-built amplifier. Powered speakers have to be connected to a power outlet in order to operate.
Coming to the matter at hand, here are the steps that you need to follow to connect external speakers to LG TV via analog audio outputs:
At first, take one end of the RCA cable and plug them into the analog audio output sockets of your LG TV
Now take the opposite end of the RCA cable and plug them into the audio outputs of the audio equipment that you want to connect, such as a home theatre receiver, soundbar, etc.
After all the wiring is done, switch on the audio equipment
Adjust the audio settings on your LG TV. With some external audio devices, you can also follow the setup instructions given in its manual
In the final step, select the input source on the audio system to hear the output from your LG TV
Digital outputs
It's a surefire thing that you will find digital audio outputs in the newer LG TV models. They are found in the form of HDMI sockets that carry both video and audio information, and other separate digital audio outputs. `
The function of HDMI sockets will depend on the model of your LG TV. Not all HDMI sockets are configured to work as both output and input sources.
Also, keep in mind the LG TV sets support the optical audio output format and not the digital or coaxial format.
It means that the cables will have a transparent, square-shaped plug rather than the conventional round-shaped, pointed metal plug.
To talk about the functionality of digital audio output sockets, they are designed to carry audio to both soundbars and home theatre systems.
Let's shift your attention to the steps that you need to follow for digital optical connections on our LG TV:
The first step is to plug one end of the digital optical cable into the digital output socket of your LG TV
Likewise, plug the other end of the cable into the optical output of your audio equipment
Once all the wirings are done, follow the setup instructions of your LG TV and audio unit accordingly
Then you will have to select the source of the digital optical output to listen to the sound coming out of the TV.
In case you are not able to hear anything, try looking up the audio output settings and toggling around with the PCM settings. Spend a little time in understanding the settings and you shall be able to hear the sound within moments.
HDMI-ARC
The newer LG TV sets also feature a digital connectivity option for accessing audio known as the HDMI-ARC. It stands for Audio Return Channel.
The HDMI-ARC transfers the audio signals originating from your LG TV to the audio system that is also equipped with HDMI-ARC. And you don't need another digital or analog audio connection to listen to the TV sounds.
HDMI-ARC is designed to transmit as well as receive audio signals between the TV and the audio system. It eliminates the requirement of any extra cable connection for getting audio.
Just make sure the soundbar or the home theatre receiver that you are connecting to is HDMI-ARC compatible. Also, you need to activate it both on the TV and the audio system.
Bluetooth
Bluetooth audio means wireless sound. So if your external audio system supports Bluetooth, you can stop worrying about all the wired connections and enjoy wireless audio!
With that being said, only the LG Sound Sync TVs have the Bluetooth options. Also, note that the Bluetooth connection can only be established between an external audio system made by LG.

This can be a downside when it comes to user-friendliness. But if you really want wireless audio, this is an investment that you ought to make.
Here are the steps that you need to follow for connecting your LG TV with the audio system via Bluetooth:
Start by powering on both your LG TV and Bluetooth-compatible audio system.
In the audio setup menu of your TV, begin the pairing process by selecting the Bluetooth option.
In a few seconds, you will get a confirmation that your LG TV and audio system have been successfully paired.
WiSA
This may seem like a new term for many of you, so let's clear the air for a second.
So what is WiSA?
WiSA is hardware as well as software application designed to deliver high-res digital audio wirelessly. It has the capacity to deliver top-quality sound from a single audio source device to as many as 8 powered speakers placed within the same room.
Along with Bluetooth, some LG TVs also offer another way of wirelessly connecting to a speaker system. This high-resolution audio feature is available in select WiSA-ready LG TVs such as the NanoCell and OLED.
LG has partnered up with WiSA (Wireless Speaker and Audio Association) and incorporated an inbuilt firmware into their select televisions.

It communicates via a plug-in USB dongle, almost identical to a flash drive. This dongle enables LG TV to send wireless audio signals to WiSA compatible audio systems.
Kindly know it's not just enough to get a WiSA-ready LG TV to avail this feature.

Even the audio system has to be certified by WiSA. Some of the speaker brands that make WiSA certified speakers are Klipsch, Enclave, Bang and Olufsen, Polk Audio, and Axiim.
Here are the steps to set up your WiSA-ready TV with your WiSA compatible audio system:
Plug the WiSA USB dongle into your LG TV and turn on the speaker system
Go to the audio setup menu of the TV and choose WiSA speakers from the Sound Out
For any additional setup, toggle to WiSA Speakers from the Device List
Soundplate Systems
If you're curious to know more about speakers that are compatible with your LG TV, this is going to be useful for you. SoundPlate is a brand name under which LG manufactures a wide range of speaker systems.
SoundPlate Systems integrate amplifiers and speakers together into a single unit. You can choose to connect these audio systems either through an optical audio cable or wirelessly.
There is one specialty about SoundPlate soundbars. Unlike the conventional ones, there are four speakers in SoundPlate soundbars.

This helps in broadening the sound field for an enhanced listening experience. The soundbars also house two subwoofers to increase the bass sounds.
Another benefit of getting SoundPlate systems is that they have been designed by keeping the LG TV models in mind. Their appearance and sizes are optimized to aesthetically couple with a number of LG TV sets.
Some audio settings LG TV users need to know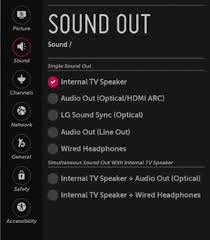 When it comes to connecting external speaker systems and other audio equipment to your LG TV, you have to be acquainted with certain important audio settings. You can find these settings under the Sound section in the Settings menu.
First of all, you have to disable the features like "Clear Voice" and "Virtual Surround Plus". These features manipulate the quality of audio.
If you do not disable them, they may disrupt the audio output in case the external speaker system has the same features.
Some LG TV models come with a feature to enable and control a delay effect on the audio. This feature allows the user to synchronize the audio and video manually.
It comes in handy when the audio going through external audio systems has extra processing time. This puts the sound and picture go out of sync in relation to one another.
Another key setting in the menu is Sound Out. You have to set it to route the audio to the HDMI port or Optical port and not the TV Speakers.
Some LG TV models also let you select what type of digital sound output you want. The choices include the likes of Dolby Digital and PCM. Refer to the user's manual of your audio system to understand which type you have to choose.
Conclusion
Who knew connecting external speakers to LG TV would be this simple, right? All you have to do is keep the compatibility of the devices in check.
The process becomes a piece of cake when both your LG TV and external speaker system are either old or new. Nonetheless, it can get a tiny bit twisted if your TV is an older model while your speaker system is the latest. And vice versa.
With such a wide range of connectivity options at your disposal, be it cables or wireless, nothing can stop you from experiencing theatre-style audio right in your living room!
Now that you know how to connect external speakers to your LG TV, what's stopping you? Get yours already!
Read our other popular posts: