Are you wondering whether there is an app, online site and software that can help you to determine the key, bpm and tempo of a song?
Well, thanks to new technology, today there are many apps, VST plugins, and software that will help you find the key to any song.
These tools are helpful if you are a musician and you want to perform a cover of your favourite song and you can find the key bpm and tempo of the song. They will help you achieve that.
They are also important to music producers who like to recreate beats, remixes and DJs who mix music live on stage.
In this article, we discuss and review the 12 best music key finder online sites, apps and software.
Read to the end because we give the best 3 that are most reliable with accurate results.
Let's dive in.
5 best music key finders online reviewed
Getsongkey – Best key finder site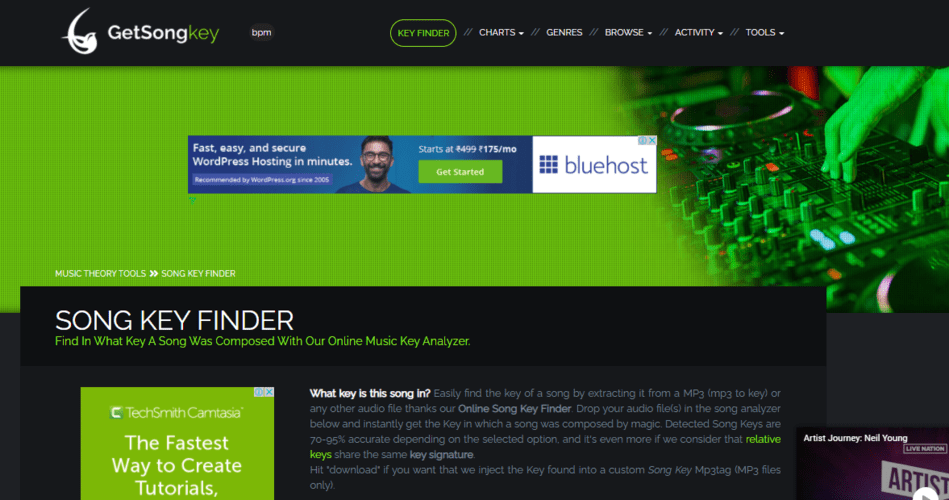 Getsongkey is one of the largest databases of song key finder online sites in the world. They can help you identify up to 6 million songs.
This online site is a good fit for people who want to determine the key to a specific song. But also for fanatics who like to build their music playlist with respect to song keys.
Getsongkey has a special reverse song search feature that helps you find various songs on a specific key for your playlist.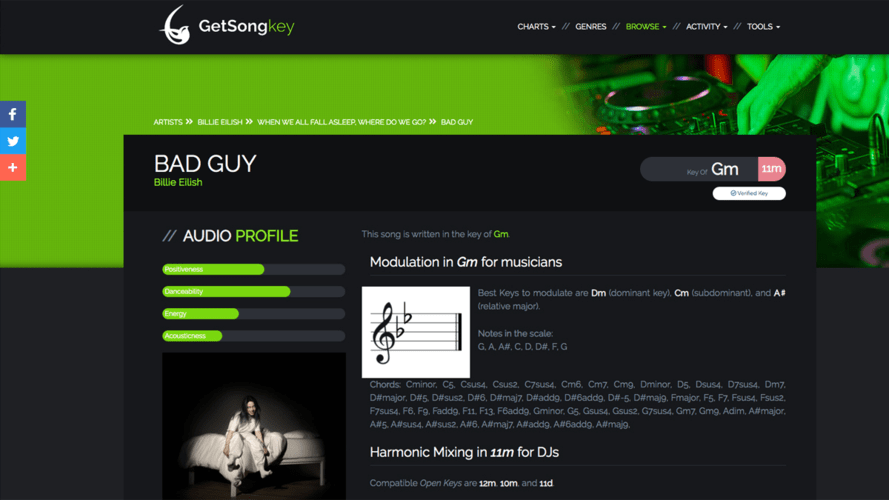 This site is also a great asset for newbie producers who don't know their way around the keyboard.
It has a key transposer function that helps you transpose your music chord progression into whatever chord sounds good while producing music.
Getsongkey has all the music theory tools you need as DJ, music producer and singer. Other tools include a key finder, notation converter and bpm(tempo) finder.
It also provides DJs with a harmonic mixing tool that helps them determine songs that work well together. To find the bpm of a song (beats per minute) visit their sister site GetsongBPM.com.
Getsongekey is free and available online for everyone to use. Visit their site Getonkey.com.
Pros
Easy to use.
Offers various tools for remixers, DJs, singers.
It's free.
Cons
You cannot filter songs by key or profile.
Bottomline: If you're looking for a free app that helps you find key bpm and offers various music production, DJ tools, you should consider Getonkey.
Tunebat – Song key and BPM finder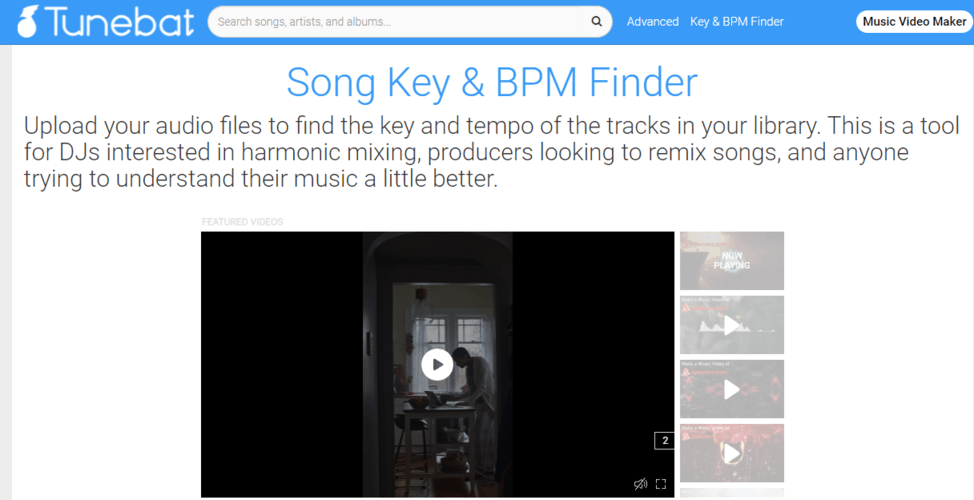 Tunebat is a free online site that allows you to find the key, bpm and other relevant information of up to 40 million songs in their database. It gives access to information about all songs available on Spotify. For example, a song's key or bpm.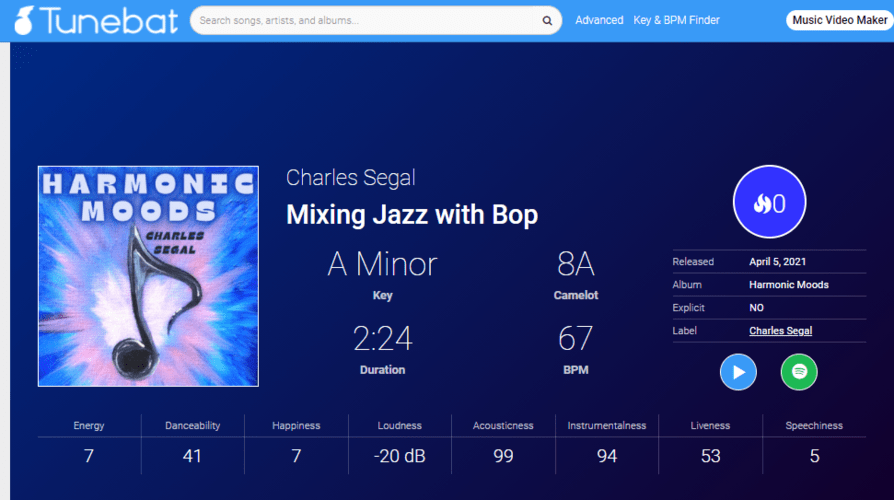 The best thing about Tunebat is that it allows you to perform a refined filtered search. This feature helps the websites find tunes that are more suitable for you. It achieves that by allowing you to select up to 5 seed tracks.
What's more?
They have a play button that allows you to listen to the song on the tunebat website.
This online website doesn't only show the key and BPM, it also shows calculations of the song's energy, danceability and happiness, and the release date.

Amazing right? It also indicates if the song is a single album, artist label and if it's explicit.
Tunebat is a great asset for DJs who are looking to take their harmonic mixing to the next level.
It has a popularity section that shows the most popular songs worldwide. Thus, giving DJs an easy selection process.
Lastly, if you know the song you're looking for you can search the song and artist name on the search bar. This makes your work easier and saves you time.
The downside to this site is that it has too many ads and there is no specific way to turn them off.
Pricing
Tunebat is a free key finder website
Pros
Clean and functional
Easy to use
Resourceful
Cons
Too many ads
Not fully accurate
Bottomline: If you're looking to get different information about any song like the key, bpm, energy danceability, and harmonic composition online for free, Tunebat will save you time.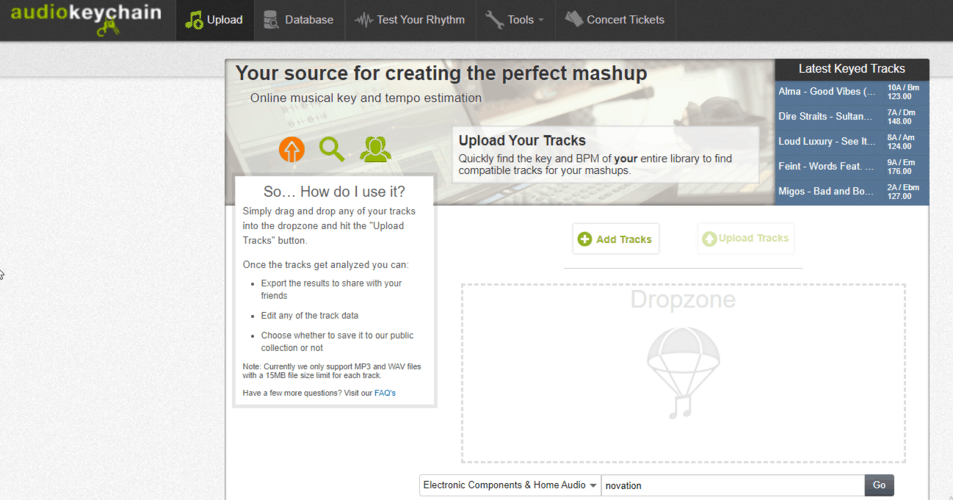 Another great online key finder site is Audio keychain. Audio Keychain helps you to identify both the key and BPM of your song.
Unlike other online sites that have search bars, you must upload your audio first on the Audio Keychain platform in order to identify the key of your song.
The idea of having to upload your songs online may seem scary but not to worry. You can use AudioKeychain in public and private mode.
If you use the public mode, the tracks you upload will be accessible to the public. The private mode keeps your private and only you can access them.
Audiokeychain is a free platform and is most suitable for DJs and anyone looking to detriment a song BPM or key.
But you must sign up and create an account with Audio Keychain in order to access their services.
The AudioKeychain platform is easy to navigate. To use it, select the tracks you want to analyze, drag them and drop them on the platform and hit the upload tracks button.
AudioKeychain will analyze your songs. Thereafter, you can choose to export the results, share or edit them. Also, to save them and make the information about the songs available for the public.
Pricing
AudioKeyChain is a free online site
Pros
East to navigate platform
Accurate and reliable
Free to use
Cons
15 MB song audio file limit
Supports only Mp3 and Wav file
Bottomline: Audio KeyChain is a great fit if you have many song files and you want to determine the Key and Bpm of the songs quickly.
ScalesChords is a free online key finder site with an easy-to-use musical scale finder. What's more, they have an outstanding key finder.
The musical scale finder helps you to match scales depending on your notes and chords.
This website is not just a scale finder. It is an excellent composing tool and you'll benefit more if you have music theory knowledge. But that doesn't mean that it's friendly to beginners in music theory.
To use this site, insert some notes or chords in the boxes and the musical scale finder will find scales compatible with your notes and chords.
Thereafter you can use the results to solo or complete your melodies, harmony and chord progression.
This is a great tool if you're a composer, or a music producer and you're green in the music theory world.
Or a professional and need the inspiration to take your production to the next level.
Other elements for ScaleChords include chord identifier, chord shape, calculator for guitar, tips for playing instruments and articles about musical instruments in general.
Pricing
ScaleChords if a free online website
Pros
Easy to use
Great and easy to navigate interface
Cons
Bottomline: This online is a great fit for people struggling with music theory and want to learn how to build scales, chords, notes and complete their harmonies and melodies.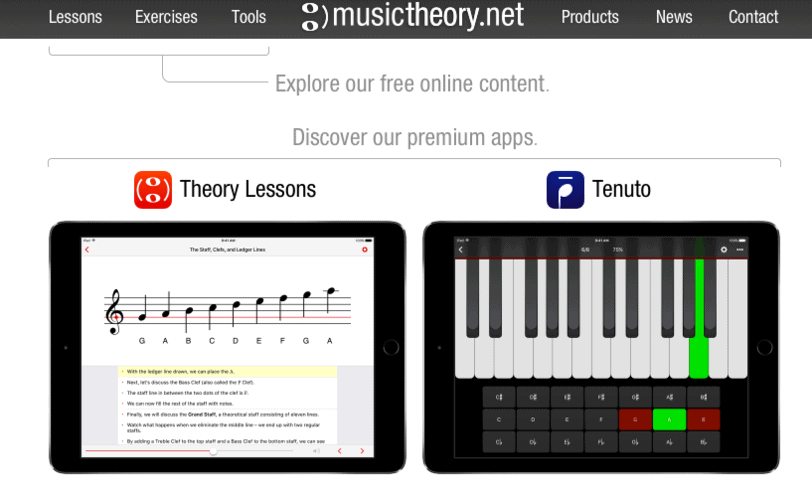 Another great online site is the Music Theory site. This key finder site stands out from other online sites because of its look when you load their page. It's direct to the point.
Just like its name suggests, the site is a music theory platform. It automatically directs you to various key finding tools and music theory information.
They are famous for their tagline Name that key Find a song's key by its chords.
Apart from helping you identify the key to any song, they also have ear training lessons. This is very helpful if you're a music producer.
On the platform, they discuss in-depth music theory elements like clefs, sharps, flats, key and time signatures, major and minor scales, circle of fifths, and chords.
The first things you see when you load their page is a list of chords and the circle of fifths diagram.
Other tools by music theory include key identifier, scale generator, guitar chord identifier, and a guitar chord chart.
To identify the key of your song, pick the first chords of your song from the list and your key will be indicated in the circle of the fifth's diagram.
Pricing
Music theory site is a free website
Pros
Easy to use navigate
No ads
No registration required
Cons
Time-consuming
Hard to determine the key of a song if you don't have the chords
Bottomline: This is great for musicians who struggle with music theory and want to learn more about it in an easy, free and organized way.
7 music key finder apps and VST plugins reviewed
Today, there are numerous apps that can help you with your daily tasks thanks to technology.
It would be, therefore, crazy if there was no app to help you find the key to a song. Luckily there are.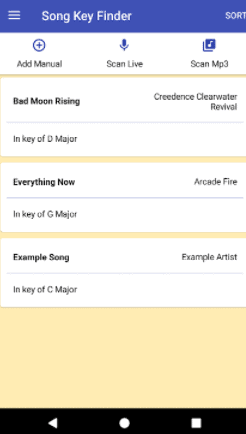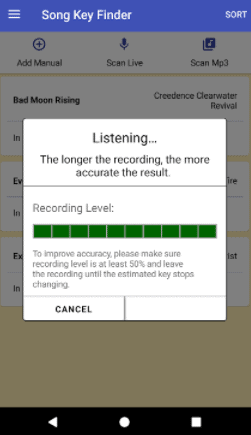 Song Key Finder is a free app that helps you find the key to any song. Whether it's a song you've been listening to and would like to know its key.
Or you've been playing some chords and produced an original song and you want to find the key of your song.
You can determine the key of your song using Song Key Finder in three ways
By playing the song on your phone's microphone with the app open for analysis(Add live)
By uploading the song to song key finder app and running it for analysis(Scan Mp3)
Lastly, by manually entering your chords to the app and running an analysis(Add mp3)
Pricing
Song finder is free but has in-app purchases of about $ 4.49 per item. This app runs on Android 5.0 and above.
Pros
Accurate and reliable
Easy to use
Offer different to determine key
Cons
Only available for Android
Bottomline: This is a quick way to determine the key of any song from your phone.
Although Keeping your song file organized is important as a music producer or a DJ, it can be time consuming. But what if there was an app that could help you and make your work.
Well, there is, and it's called Rapid Evolution?
Rapid Evolution is an advanced harmonic music library software built for DJs and music producers to simplify their mixing process.
It helps DIs arrange music according to tempo, BMP, key signatures, style, time and comments.
The software is available for both Linux, Windows and Mac users.
Once you have all your music in a file, it analyzes and profiles them and groups them according to the bpm style just discussed above.
Thus making harmonic mixing for DJs easier. Rapid evolution is an amazing site because it helps beginners to improve their music theory knowledge.
Rapid Evolution is unique because it allows DJs to write and save comments and information about every mix they make. This makes tracking your files easy.
This site provides tools like an automatic key tempo and bpm. Also, it has a manual bpm tapper and midi keyboard in case you want to find the key and bpm on your own.
Another great feature of Rapid Evolution is that it allows you to share your files and information with other DJs. It also has an iTunes integration, acoustic fingerprinting, and the ability to load artwork.
Although you can arrange your files on your own, music and audio software like rapid evolution makes the process easier and quicker. Thus helping you catalogue and have a clean library.
Rapid evolution is available for free, as an open-source and there is a paid version.
Pros
Compatible with many platforms
Sync with iTunes
Full automation
Cons
Bottomline: Rapid evolution is a great tool for both regular and professional DJs for arranging files into different categories.
Mixx – DJ mixing software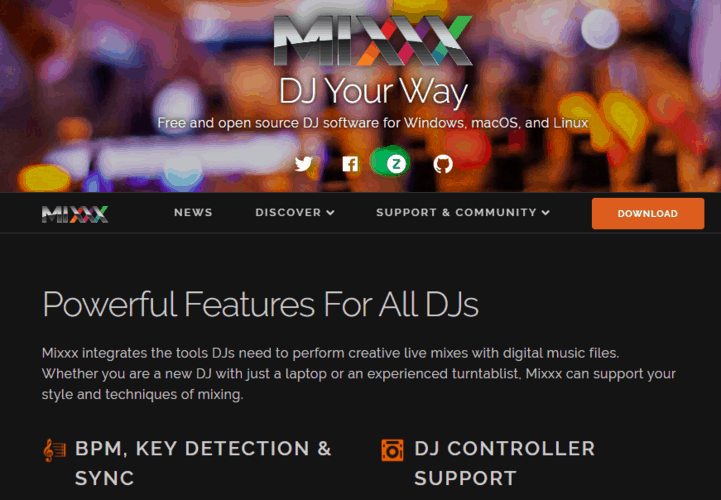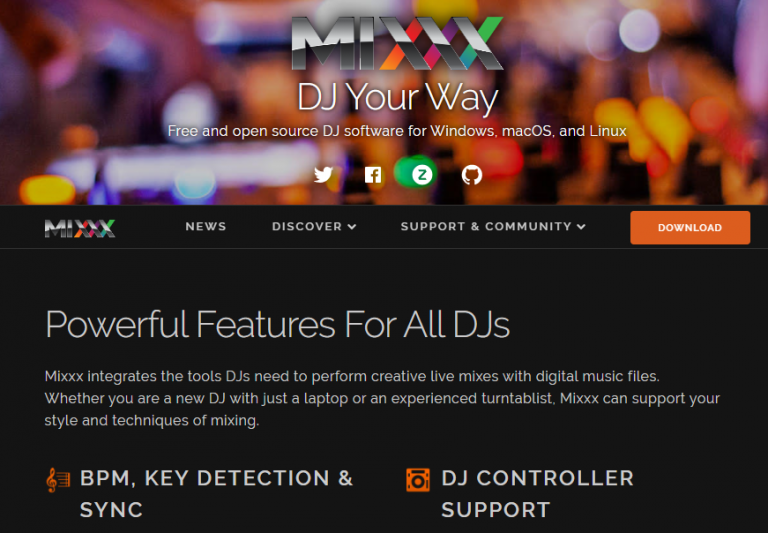 If you're looking for alternative software to song key finder, we recommend you try Mixx.
Mixx is a free DJ mixing software. This app is also available in open source for Mac, Windows, and Linux users.
Mixx integrates all the tools DJs need to have a creative live session with digital mixes and music files. Any DI can use Mixx.
It doesn't matter whether you're a novice or professional DJs. Mixx caters for all music styles and mixing styles.
But what makes this app stand out?
Their bpm, key detection, and sync are on point. This is important because it helps DJs to find the next song in their library that is in sync with the previous track during their live performances.
The sync also helps them to match the tempo and bpm of up to four songs while mixing.
Another significant component of Mixx software is its inbuilt DJ controller. This programmable mapping system allows you to customize your workflow hands-on. It also supports midi and HID devices.
Mixx also has inbuilt sound effects to add a spin to your tracks. Above all, it has a vinyl record control that helps you scratch your digital music like you are pressing the real vinyl.
Mixx is not owned by anyone, it's a product of passionate DJs, music enthusiasts and music producers who came together to contribute and give back to the music and DJ community.
That's why it's open-source and free. Get it in now and kick off your career with this amazing software.
Pros
Compatible with many platforms
Easy to use
Fast accurate and reliable
Powerful and efficient
Cons
Frequency Latency and lag
Inability to save mixes
Bottomline: Mixx is everything you need to create creative mixes. It doesn't matter whether you're a beginner or a professional DJ.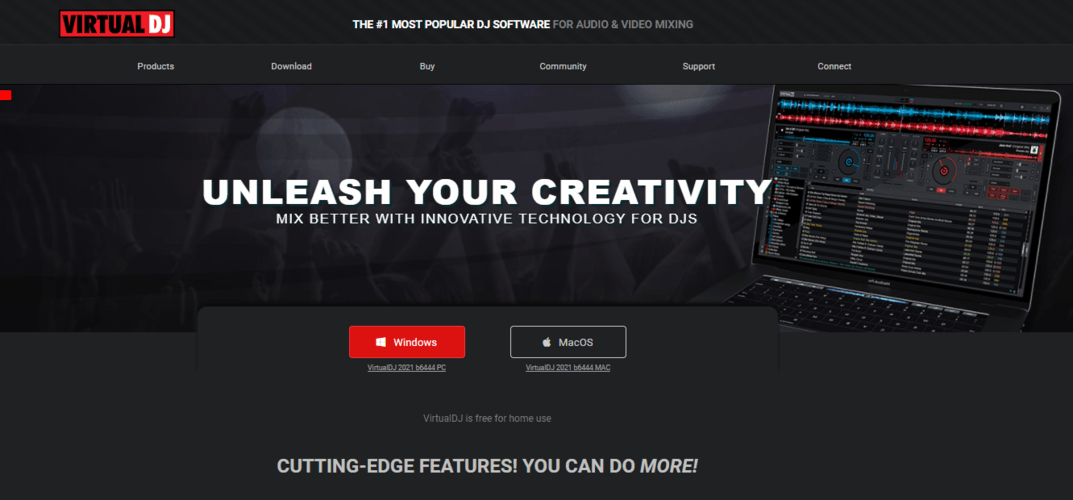 Another outstanding and unique DJ software is virtual DJ.
This software is famous in the music world because it stands out from other software for its reliable features and capabilities.
Virtual DJ is great for both beginners and professionals. It's audio and video mixing software. It has two turntables, cd and vinyl.
The software came into the limelight in 2003 and has since taken the industry by storm. Virtual DJ has 122 million downloads as of writing this post.
This software is easy to use and learn.
That's why it's the perfect match for beginners.
Available for free for bedroom DJs and can be licenced by professional DJs to be used in clubs and events.
Virtual DJ is available for both Android and Mac users. One of its greatest features is it allows its users to separate stems from individual tracks.
For example, separating vocals from the kick bass, hi-hats, snare and other instrumental elements.
This gives you the freedom to play with your tracks to your liking.
Magical right? Virtual DJ has seen an increase in sales and consumers ever since the introduction of this feature.
Virtual DJ helps you to determine the key, bpm and tempo of your song immediately and automatically.
It's easy to use, powerful and has an intuitive interface. It also provides instant beat-matching, synchronized sampler, and scratching.
Another great feature is their waveforms on the beat grid that give a clear analysis of the track. Also, there are slick new EQs for working on transitions and frequencies.
Virtual DJ is spot-on, advanced, reliable, and accurate. It's free and can be upgraded, licenced for monetized performances. Lastly, there are numerous tutorials for beginners to follow and quickly catch up.
Pros
Great mapper plugins
Reliable and accurate
Great for beginners
Available for both Mac and Android
Cons
Bottomline: This software is great for both professionals and beginners who want to take their mixing career to the next level.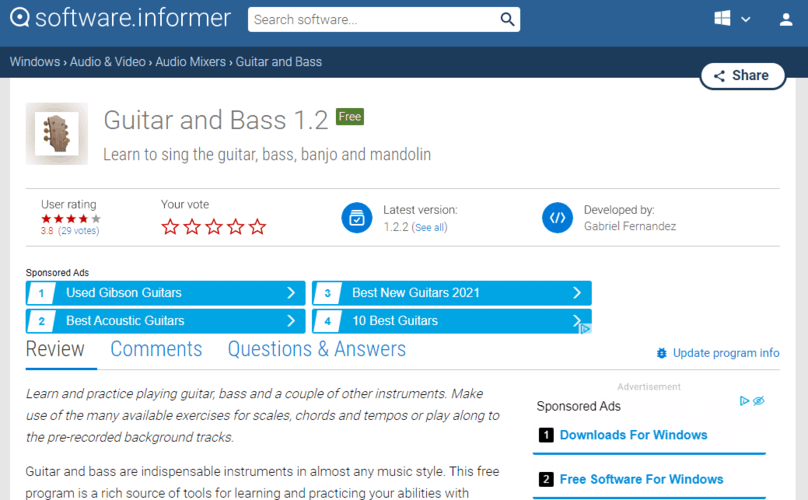 Another great key finder app is the Guitar and Bass app. This app is available only for Windows users.
It's compatible with all windows even though in the description it is indicated to be compatible with Windows 7 only.
Apart from key finding, Guitar and Bass is a musical learning and practising tool.
It's a helpful tool if you want to learn how to play the guitar, bass and a couple of other instruments. Furthermore, it has many chords, scales, tempo exercises and plays along with pre-recorded tracks.
The best thing about this app is that these lessons are free.
Guitar and bass also come with an inbuilt chord finder that shows you different chords and how to play them in different positions.
This is a great feature, especially if you're a beginner guitar player. You can strum the chords and listen on the app if you're playing the right thing.
They also have great music theory lessons and ear training lessons. Lastly, they teach you how to read the fretboard.
Another great feature that makes the Guitar and Bass app stand out is the jam band.
This feature helps you to create different background tracks to help you practise your chords and scales.
You can create a drum pattern and play the guitar on top of it. Also, you can set and adjust your tempo to your liking, add a bass sequence and more chords.
Pros
Free and reliable
Numerous features
Cons
Difficult to navigate
Too many advertisements
Bottomline: Great application for guitar and bass players.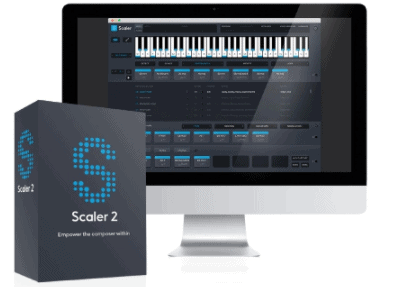 If you're looking for a more fun and intuitive way to find keys, build chords and progressions, you should scaler 2.
Scaler 2 is a music theory workstation, powerhouse and plugin that helps music producers to compose and produce music.
It is a great way to generate chords, chord progressions, inspiration, new ideas, expressions and melodies.
The scaler 2 plugin is also great for finding the song key. It has a powerful algorithm that detects whatever key you're playing in without fuss. This helps you to match your music.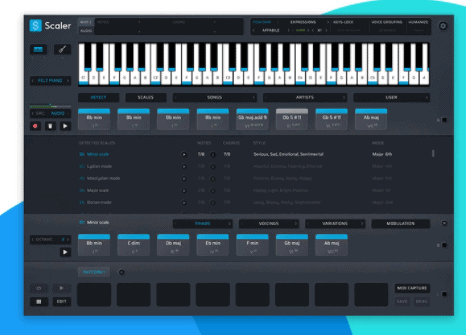 Scaler 2 helps you to transition your music and chords from one key to another with ease.
And you don't have to be a professional to use a scaler 2. It's good for beginners and professionals and a great tool for making professional music.
Here's another reason why people adore Scaler2.
It allows you to discover your key and select from many key modes. Scaler 2 also has hundreds of chord sets, progressions, chord substitutions that allow you to create a comprehensive and variety of music.
Scaler 2 allows for strumming and arpeggio while making music. Furthermore, it allows you to export the midi to your favourite DAW for further production.
It has audio, MIDI detection and various chord voicing. Besides, If you like you can use scaler 2 as a virtual instrument, as it has 33 sampled sounds.
The navigation in Scaler 2 is to die for. It's easy to use, clear and sleek. It has numerous scales and chords to alternate between until you find something you like.
Pricing
Scaler is available for a free trial after which if you like it you can purchase it for $59. Also, if you have scaler 1 you can upgrade to scaler 2 for $29
Pros
Efficient and gives an amazing performance.
Resourceful many presets
Huge library of samples and instruments
Affordable price
Beginner friendly and great for professionals as well
Cons
Bottomline: Scaler 2 is great for novices in music theory and amazing for professionals who need more inspiration and want to take their production to the next level.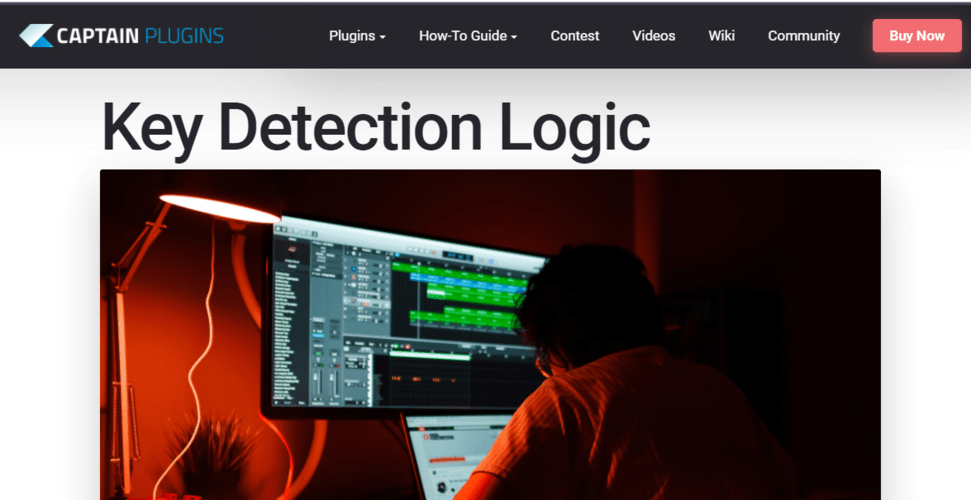 Finding the correct key, sticking to it and the given scale can be quite challenging if you're a beginner in music production. Or you have no music theory knowledge.
Most Daws provide a solution to this problem with their inbuilt pitch correction and key finders.
However, they are not accurate and some are complicated to use. That's why you need a perfect substitute. Well, try mixed in the key studio edition.
Mixed in Key will make your work easier. Mixed in Key studio station is an amazing plugin by captain plugins.
It helps you find the key of your song and match everything to the key of your session. It also scans your audios and finds BPM and provides more information about the track like its title and artist.
For example, you can use it to match your vocal, vocal chops, samples, one shot to your music production key session.
If you drag and drop a sample onto Mixed in Key, it will automatically detect and tell the key, scale and tonality of your sample. This will save you time from having to find the key and tone of your samples manually.
This plugin makes your composition and music production a walk in the park because you produce with guidance
Pricing
Mixed in Key will cost $58 only.
Pros
Easy to use
Accurate and reliable
Cons
Not great for beginners without music theory knowledge.
Bottomline: This plugin is a great fit for producers who want to make music in key. A great tool to scan MP3 and WAV files and find bpm and key.
Related articles:
Conclusion
There you have 5 amazing online music key finder websites and 7 apps, software and plugins you can apply to find the key, bpm and other information of your song.
If you're looking just to determine the key and bpm online using a website of any song, we recommend you try Tunebat song key and BPM finder it's fast and reliable.
But if you're a music producer looking to produce music that is key with samples we recommend you try Mixed in Key and Scaler 2 plugins they will do the trick.
Lastly, if you're a DJ, we recommend you try Virtual DJ. It's reliable, fast beginner and professionally friendly.
Which of these online sites and apps and plugins will you try first?
Let us know. Goodluck.