Our brain works in wondrous ways. We're all well acquainted with the fact that it is rather difficult to concentrate and very easy to get distracted.
Amidst such circumstances, how do we make ourselves more productive? How do we cut ourselves completely from the distractions of the outer world?
Type
Neuroscience and music based productivity app
Trial
7 days of free trial available
Starting price
$52.49/yr
Features
Enhancing focusing capacities
Reducing distractions
Maintaining high productivity levels
Money back
30 days money-back guarantee
Get Focus@Will
Buy Focus@Will
We have a solution for you. And to your surprise, it is music!
Want to know more?
Read on:
Focus@Will review
What is Focus@Will?

The right kind of music has a strong influence on the activities that we do. And that is exactly what Focus@Will has developed upon.
Basically, Focus@Will is a subscription-based platform that has revolutionized music services by fusing it with neuroscience.
The music available in this platform has specifically curated to stimulate the functioning of the brain.
As the name rightly suggests, the productive music in Focus@Will helps the listener in:
Enhancing focusing capacities
Reducing distractions
Maintaining high productivity levels
Retaining information while studying, working, reading, or writing
The technology employed by Focus@Will has been scientifically proven to improve brain activities and acts as a catalyst in making the user more productive.
Focus@Will review
How Focus@Will works?
Scientists have found that certain types of music put the human brain into a "flow state" where a person becomes hyper-focused and as a result, they become exponentially productive.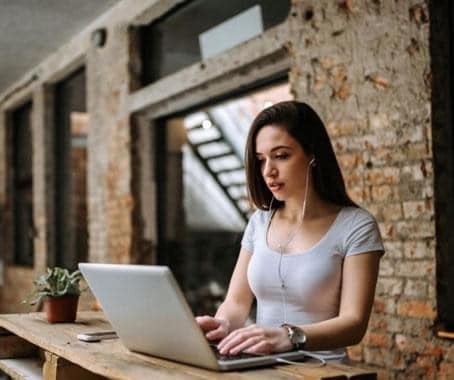 Adapting that very concept, Focus@Will will play a sequence of brain-stimulating music that helps the brain in cutting out all the unnecessary distractions. This series of music induces the user's brain into the aforementioned "flow state".
From various studies, it has been found that the preference for music varies according to the type of personality.
After logging into Focus@Will, the users are asked a few questions that help the application in finding the perfect music for them.

In correspondence to the answers given by the users, Focus@Will will generate a custom-made playlist for them. It is referred to as a "channel" on the platform. The channel will contain the best music for focusing on a particular user.
However, the users will still have access to 50+ other channels. So if the user feels like another channel fits their choice more, they can easily choose to listen to the music on that playlist.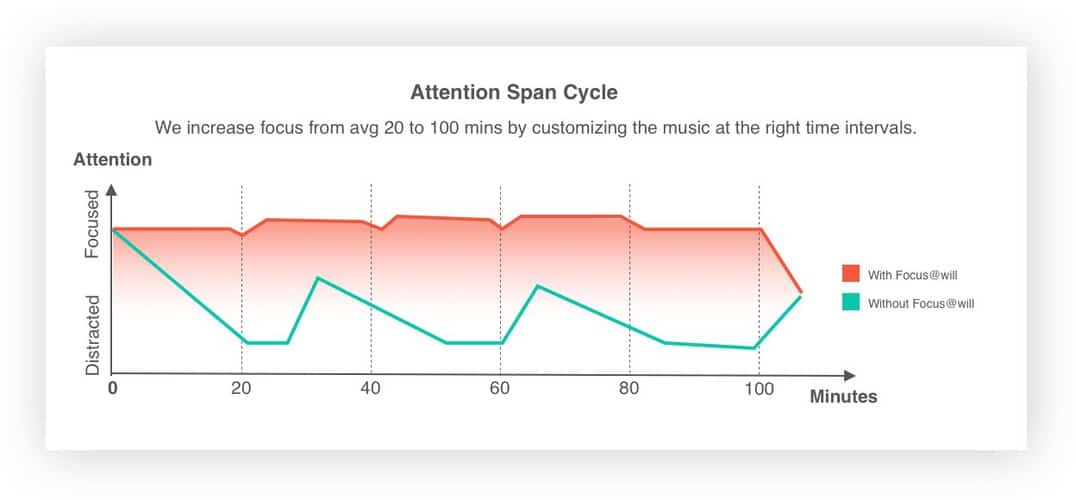 It has been found that active users of Focus@Will see an increase of focus by 200-400%. The platform claims to offer average productivity of 75% for an hour, which is way more than people who don't use Focus@Will.
Focus@Will features
Focus@Will can be accessed by two means – through their website and through mobile applications.
There is an Android app of Focus@Will that has made the process very easy for newly joining users. The interface is similar to that of the official website.
You just need to install the app, sign in, select the music you want to play and start streaming instantly.
For the premium users of Focus@Will, there are a bunch of useful features that they can benefit from.
They get uninterrupted global usage, detailed reports on productivity and efficiency, weekly progress reports, and various tips on how to reduce distractions, advanced music options, extra channels, and much more.
Focus Sessions are an interesting feature of this platform. The process begins with setting a time for every session.
After a session is completed, the application notifies you with a chiming sound. You can either choose to take a break for checking your notifications or extend the timer further and get back to your work.
The Productivity Tracker comes into play if your sessions are more than 20 minutes.
Each session is displayed in the form of bars. The horizontal axis indicates the dates while the vertical axis indicates the level of productivity for each session.
Pricing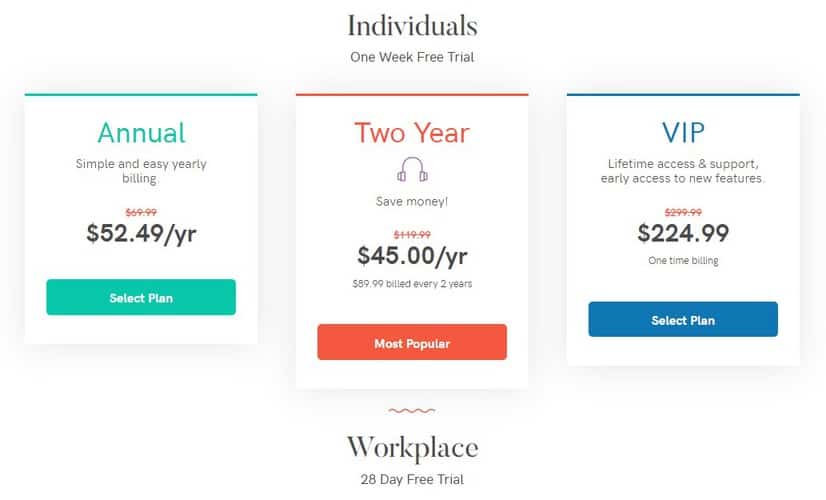 Even though Focus@Will is a completely paid service platform, prospect users can still use it for free, but for a limited time.
Interested users may opt for a 14-days free trial session on the platform with a maximum streaming session limit of 100 minutes.
Once the session limit is reached, the users will be prompted to sign up for a premium plan.
You can simply ignore that and continue streaming. Just note that you will be seeing that prompt after every 100 minutes of streaming.
If you wish to sign up for the premium plan, you can still get a free trial of the features available before you make the payment.
The Focus@Will Lifetime subscription can be purchased for USD 299.95. The Annual Subscription plan comes for USD 19.99.
What do we like about Focus@Will?
Loads of music channels to stream from
Streaming session timer
The very user-friendly app interface
What we don't like about Focus@Will?
Measuring improvement can be tricky
Users may find it hard to concentrate on some music
A lot of free alternatives available on the internet
Conclusion
Amidst our busy lives, we hardly find any time for ourselves to concentrate and focus on the things that we actually love doing. Focus@Will just nudge us towards achieving that.
By stimulating our brain, improving our focus, and increasing our productivity, we can gain a lot. This platform is a proactive solution to put a leash on our distractions.
Set your session timings according to your convenience, check your progress and productivity rate, and unlock the full potentialities of your brain.
We highly recommend that you try Focus@Will to witness the sublime effect of music on your mind.