Wondering if you could learn audio production and give your music a whole other dimension? You have come to the right place!
Check out the best audio production courses available online. Now you can explore the world of musical technicalities by sitting at your home!
As a musician and instrument player, you should know how to give that professional whiff to your compositions.
By learning audio production, you learn how to dig deeper into the art of musical perfection.
Let's get you acquainted:
Top 7 Audio Production Online Courses
We will have a look at two audio production courses available on Udemy: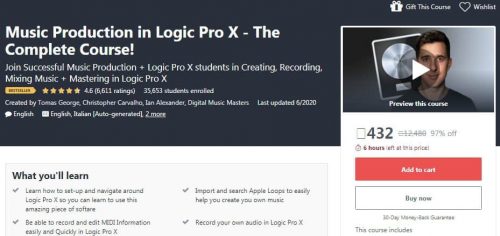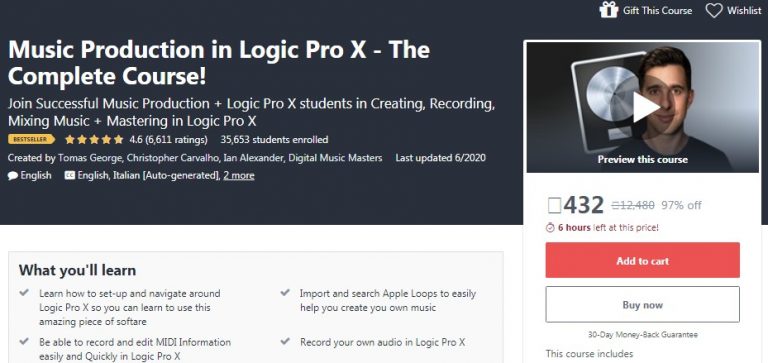 In the first course, you learn how to produce music through Logic Pro X.
From setting up the software, navigating through it, recording instruments, and understanding mixing and mastering – this course touches all the bases.
It will be beneficial if you have some prior knowledge about music production.
Unique selling proposition
Error-free approach to learning Logic Pro-X
48 hours of video lessons
2 articles
9 downloadable resources
Who is this course for?
Those who want to improve their music production skills
Instrument players and performers who want to explore new ideas of recording audio
New users of Logic Pro X who want to get an in-depth idea about the software
The good
Huge concepts chopped down into small lessons
Thorough understanding of Logic Pro X software
Easy to follow lessons
The bad
Poor video resolution
Incomplete and confusing explanations
Tutors can be over-descriptive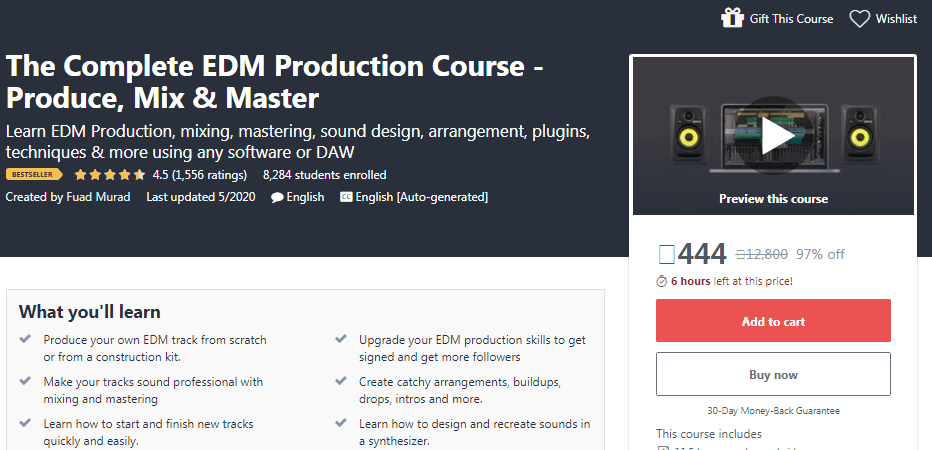 The second course teaches you music production from scratch. It enables you to produce your very own EDM track.
You do not require any special software, plugin, or gear to avail this course. Get a chance to mix, master, design, and recreate sounds in a professional manner.
Unique selling proposition
11.5 hours of video lessons
8 articles
5 downloadable resources
Who is this course for?
Beginner musicians or amateur EDM producers who aspire to produce their own music
Semi-professional EDM producers who want to level-up in mixing and mastering
As for advanced EDM producers, they can get some new tips and inspiration to work with
The good
Tips and techniques to find individual sounds
Clear and easily understandable instructors by teacher
Lessons and topics explained in simple words
The bad
Not much in-depth about digital audio workstations
Not ideal for beginners
Downloadable content can be tricky to access
Masterclass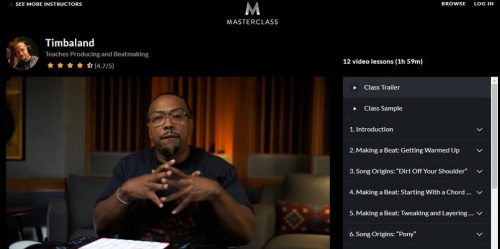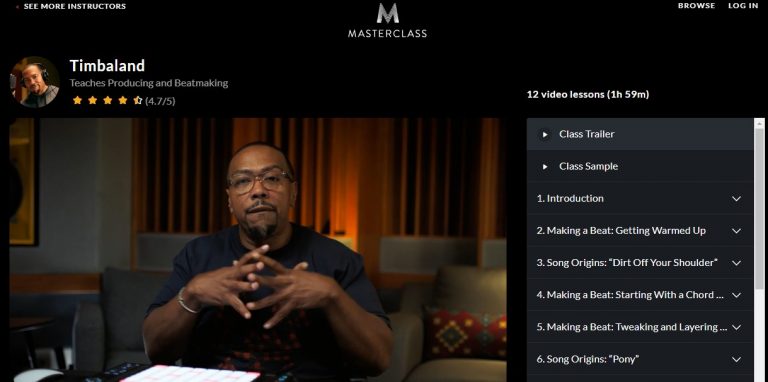 If you are someone who's into creating floor-fillers, this is the course for you. This course is taught by multiple award-winning producer Timbaland himself.
Divided into 15 in-depth lessons, this Masterclass course is a combination of unique beat making and technical knowledge.
The various lessons in the course teach you about ear-catching sounds, craft beats, complex productions from simple stuff.
Unique selling propositions
Lessons right from Timbaland's studio
Comprehensive knowledge about Timbaland's style of beat-making
Makes you able to create tracks just using your voice over a mic
Who is this course for?
Someone who is into beatboxing and wants to try their hands on music production
Someone who is interested in creating floor fillers
The good
Timbaland is an elite instructor
Top-notch quality of lessons in terms of audio, video and graphics
Comprehensive content that is easily understandable
The bad
Lack of free trial
Not ideal for those looking for technicalities
Must be interested in beatboxing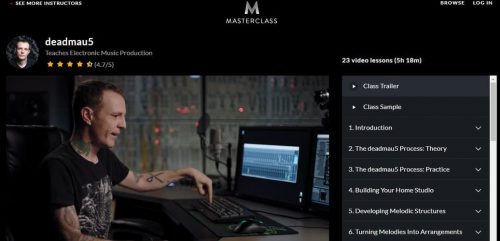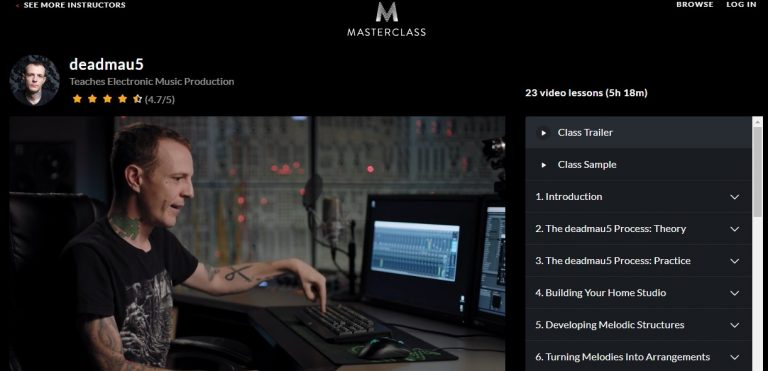 Learn electronic music production from one of the best in the game – deadmau5 himself.
This 23 video lesson course has detailed instructions on how to improve electronic music production.
Deadmau5 teaches how to create alluring melodies, render unique sounds and tones, and add a professional touch to the tracks with special focus on mixing and mastering.
Unique selling points
Important tips and tricks about specific tools
Guidance on building a budget studio
Stage performance techniques
Advice on career management
Who is this course for?
Excellent for those who are new in music production
Might be interesting for those who want to stretch into newer dimensions in music productions
The good
Insight into music production
Efficient learning approach by saving time and energy
Access to complete list of tools
The bad
Does not cover everything in electronic dance music
Expensive gear recommendations
Deadmau5 as an instructor is not the best
Creative Live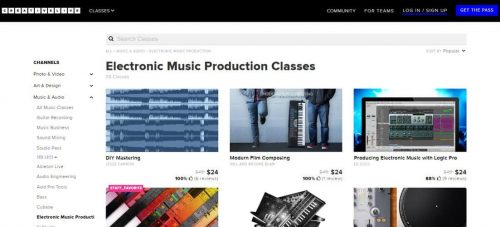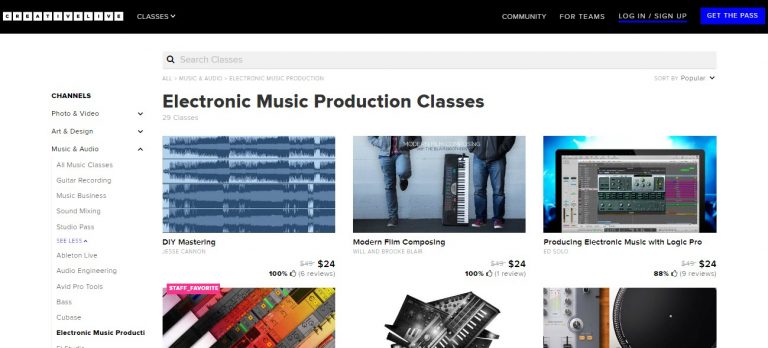 The music and audio production classes available on Creativelive are provided by industry professionals.
They give presentations, information, guidance, tips, and techniques that can help anyone who is trying to get into music and audio production.
The courses are also great for fine-tuning your music skills, such as recording. It not only offers you a platform to learn, acquire, and develop your production skills but also helps you in navigating your career as a whole.
Unique selling points
Multiple DAWs such as Pro Tools, Logic Pro, Cubase, Ableton, FL Studio
Covers several genres including electronic, metal, rock, etc.
Liberty to choose from many different courses related to music and audio production
Who is this course for?
Great for those who are new to the world of music production
Experience producers and musicians can hone their skills
The good
Excellent line of professional instructors
Efficient topics with a wide range of lessons
High-quality videos and great audio
The bad
Can be pricey for individual lessons
No certificate in completion of course
Too lengthy lessons can make them tedious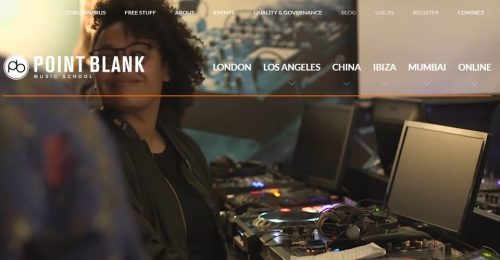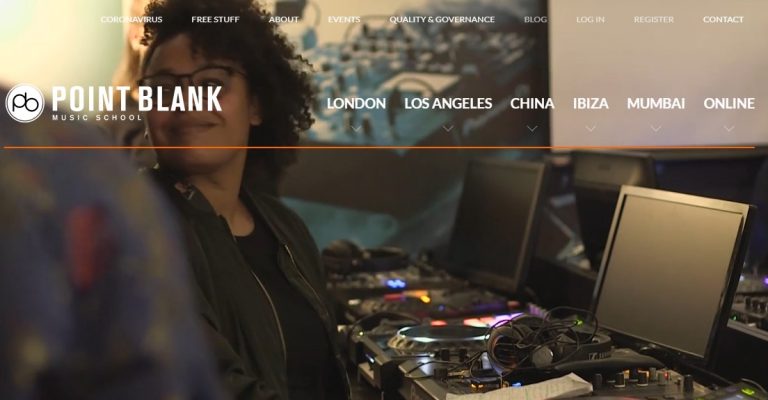 The range of courses offered in Point Blank Music School is quite impressive. This is the only website where you can earn a diploma in music production absolutely online.
The courses are available both for longer and shorter durations. They teach on platforms such as Ableton, Logic Pro, Native Instruments with concentrations on music composition, electronic music production, Djing, and music industry.
Unique selling propositions
Attractive discounts on production products for students
Free products upon course enrolment
Plugged – the forum is a community where professionals and students share their ideas and it is also a great platform for new collaborating opportunities
Who is this course for?
Those who want to professionally take up music production
Those who are looking for online alternatives for full-time music production courses
The good
Absolute credibility of courses
The professional line of instructors
Huge exposure to the music industry
The bad
Courses can tend to be lengthy
Price can be a factor
Intense teaching-learning experience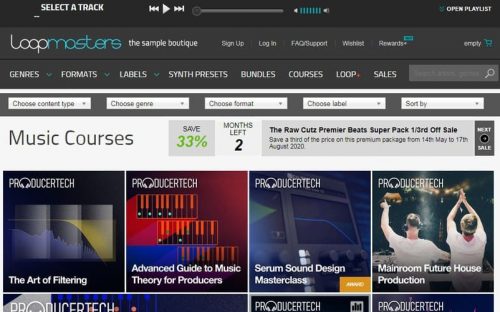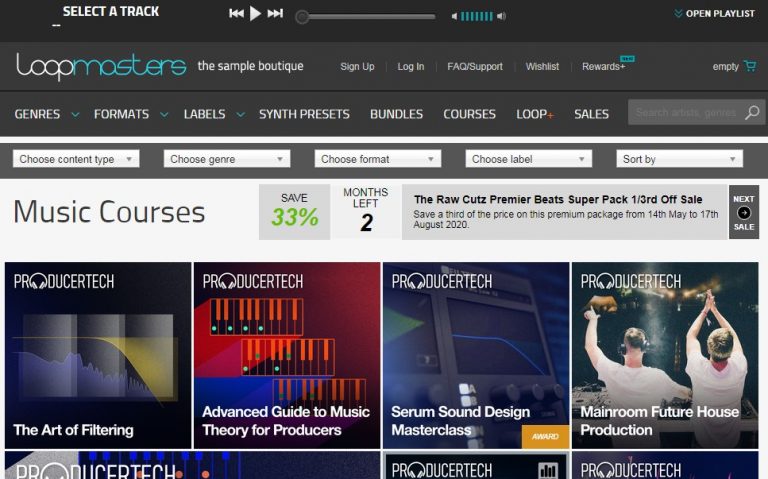 The Loopmasters ProducerTech's courses not only teach you about producing music but also showers you with loads of tutorials on various genres such as EDM, hip-hop, house music, etc.
So not only music producers, but even electronic musicians and DJs can gain a lot from these courses.
You can check out the bundles and free downloadables that you get along with the course. It takes users from beginner levels to advanced ones.
Unique selling proposition
Downloadable coursepacks, audio samples and written notes for lessons
Interactive forum encouraging discussions between trainers and students
Signed certificate at the end of course
Who is this course for?
Aspiring music producers, electronic musicians, and DJs
The idea for beginners who want to level up to advanced levels in audio production
The good
Great names from the music industry as instructors
Categorized learning in terms of skills, software and genre
Amazing interface accessible for android and iOS devices
The bad
The abundance of products can be misleading
Can tend to be inclined more towards electronic music
Expensive plugins and softwares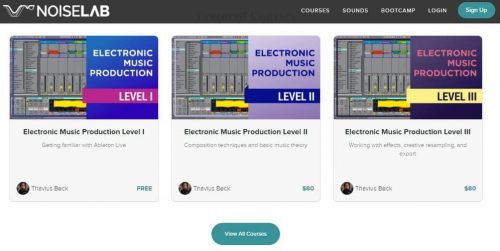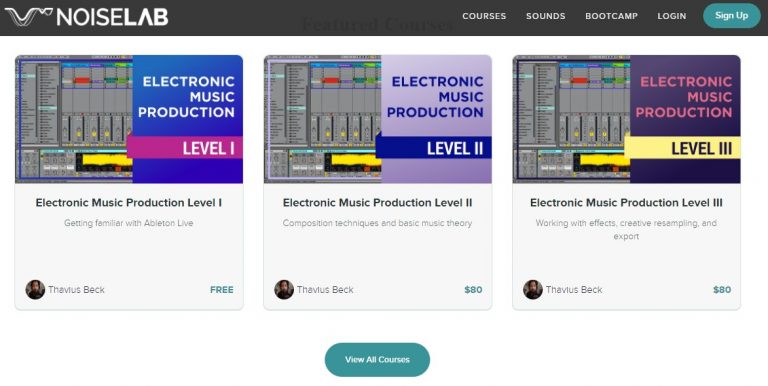 You ought to take a look at Noiselab if you are planning on taking your Ableton Live skills up a notch.
From tutorials to courses on electronic music production on Ableton Live – you get everything here on Noiselab. And it's not about the courses.
There is an online community for electronic musicians and producers who use Ableton, so you can get help regarding problems at any time. On top of that, Noiselab gives training for becoming certified Ableton trainers.
Unique selling proposition
Unlimited access to the course library and all its lessons
Instructors in the form of expert producers and Ableton trainers
A great community of experienced musicians to interact and connect with
Who is this course for?
Those who are interested in producing music on Ableton Live
Those who want to learn Ableton Live
The good
The very intuitive learning platform
Professional and experienced instructors
Access to lots of free stuff
The bad
Limited availability of genres
Designed only of Ableton live users
Poor organization of categories
Lynda
Learn about Pro Tools inside out.
The course covers everything from start to finish including mixing audios, recording music with traditional instruments as well as virtual ones, audio mastering, music production for video and film, song arrangement, etc.
Get music recording tutorials through video lectures by professional experts on Ableton Live.
This course walks you through many processes such as:
Connecting controllers and audio hardware to Ableton Live 9
Making beats, creating loops, playing software instruments, live performances with Session view, and producing music of all genres and styles.
Try your hands on Logic Pro by learning how to record your instruments, create music, and produce an album of your compositions.
Video tutorials are presented by experts on topics like recording audio tracks and MIDI tracks using two DAWs – Logic Pro and Logic Pro X.
The course also includes lessons on making beats and making creative tones with inbuilt software instruments, and also about mixing recording sessions over multiple tracks.
Tired of searching for authentic FL Studio tutorials?
This course teaches you everything about FL Studio.
Makes you able to build your own drum tracks, explore layering and sampling instruments, recording and arrangement songs, mixing tracks, and a lot more.
Unique selling proposition
Endless access to hundreds of online courses offered by expert professionals and instructors for various difficulty levels
New tutorials every week
Certificate after completion of course
Networking opportunities with other music producers
Who is this course for?
Ideal for those who want to learn about digital audio workstations from scratch
Those are looking for collaboration possibilities through social media
The good
Stunning content library
The superb quality of videos and audio
Skilled instructors
The bad
No access to single videos
Availability of similar content in other free websites
Glitches in the learning platforms
Conclusion
So as we reach the end of this article, we hope you have fruitful information about audio production courses available online.
What is our verdict? We would recommend you to go with these three courses – Udemy, Creative Live, and Loopmasters.
The basis of this selection is simple – their instructors are top-notch, their lesson plans are well-organized, users can choose from various genres and levels, and they can learn at their own pace.
Recommended read: 6 Best Music Genre Finder Websites to Check Genres of any Song