Do you want to master piano learning? Are you looking for the best piano online lessons?
Learning an instrument over the internet is a whole other experience. Of course, it requires the same amount of hard work and dedication irrespective of the learning medium.
Online piano courses have been very popular over the last few years. One has the liberty to choose from numerous courses.
These courses are taught by experienced professionals, mostly through video lessons and demonstrations.
All you need is a piano, or a keyboard, and a stable internet connection, and you are good to go.
People often look for courses from which they can benefit the most within a short period of time.
Likewise, there are piano courses structured in such a way that even the newest of players are able to play the piano fluently within a matter of months.
So today we will be looking at some of the best courses available online that will help you learn the piano as fast as possible.
Here they are:
7 Top piano online lessons – Our best picks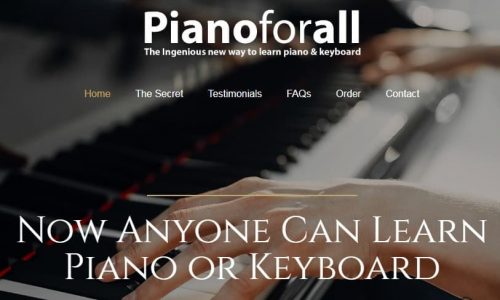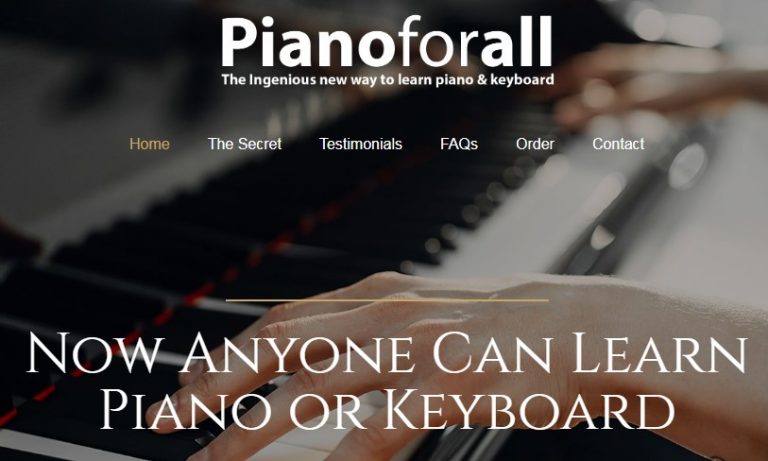 Pianoforall is one course that you are most likely to come across if you are looking for ways to learn piano online. It's not like other generic piano courses that are lengthy and tiresome.
As soon as the user signs up for this course, they get lifetime access to an enormous chunk of content, which includes future updates that are absolutely free.
These materials are targeted towards teaching any new student to play the piano with a slightly different approach than the traditional one.
Particular emphasis is put on improvisation techniques, composition skills, and learning to play by ear.
This course follows a chord-based lesson pattern. As a result, the students become able to play popular songs in no time.
Unique selling points
Complete learning package consisting of 500 audio lessons, 200 videos, and 10 Ebooks
Covers multiple genres and styles
Compatible on multiple platforms – smartphones, tablets, computers
Lessons based on tips, tricks, and formulas for fast and precise piano playing
Quite comprehensive and easy-to-follow
Pricing
Pianoforall can be bought and downloaded by making a one-time payment of $79. For an additional $10, you will also get a DVD along with the downloadable course.
The good
Lessons combine visual and auditory elements
Encourages students to play songs directly
Clearly laid out information for smooth understanding
The bad
Very less emphasis on technique
No lessons for music theory
Lack of interactive elements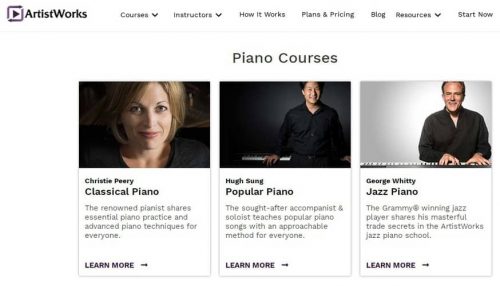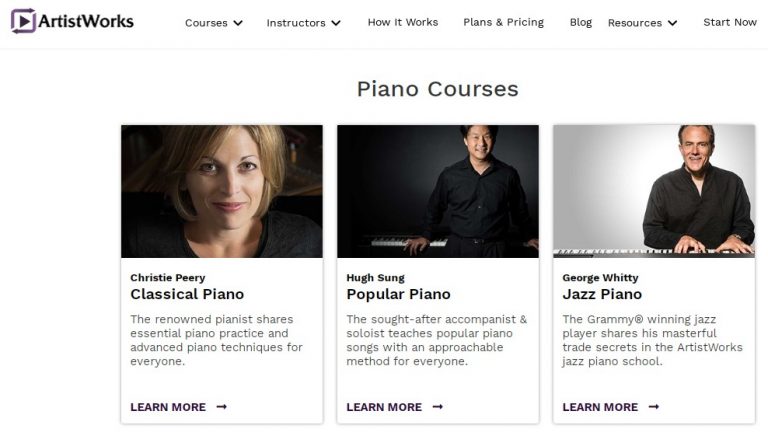 The piano course in Artistworks is taught by Christie Peery. The course is well-organized and structured with lessons covering difficulty levels from amateur to advanced.
So basically this course is ideal for your kid who wants to play the piano and also for your father who lost touch with the piano and would like to start things again.
After the completion of every lesson, students can make online video submissions.
In this way, the instructor interacts with the students and gives them feedback and guidance. This feature tries to bring a face-to-face experience through the online medium.
Unique selling points
The flexible course as students can make their own schedule and learn at their own speed
From novice to expert, hundreds of video lessons
Students can choose from multiple genres as they wish
Video looping and slow-motion features make the lessons simple to understand
Pricing
Artistworks piano lessons with Christie Peery can be subscribed through three payment options, which are:
$105 for a 3-month plan
$179 for a 6-month plan
$279 for a yearly plan
The good
Perfect course for learning classical piano
Constructive feedback on lessons from the instructor
Video exchange library can be a powerful resource in the overall development
The bad
A bit too expensive for an online piano course
MIDI or any keyboard cannot be connected
Video submission feedback can take weeks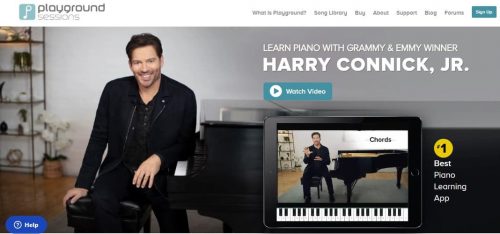 Playground Session may not give flashy vibes as other online piano courses, but it surely is one of the best in the business.
The video-game styled lessons make the teaching and learning process very interactive and interesting for the students.
The interface of this course is designed in such a way that there is a provision to plug-in a MIDI keyboard.
So whenever the student plays a note, it highlights on the screen. Green for the correct note and red for the wrong one. This helps the student to stay right on track.
Whenever a student levels up, new content is unlocked and they can even earn rewards. Pretty encouraging, isn't it?
This is ample scope for improvement in this course. For instance, the lessons can be recorded and students can check the playback to see where they made mistakes and correct them accordingly.
Even though this course is directed towards enabling the users to play songs on the piano, there are sufficient lessons that teach about music theory.
Users also get access to a generous song library with this course. Although, additional fees may be required to get your hands on popular tracks.
Unique selling points
Emphasis on the piano song playing right from the start
Music theory taught through popular songs
Easily comprehensible video lessons
Real-time suggestions and feedback along with scores, levels, and progress charts
Pricing
Playground Session piano courses can be availed through three payment options. They are:
$17.99 per month for the monthly plan
$119.88 per year for the yearly plan
$289.88 one-time payment to get a lifetime membership
The good
Customized lessons allowing students to learn the songs they like
My Playground feature lets the players get progress visualization
Lots of practice material and backing tracks to play and improve
The bad
Lack of visual representation in lessons
Does not focus much on techniques and skills
Need for more video lessons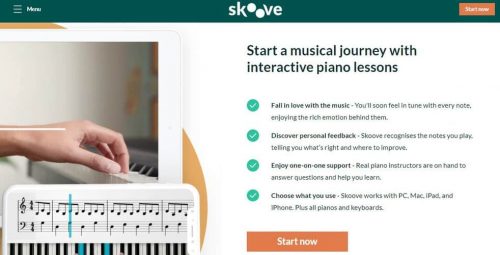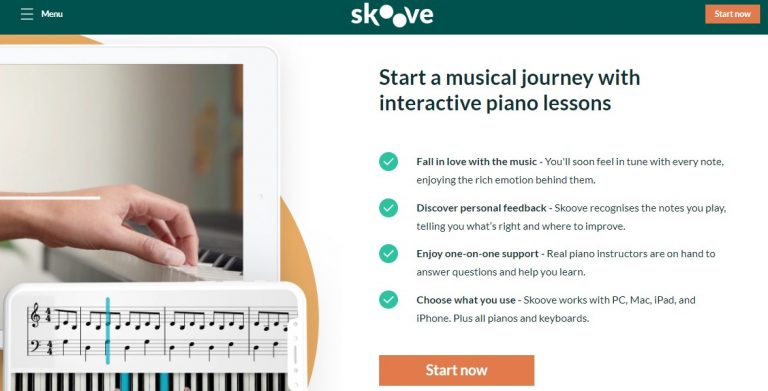 For those who have absolutely no idea about online piano courses, Skoove is a good starting point.
Their lessons are meant for complete beginners who can get a quick idea about piano playing. They also offer intermediate courses.
This software sticks to a 'listen, learn, play' teaching approach. It has been developed for new piano players to master the skills that they learn during the course.
Plus, the players are given fundamental advice on how to improvise and acquire the necessary techniques to be able to do so.
The user-interface of the course is designed in such a way that students, both young and old, can easily catch on with it.
You can either plug-in a MIDI keyboard or a conventional keyboard – both of them are compatible with the software. In no time, you'll be all set to begin your online piano learning journey in an easy and effective way.
Unique selling points
Recognizes the playing pattern and provides personal feedback
One-on-one support from professional piano instructors
Compatible on multiple platforms – iPhone, iPad, MAC and Windows
Access to chart hits and classical pieces
Pricing
There are several payment options to acquire Skoove. You can choose from any one of the following:
$19.99 per month for the monthly plan
$39.99 for the three-month plan
$119.99 per year for the annual plan
The good
A simple approach to reading music
Students can progress on their own pace
The modern-looking interface has great visuals and easy to follow
The bad
Several musical concepts are skipped
No focus on chord and scale practice
Not ideal for learning sheet music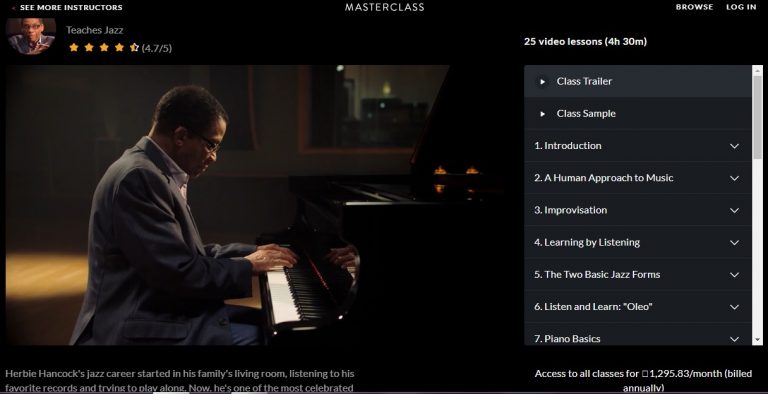 Become fluent in Jazz piano by enrolling in 14 times Grammy winner Herbie Hancock's Jazz Piano course on MasterClass.
The rich content of this course comprises 25 comprehensive video lessons.
They cover all the essentials for you to become an accomplished jazz pianist. This jazz course is not just about learning improvisations and polishing tunes.
Herbie Hancock teaches you to connect music with emotions and memories. He has a very non-mechanical approach to jazz music. Other than that, this course comes with a long list of study materials.
Unique selling points
Access to downloadable workbooks with lessons and practice sheets
Interesting reharmonization and chord voicing video lessons
Musical knowledge about composing and writing
Lessons on complex rhythms, chording ballads, classical tunes, and contemporary pieces
Pricing
This Jazz piano course on MasterClass can be accessed by making a payment of $15 per month that is billed annually.
The good
High-quality videos with exceptionally good sound quality
Unique techniques and methods to learn jazz piano
Compatible of multiple devices and comparative affordable
The bad
No feedback or interactive edge to lessons
Fast progressing course, not ideal for absolute beginners
More practical, less theory


In Piano Marvel, budding piano players are introduced to an ocean of lessons.
These are presented through an online application in the form of video content.
This course allows the user to plug in their MIDI keyboard into the platform.
It is a way by which piano players are subject to instant feedback for corrections and improvement.
With a song-library of more than 1500 songs across multiple genres, Piano Marvel teaches piano in a gamified lesson structure that contains hundreds and thousands of practical material and exercise sheets.
The platform grades the players throughout the course and rewards them with trophies to keep them motivated. These milestones can be shared over social media sites.
Unique selling points
Prepare Mode is an interactive feature that allows new players to learn songs in their own pace
Well-guided video lessons of professional standard
Standard Assessment of Sight Reading (SASR) is another feature that tests the score and chart reading capabilities of the students
Assess Mode helps beginners to learn lessons efficiently by providing detailed feedback
Pricing
A free trial is available in Piano Marvel to try things out and know how the platform works. As for the paid subscription, the payment structure is as below:
$15.99 per month in the monthly plan
$110.99 per year in the annual plan
The good
Very encouraging course for piano learning
Lessons on musical signs and terms
Strong emphasis on theory with downloadable advanced music sheets
The bad
No lessons teaching hand posture and hand position
Some lessons and features require prior knowledge
Limitations on genre variations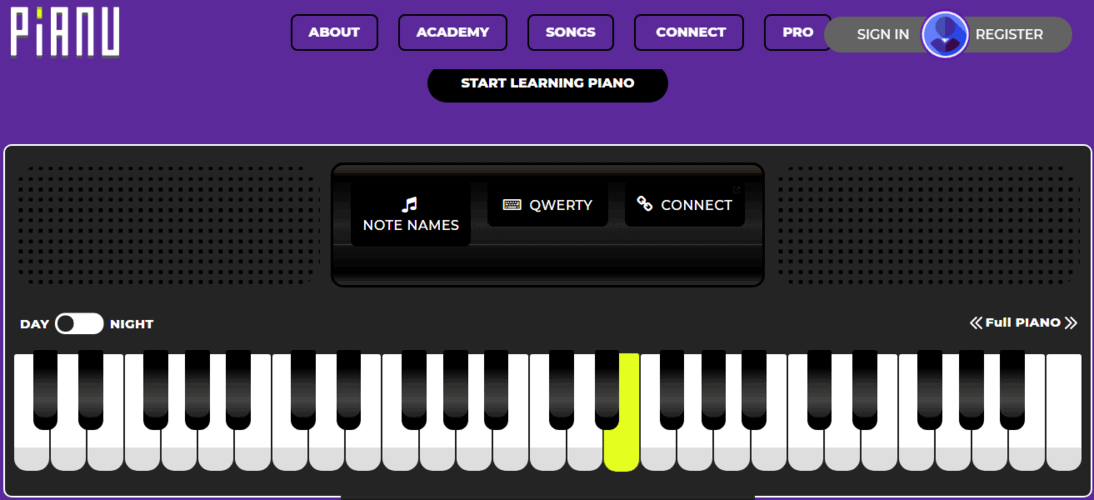 Looking for a quick alternative to the year-long piano course? Pianu is here to your rescue.
With a growing song library categorized according to genre and difficulty, Pianu's piano course is worth checking out.
It welcomes you into the world of piano playing with its attractive website and simple-to-learn lesson structure.
Players can see their progress report through stats. Even though an app isn't available, the user-friendly interface of Pianu's website makes up for it.
This is a very interactive platform as it takes the suggestions and requests of students into consideration to update their song database.
Unique selling point
Huge and diverse song directory
Very affordable online piano course
Users can connect a real keyboard and start playing before even signing up
Nothing is very complicated. Easy to navigate course platform
Pricing
Pianu has a subscription-based piano course. The payment varies according to the duration of the course. They are:
$8 per month for the monthly plan
$5 per month for the annual plan
$225 one-time payment
The good
Loads of exercises and practice materials
A good database of sheet music
Progress report of users is displayed
The bad
Difficulty in creating sync between real piano and the one in the interface
Having a piano or a keyboard is must
No mobile app can be a disadvantage
Conclusion
Selecting the right online piano course can be quite a task for obvious reasons. There are just so many of them!
Thus, we took it upon ourselves to make this whole shebang less complicated for you. These 7 online piano courses mentioned above are the real deal.
If you would like to narrow it down, even more, we would suggest you check out these – Pianoforall, Playground Sessions, and Piano Marvel.
Why did we choose these? Well, it's simple. These courses begin teaching piano from the grassroots level, covering the basics and preparing the players to progress on to higher levels.
There is sufficient scope for development in these courses. One can learn from their mistakes. They can know how much they are progressing.
So, we hope you have enough information to work with and make the decision in choosing the best online piano course for yourself.