Are you looking for the best online guitar lessons to get started? Then this article is for you.
Online courses for musical instruments is a major development in the field of distance learning.
So suppose you have always wanted to learn the guitar but you couldn't find any good teacher in your locality.
Is that the end of the line? Absolutely not!
All you need is a guitar and the zeal to explore endless possibilities. And we are here to bring you a step closer to achieving your long-lived dream of becoming a guitar player.
We are here to shed some light on some best guitar courses available online.
When you opt to learn the guitar over the internet, you get to interact with brilliant musical minds from all over the world. And trust us, it is an exhilarating experience!
Just make sure you have access to a stable internet connection and the willingness and dedication to learn, and you'll be strumming and shredding on your guitar's fretboard like a professional!
So join us as we walk you through some top guitar courses to enhance your learning experience.
7 Top guitar lessons you need to consider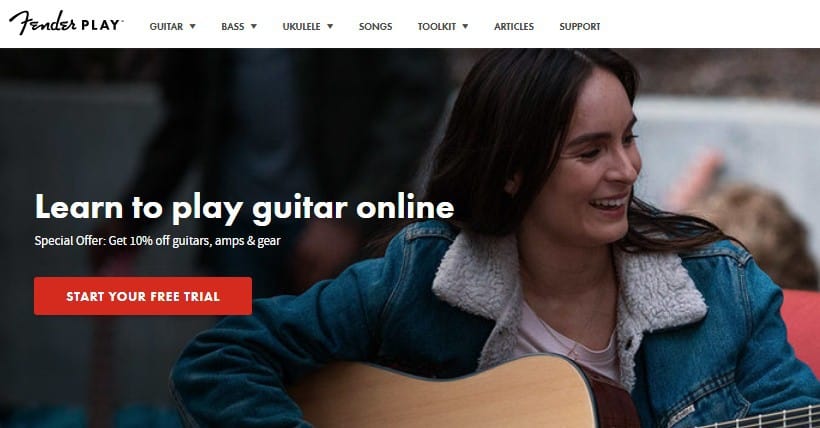 The reputation of Fender speaks for itself.
Their instruments have high production value. It is no different in case of their take on guitar education.
Fender Play is a multi-dimensional course. The lessons are targeted towards professional guitar learning.
Popular songs are featured in them so that the users can connect theory with practical implementation.
The friendly and informative instructors transform the entire learning process into an exciting journey.
Fender Play gives an exceptional user-experience. The budding players can keep track of their progress.
They get access to tabs, chord charts, tools, glossary, and feedback from instructors.
Additionally, the subscribed users decide to buy any Fender instrument, they are given a 10 percent discount.
Unique selling points
A fully guided course by experienced and expert instructors
Short lessons with stepwise advancement
Users can learn at their own pace while tracking their progress
Playing famous songs becomes easy
Chance of becoming a part of an exclusive musical community
Great for ukulele and bass players
Lesson videos are recorded with multi-angle cameras
Pricing
Fender Play gives a free trial for 14 days.
For those who want to subscribe to the course, payments can be made on a monthly basis or on an annual basis. The prices are:
£9.98/$9.99 per month, monthly plan
£7.50 per month, annual plan
The good
A fantastic course for beginner guitar players
Absolutely worth the price
Loaded with features to keep the players engaged
The bad
There is no offline access for the course
Bugs tend to make the mobile app and desktop version a bit slow
Advanced lessons lack in certain areas
If you are interested in a wide range of guitar lessons, ArtistWorks Guitar is the right course for you.
The courses are taught by great instructors, including legendary guitar players like
Paul Gilbert (for Electric Rock Guitar),
Keith Wyatt (for Electric Blues Guitar)
Many more
This course features a Video Exchange Learning Platform where students can connect with their respective instructors.
The students are given personalized feedback on their progress, skills, and techniques. This significantly contributes to the student's development by creating an enhanced social learning experience.
The users largely benefit from the various course plans, which provides them unlimited access to guitar lessons, the Video Exchange Library and the music theory workshop.
Unique selling points
Personalized schedules for learning at an individual pace
Over 50000 guitar lessons categorized from beginner levels to advanced ones
User can choose from multiple genres to specialize in
Lesson videos can be played in slow motion and can be looped for better understanding
Pricing
Interested users can sign up for free lessons to meet their musical aims. Other than that, the course can be availed in the form of three packages:
$35 per month for a 3-month plan
$30 per month for a 6-month plan
$23.25 per month for an annual plan
The good
Lessons are designed in a linear-progression pattern for each topic
Professional instructors from the music industry have great student-engagement
Users can join popular forums and chat sessions
The bad
Absence of lesson database for songs
The lesson toolbox is somewhat sloppy
Course price falls on an expensive side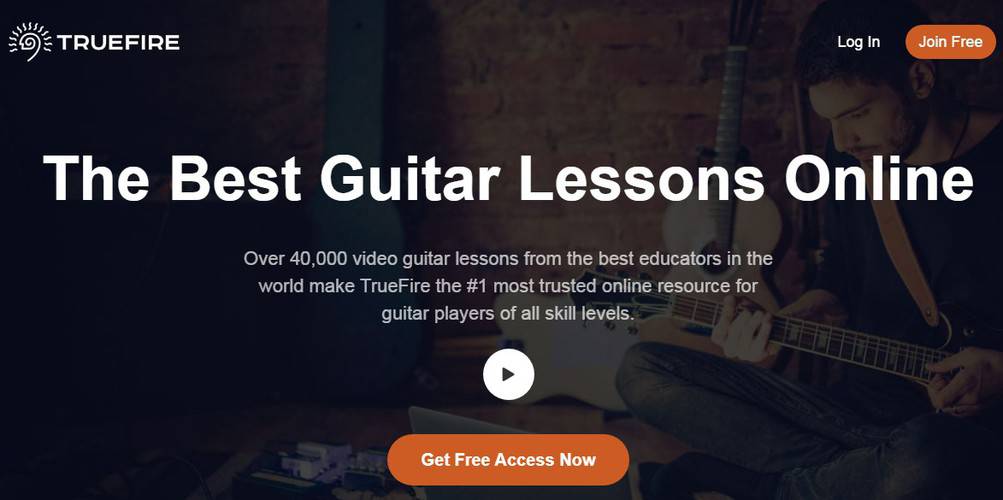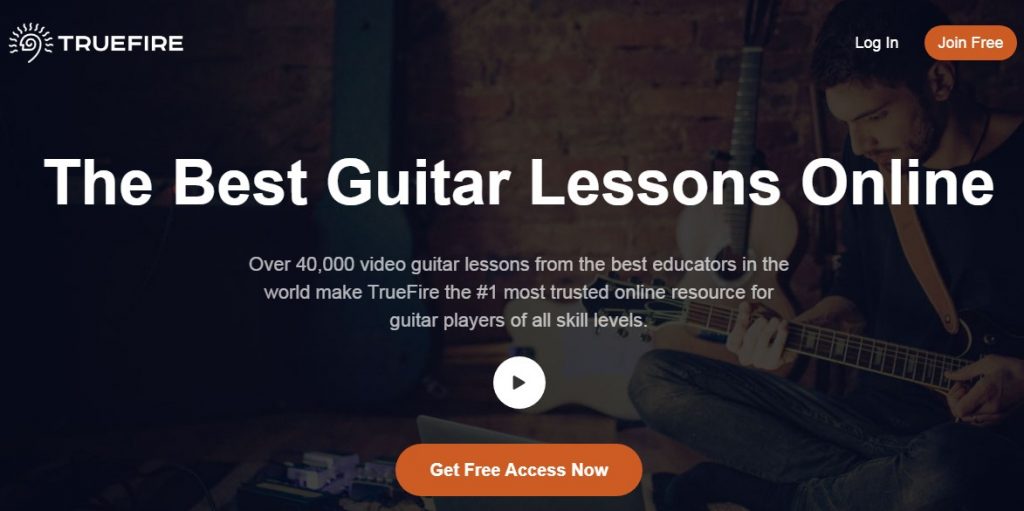 Even though TrueFire guitar lessons may seem a little pricy, it is absolutely worth every penny spent.
You get lessons from renowned guitarists and musicians starting with the likes of Robben Ford, Josh Smith, Kirk Fletcher, Steve Vai, and many such popular figures.
This is a feature-pack course catering to almost all genres and styles. The lessons develop the players to all levels while they keep track of their progress.
A bunch of learning tools augments the learning experience. Guitar playing is simplified by video looping and slo-mo features so that the players can catch up at their own speed.
Unique selling points
Faculty members include top sessions players to Grammy award-winning artists
Lessons are presented along with an interactive synced tab
Crystal clear 1080p HD videos shot from multiple angles with high-definition audio
Learning Path for tracking progress through various difficulty levels
Helpful tools such as tuner, metronome, and charts
Course materials consist of more than 40000 video lessons, 30000 guitar tabs and 20000 jam tracks
Pricing
You can join the course for free on a trial period of 30 days. The price of different course plans are as below:
$29 per month for the monthly plan
$249 for an annual plan
$2499 for the lifetime plan
The good
Ideal guitar course for those who can't find a local guitar tutor
Free lessons give an experience of the actual platform
Video lessons are interesting and jam tracks are cool for practicing
The bad
Affordability can be an issue for a beginner
Lessons are not beneficial for advanced players
Teaching method may not be suitable for everyone
Featuring an award-winning curriculum, GuitarTricks gives step-by-step guitar knowledge to its users.
Their comprehensive lesson library has been growing since 1998 and now has over 11000 lessons and 1000 songs.
Top-class instructors from different parts of the world make the students confident in their learning process.
The course is designed for a steady development of skills instead of just jumping on to the next level.
More emphasis is put on applied learning where students can use the skills learned into playing songs. The curriculum covers all kinds of genres and difficulty levels.
Unique selling points
Available on all portable media platforms – smartphones, tablets, and computers
Core Learning System specially meant for intermediate players to guide them in terms of music theory, tone, and gears
The learning toolbox includes items such as tuner, metronome, chord finder, fretboard trainer, etc.
Pricing
Users can choose to sign up for a 14-day free trial by signing up on the Guitar Tricks website. Other than that, the course fee is as below:
$19.99 per monthly in the monthly plan
$179.99 for the annual plan
The good
Detailed lesson structures with plenty of songs
Both the mobile app and desktop version have a user-friendly interface
All the information is neatly organized and updated regularly
The bad
The video player may freeze sometimes due to bugs
Best features are only accessible on additional payment
Absence of bass guitar lessons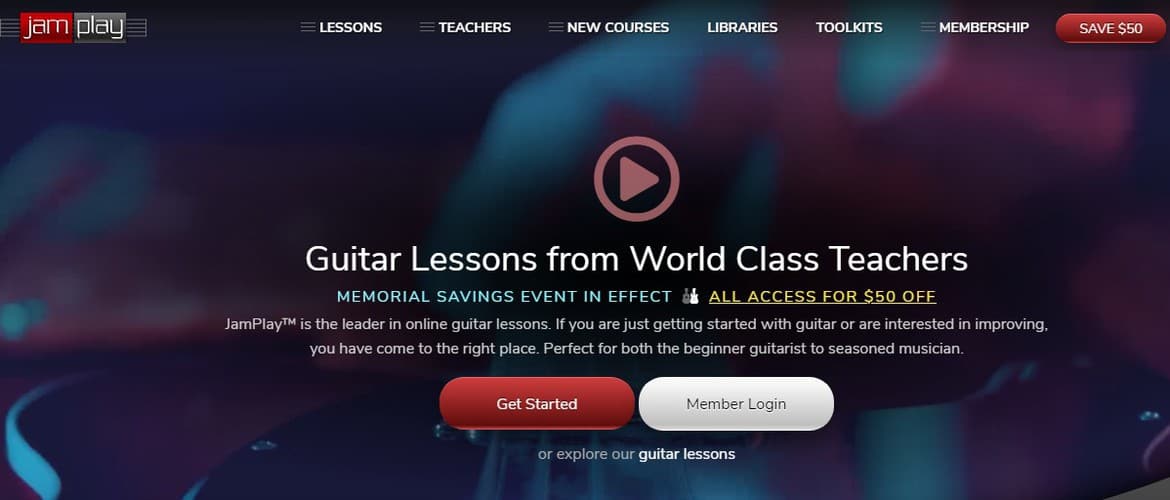 JamPlay is known for showering an overwhelming quantity of quality content on its users.
Various app-based platforms make guitar learning possible anywhere, anytime.
This course boasts a generous faculty panel with over 100 experienced instructors pertaining to different styles and genres.
They have guitar courses that offer live in-studio lessons and teacher broadcasts with a daily open question and answer session.
With an abundance of resources, an online library for scales and chords, a progression chart, and much more, JamPlay guitar courses have it all.
Unique selling points
Video lessons are filmed with 4K HD cameras and produced in professional studios
Unique Progress Reports feature builds and updates reports on the student's progressions
Every lesson provides an interactive tab full of highly responsive virtual instruments
A/B Video Looping and Slow Motion features let the players practice at their own pace
Huge chord library with over 950000 chords, scale library for 6,7 and 8-string guitars, Riff library, and much more
Pricing
A free trial is available for all lessons before signing up for the course. Apart from that, the payment is divided into the following three sections:
$19.95 per month for the monthly membership plan
$49.95 per month for the 3-month plan
$159.95 for the annual plan
The good
Professional instructors with vast knowledge on guitar playing
Special focus is given to student interests
A vast range of online features
The bad
Too much information can be misleading
Very pricy courses
More scope for song-based lessons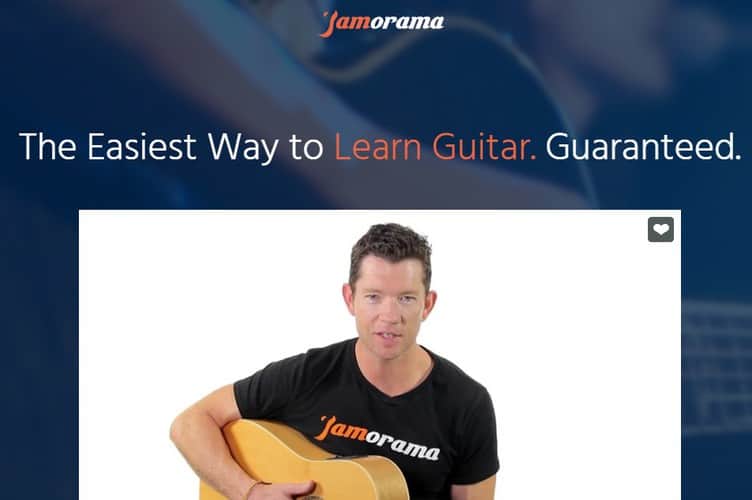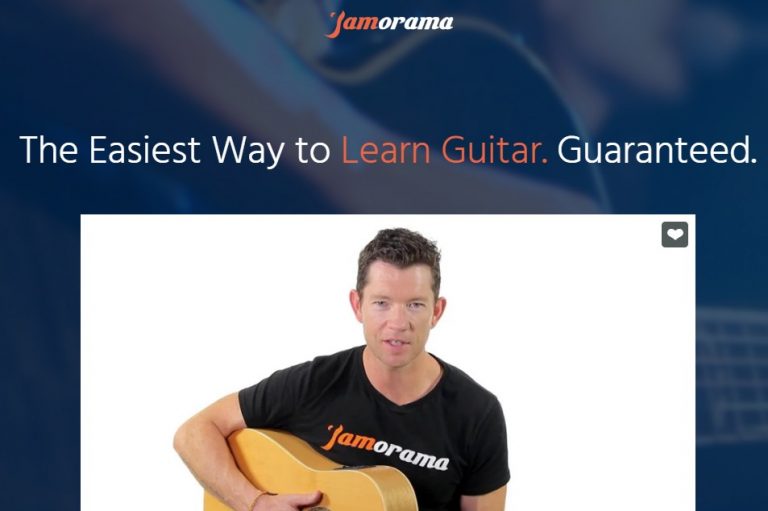 Guitar courses in Jamorama are everything a beginner guitar player needs.
The lessons are systematically organized, structured well, and delivered in an interactive and interesting manner.
So you can forget about wasting your time browsing the inconsistent guitar lessons over Youtube.
Jamorama shows budding guitar players an easy track. It takes them step-wise through the entire beginner program and leads them towards becoming an advanced guitar player.
Unique selling points
A collection of 275 high-definition streaming video lessons
Song-based lessons along with jam-tracks for practicing
Mapping progress of students and recording their track reports
Provision of printouts and other supplementary course materials
Pricing
Jamorama guitar courses can be availed by paying an amount of only $99.95, one-time payment.
The good
Lessons have clear instructions that are easy to follow
Access to a highly informative online community
Users can pause and rewind the video lessons whenever they want to
The bad
Insufficient video library
No feedback from instructors
Lack of animation on fretboards during lessons
The electric guitar course on MasterClass is taught by two-time Grammy award-winning musician Tom Morello.
This course is a vigorous platform with a unique approach to teaching guitar techniques.
It is a fully-engaging course full of practice materials, exclusive methods, and interesting video lessons.
The course is easy to follow irrespective of the student's level of prowess.
The curriculum consists of a comprehensive introduction, guitar riff building, generating sounds and tones using pedals, practice video lessons, noise charts, music, and guitar theories.
Unique selling points
26 high-definition guitar video lessons taught by Tom Morello himself
Access to a downloadable course workbook
Can be learned on any platforms – smartphones, computer or Apple TV
Pricing
Students can get lifetime access to this MasterClass course for $90. They can also opt for the annual MasterClass All-Access Pass for $180, which is billed at $15 every month.
The good
The cross-platform feature lets students learn at their own pace
Suitable for guitar players of all levels and experience
Tom Morello signature guitar techniques
The bad
Very less number of video lessons
Quality isn't up to the mark
More of a challenge-based class than an interactive experience
Conclusion
Selecting the perfect guitar course, especially for beginners, can be quite a confusing task.
There are hundreds of courses and lessons available online.
We have narrowed down the window to the above mentioned 7 guitar courses.
If you would like to take our word, you can definitely go with FenderPlay, TrueFire, and JamPlay.
They have a detailed lesson database that targets beginner guitar players. Moreover, it is affordable and available on a monthly payment basis, so you can quit if you don't like it.
The instructors are friendly, interactive, and guide the players in a progressive path.