Steelseries is known for its quality gaming headphones. The Arctis Pro and Arctis 7 are two such top tier products.
While these two headphones perform the same functions, they couldn't be more different in features. One is wireless while the other isn't.
Last update on 2023-09-29 / Affiliate links / Images from Amazon Product Advertising API
Does this major difference reflect their quality in any way?
Arctis Pro or Arctis 7, which one is better for gaming?
Which one works best for console gamers – Steelseries Arctis Pro or Arctis 7?
Which of these two headsets is best for PC and console gamers?
You will find answers to these questions and more as you read through this article.
| | | |
| --- | --- | --- |
| Features | Arctis Pro | Arctis 7 |
| Microphone Operation Mode | NA | Bi-directional |
| Impedance | NA | 32 Ohm |
| Connector Type | Mini-phone stereo 3.5 mm | Mini-phone stereo 3.5 mm |
| Sound Output Mode | Stereo | Stereo |
| Headphone Frequency Response | 10 Hz | 20 Hz |
| Check price | Check price | Check price |
SteelSeries Arctis Pro and Arctis 7
Build and design
Since both headsets are Steelseries Arctis, we expect more similarities than differences, and that's exactly what we get. Both the Arctis Pro and Arctis 7 have sold builds with both metallic and plastic parts. The ear cups are padded with comfy fabric material.
The major difference here is that the Arctis Pro is wired while Arctis 7 is primarily wireless. The Arctis pro comes with a DAC that helps it connect to different consoles and computers. The ESS Saber DAC is one of the best consumer-grade converter amps you will find. We'll talk about how it affects the sound later.
The DAC that comes with the Arctis pro doesn't take much space – it's quite portable. However, you may have a little more cable clutter than is necessary.
Since the Arctis 7 is wireless, it guarantees a neater space. Nonetheless, it comes with its own adapter. This adapter goes into your PC or console, while you pair the headphones with the adapter.
Fit and comfort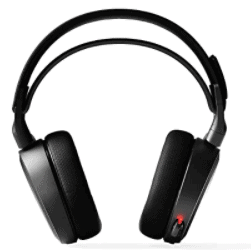 Comfort is one area that the Steelseries excel in, and both Arctis 7 and Arctis Pro did not disappoint. Both headphones have fabric earpads that rest gently on your head without causing any inconvenience.
The padding is also soft and you can wear them for several hours without feeling warm inside. If you wear glasses, these headphones are perfect for you. They do not press too hard against your glasses.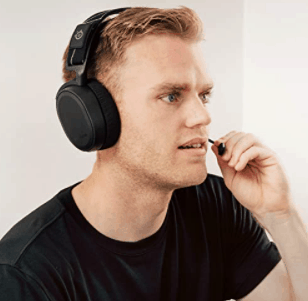 One slight difference here is that SteelSeries Arctis Pro feels a little lighter than Arctis 7. These headphones weigh practically the same, but the Arctis 7 somehow feels heavier. I think because it's wireless the battery in one of the earcups contributes to the weight distribution.
Nevertheless, it wouldn't be a problem even after several hours.
Microphone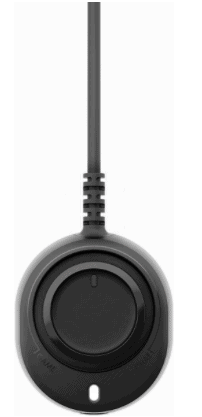 These are gaming headsets, so their mics are equally important. The Arctis Pro mic sounds clear and crisp. Also, it has low noise, so you won't be hearing any hisses. SteelSeries Arctis 7's mic also sounds clear, but it's not as clean as the Pros.
The mics in both headphones are not detachable, but you can pull them out and push them back in when they're not needed. The windscreen helps a little when dealing with plosive sounds.
Also, both Arctis 7 and Pro have sidetone features that allow you to hear yourself in the voice chat. Sidetone is another word for headphone monitoring. It's just the gaming version. Sidetone allows you to have a feel of what other gamers are hearing, so you can adjust your game accordingly.
Sound quality and performance
So how do these headphones sound?
The Arctis Pro comes with a DAC, so naturally, this has an effect on its sound. Having said that, the Arctis 7 holds its own even without a dedicated DAC. Both headphones have DTS virtual surround features. Sure, it's not the same as having a real surround setup, but it increases the positioning of different game sounds.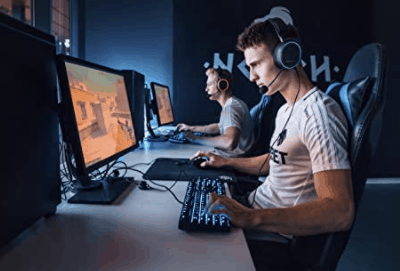 For the SteelSeries Arctis Pro, once you don't use the DAC, the sound quality drops. Both headphones have solid bass and crisp treble. There's a bit of a recession in the mids. it's commonly used to present midrange resonance.
The same can be said of the Arctis 7. It has more bass and treble than mids. The slight bass enhancement makes explosions, gunshots, and other action sound thrilling. It's also balanced such that you don't miss other details like footsteps or a missed shot by your enemy.
If you are not satisfied with the Arctis 7 sound, you can adjust the EQ on your PC. For the Arctis Pro, you can adjust EQ settings on your PC or on the GameDAC.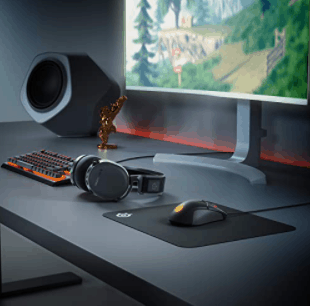 The Arctis 7 is a wireless gaming headset, but it does exceptionally well in terms of latency. It can be frustrating to play a fast-paced action game with audio delays. The Arctis 7 deals with that with the wireless adapter. There is no noticeable delay in your audio – everything is heard in real-time.
Other features
Let's talk about compatibility here. The SteelSeries Arctis Pro works well with all consoles and computers. Since it's a wired headset, all you need is to connect the DAC to your PC or console, while you connect the DAC to the headset. If your console has an optical port, simply hook that up to the GameDAC optical port.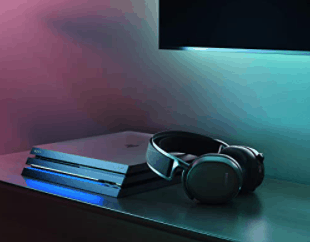 It's a similar setup for the Arctis 7, only that the connection from the wireless adapter to the headphones is wireless. You only need to pair the adapter to your headphones once. After that, it connects automatically.
The wireless connection works on PS4 and PC, but not on Xbox. For your Xbox, you have to stick to the 3.5mm cable connection. With this, you will lose some audio quality.
Arctis 7 boasts of 24-hour battery life. At high gain, you will get up to 20 hours. This means even if you're gaming all day, the battery won't die on you. ArctisPro has no batteries because it's always connected by cable.
Of course, an obvious advantage of the wireless Arctis 7 is more freedom of movement.
Similarities and differences:
Similarities
Even though Arctis Pro has a GameDAC, both gaming headsets sound similar – enhanced bass with the crispy treble.
Both gaming headsets have adjustable headbands with elastic cushion for more comfort.
Speaking of comfort, both the Arctis Pro and Arctis 7 are soft and cozy, perfect for long hours of gaming.
Both headsets have the DTS virtual surround which enables them to produce 3D audio.
The sidetone feature is present in both headphones.
Differences
The major difference here is that the Arctis 7 is wireless while the Arctis pro is a wired headset.
For full function, the Arctis pro needs the GAme DAC, while the Arctis 7 need the wireless adapter.
The Arctis Pro has a better microphone sound quality than Arctis 7.
Pros and cons
Pros
No need for batteries and charging since the headphones are wired.
The GameDAC gives a handy control option without opening the app.
Great mic sound quality.
Cons
You're likely to have some cable clutter due to the number of wires needed.
For users with larger heads, the headband seems to need more allowance for adjustment
Pros
Long battery life – you can have a full day of gaming with a full charge.
Super soft and comfy, great for long hours gaming.
It's one of the few wireless headphones that's compatible with the psr.
Cons
Feels a little heavier than the Arctis Pro
Does not work wirelessly with Xbox. You have to use a cable.
Conclusion
These SteelSeries gaming headsets have a fundamental difference-one is wired while the other is wireless. However, they sound similar. However, being an audiophile I love the DAC that comes with the SteelSeries Arctis Pro. Also, I can use it for other stuff aside from gaming.
If you have an Xbox, then it's better to for the Arctis Pro. Arctis 7 sound quality drops when using the 3.5mm cable alone.