Are you suffering from one earbud not working? I get it, as I have also gone through this problem. However, there is no need to worry. In this blog post, I'll share my experience and highlight some of the most common reasons behind the issue of one earbud not working. I will also provide you with 11 quick solutions to tackle this problem. So without wasting a minute, let's get into it!
Why Earbud is Working on Only One Side: Right or Left Earbud Not Working
It can be frustrating when only one earbud of your true wireless headphones works. I remember when I was at Zion National Park with my JLab Go Air Sport, and I found the left earbud not working. Although I got it fixed, many people face this issue.
For several common reasons, you may be experiencing an issue with sound coming through just one earbud. Here are some of them:
Low battery: If the battery in one earbud is drained more than the other, it will cut out the audio. Be sure both earbuds are fully charged.
Bluetooth connectivity issues: Interference or a weak Bluetooth signal can impact the connection. Make sure you are within range and that there are no obstructions.
Problems with the wiring: Another frequent issue is the wear and tear with the wiring inside the earbud.
Software problem: Sometimes, your earbuds may face a software glitch. Even the software settings of your audio source can also be the culprit.
Pairing problems: Ensure both earbuds are synced and paired to your device for stereo sound.
11 Solutions to Take Care of One Earbud Not Working Problem
If you're only getting audio from one earbud, keep hope. The key is to work through the potential causes and test different fixes methodically. Often, the problem can be quickly resolved with basic steps like charging, cleaning, or repairing.
Nonetheless, I have listed 11 quick solutions to your earbud not working problem. Let's find out more below:
1. Pinpoint the Root Cause Before Troubleshooting
Before trying different solutions, it's important to diagnose where the issue lies – with the earbuds themselves or the connected device. This helps narrow down what needs to be fixed. Follow these two quick tips:
Confirm Whether the Issue Lies in the Source Device or the Earbuds
First, test another pair of earbuds with your phone, computer, or audio source. If the new earbuds work fine, the problem is likely with your original earbuds rather than the device.
Next, connect your earbuds with only one working side to a different device, like a friend's phone. If you still only get audio on one side, the earbuds are the root of the problem.
Try the Faulty Earbuds with Another Application
Sometimes, the source and the Bluetooth headphones are fine – an application glitch can be the offender. To resolve this issue, try changing the applications – like using YouTube Music instead of Spotify.
If the problem persists, you must move on to the below sections, where more troubleshooting guides can help you.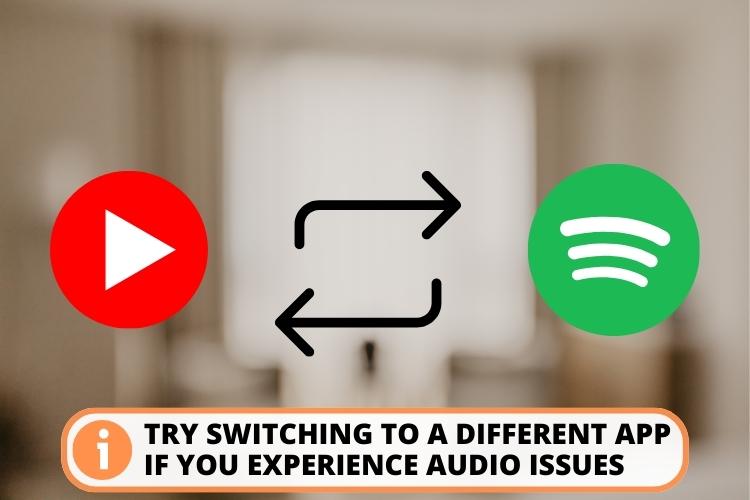 2. Reboot the Earbuds
Restarting your earbuds can often fix connectivity issues, causing one side to malfunction. This re-establishes the Bluetooth pairing. In fact, rebooting your buds can resolve most of the software glitches.
Moreover, most earbuds work on the master-slave relationship. Losing the syncing between both pieces can also result in losing connection on one side. Restarting can also resolve this issue.
Tips to Reboot Your Earbuds
Here are the general steps to restart the device:
Place left and right earbuds back in the charging case and close the lid for 10-20 seconds. This cuts power to the earbuds.
Remove the earbuds from the charging case and connect them to your phone or computer again via Bluetooth.
Check if both earbuds are now playing audio. If only one earbud works, try unpairing the Bluetooth earbuds from your device's Bluetooth settings. Then, pair them again.
The below table describes how to reboot the buds from some of the top brands:
| | |
| --- | --- |
| | |
| | Put the earbuds in the case, close the lid, wait for 7 seconds, reopen the case, and the buds will restart |
| Apple Airpods or AirPods Pro | Put the earbuds in the case and wait for 10 seconds before initiating the pairing process |
| | Press and hold the digital crown and noise control button simultaneously for 10 seconds* until an amber light flashes. You can now reconnect the buds. |
| | Press and hold the button on the earbud for 1 second to power it OFF. Again, press and hold the button until the light flashes**. |
| | Press and hold the button on the buds for 3-5 seconds or 12 seconds for Jlab JBuds Air ANC to turn them off. Then, press and hold the button until you hear a beep |
*If you hold the button for over 10 seconds, it will reset the buds.
**This method works for a range of Jabra Earbuds, including Jabra Elite 75t, Jabra Elite Active 75t, Jabra Elite 85t, and Jabra Elite Sport.
Pro tip: Most of the time, you can restart an earbud by pressing and holding the button for several seconds. Moreover, putting the earbuds in the case and removing them after a few seconds can also restart them.
3. Inspect Battery Levels
Having less charge in one earbud compared to the other can cause that side to cut out. This issue is more frequent for travelers like me who don't get enough time to charge their devices.
Nonetheless, most Bluetooth headphones have indicator lights that blink or display the charging status for each side. Other models may show battery levels for each earbud in the Bluetooth menu on your phone or computer.
Note: Also, pay attention to the prompts like "Batter levels low," which you can hear in your ears while playing music.
Tips Regarding Checking the Battery Life
Follow these troubleshooting tips regarding battery:
Inspect to see if one earbud is giving any indication about the batter levels.
Fully charge both earbuds in the case for at least an hour to top up.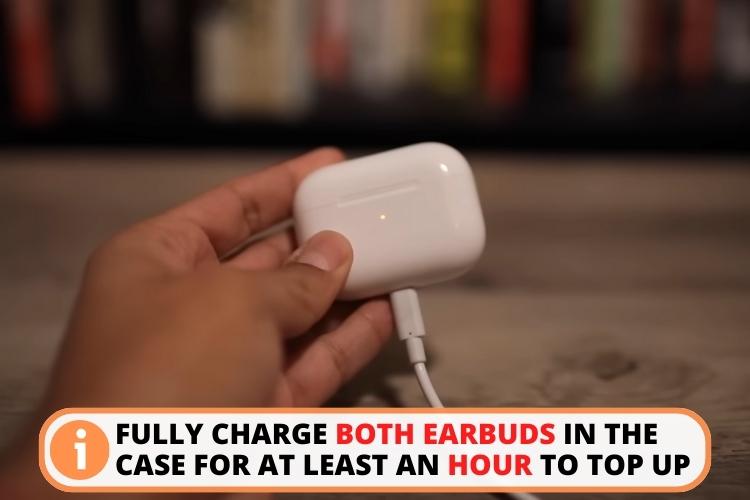 Check again if both sides are now working after charging.
If issues continue, the battery in one earbud may be worn and need replacement.
The table below describes how you can find low battery levels on some famous brands:
| | |
| --- | --- |
| | |
| | Charging case will flash red |
| | A notification will appear on the iPhone or iPad, or you will hear the tone in your pods when the battery is less than 10% |
| | The LED on the buds and the case will flash red. You will also hear a "Batter low" prompt. |
| | You will hear the "The battery is low" prompt, and some models will even display a red indicator for low battery |
Similarly, you can also find information about the low battery on the user manual or the official site of your earbuds.
4. Verify Proper Bluetooth Connections
Sometimes, pairing issues with your earbuds can result in only one side connecting. Ensuring your earbuds are appropriately paired and connected via Bluetooth is essential.
First, check the Bluetooth settings on your phone or computer to confirm that both earbuds are paired devices. You may need to remove other nearby Bluetooth devices to eliminate interference.
Step-by-step Guide to Resolve Pairing Issues
Next, follow these steps to fix Bluetooth earbuds:
Step 1: Unpair the earbuds from your device's Bluetooth menu. This clears out any device's audio settings;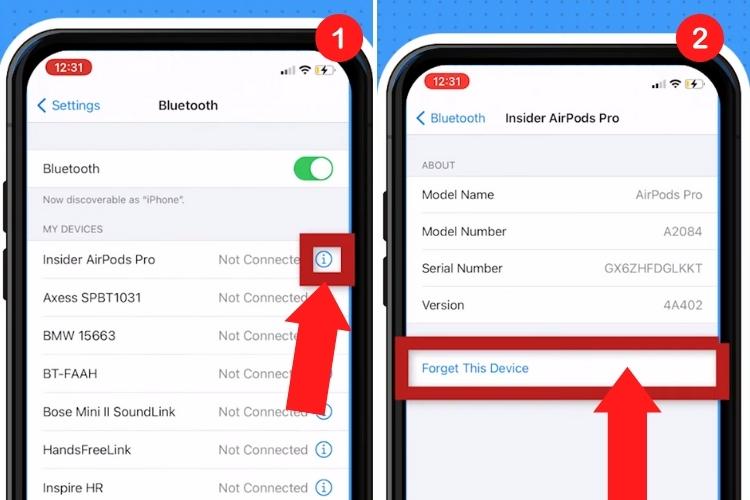 Step 2: Power cycle the earbuds and your phone/computer to restart them;
Step 3: Open the earbuds' case near the device to put them into pairing mode. Select to add a new Bluetooth device on your phone/computer;
Step 4: Complete the pairing process so both earbuds sync to the device;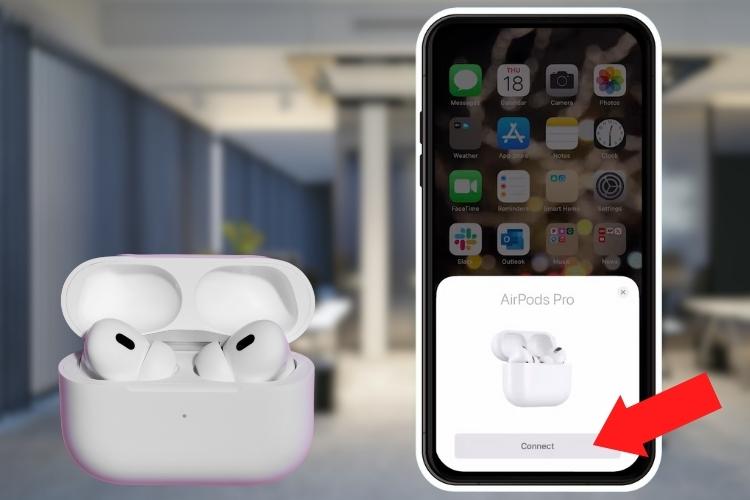 Step 5: Test audio in both ears. If the issue persists, check for firmware updates or factory reset earbuds.
The following table quickly describes the pairing method of different buds:
| | |
| --- | --- |
| | |
| | Download the Samsung Galaxy Buds app. Place the buds in the charging case near your phone, turn on Bluetooth, and select the model of your buds. |
| | Open the AirPods case near your iPhone. An animation will appear; click connect. |
| | Turn on Bluetooth and search for Jabra earbuds. Tap on the model, and it will be connected. |
5. Prevent Debris Buildup
Dirt, wax, and debris can accumulate in an earbud's speaker mesh and ear tips, leading to muffled or no sound from that side. Sometimes, you may mistakenly throw your buds in the mud or pile of dust. It can also damage the inner components.
Tips to Clean the Buds
Carefully use these methods to clean your earbuds:
Remove ear tips and wash with warm water and mild soap. Rinse and air dry before reattaching.
Use a dry cotton swab or soft-bristled brush to gently clear any wax or dirt buildup from the earbud speaker covers.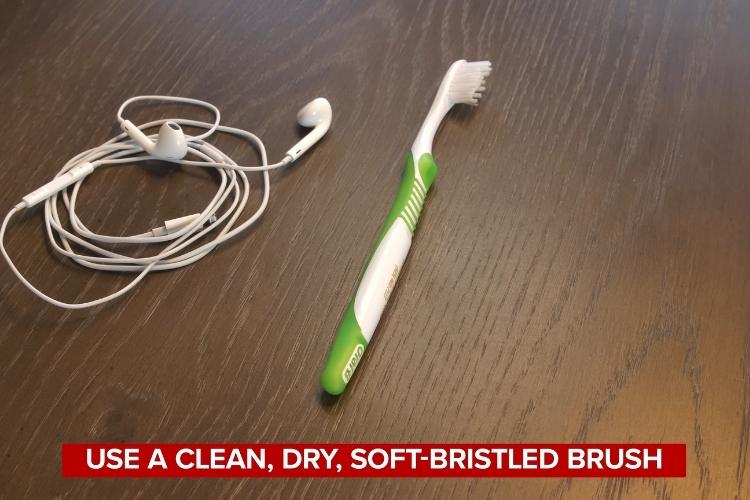 Moisten a soft cloth by rubbing 70% alcohol and gently wipe down the earbud's outer surface to disinfect.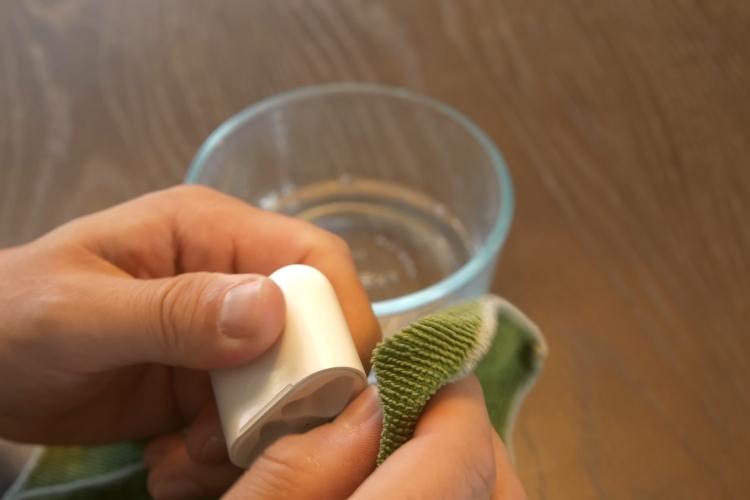 Check for fabric mesh blocking the speaker opening. Use tweezers to remove lint or hair carefully.
Consider buying replacement ear tips if the old ones are worn out.
Also check the headphone jack or headphone plug, if you have wired earbuds or wired headphones, and ensure it's clean.
My recommendation
: You can get
Comply Replacement Tips
, as these are affordable and are compatible with a range of earbuds. Also, treat yourself with an earbuds cleaning kit like the
Belkin AirPods Cleaning Kit
. It comes with a cleaning gel, a clean cloth, a wax remover, and a bristle.
6. Verify Proper Stereo Sound
Many earbuds like Skull Candy Indy Evo have a mono mode that allows them to play music in only one audio. If your device is playing sound in only one earbud, it could be due to mono/solo mode enabled. Make sure stereo audio output is enabled.
3 Steps Guide to Resolve Mono Mode
Follow these steps to fix Bluetooth earbuds:
Step 1: Remove your earbuds from the pairing mode;
Step 2: Place the buds back in the case and close the lid;
Step 3: Remove the buds and turn them on. They will resync with each other automatically.
You should also check the sound settings of your audio source. Frequently, mono mode is enabled by default, and you can't listen properly. You have to balance the sound in the settings manually.
Here is how you can do that for different Bluetooth devices:
For Computer: Go to System > Sound > Mono audio, which should be disabled.
For iOS: Go to Settings > Accessibility > Audio/Visual and set the slider in the center.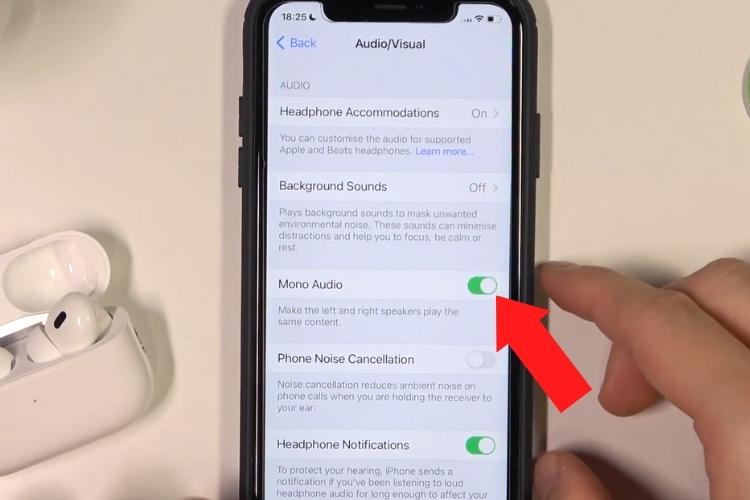 For Android: Head to Settings > Accessibility > Audio and On-Screen Text or Hearing and set the toggle in the center.
7. Turn Off Sound Effects
Some Bluetooth devices, especially PCs, have audio enhancement features enabled by default, like surround sound or spatial audio effects. These can sometimes cause issues with earbuds playing audio from just one side.
The following section highlights the fixes for different platforms. Let's check it out:
For Computer
Try toggling these sound effects off on the PC with these steps:
Step1: Go to Control Panel and select Hardware and Sound;
Step 2: Under the Sound section, click Manage audio devices;
Step 3: Choose the Playback tab, pick the right speaker, and choose Properties;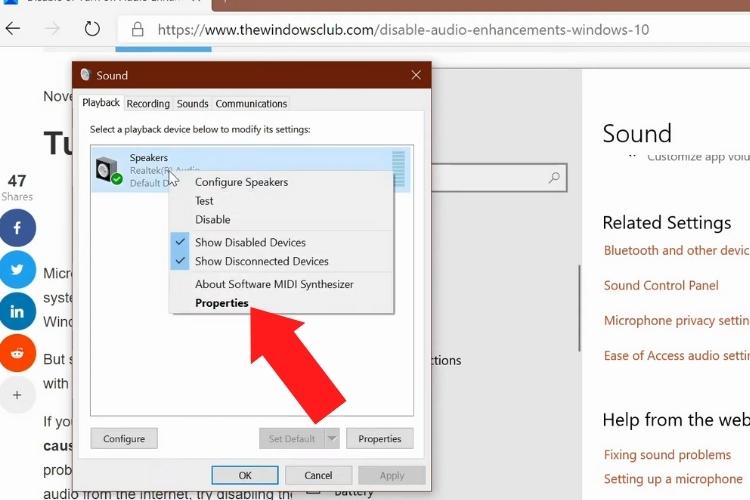 Step 4: In the next screen, tap the Advanced section and uncheck Enable audio enhancements;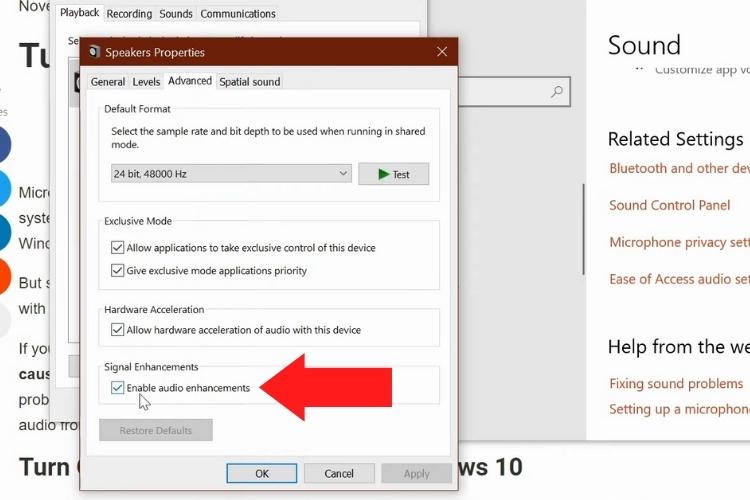 Step 5: Also, click the Spatial sound tab and turn off the Spatial sound format.
For Android
Turn off the special effects on your Android with these steps:
Step 1: Go to Settings and click on Sound/Sound & Vibration;
Step 2: Scroll down and find the option like Sound effects;
Step 3: Turn off all the effects, including Equalizer settings.
For iOS
Follow these steps to turn off the spatial effects on Apple phones:
Step 1: Head to the Settings and top Music/Sounds & Hepatics;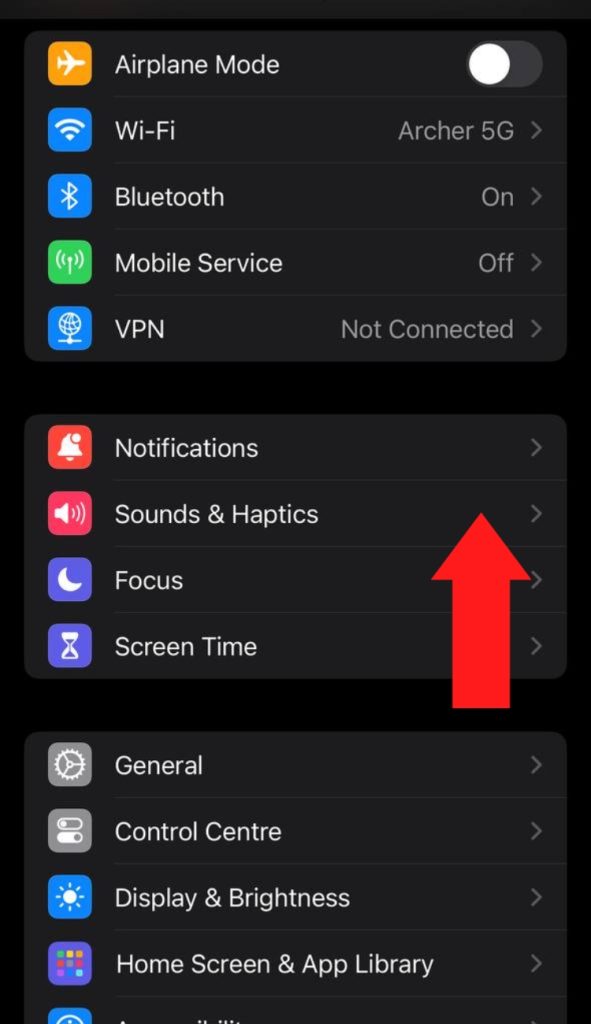 Step 2: Scroll down, choose the Sound Check tab, and turn it off.
8. Upgrade the Firmware
Having outdated software or drivers can cause connectivity issues with your earbuds. Sometimes, an increase in the latency due to old drivers in one bud can also lead to turning off the sound in it. Moreover, updating the software of the audio source can also resolve this issue.
Solution
Listed below are the steps for the firmware update:
For Smartphones: Go to Settings > About Phone > Updates. Upgrade the smartphone's operating system to the newest version available.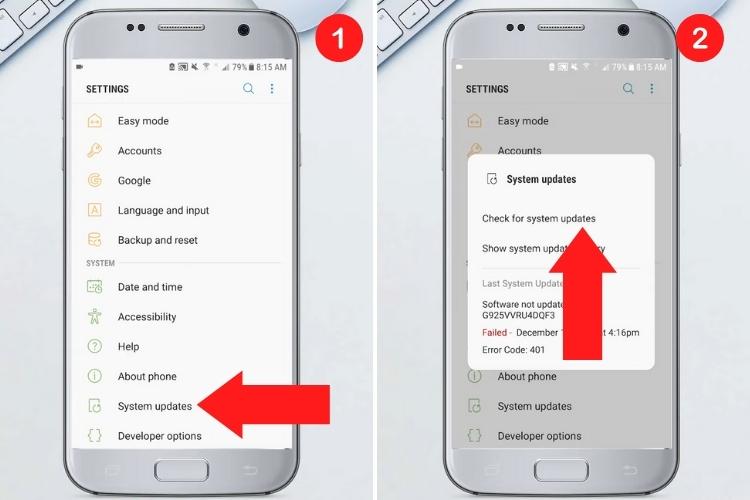 For PCs: Go to the Settings > Window Update and click on Check for updates. Install the latest operating system and Bluetooth driver updates from the computer manufacturer.
For Earbuds: Visit the manufacturer's website and download any firmware updates. Follow the website instructions to install. These firmware updates will ensure the earbuds have the latest compatibility and bug fixes. After updating the software and drivers, try re-pairing the earbuds and testing whether both sides work.
9. Restore the Default Settings of Your Earbuds
If all else fails, a factory reset on your earbuds can often get both sides functioning again. This erases any glitches and restores default settings.
Tips to Reset Your Device
Different buds have different methods of resetting. Most of the time, you can find this information on the user manual or the information site.
A common way is pressing and holding control buttons for 10+ seconds until lights flash or you hear confirmation tones.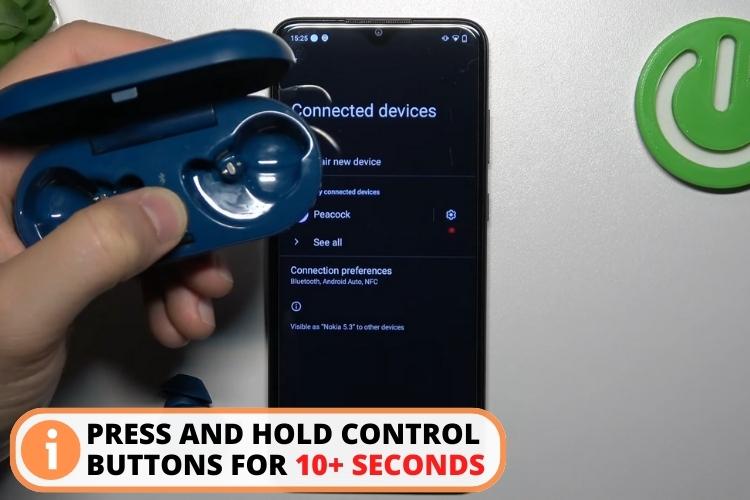 Use the app's reset function if available on earbuds with companion apps.
After resetting, delete the earbuds from your device's Bluetooth menu and repair them.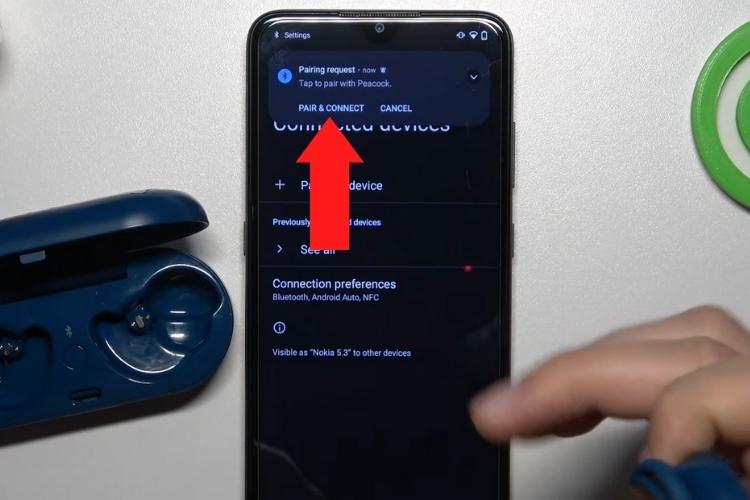 Test if both earbuds now work. The reset clears up software issues.
The following table quickly describes how you can reset the buds from famous brands:
| | |
| --- | --- |
| | |
| | Go to Earbuds settings, press Reset, and hit Reset again to confirm. You can even use the Galaxy Buds app for resetting. |
| | Put the buds in the case. Keep the lid on and press and hold the setup button for 15 seconds until you see an amber light turning into white. |
| | Turn on the earbuds. Press and hold the Multifunction key for 5-10 seconds. It will reset. |
For the Skullcandy earbuds reset guide, check this video.
Also, for the Sony True Wireless Earbuds reset guide, get help from this video.
10. Inspect for Physical Damage
Sometimes, it is not the software glitch causing menacing in one side of the earbud; it could be hardware damage. Earbuds are prone to harm due to water intake or falling. In fact, most of the budget or midrange buds suffer due to water damage. This is because these devices don't have a water IP rating, or the rating is too low to prevent damage.
Moreover, issues like detached ear tips, clogged speakers, frayed wires, and corrosion are common with extended use. However, don't ignore less obvious problems, such as: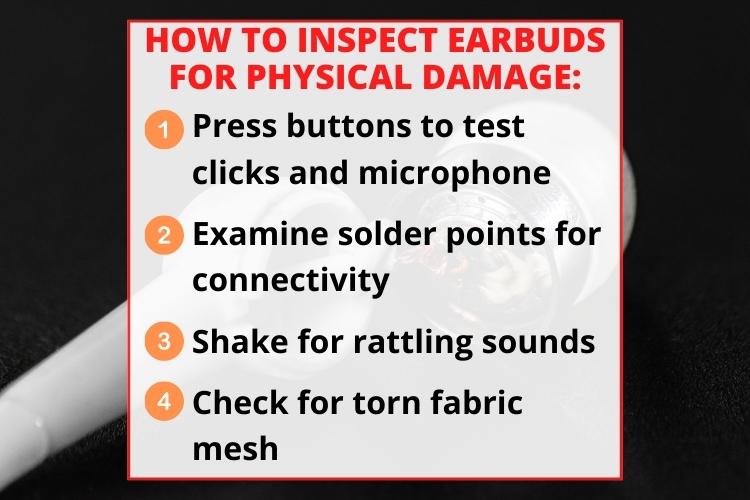 Press the buttons firmly to check for proper clicks and test the microphone.
Examine solder points connecting wires to the circuit board. Cracked joints can sever connectivity.
Shake earbuds and listen for rattling sounds, which indicate loose internal components.
Check for torn fabric mesh covering speakers, as this can muffle audio.
4 Tips to Handle Physical Damage
Here are some troubleshooting tips if you spot any physical issues:
For visible damage: Apply household adhesive like Loctite Super Glue for cracked plastic to seal small splits. Sealing with silicone sealant such as Loctite 908570 Silicone Waterproof Sealant for larger cracks.
For loose earbuds: Press and twist firmly back into place to reattach detached ear tips. Ensure snug fit.
For internal issues: If the problem is related to frying wires or rattling sounds, it's best to consult an expert to handle it.
For water damage: Let the earbud dry in the sunlight. Take apart the earbuds' components, dry them with a towel, and soak them under the sunlight.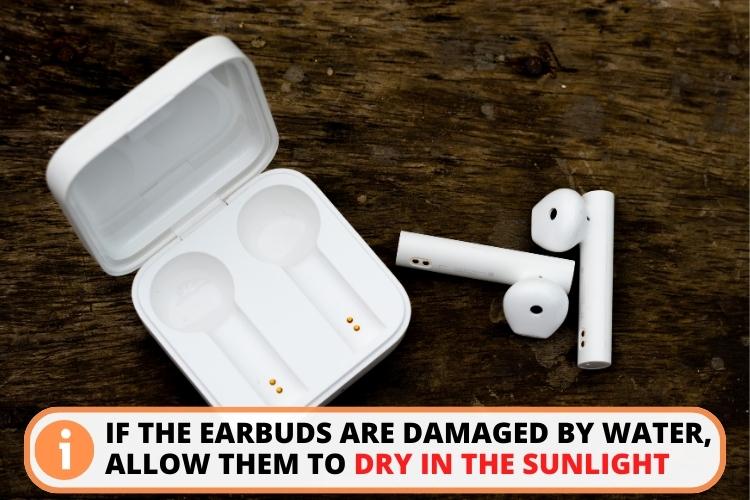 11. Consult Customer Service
If none of the above methods work, consulting the company's customer service is recommended. Here are the customer service pages of some famous brands:
Pro Tip for Wired Earbuds
By chance, if you have more than one wired headphone whose one side doesn't work, you can use a headphone splitter. This device splits the audio signals and you can use both headphones on one phone.
I recommend using Belkin Multi Headphone Audio Splitter as it allows you to connect up to 5 hands-free with one device.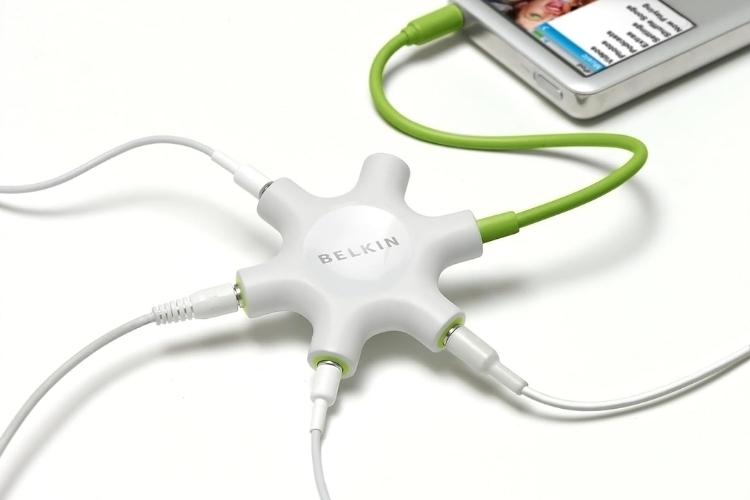 FAQs
How do you fix one earbud that won't work?
To fix one earbud issue, try cleaning debris from it, charging it, and re-pairing it with your device. You can also check the sound settings and update the software/firmware. Finally, try to spot any physical damage to understand why one earbud is not working.
How do I fix my Apple wireless headphones that only work on one side?
To fix your Apple wireless headphones, clean any debris blocking the headphone mesh. Then, reset and re-pair the AirPods with your iPhone or Mac. Finally, update to the latest AirPod firmware.
How do you reset one earbud?
You can reset one earbud by closing the lid for 10+ seconds, and then reopen the case. Press and hold the button on the buds for more than 5 seconds to reset. The method may vary from brand to brand. 
Conclusion
Let's quickly look at what you can do if you have issues like one earbud not working. Your first approach should be to determine the root cause of the problem. For this, you can try different buds with the same audio source or change the audio source.
If you cannot determine the core problem, charge the battery, restart the buds, verify the Bluetooth connection, or reset the sound settings or buds. If nothing works, try to spot any physical damage to your device and rectify it.
Nonetheless, taking proper care while using the buds decreases issues like one earbud not working and increases the life of the device.