Do you want to know how you can play music from phone to car without aux or Bluetooth?
Almost everyone who likes car music knows what an AUX cable or Bluetooth is. They become the go-to medium for playing music through your smartphones.
But what if your car stereo does not support Bluetooth? Or what if your phone does not have an AUX input?
Would you be deprived of enjoying music in your car? Absolutely not!
Today we will be telling you about several other ways of playing music in your car through your phone without using Bluetooth or an AUX cable.
Sounds exciting? Find out more about it below:
5 best ways to play music from phone to car without aux or Bluetooth
Cassette tape adapter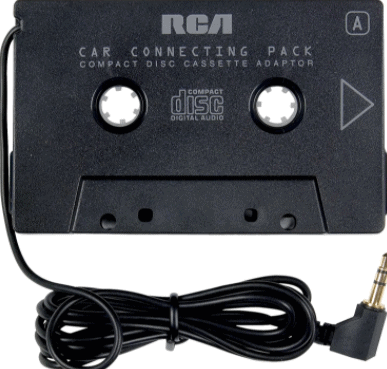 Cassette tape players are the veterans of car audio systems. You will find cassette players in the majority of old car audio players. Even some modern car audio head units feature a cassette tape player to give it a vintage touch.
But there's a twist. Cassettes are rarely used these days. Until and unless you have an old collection, it's not really much in use. And that's why the new audio systems have a cassette tape adapter.
It's a fairly simple device actually. One side has a jack that gets easily connected with your phone. The other side looks like a cassette and can be inserted into the cassette slot of the car stereo.
Here's a detailed walkthrough of how you can play music using a cassette tape adapter:
Begin with plugging the 3.5mm audio cable of the cassette tape adapter into the headphone jack of your smartphone
Next, insert the cassette tape adapter into the cassette slot of your car's stereo system
Then, you'll have to browse through the menu of your car stereo system. When you find the "tape" mode, select that and press play.
As a final step, choose the volume level according to your desire and enjoy the music!
FM Transmitter
Read Also: How to Fix Bluetooth Lag in Car? – 8 Super Quick Solutions
It is very much likely that your car audio head unit will have an FM radio. Cassette tape players may be a rare occurrence but FM radio is supported by almost all car stereos.
Now you are probably wondering how you can possibly play your phone music through FM radio, right? It's not that complicated. All you need is an FM transmitter.
In case you didn't know that an FM transmitter is – it's a personal transmitter that is commonly used for playing music through audio mobile devices on car stereos.
But don't feel lost.
We are here to guide you with the entire process of playing music from the phone to the car using an FM transmitter.
Here it goes:
The FM transmitter will need a power source. The best suggestion is to connect to the big round cigarette lighter port of the car. You can refer to your car's manual to find other power sources in your vehicle.
Once you are done fitting the transmitter, turn on the audio system and select the FM mode.
Now, this is where you need to pay attention. You have to find an FM radio frequency that is not used by any radio station in your region.
Next, tune your FM transmitter to that same frequency.
Then you can pair the FM transmitter with your phone via Bluetooth
At last, all you need to do is play the music on your phone and enjoy!
USB Input
You will hardly come across any modern car stereo that does not have a USB port. These become immensely popular because of their versatility and usability inside a car.
USB inputs as charging outlets for your smartphones. They also work as data connection ports where you can connect your flash drives or external hard drives.
So now the question in concern – how do you play music through a USB input?
Simple again – just make sure you have a good USB cable and you're gold.
These days, you don't even need to buy one separately as you mostly get a USB cable when you buy a smartphone. Once you have all that, take the following steps:
The basics first – find an unused USB port of your car stereo. They can be present in various places depending on your stereo model and of course, your vehicle model.
The usual spot is the front face of the audio head unit system. For more sophisticated and top-model audio systems, you get USB ports on dashboards, armrests, center compartments, and glove compartments too! Check the manual for detailed info.
Now the connections. Plug one bigger end of the USB cable to the audio system and the smaller end to your smartphone.
Once the connection is established, your smartphone will prompt you with a notification on the display.
Just follow the steps and complete the USB connection between your mobile device and the audio system.
Now, this step is very subjective. It entirely depends on the model of your car stereo. In some audio systems, you will get an option to mirror your smartphone screen onto the display of the audio system.
If not that, the audio system will simply access your phone's storage memory and search for all the music files.
Depending on which option you follow as mentioned above, either way, you can play music from your smartphone via the audio system.
Single routing app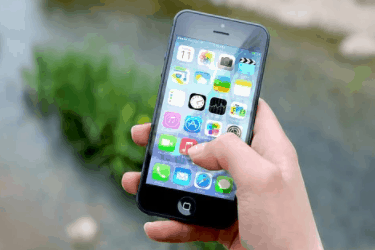 There are certain car stereos that feature hands-free calling via Bluetooth. But don't be mistaken as that Bluetooth does not let you play music through your phone. So you can say that Bluetooth is configured only for making phone calls.
However, there is a trick.
You will find numerous single routing apps on the play store on your smartphone. You can select one with good ratings and reviews. And of course, a trustable developer.
Once you download and install that app on your smartphone, you can navigate through it. This app will connect your phone with the car stereo and create an impression that you are making a phone call.

Is that a hack? Not really. Just a bypass and cost-effective way to play music through your phone.
Android Auto and Apple CarPlay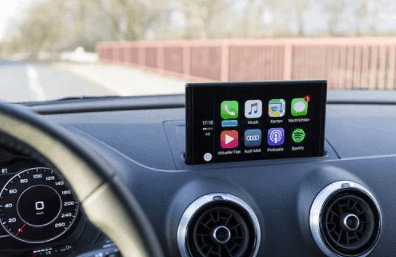 Features like Android Auto and Apple CarPlay are found in high-end car stereos. These apps link your smartphone with the car stereo.
You can not only play music from your phone but also send messages, view maps, cast your phone screen, and whatnot.
Not all car models support these apps. Of course, you can get a new audio head unit that features these apps.
The entire in-car audio experience becomes optimized with Android Auto and Apple CarPlay. You will greatly benefit from its voice features once you integrate Siri or Google Assistant with these apps.
Conclusion
There are endless possibilities when it comes to in-car infotainment. Scrape the notion that phone music can be played in your car stereo only through Auxiliary input and Bluetooth.
Go ahead and explore all the ways that we mentioned above. Take you in-car music experience to another level. Make use of what technology has offered us!
And next time you lose your AUX cable or if your Bluetooth device is glitching, you know what to turn to enjoy music from the phone in your car without aux or Bluetooth. !