Rockford Fosgate has been the frontrunner in-car audio for over 40 years now. Be it design, engineering, or audio innovation – Rockford Fosgate has been an absolute leader.
Their speakers are built for matching your lifestyle. If anything has wheels or if it floats, there is a Rockford speaker for it.
What do we have for you today? Yep. you guessed it right – the best Rockford speakers.
So let's not keep you waiting any further. Here we go:
Best Rockford Fosgate 6×9 speakers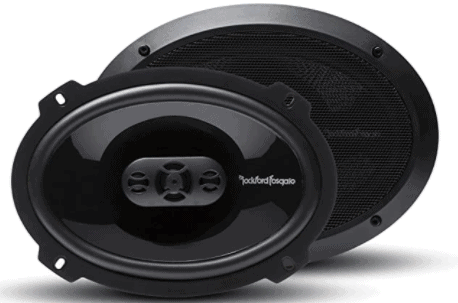 Specifications:
Speaker Size: 6"x 9"
Impedance: 4-Ohm
Power Handling: 75 Watts RMS / 150 Watts Peak
Frequency Response: 60Hz – 24kHz
Mounting Depth: 3.07"
Item Weight 8.35 Pounds
Speakers Maximum Output Power – 300 Watts
Sound quality and performance
In each Rockford Fosgate P1694 speaker, there are 4 drivers. They work in unison and cover a frequency range from 60Hz to 24kHz.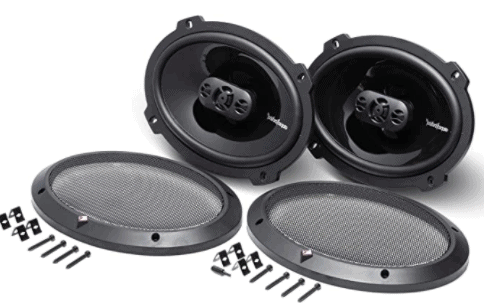 The speakers have dual dome tweeters. They are made from polyetherimide (PEI) that has high-temperature resistance qualities.
Rockford Fosgate P1694 is characterized by its deep bass sounds. The speakers justify almost all kinds of music.
The midrange is produced by the ½-inch titanium driver.
Features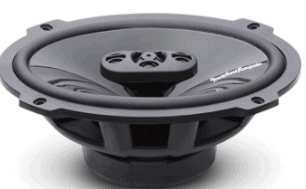 You will never be disappointed with Rockford Fosgate P1694 when it comes to power handling. The speaker can support up to 150 watts. This level is sufficient for producing quality music.
Rockford Fosgate P1694 tops most speakers in terms of its sensitivity as well. It rates at 91 dB maximum sound pressure level.
The woofer cone is made from mineral-filled injected molded polypropylene.
To ensure their speakers deliver premium sound quality, Rockford Fosgate has invested in technology. The speaker features one called V.A.S.T.
It stands for Vertical Attach Surround Technique. What happens here is that the cone size is increased without making the woofer basket large. This technology produces higher volume levels and optimized sound quality.
The Rockford Fosgate P1694 boasts a tweeter mounting aspect. This feature offers concentrated clamping pressure in the mounting area. In simple words, mounting these speakers is a piece of cake.
What do we like?
Consistent audio reproduction
Superior build quality
The highly functional crossover feature
What we don't like?
Requires an amp for best results
Not very attractive looking
Quite a narrow frequency range
Bottomline: The Rockford Fosgate P1694 would be great for those who have less trunk space. These speakers are smaller in size. Even the basket design eases the installation process more. The price, the durability, the sound quality – Rockford Fosgate P1694 ticks all the boxes!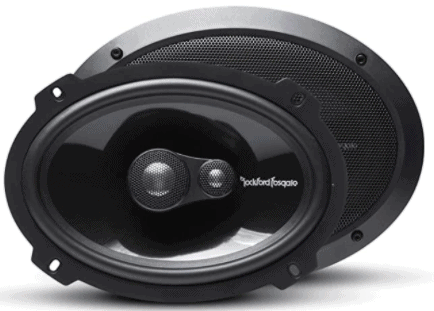 Specifications:
Speaker Size: 6" x 9"
Impedance: 4-Ohm
Power Handling: 100 Watts RMS / 200 Watts Peak
Frequency Response: 50Hz – 22kHz
Mounting Depth: 3.39"
Sound quality and performance
In Rockford Fosgate T1693, the proper functioning of drivers is ensured by ICC. What is the ICC? It's an acronym for Integrated Concealed Crossover. This particular crossover has two functions.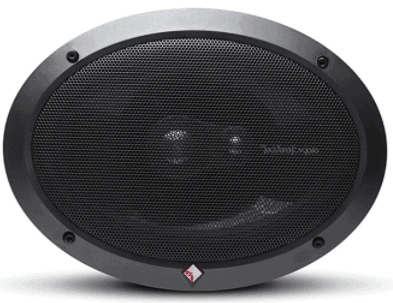 The first is ensuring an easy and hassle-free installation of the speaker. Secondly, the crossover makes sure to send the right frequencies to the driver. In simpler words, a crossover offers maximum protection and the best sound quality.
The speaker features a dome tweeter made from aluminum. It is supported by a polyurethane suspension that increases frequency reproduction accuracy along with higher volume outputs.
Features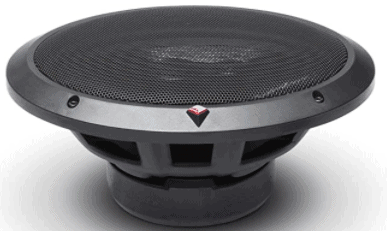 Rockford Fosgate T1693 belongs to the Power series of the brand. And quite rightly so, this speaker has a max power handling capacity of 200 watts.
This speaker features a VAST – Vertical Attach Sound Technique. In this feature, there is a 25% increase in the cone area. This results in better efficiency and enhanced output.
The cone of Rockford Fosgate T1693 has a lightweight yet rigid structure. It is made by combining injected molded polypropylene and carbon fiber. Such a construction is credited from the impressive midrange frequency production, just like concerts!
What do we like?
Phenomenal sound quality when connected with an amp
Amazing high-frequency production
Impressive speaker aesthetics
What we don't like?
Gets distorted at higher volume levels
Hard to fit in small areas
Bottomline: If you are a bass lover, the Rockford Fosgate T1693 3 Way Speakers are probably not the right choice for you. To enjoy these speakers to the full extent, you'll need to get a good amp and a subwoofer. Also, make sure there is enough trunk space in your car for easy installation.
Rockford Fosgate 12 inch speakers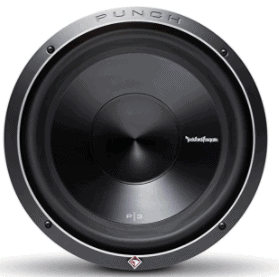 Specifications:
Size: 12 Inches
Impedance: Dual 2-Ohm
Power Handling: 600 Watts RMS
1200 Watts Max
Voice Coil Diameter: 2.5 Inches
Magnet Weight: 102 oz.
Speaker Connector: Dual 10 AWG compression
SPL(1w/1m): 85 dB
Woofer Displacement: 0.094" cu. ft. (2.66 Liters)
Sound quality and performance
What makes Rockford Fosgate P3D2 such an excellent car woofer? Its loud and deep bass. No matter how heavy the bass is, the woofer remains rigid and intact.
Interestingly, this woofer is capable of spreading the stress over a large area. It guarantees improved reliability and overall performance of the woofer.
Rockford Fosgate P3D2 is known for its consistent bass performance. The special venting mechanism keeps the voice coils cool.
Features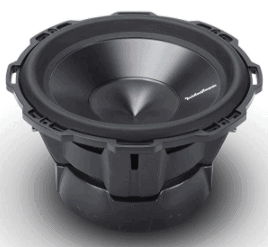 Let's talk about power handling now. Being a subwoofer, one can expect high power capacities. Rockford Fosgate P3D2 will blow your mind away with its power ratings.
This subwoofer can reach output levels of 1200 watts peak and 600 watts RMS.
Once the Rockford Fosgate P3D2 is connected to an amp, it will start pumping some serious low-end frequencies.
One important plus point of this subwoofer is its high sensitivity and wide frequency range.
Another feature of Rockford Fosgate P3D2 is its anodized aluminum cone. It is made of rigid and strong materials. Hence it holds a stable shape even when heavy music is played. Further reinforcement to the cone is given by an oversized rubber surrounding.
The cone is super responsive and maintains optimal temperature, thanks to its heat-sink design. The voice coils remain cool. Even if they get hot, there is no fear of them getting damaged.
What do we like?
Very well-built
Shallow mounting option
Terrific power handling
What we don't like?
Low sound pressure level sensitivity
Needs a good amplifier
Grille has to be bought separately
Bottomline: Keep in mind that the Rockford Fosgate P3D2 is a subwoofer. So unless you have a good amplifier and decent speakers, this won't be useful. This subwoofer is bass dynamite. Do not expect any midrange and treble from it!
Rockford Fosgate Marine Speakers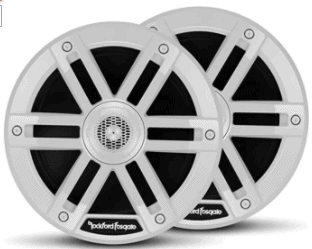 Specifications:
Power Handling: 65 Watts RMS / 250 Watts Max
Impedance: 4-Ohm
Fully Sealed Integrated Concealed 6dB/Octave Crossover (ICC) Network
Frequency Response: 40 Hz – 25 kHz
Mounting Depth: 2.52" (63.9 mm)
Sound quality and performance
The driver of Rockford Fosgate M0-65 is fitted into a stable frame. It is held by marine grade connectors. This driver is built to handle the harshest marine conditions. It won't corrode or discolor in any kind of marine environment.
Moving ahead, the speaker has a liquid crystal polymer balanced dome tweeter. The tweeter is protected with an integrated grille. Performance-wise, they are in charge of delivering smooth and crystal clear higher frequency sounds.
Furthermore, the Rockford Fosgate M0-65 houses a Kapton woofer voice coil. And what does it do? It enables the speaker in delivering those awesome low-end sounds. Also, this voice coil is also responsible for reproducing superb midrange frequencies.
Features
The Rockford Fosgate M0-65 has a maximum power handling capacity of 250 watts.
The speaker features a fully sealed and integrated octave crossover network. The frequency range is quite wide as well. It starts from 40Hz and covers up to 25kHz.
Two fascinating features of the Rockford Fosgate M0-65 are its IPX6 certification and Element Ready design. With both these, the speaker becomes water, dust, and salt-resistant! In fact, the speaker can also withstand UV rays. In short, Rockford Fosgate M0-65 is fully geared for all outdoor water adventures!
What do we like?
Great overall sound quality
Offers good value for money
What we don't like?
The crossover needs some modification
Large openings on the grille make it prone to damage
Bottomline: Rockford Fosgate M0-65 is a marine speaker. Its waterproofing qualities make it one of a kind. This speaker is custom-made from extreme conditions. So we would recommend getting it for off-road vehicles and steam powerboats.
Rockford Fosgate 6.5 speakers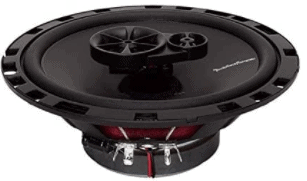 Specifications:
Configuration: 3-Way Full-Range
Nominal Impedance (Ohms): 4-Ohm
Frequency Response (Hz): 52Hz-20kHz
Midrange Nominal Diameter: 6.5"
Power Handling (RMS): 45 Watts RMS, 90 Watts MAX
Crossover: Tweeter High-Pass (HP): 6dB
Sensitivity: 91 dB
Sound quality and performance
Rockford Fosgate R165X3 is a 3-way coaxial speaker. A single driver handles the woofer, the midrange, and the tweeter.
Even the crossover does a fantastic job in providing the specific frequencies to the driver. This quality facilitates the driver in producing eminent sounds.
High-frequency production when the tweeter is made with softer material. This is why the Rockford Fosgate R165X3 has a silk dome pole mounted tweeter. The results can be seen through the clear and loud high-frequency output of the speaker.
The speaker has an inbuilt woofer to pump out the necessary low end. The bass production is good.
Similar to the tweeter, even the midrange driver is made from silk. The material ensures smooth vibrations and outstanding midrange production.
Features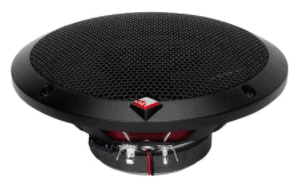 Power handling is very crucial for any speaker. Rockford Fosgate R165X3 has justified this attribute to a great extent. The speaker is rated with an RMS output of 45 watts and a peak power of 90 watts. In layman's terms, these are outstanding ratings.
The higher the sensitivity, the better sounding is that speaker. Generally, any speaker with a sensitivity of more than 88 dBs will sound amazing. To your delight, Rockford Fosgate R165X3 has a sensitivity of 91 dB.
How does this benefit you? The equation is simple. Rockford Fosgate R165X3 requires less power to produce clear and quality sound. Doesn't matter if it's lows or highs – the quality is uniform and awesome!
The woofer has contrasting characteristics from the silk dome tweeter. It has a vacuum polypropylene cone that is rigid and lightweight at the same time. The cone has a rubber surround to offer more durability and flexibility.
What do we like?
Dependable build quality
Crispy midrange and high range production
Quite affordable coaxial speaker
What we don't like?
Sound distorts at higher volume levels
A considerable lack of power in bass sounds
Bottomline: The Rockford Fosgate R165X3 is one of the finest budget car speakers. They have become very popular and have performed way better than other pricey models. If you own a sophisticated car, this speaker will fulfill all your car stereo requirements adequately.
Conclusion
Are you still with us? Because we are yet to narrow this list down. It goes without saying all these speakers are amazing.
However, we do our favorite picks among these.
The first one is Rockford Fosgate's P1694. It belongs to Rockford's Punch series of speakers. We like this speaker because it has an all-round performance.
The sound quality is good, the price is affordable and the build quality is durable. It is just the right car speaker! You can also check out P1692 and P1572 – two other 2-Way full-range speakers of Rockford's Punch series.
Our second favorite was the Rockford Fosgate's M0-65. This is undoubtedly one of the best marine grade speakers you will ever come across. It's not just made for cars, but for boats as well. How cool is that? Manufactured to endure tough conditions, this speaker is worth checking out!
And finally, the Rockford Fosgate R165X3 caught our eye. One fascinating feature is its silk dome tweeters. They perform exceptionally in producing midrange and high frequencies. Even the woofer offers that thump in the low end.
Rockford Fosgate has been coming up with the best speakers over the years. So even if you have not heard about it, you have to check out these best Rockford speakers!
Read Also: