Affiliate disclosure: In full transparency – some of the links on this website are affiliate links, if you use them to make a purchase we will earn a commission at no additional cost for you (none whatsoever!). Will this be a problem? This is how we manage to create free content for you. Please know that your trust is so important for us. If we recommend anything, it is always because we believe it is worth exploring. And, buy me a coffee ☕️
Today in this post I will review Mackie CR3 vs CR4 and help you decide which is best for you.
[amazon table="527512″]
Mackie is famous for these speakers that look a lot like studio monitors. These speakers are popular among beginner home studio owners and many other music enthusiasts.
These speakers are close to each other in a lot of ways, and they differ in others.
Which one is better, the Mackie CR3 or CR4?
What are the similarities and differences?
Which one should you go for; the CR3 or CR4?
These are the questions I address in this article.
Mackie CR3 vs CR4: Detailed Comparison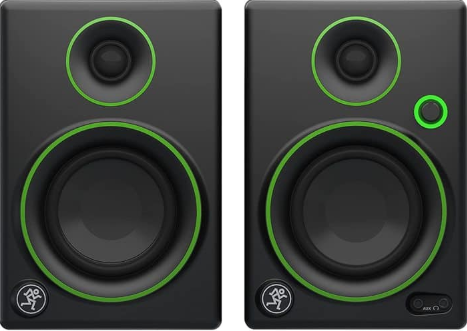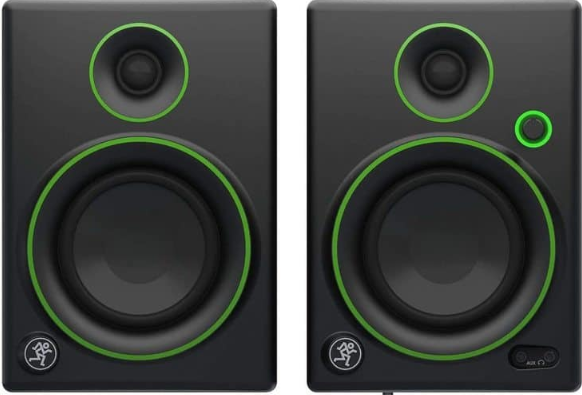 Build and design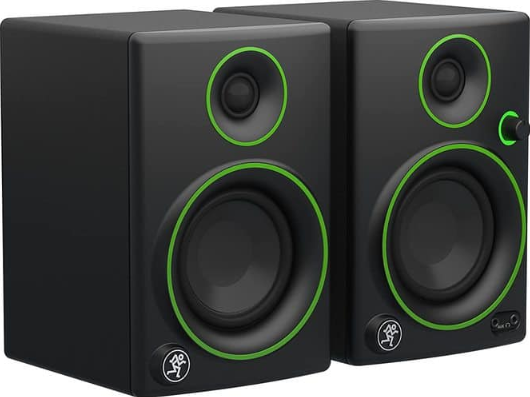 Mackie CR3 is a solid pair of speakers. Sure, they are not the strongest, but they are strong enough to last you a few years.
Most people expect that with a build like this, expect the speaker to maintain its shape for just a couple of years.
However, I think if you don't move the speakers around at all, they will last much longer than that.
The CR3 is shaped like a regular studio monitor or bookshelf speaker. The outside is covered with plastic. But just beneath the plastic, there's MDF wood. The wood helps to reinforce the plastic's strength.
The CR4 build is like that of the CR3. When you tap the body, it feels like plastic. It's toughened plastic material. However, the speakers are actually covered in a wood cabinet.
The plastic was added on the outside. Besides improving strength, having a wood-covered cabinet improves the speaker's sound.
I would say that after careful examination, the CR4 has an edge in build quality. It feels sturdier than CR3.
Drivers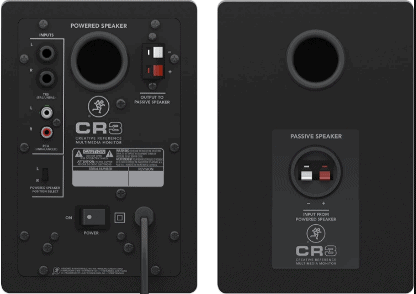 The CR3 uses a total power of 50 watts to push the sound through is woofer and tweeter. It's a 3-inch woofer ND ¾-inch tweeter.
The woofer is coated in polypropylene finish. This material is powerful and can protect the woofer even in high temperatures.
The tweeter is a ferrofluid-cooled one. As expected, it's silk dome tweeter. The ilk dome improves the speaker's ability to produce high-frequency sound without distortion.
The crossover frequency is 3kHz. It is factory-fitted, so you can't adjust it to your taste.
The CR4 has a slightly different woofer size. It's a 4-inch woofer, also coated with propylene. The 1-inch difference in both speakers' woofer sizes will make a meaningful difference in bass production.
Besides, both speakers have an output of 50W. The tweeter is a ¾-inch silk dome unit, same as we find in the CR3. The CR4s also have bass ports on the rear. This gives you improved bass quality.
Bottomline: The CR4s are slightly better in bass production, because of the bigger woofer size and rear bass ports.
Sound quality and performance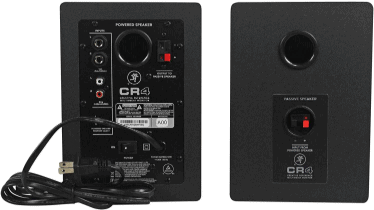 Bass
I already gave you a sneak peek at the bass responses when discussing the drivers. The CR3 has decent bass, but it's not something that will excite bass heads.
With a woofer size like this, we can't expect something too deep. If you're a low-end lover, you may need to invest in an external subwoofer.
The CR4s are a little better. It still won't excite bass heads, but you can enjoy some hip-hop and EDM with them.
Mids
Although the CR3's bass is not deep, there's a boom in the upper low-frequency area. This boom overshadows the lower mids. Thankfully, it doesn't destroy the speaker's clarity.
The high mids are probably the best part of the CR3s. They are clear and precise. CR4 gives better lower midrange production. It' still not super, but there's less upper bass honking.
Treble
In the CR3s, the treble balances out the honking bass. This means that mids are reduced.
It doesn't lack in brightness and sparkle. The CR4s are similar in this area. They have clear high frequencies, especially at average volume levels. The treble gets hotter when you're close to the maximum volume level.
Bottomline: CR4 has a better bass response than CR3, but that's where the difference ends. The mids and highs are the same.
Features
The Mackie CR3 speaker unit has one powered speaker, with a class A/B amp.
The speaker gives you some freedom when arranging. As you know, the speaker that has the power outlet should be placed closer to the power source.
This can be a tricky task if the left speaker is powered, but the power outlet is on the right side.
Well, the CR3 has you covered on this. You can choose which of the speakers you want to be left or right. It makes the speaker arrangement a lot easier.
All the connecting ports are at the rear of the CR3s except the aux and headphone output. The aux is easily accessible, so connecting your phone should be a breeze.
Also, you can use the headphone port to listen through wired headphones. However, you should know that it gives a little noise when you do that.
The features of the CR4 are similar to the CR3's. There's another benefit of switching the powered speaker fro left to right.
It means you can also choose which side your controls will be. If you want your controls on the right flip the switch.
Like the CR3, CR4 is powered by a class A/B amplifier.
Bottomline: In terms of features, there are so many similarities that it's hard to make a choice. The only difference seems to be the woofer sizes.
Power requirements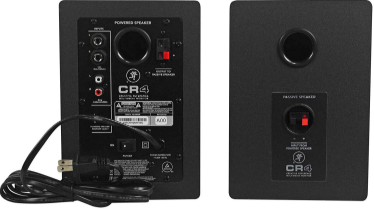 The CR3 and CR4 do not require a lot of power to work; just 50W. It can easily be supplied by your regular in-house power outlets.
If you're using them as part of a larger system, you shouldn't push them too much.
This applies if you're driving them with external amps. These speakers can only take up to 100db SPL. If you overdrive them, it will lead to distortion and cone damage.
Similarities
Both the CR3 and CR4 have power ratings of 50W.
Both speakers have switchable left and right units.
The CR4 and CR3 are powered by class A/B amps.
Differences
While that CR3 has a 3-inch woofer, CR4's woofer measures 4inches. It gives CR4 a slightly better bass response.
The rear bass port in the CR3 is tuned higher than that of the CR4. This is another reason why CR4 has better bass.
Pros and cons
Mackie CR3
Pros
They are lightweight and easy to setup.
Fits in all spaces.
Clear, crisp production.
Cons
Bass is not deep.
The upper bass boom overshadows low mids.
Mackie CR4
Pros
Deep bass response.
Solid build.
Switchable right and left channels.
Cons
Not loud, only works for small spaces.
Will take some space on the table.
Conclusion
Both Mackie speakers are excellent choices. However, CR4's deeper bass makes me prefer it.
That's because I love hip-hop, EDM, and other forms of music that use lots of bass. If you're a jazz or classical music head, you may not feel any different if you use the CR3.
Hi, I'm Jennifer I'm a passionate singer and an audiophile from Detroit, MI. 
I'm on a mission to help music creators to create fine music that help them position uniquely in the saturated music space.
Follow my blog for regular content :-)