Do you need a speaker for karaoke? If yes, then this article is for you.
Karaoke is a lot of fun, but if you're going to enjoy it, you must have the right equipment. In this article, I review the best karaoke systems for adults and kids.
I also answer,
What are the best karaoke machines for kids?
Which karaoke speakers can you use outdoors?
But just before I start reviewing these karaoke speakers, let's have a short buying guide. What should you look for when buying karaoke speakers?
What to look at while buying the best karaoke speakers?
Connectivity
Where will you get your music from?
For the most convenience, you should consider speakers with a Bluetooth connection. This way, you can control your music from your phone or other connected devices easily.
Other connection options include aux, USB drive, and TF card slots. The more options you have, the better.
Battery Life
Some karaoke machines have rechargeable batteries. This enables you to take them outdoors for use. If you go camping or to a picnic, you can easily switch them on and have some karaoke fun.
Karaoke machines without batteries can only be used indoors, or close to a power outlet.
Microphones
How many microphones does the karaoke speaker have?
Some karaoke speakers come with one mic, while others come with two.
Some mics are wireless while others only have wired mics. Note that when you have more microphones connected to the speaker, the batteries will run out quicker, because the machine is doing more work.
Now, let's review the top 10 karaoke speakers today…
Top 10 karaoke speakers reviewed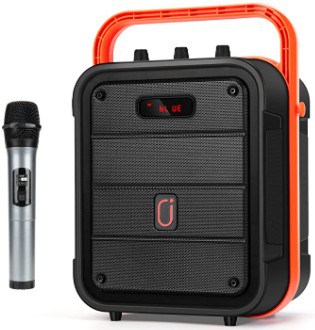 The JYX karaoke machine is a compact and portable speaker and microphone combination. You can easily carry it along on your camping trips or almost anywhere else. It may not fit in your backpack, but you can easily carry it by its handle.
That's not all. The JYX karaoke system comes with a battery that lasts between 5 and 6 hours on a full charge. Getting it up to a full charge takes about an hour.

Now, let's talk about the mic. The karaoke machine comes with one wireless mic that is powered by batteries. This means that you can use the system without one single cable in sight. This is possible when you connect your device to the speaker via Bluetooth.
The JYX speaker can play music directly from your USB drive, TF memory card, or connected via the aux cable.
The audio quality is clear, but does not have a lot of bass. Nonetheless, you'll have a great karaoke experience with your friends and family.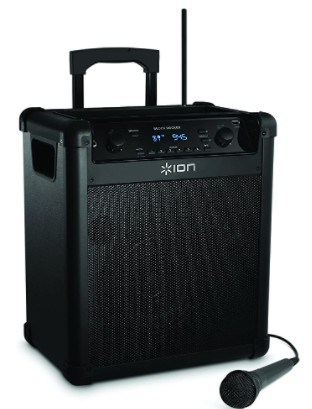 The Block Rocker karaoke machine is a bit larger than the JYX, but has an all-black design.
The all-black frame and grille house a loud 8-inch speaker. If you need to move it around, its handle will come in handy. To prevent visible wear, there is protective rubber at each corner.
The mic is connected via a ¼-inch cable, and you can only use one at a time. You can control the mic volume and master volume with the knobs on the control panel.
With the mic and music playing, this karaoke machine can get very loud, good enough for family gatherings and small parties.
The ION Block Rocker can play music from your device through its Bluetooth connection.
Without obstacles, you can have a distance of up to 33 feet (10 meters). If you don't have Bluetooth, you may use the 3.5mm aux input for your music.
However, there's no memory card or USB slot for playing music. The only USB port available is for charging your phone or other devices.
The manufacturers rate the battery life as 50 hours with a full charge. But in practice, the battery does not last more than 24 hours. This is still impressive for a karaoke machine.
For Bluetooth connection, if your phone has the NFC feature, you can connect by simply tapping the speaker with your phone.
Lastly, you can enjoy live broadcasts by listening to the AM/FM radio.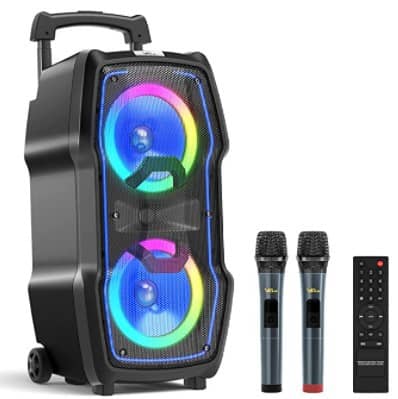 The VeGue Karaoke Machine is another Bluetooth-enabled combo. This single system is enough for your house parties and even small weddings. It has two subwoofers and one tweeter.
Although this karaoke machine is not the most compact of the lot, you can still move it around with some ease.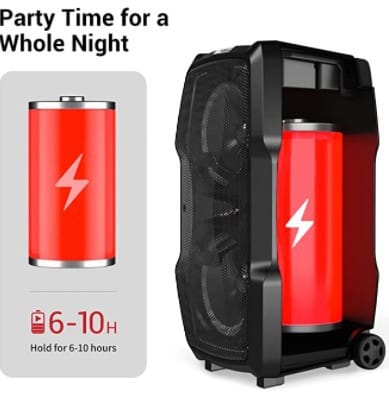 It has a handle and a pair of wheels for easier transportation. Also, it supports two UHF wireless microphones. This means that you can have your whole setup without laying any cables.
Simply connect your music source to the machine via Bluetooth or USB and use the wireless mics.
Aside from Bluetooth and USB, you can also play music through the aux port or TF card slot.
This machine can support 2 wired mics and one instrument, in addition to the two wireless mics. You can also connect to external speakers if you want.
It's a great system to start with as a performer because it has great sound, and you can easily expand from here.
Lastly, the battery can last you up to 8 hours, which is impressive considering how much power this speaker has.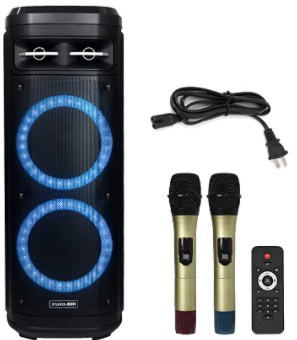 The Starqueen Karaoke machine is quite similar to the VeGue in a number of ways – it has two subwoofers, two wireless microphones, and a Bluetooth connection. You can also connect your phone or another device via the 3.5mm port.
But there are some differences too. The Starqueen is not compatible with USB drives or TF memory cards. Also, it has slightly larger subwoofers – 10 inches.
The Bluetooth connection gives you a distance of up to 30 feet without obstacles, and the lights on the speaker add some color to your performance. The controls at the top are lighted up.
Rather than knobs, most of the functions are controlled using faders. Of course, it comes with a remote for easier control.

The battery lasts for 5 to 6 hours depending on the volume you're playing at. If you're using this in the house, you only need to turn up the volume a little.
This speaker is loud enough for a medium-sized party. Your two wireless mics are also enough for a DJ and the MC.
This Pyle Karaoke speaker is another compact system that is easy to move around. It includes one mic that is connected via a cable.
For your karaoke sessions, you can get your music from your phone or other sources by connecting via Bluetooth. Other available options include USB, TF card, and 3.5mm aux.
You can also record your karaoke performance if you wish to listen to it later.
Additionally, the Pyle Portable Karaoke Speaker is great for outdoor use. When you charge it fully, the battery can last between 8 to 10 hours. You can connect up to 3 mics to this system, but there's only one knob for controlling the mic level.
Speaking of mics, this speaker comes with one wired mic for singing, with space for two more.
For easy movement, this speaker has a handle and wheels. Also, you can control the bass and treble levels in your sound to your taste.
Lastly, a remote is included so that you can control basic functions more easily.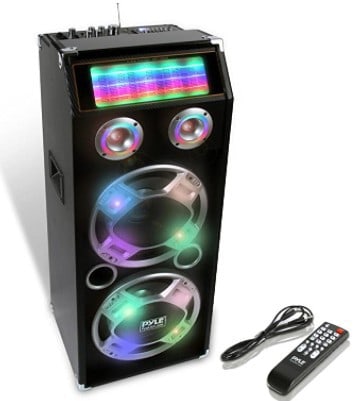 The Pyle Floorstanding Speaker is the most powerful karaoke system on this list.
If you are looking to host medium to large karaoke parties this is a great option. It's also perfect if you wish to add a karaoke function to your restaurant or lounge.
To play music on this speaker, you can use Bluetooth, USB, memory card, or connect via the aux port.
With 500W RMS power, this speaker gets very loud. You can also connect passive speakers if you have a larger room.
With all that power, it's not surprising that this speaker is not battery-powered. You can only power it by connecting it directly to an outlet.
It has great bass production as well as crisp treble. Its sound quality is good enough to be used for a one-person band.
Hence, if you need a big sound from your karaoke machine, this is the speaker to use.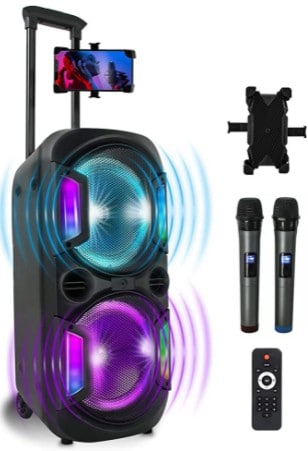 The Bluetooth A speaker karaoke system can operate as fully wireless. You can achieve this by connecting your phone or computer to the speaker through Bluetooth and using the wireless mic.
This will give you a neat setup without cables lying around. It still gets better. Since this karaoke system also has a rechargeable battery, you can use it without plugging it into any outlet. Simply make sure it's fully charged.
With a full battery, this system can keep going for 6 hours.
The Bluetooth PA Speaker System comes with a wireless mic, but you can still plug in a wired mic through the ¼-inch mic-in jack. This enables you to use 2 mics at once.
The speaker gets loud enough for home parties and small gatherings. When you use it at night, it adds some color to the flashing lights.
In terms of sound quality, it is loud and clear. Even though its bass is not as deep as the Pyle Floorstanding speaker, it's still tight and punchy.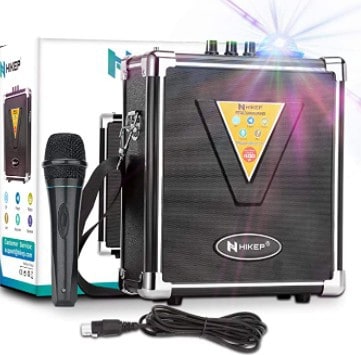 The Hikep Karaoke Machine is a compact portable and lightweight option for singing hobbyists. It gives you the ease of use and convenience in different ways.
First, you have the option of a fully wireless setup – Bluetooth connection for playing music, wireless mic for singing, and rechargeable battery for power. This way, you'll have no cable clutter. Also, you can take the system outside anytime you wish.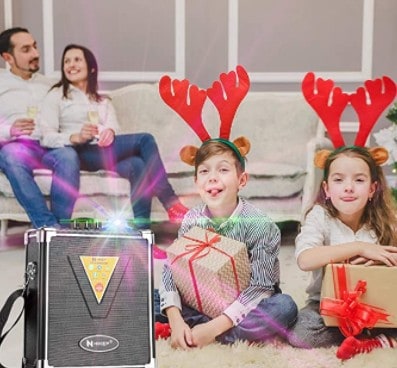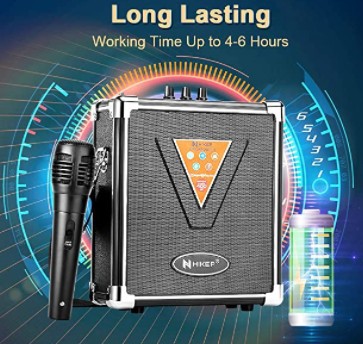 However, if you can't use the Bluetooth connection, other options include a TF card, USB, and the 3.5mm aux jack for playing your music.
Because of its size and weight, the Hikep is a great gift choice for kids. It's also easy to set up and operate.
The sound is loud and clear enough for in-house use, but don't expect bass from this. If you need much better sound, go for the Pyle speakers or ION Audio Block Rocker.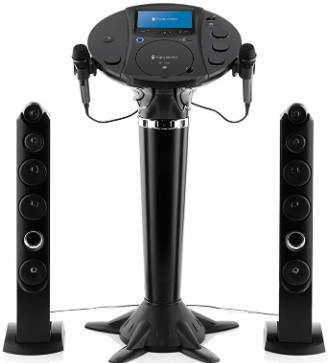 The Singing Machine is a karaoke system specially made for indoor use. It's designed as a three-piece unit.
It includes two tower speakers and the control piece which holds the monitor and other central functions. This unit is not mobile or compact.
Once you get it set up, you shouldn't move it around too often. Also, it doesn't come with batteries. To power the Singing Machine, you must plug it into a power outlet.
For playing your music, the ISMM 10303BT can receive input via Bluetooth, CDs, aux, and USB. The mics are connected strictly via a wired connection. There are no wireless mics options here. Also, the unit comes with two wired mics, so you can have duet karaoke performances.
The monitor on the screen helps you display lyrics to the song being performed. For a larger display, you can connect the Singing Machine to your TV through the RCA outputs.
To ensure that you always have songs with the full lyrics display, you may subscribe to the Singing Machine mobile app. It gives you access to over 10000 songs you can perform with the full display.
If karaoke is a big part of fun times with your family and friends, the Singing machine gives you what you need to make those moments most special.
Karaoking Karaoke Machine For Kids and Adults
The Karaoking Karaoke Machine is another compact, lightweight and portable speaker. It gives you the convenience of having a full outdoor karaoke session without the need for any cables.
You can easily stream music, via Bluetooth, use the wireless mics and run the karaoke machine on batteries. This also makes it a good option for one-person street performances.
If you can't play music via Bluetooth, you can use the USB or aux ports to connect to your music source. The battery lasts between 4 and 6 hours depending on how loud the speaker is sounding.
In addition, there's a 5-band EQ that helps you to tweak your sound to give your preferred quality.
If you need a mobile karaoke machine for you and the kids, Karaoking is a great choice.
Also read:
Conclusion
I have reviewed 10 karaoke machines in this article.
My top 3 picks are ION Audio Block Rocker, Pyle Outdoor Portable Wireless, and Singing Machine.
ION Audio Block Rocker stands out because of its long battery life. Even though it doesn't last up to the stated 50 hours, it still lasts up to 24 hours and that's a lot.
The Pyle Outdoor Portable Wireless is great because it allows you to use up to 3 mics – sounds like a lot of fun!
The Singing Machine is the most unique considering its design, and it takes the karaoke fun to a whole new level.