Today in this post we are going to review the two great legendary Audio Technica mics ATH-M50x vs MSR7.
Musicians, engineers, gear-heads and audio enthusiasts! Today we will be comparing ATH-M50X and the ATH-MSR7 and help you decide which one is best for you.
Last update on 2023-09-21 / Affiliate links / Images from Amazon Product Advertising API
Both of these have been designed keeping the highest standards of the audio industry and today we will decide which one wins the battle!
Among ATHM50X and MSR7 which one do you think sounds the best?
Which one do you think is better for which purpose? Let's answer all these questions in this article.
Let's dive deep into this!
| | | |
| --- | --- | --- |
| Features | Audio Technica ATH-M50x | Audio Technica MSR7 |
| Headphone design | Closed-back | Closed-back |
| Driver diameter | 45 mm | 45 mm |
| Sensitivity | 99 dB | 100 dB/mW |
| Weight | 285 g without cables | 290 g |
| Microphone | Not included | Condenser mic with a frequency response of 50 – 4,000 Hz |
| Detachable cables | 1.2 meters and 3 meters either coiled or straight | 1.2-meter and a 3-meter straight cable with volume controls and embedded microphone. |
| Impedance | 38 ohms | 35 ohms |
| Frequency response | 15 Hz to 28,000 Hz. | 5 Hz to 40,000 Hz |
| Amazon product page | Check price | Check price |
The first aspect we notice is that Audio Technica sells the ATH-M50X under the umbrella of professional headphones while the ATH-MSR7 is labeled as consumer headphones.
Do professional headphones sound better than consumer headphones?
In this article, we will explore several aspects such as the build, design, sound quality, and performance of each of these two Audio Technica headphones to give a verdict of the overall winner.
ATHM50X vs MSR7: Let's find the winner
Build and design
Build: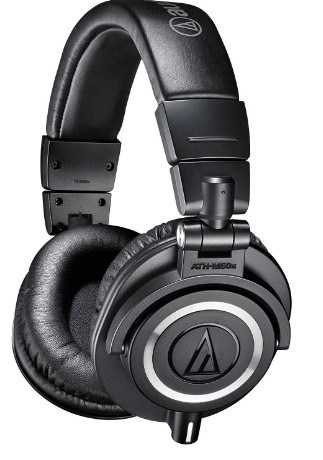 Both headphones present a closed-back over-the-ear form design, made of plastic with aluminum extenders. However, the MSR7 appears to be sturdier since it has more aluminum parts and less swiveling.
ATH-M50X comes with professionally graded leather earpads that can last longer than regular foam earpads, putting them under the classification of studio quality.
This might not be the most comfortable earpad design, but it provides excellent sound isolation in noisy environments, like in a recording studio or a location recording.
Colors: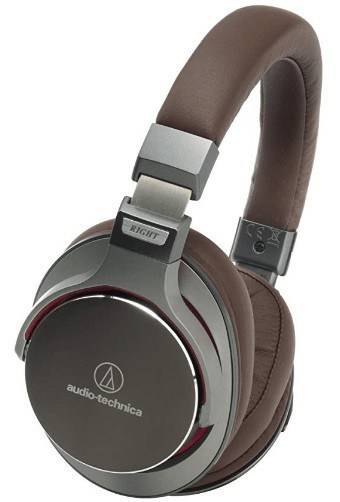 ATH-M50X is available in black and white colors, while the ATH-MSR7 is available in black and gun-metal grey.
Control buttons and mic:
ATH-M50X does not come with control buttons and microphones while the MSR7 does have in-line cable controls for volume and a condenser microphone for audio input purposes.
The microphone included on the MSR7 has an omnidirectional polar pattern, which means it can capture sound coming from all directions.
Cables:
Different options for cabling (detachable) are available for both models:
ATH-M50X has options of 1.2 meters and 3 meters either coiled or straight.
ATH-MSR7 offers a 1.2-meter and 3-meter straight cable with volume controls and embedded microphone.
The connectors of both headphones have stereo 1/8" plugs. ATH-M50X comes with a 1/8" to ¼" adapter for studio purposes. MSR7 doesn't come with this feature. But no worries, this adapter can be bought aftermarket in case you want it for your MSR7.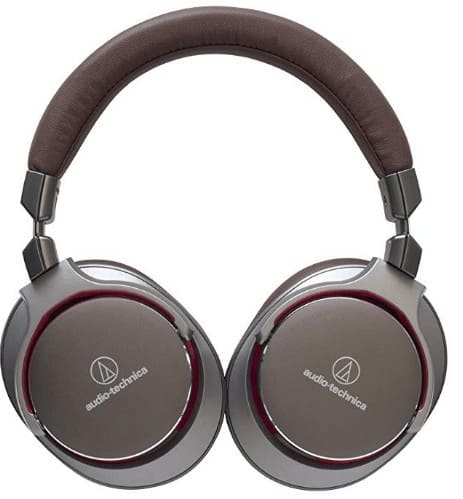 Weight:
Both headphones weigh almost similar. ATH-M50X weighs 290 grams while the ATH-MSR7 weighs 285 grams. I bet you can't feel this difference.
Warranty:
As most of Audio Technica's professional gear, both of these cans come with the US 2-year limited warranty.
Features
Sensitivity is rated at 100 dB on the MSR7 while the M50X is rated at 99 dB, which is not really a massive difference.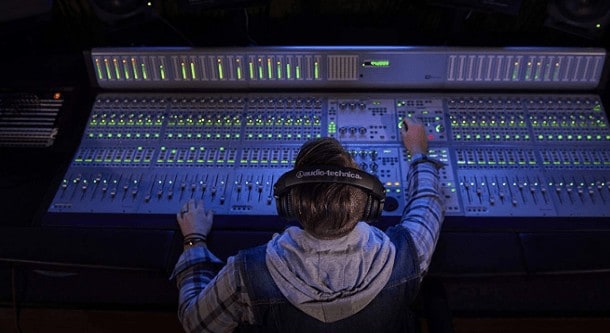 The maximum input power on the MSR7 is 2000 mW @ 1 KHz, while the M50X is 1600 mW @ 1 KHz, which yields a louder listening experience.
The drivers included on both of these cans are 45 mm dynamic therefore they contain a moving coil driver (small speaker) that creates the sound our ears listen.
The impedance of M50X is rated at 38 ohms, while the MSR7 is rated at 35 ohms, making the latter easier to drive with a headphone amplifier.
ATH-M50X provides you with the ability to collapse the cans for space-saving and traveling purposes, as well as a 90-degree swiveling of each earpad. This feature is important for DJs and touring musicians.
Another cool thing is that both of them include their own protective carrying pouches so they can be carried safely!
Sound quality and performance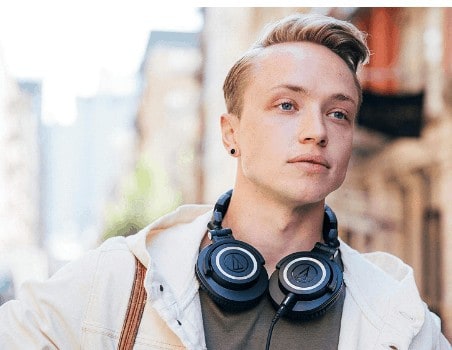 The frequency response of the ATHMSR7 goes from 5 Hz to 40,000 Hz while the ATHM50X goes from 15 Hz to 28,000 Hz, which in both cases represents more than the spectrum of human hearing (20 to 20,000 Hz).
So yeah, in theory, they cover all the frequencies that we humans can hear!
Lows:
Focusing on the low-end reproduction, we are able to discover that the M50X tends to sound a bit more impressive and boomy, giving a more pronounced "oomph" feel to the listener, but unfortunately not as detailed as the MSR7.
This punchy aspect of the M50X around the low-end can be attractive to people listening or working on hip-hop, electronic or rock music, where the bass representation drives the songs.
Conversely, the MSR7 presents a less exaggerated, fuller and more balanced low-end.
Mids:
Evaluating the mids, we found that both cans can actually reproduce this range very well. The result is considered neutral with a great dynamic range on that area of the spectrum.
However, the MSR7 still tends to sound a bit flatter and more precise.
Highs:
The highs can tend to sound piercing and problematic on the M50X, especially when reproducing high-frequency content instruments such as violins, trumpets, and synths, making it feel compressed, lacking presence and uncontrolled.
On the other hand, the MSR7 sounds more controlled in that aspect, making the listening experience more pleasant.
Both options offer a good sense of definition and space for the music reproduced.
The MSR7 presents a more natural and greater listening experience with an improved soundstage, while the M50X can sound a bit more compressed or even distorted in some cases with a less natural approach.
Similarities and differences
Similarities
45mm dynamic drivers on both headphones
Both headphones are closed-back design
2-year manufacturer warranty on both cans
Both can represent the mid-range frequencies very well.
These two options offer a good sense of definition and space (soundstage) to the music reproduced.
The extenders included on both of these cans are made of aluminum.
Both have conventional 1/8" stereo plugs.
Differences
MSR7 tends to feel more rigid due to more aluminum parts around the frame.
Earpads on the M50X are made of leather, while the ones on the MSR7 are made of soft foam.
MSR7's have in-line controls for volume as well as a microphone, while the M50X does not have any of those options.
M50X's offer coiled cable options
The weight of the MSR7 is 290 grams, while the M50X is 285 grams.
MSR7's sensitivity is 100 dB, while the M50X is 99 dB.
Max input power is rated at 2000 mW on the MSR7, compared to 1600 mW on the M50X.
Impedance is rated at 38 ohms on the M50X, compared to 35 ohms on the MSR7.
The ATH-M50X's provide a 90-degree swiveling capability, but the MSR7 does not.
MSR7 has a frequency response of 5 Hz to 40,000 Hz, but for M50X it goes from 15 Hz to 28,000 Hz.
The low-end reproduction of the M50X tends to sound more impressive and boomy than the MSR7's.
The high-frequency reproduction of the MSR7 sounds more natural and less piercing than the M50X.
Pros and cons:
ATM50x
Pros
Extended frequency response and most natural reproduction of sounds.
Most rigid frame design and construction
Microphone and volume control capabilities
Louder listening experience due to higher maximum input power
High sensitivity rating
38 ohms of impedance
Natural and balanced high-frequency reproduction
Cons:
Coiled-cable option not available
Sound isolation is lesser than the competitor
Softer low-end reproduction
Foam ear cups are fragile
MSR7
Pros
Durable leather-based earcups
Punchy low-end reproduction
90-degrees swiveling capabilities of earcups
High sensitivity rating
Neutral mid-range reproduction
Cons:
Reproduction of high frequencies tends to feel piercing
Plastic-based construction makes it less rigid than the competitor
No microphone included
No volume control included
Softer output volume
Verdict
Let's declare the winner in this ATH-MSR7 vs M50x battle.
Winners per category:

Construction/Frame: MSR7
Comfort while wearing them: MSR7
The durability of earcups and headband: M50X
Sound isolation: M50X
Colors available: Tie
Warranty: Tie
Cables: Tie
Sound quality: MSR7
Which headphone is right for whom?
If you are a studio musician working doing recording, the ATH-M50X is your best option.
Let's say you are a user in the need to listen to music but also want an in-line mic for speech, perhaps on a smartphone, get the ATH-MSR7.
Do you produce hiphop, rock, EDM or bass-driven music? Get the ATH-M50X. Are you a DJ working in clubs? ATH-M50X is perfect for you.
Last, but not least, if you are an audiophile, mix or mastering engineer, the ATH-MSR7 is the best option for you.