Okay so, you have a PC, it's a Windows machine, but you also make music…
Obviously, you also have a MIDI controller, but, you have no idea of where to start.
Which free MIDI Controller Software should you install?
Should you look into Digital Audio Workstations? Are they the same?
Some people talk about online piano keyboards, piano keyboard games, but others talk about piano simulators and virtual piano sheet music.
Should you get into those? Or should you just get into free MIDI files and run them with your MIDI keyboards?
I know this all sounds confusing, but this article will help you clear all of those questions and by the end of it, you will know exactly which free MIDI controller software to get!
Stay tuned, something amazing is coming!
Let's review the top 5 free MIDI controller software.
Top 5 Free MIDI Controller Software for Windows Reviewed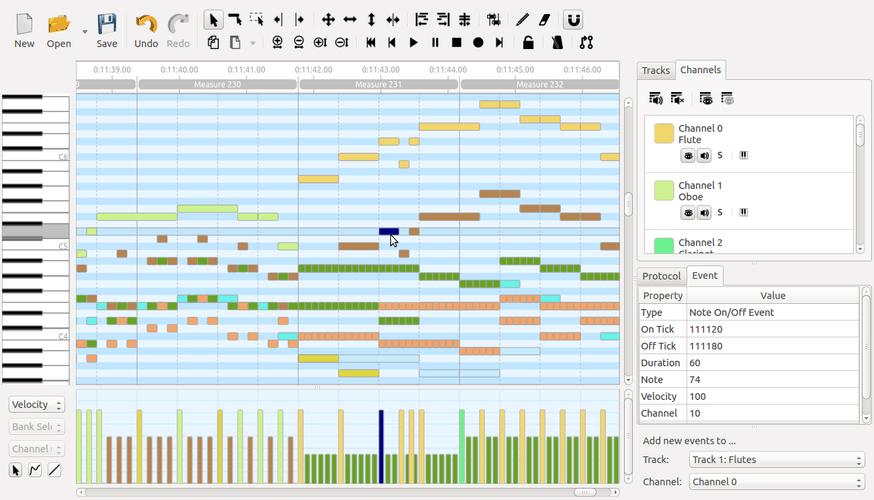 MIDI Editor is a free online MIDI platform developed by Markus Schwenk.
This is not a Digital Audio Workstation, but an online MIDI software that lets you open, record, program, edit, and playback MIDI information.
One of the key features of this program, besides its cost (free!), is the fact that it will let you either program your MIDI data with your mouse (clicks) or connect your MIDI controllers or hardware to actually "PLAY" the parts and record them.
Once you have your MIDI information in the program, you can take advantage of the MIDI quantization feature that will let you "fix" human imperfections of the performance in order to make it sound "tighter" to the grid.
So if you are not a great piano player, no worries, MIDI Editor got your back.
There are other features that are more complex such as control changes, which you can record, program, edit, and playback too!
The graphic interface of the program looks like the piano roll found on most Digital Audio Workstation software, in which you have notes represented by rectangles on a piano.
Notes can be played back using very simple MIDI sounds for reference.
Keep in mind, this is NOT a plugin as a VST format, so don't think it will sound like Native Instruments or anything like that. This is just a free and online platform for MIDI editing.
Bottomline: Looking to program and edit MIDI on a computer that has no Music Production Software installed? No problem! MIDI Editor will do it. Just make sure you have internet.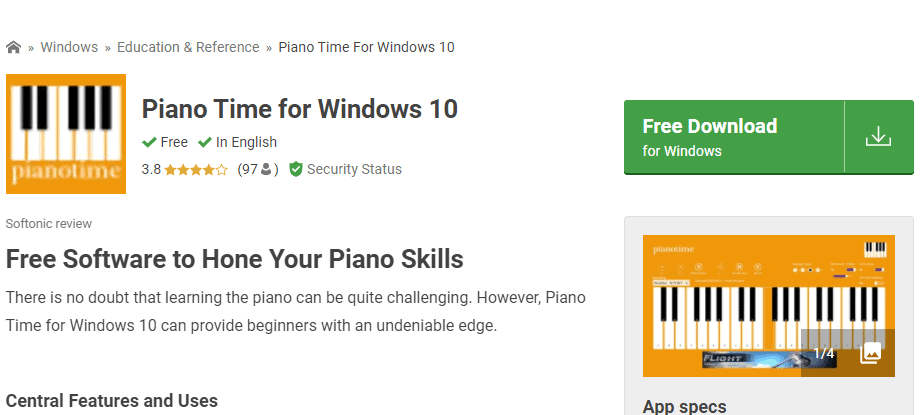 Piano Time is an app developed for the Windows platform that is oriented for educational purposes.
If you are trying to learn how to play the Piano and you own a Windows system, Piano Time might be a good option for you.
Keep in mind, this is not a Digital Audio Workstation or a Music Production Software, because you cannot record or mix audio. This is just virtual piano emulation software.
One of the key features is the fact that you can play this keyboard with any input. You can simply click on the notes using your mouse, or program using the small sequencer. No need for a dedicated piece of hardware.
But if you own MIDI controllers or MIDI keyboards, you can also "PLAY" the notes and it will respond like a regular keyboard!
Really cool considering it's free, right?
Another great feature is that you can record your performances and add other piano parts on top, so you will be able to create your own piano sequence and songs.
Also, it comes loaded with very famous and easy songs for you to play alone and practice your piano skills and sheet music reading!
By the way, don't forget the embedded metronome so you actually play and record following a real-time reference so play as tight as possible!
Bottomline: Want to learn how to play the piano? Online? Free? Piano Time is the one, don't think it twice.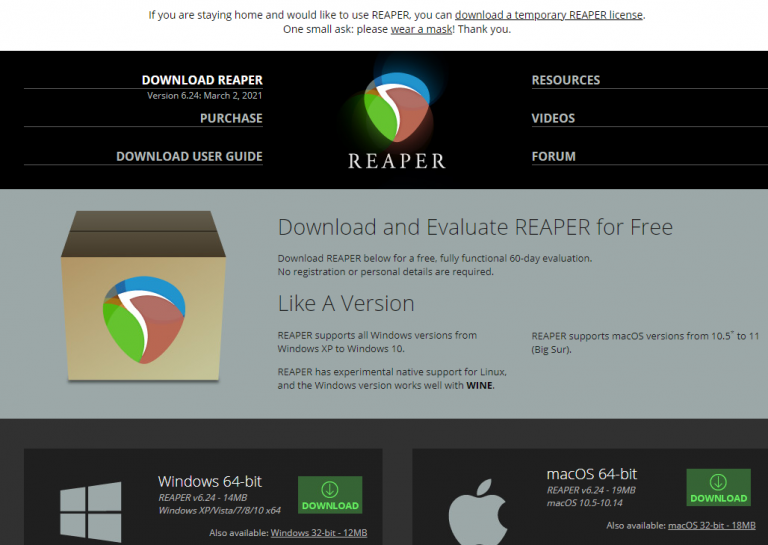 Reaper is a full-on Digital Audio Workstation software developed by Cockos and available on Windows systems.
The cost is only 60$ for a perpetual license, however, the expiration date of the Trial is not enforced or truncated, so I guess we can technically say it is free? Right?
As a major DAW, it contains all the functions and features associated with music production.
You can record, edit and mix audio and MIDI performances using multiple tracks, effects, and third-party plugins.
One of the key features of Reaper is the fact that you have an unlimited amount of MIDI tracks (and audio tracks too). The limit is pretty much set by your computer horsepower.
Another cool fact, any track can record audio or MIDI information, so no more confusions like "is this an audio or a MIDI track?". Those days are over.
Another MIDI feature is that you can separate MIDI freely into arrangeable takes and lanes that you can use for easier comping. So yes, complete control over your performances.
So if you are not a great piano player (like me), no worries, you can record take by taking and then compile the best one!
Did I mention the included virtual instruments? Oh yes! There is a synth, a sampler, a drum machine, and several virtual instruments included for free in Repeater.
But if you want to use your third-party MIDI virtual instruments like Native Instruments, Reaper will handle them easily under the VST format.
Bottomline: Looking for a Music Production Software that can really do it all, for free? Need to run third-party plugins seamlessly? Want a program that won't crash? Reaper is the one.
Cakewalk is a free Digital Audio Workstation developed by Bandlab and available on Windows.
Do you remember that old software for recording called "Sonar"? Well, it seems like someone decided to make it free and now it is called "Cakewalk by Bandlab".
So yes, you get complete Music Production software in which you can produce, record audio and MIDI, program virtual instruments, mix and even master your songs.
The key feature (besides being free is the fact that Cakewalk has unlimited "EVERYTHING").
Unlimited audio, unlimited MIDI, unlimited virtual instruments, unlimited loops, auxes, and anything you can imagine as far as to track count.
There is only one version of Cakewalk, and that is the free version! No need to get a "Pro" or "HD" version to "increase" its horsepower. No!
[Another of the powerful features is that it comes preloaded with a bunch of virtual instruments designed by Bandlab. Need a drum kit? Drum machine? Bass? Synth? Keys? They are all there!]
Now, if for some reason, these are not enough, you can always use your own third-party plugins and simply run them as VST3 plugins using your MIDI controllers. ]
Nice, right?
Did I mention effects? Yes, Cakewalk comes with plenty! Vintage compressors, equalizers, console emulations, tape emulations, reverbs and delays, are all part of Cakewalk and you can use them to shape your audio or instrument tracks.
Bottomline: If you are on a Windows system, and you come from the old school Sonar world, Cakewalk will feel like home. It is virtually the same software with a fresh graphic user interface.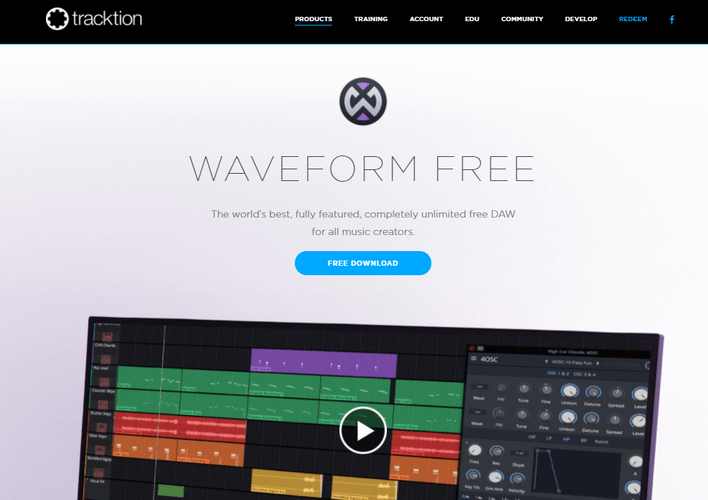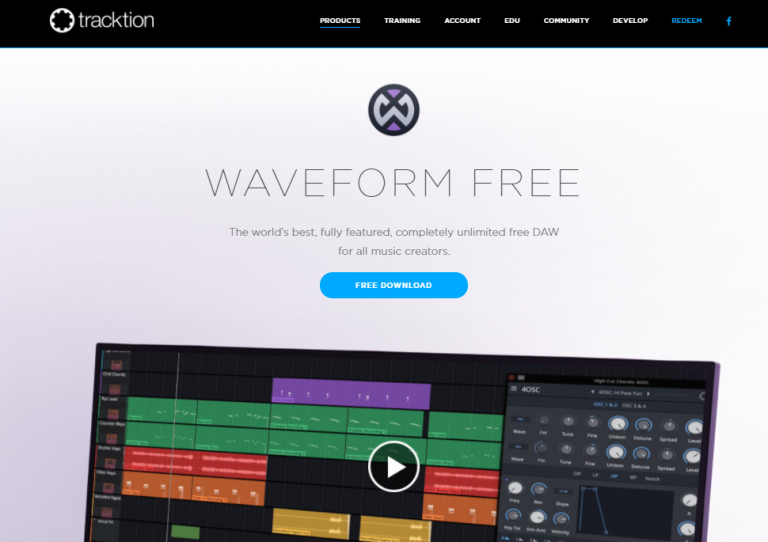 Waveform Free is a completely free Digital Audio Workstation developed by the company Tracktion, which works in Windows.
This program is perhaps the only in the market that is fully cross-platform, meaning it runs on Windows, Mac, Linux, and even Raspberry Pi.
So yes, you have no excuses for not having it installed.
As a complete music production solution, you can record full band, podcasts, live shows, rehearsals and also produce your own material.
One of the most important key features, unlimited everything. Not only unlimited MIDI and audio tracks but also unlimited plugins and inserts!
So you can basically add tracks and effects until your computer crashes!
MIDI instruments? Virtual instruments? Are they included? Will you be able to use your MIDI controller?
Oh yes! Subtractive synthesizer, drum machine, and samplers are all included as its default group of MIDI instruments.
However, if you want to use your own plugins in VST format from third-party companies such as Native Instruments, you are welcome to do it!
Actually, another of the advanced features is the fact that third-party VST's are run in a "sandbox" to prevent any crashes and similar problems caused by the plugin instability.
If the plugin is giving you trouble, you can simply remove it from the project and keep working, no crashing, no blue screens.
Bottomline: If you are looking for a free MIDI software and Digital Audio Workstation, capable of running on any system on the planet, Waveform Free is your best bet.
Read Also: River Flows In You (Yiruma) – Easy Piano Notes With Letters
Conclusion
Are you looking for a piece of software dedicated to learning the art of playing music on the Piano? Need to learn how to read sheet music? scoring? Piano music theory?
If this is your case, Piano Time is the best option for you. Its educational features paired with the fact this is run online make it perfect for today's education world.
Now, if your goal is to find a piece of software that simply lets you record, edit and program MIDI parts, without the hassle of installing a Digital Audio Workstation that can crash your computer, you must get MIDI Editor. It is free, online, fast, lightweight, it has it all.
But, if you want to go one step ahead and go straight into music production using MIDI software and a traditional audio recording program, you must get Reaper.
Think about it, it is virtually free, it has all the tools you could ever imagine, the support community is massive, and it works smooth as butter!