Mounting a subwoofer to the trunk of your car is slowly becoming old school. And if you didn't already know, underseat subwoofers are sweeping all the attention.
Underseat subwoofers lie beneath your feet, they are space-saving, they sound great and they are efficient alternatives to your trunk subwoofers.
Want to forget about a tiresome installation with confusing wired connections? Check out these 5 best underseat subwoofers for thumping bass right here:
Top 5 under-seat subwoofers reviewed
Specifications:
Peak Power 400 Watts
RMS Power: 100 Watts
Impedance: 2 Ohm
Frequency Response: 20Hz – 150Hz
Signal to Noise Ratio: >90dB
Sensitivity: 90dB @ 1w / 1m
Build and design
Rockville SS8P features a sealed enclosure type. The body size is 2.8-inches, perfect enough to make it fit comfortably under the seats. Additionally, it is made from cast aluminum. This particular material makes sure that the subwoofer remains cool even when it is operated for longer hours at max power.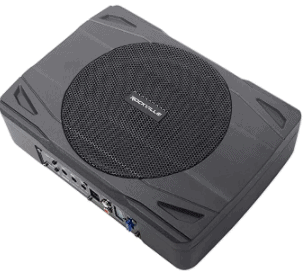 Another highlight of this underseat subwoofer is its smart turn-on circuit. It is very well covered, protecting it from any kind of thermal or short-circuit damages.
The best thing about SS8P is that it comes along with mounting hardware of its own. Therefore, the installation process is hassle-free and fast.
The subwoofer comes with high-level inputs. This contributes towards a quick integration of the subwoofer with your existing car stereo system – either factory or aftermarket.
These high-level inputs also make the installation process much more convenient. SS8P also features input sensitivity. And it is adjustable by users.
Other important features highlighted in this subwoofer include a phase control switch, crossover low pass filters, and bass boost control.
SS8P runs on a MOSFET power supply. This means the subwoofer is prepared to encounter any sudden malfunction. For this price, the subwoofer has a decent power rating with RMS 100 watts of power and a peak power rating of 400 watts.
Features and performance
SS8P is equipped with many controls that let you adjust the sound according to your preferences. It is indeed a great addition to your car's existing speaker system.
The bass boost ranges from 0 to 12 dB more frequencies of about 5 Hz. Furthermore, the top-quality sound is ensured by its subsonic filters.
The 8-inch SS8P is slim. You can slide it beneath your car seats with ease. Doesn't matter if it's an SUV or a truck – it will fit just fine.
The frequency response of this subwoofer ranges from 20Hz to 150Hz.
As an interesting add-on, the SS8P has an auto-on feature. So once you power on your car stereo, the subwoofer will automatically turn itself on.
Pros
Cast metal enclosure remains cool
Easily adjustable input sensitivity
Compact design saves spaces and gives ease of installation
Comparably affordable, cost-effective, and well-built
Cons
Poor bass output
Lack of flexibility
Bottomline: If people are on a budget, the Rockville SS8P won't disappoint them with its performance. It's a very uncomplicated subwoofer – right from its installation to its output. For small cars with limited spaces, this subwoofer is an ideal option.
Specifications:
RMS Power: 150 Watts
Ultra-compact powered subwoofer system designed for tight locations
Dimension: 13 7/8 x 9 3/8 x 3 1/8
8-inch internal subwoofer
150-watt (RMS, 14.4v) power amplifier
Build and design
In spite of being 14-inches long and 3-⅛-inches high, the incredibly small enclosure of Kicker 11HS8 can produce some serious low-frequency output.
One great highlight of this subwoofer is the plug-and-play installation. Fasten the velcro nylon straps for a secure position and a fast-connect power plug to finish the installation process in record time. Removing the sub is not a mammoth task too.
11HS8 has both high-level and low-level inputs. This means you can integrate this sub with any aftermarket or factory car audio system. The speaker-level inputs are pretty handy as well.
The subwoofer also features a variable phase control switch from 0 to 180 degrees to deliver maximum power output.
11HS8 does not need an external power source to work. Simply plug it into your existing car head unit and you're set. It also has a decent power rating of 150 watts RMS.
Features and performance
The wired remote control that comes with 11HS8 allows you to fine-tune and adjust the bass levels to your liking. The low pass filters can also be adjusted with the remote.
Don't be fooled by the small size of this sub, as the sound quality will surprise you. This one here is undoubtedly one of the finest compact powered subwoofers made by Kicker.
If your speakers lacked the low-end "oomph", 11HS8 brings in that bass depth and punchiness to the sound. Clarity is not compromised over various volume ranges.
A compact and slim design is one of the defining characteristics of the 11HS8. Take full advantage of the multiple mounting options that this sub will bring for you.
Despite the small size of this sub, it can deliver some impressive low frequency. Bass lovers are going to love this sub for that. And moving on, the frequency response ranges from 25Hz to 120Hz.
Pros
A superfast installation process that is supported in about every car
For this size, the sound and power rating is decent
Effective spider design delivers clean bass
Dual auto power-on features
Versatile fine-tuning options for bass
Durable build quality made from top materials
Cons
Bass is not the strongest you've heard
Risk of rating sounds at times
Pricey when compared to other subs
There are no RCA inputs
The size of the cone is quite small
Bottomline: People looking for heavy, thumping bass sounds and skeleton shaking low end should not go for Kicker 11HS8. However, for those who want to add that missing bass depth and punch to their existing car speaker system, this is the one. The sub combines amazing sound into a compact body.
Specifications:
Power: 800 Watts Peak / 200 Watts RMS
Impedance: 2 Ohm
Dimensions: 12.4 x 13.4 x 2.7 (L x W X H) in inches
Frequency Response: 20Hz – 150Hz
Sensitivity: 90dB @ 1w / 1m
Built-in Subsonic Filter @ 29Hz
Build and design
The 10-inch subwoofer, Rockville RW10CA has a big enclosure size. This is one concern as you may find it difficult to fit in under your seats.
However, it will fit perfectly behind the seats. You may also choose to put it in the trunk. This subwoofer can withstand the ups and downs of the roads.
RW10CA gets a prolonged life with the help of its advanced overload protection circuit that is protected from overheating and reverse polarity. This component allows the subwoofer to go as loud as you want it to. Forget worrying about short circuits, thanks to its thermal protection circuit design.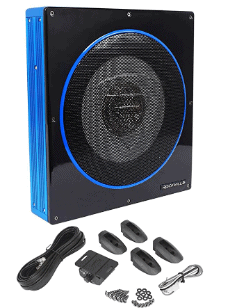 The easy installation process of this subwoofer comes with an added perk. It minimizes the use of cables. Plus, this subwoofer comes with a built-in amp that further reduces the wiring needs for an external amplifier.
Want to make the installation a step simpler?
Go for the Rockville wire kit for this subwoofer – RWK10 – and you will have everything you need.
As RW10CA features high-level inputs, connecting the speakers to the subwoofer becomes very efficient and hassle-free. The high-level inputs showcase the very useful auto turn-on technology.
The subwoofer also supports low-level RCA inputs. Users who are keen on developing customized speaker configurations will love these adjustable inputs.
The phase switch of the subwoofer can cover an angle from 0 to 180 degrees.
RW10CA comes with an inbuilt MOSFET PWM power supply. The sub can give 200 watts RMS and peak power of a whopping 800 watts.
Features and performance
The effective thermal protection of RW10CA shields it from the possibility of any burnouts.
And yes, it does come with remote bass control. It is highly responsive and eases the control to a great extent. The remote lets you adjust the volume.
RW10CA gets the job done in the sound department. The delivery is solid in all areas. You will get sufficient bass from this sub but don't expect something extravagant.
You can make use of the controls and tweak around the sound as per your liking. Taking the interior car acoustics into account, this subwoofer maintains the right balance.
A lot of the credit goes to its cone functioning. It displaces a great amount of air rapidly to produce a powerful and deep bass.
Got a car with cramped up spaces under the seat? Not a problem – the slim RW10CA will fit even there. The compact does a great job in saving a lot of useful space.
The subsonic filter featured by the subfilters out the extremely low frequencies. Those frequencies are not audible to the human ears. Filtering them out enhances the bass performance. Lastly, the frequency response of RW10CA is 20Hz to 150Hz.
Pros
Offers amazing value for money
Sufficient power handling for any kind of music
Gets installed easily in various places
Durable enclosure
Lots of customization options for audio
The slim body design makes it an ideal fit for most cars
Less and neat wiring
Cons
Sound distorts at higher volume levels
Tends to overheat after long hour usage
The sensitivity level is average
Less number of outputs compared to others
The installation process affects the sound quality
Bottomline: Rockville RW10CA will be great for those people who are facing the problem of limited car interior space. This slim subwoofer will be a great bass unit for your car stereo system.
Build and design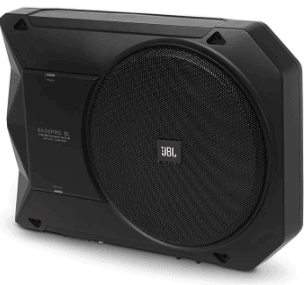 The 8-inch shallow profile woofer of JBL BassPro SL has been specifically designed to be accommodated in its ABS enclosure. This particular arrangement is what gives this subwoofer a strong bass performance.
The circuitry of BassPro SL has 3-way protection – overload, thermal, and speaker short. Even the woofer is equipped with a variable bass boost circuit along with the variable low-pass crossovers.
When we talk about the installation process, BassPro SL is one of the simplest subwoofers to install, especially for beginners. The connector at the back of the unit is clearly marked and quite straightforward to understand.
This subwoofer features both speaker-level and line-level inputs. There is also an input load switch that makes installation very versatile as well.
With BassPro SL, you also get a selectable phase switch of 0 to 180 degrees.
The built-in amp power handling capacity of this subwoofer is rated at 300 watts RMS and 600 watts peak power.
Features and performance

BassPro SL comes with a wired remote bass level control that lets you adjust the bass.
Thanks to the 8-inch speaker cone, the sound of this subwoofer is deep, punchy, and better sounding than most underseat subwoofers.
The futurist, small design of BassPro SL makes it slip into tight spaces where no other sub is likely to fit. It has been designed efficiently to remain cool even after playing music for long hours at high volumes. So the risk of catching fire is reduced to a bare minimum.
As far as the speaker is concerned, JBL is renowned for making some of the excellent ones, irrespective of their sizes and types. And BassPro SL is no exception to that legacy.
The built-in amplifier teams up with the woofer to deliver the low frequencies. BassPro SL has a frequency response of 35Hz to 120Hz.
Speaking of disadvantages, you will have to buy a remote control for adjusting volume separately. Price can also be seen as another downside.
Pros
The easiest installation process for beginners
Compatible with the wire bass remote control
Premium build quality and appealing finish
Several outputs on the rear for audio tuning
Stays cool at higher volume levels
Has a built-in amplifier
Cons
Lacks in bass output
Costlier in comparison to other underseat subwoofers
Bottomline: If people look past the price and invest in the JBL BassPro SL, they will definitely not regret this woofer. The sound quality is pretty good but the bass may not impress you. But other than that, it is powerful and good-looking and loaded with amazing tonal quality.
Build and design
Looking for subwoofers that can endure the rough life on the road?
PWE-S8 from Alpine electronics is what will end your search for a rugged sub that can take some serious knocks.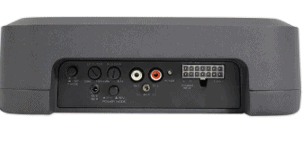 [The enclosure has been made from high-quality cast aluminum. Not only does it handle the bumps on the road, the metal material curbs any internal vibration as well. So even if you play music at high volumes, there will be no distorting sound that arises from moving interior parts.]
Installing the PWE-S8 is as easy as it gets. With the help of the RCA inputs and speaker level inputs on the side panel, the sub can be connected with your car's sound system.
As it is incredibly compact in size, the sub does not need too much space or time for installation. Plus, because of being a shallow mount subwoofer, PWE-S8 can be installed in practically any compact size.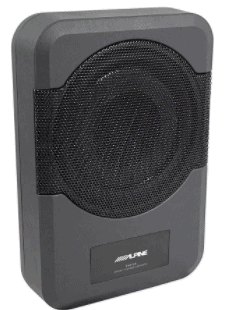 The RCA and auto-sensing speaker-level inputs are also featured in this subwoofer.
Other important controls of PWE-S8 include gain, phase, and low-pass crossover filters for creating the perfect tone out of the sub.
The subwoofer has an RMS rating of 120 watts of power and peak power of 240 watts. This is more than enough to shake your car windows. But don't worry, they won't break!
Features and performance
PWE-S8 comes with a wired remote control. This gives you hold of the bass level control easily right from the driver's seat.
A crisp and clean sound is guaranteed with this subwoofer. The low-frequency response gives the sub that premium quality of sound that will amaze whoever enters your car.
The slim design of PWE-S8 lets it fit in any kind of tight space, especially under the seat and behind the seat as well.
By virtue of the built-in amp and 4 voice coils, this subwoofer can provide a wide frequency response from 32Hz to 150Hz.
Pros
Simple and straightforward installation process
Made from durable materials that have a long lifespan
Quality audio performance at lower frequencies
Compact size fits anywhere
Cons
Price is more than other similar subs
Not suitable for larger cars
Looks way too big with the mounting brackets
Short cable leads
Low-quality amplifier
Very conventional and unattractive looks
Bottomline: Considering people are willing to spend some big bucks, Alpine PWE-S8 is a worthy investment. It is a small type of subwoofer, it sounds good and it is made to last for a long, long time. Everything about this subwoofer is fine, except the high price tag.
Conclusion
Well, that was quite some competition. No wonder they are the 5 best underseat subwoofers for thumping bass.
But we are not done yet. Now is the time to name the best of the best. Lucky for you, there are three such products!
To begin with, Rockville SS8P has impressed us in many ways. Are you on a budget? No problem. Don't want to compromise on performance? Not an issue at all. Looking for an uncomplicated installation process? Bingo! You ask for it and this subwoofer has got it.
Up next, we have one from the same team – the Rockville RW10CA. This sub will solve the limited space problem of your car. Also, it is a splendid addition to your car's entertainment unit in terms of your bass requirements.
And to wrap it up, we have the JBL BassPro SL. Although the bass quality is not right up to the mark, it surely is a powerful subwoofer. However, do know that this performance comes for a relatively higher price.
So, which under-seat subwoofer are you going to pick to change your music listening experience?
Related articles: