Which true wireless earbuds are better, Jabra Elite 85t or Jabra Elite 75t?
Jabra elite 75t is the more recent of the two Bluetooth headphones, but we know that newer is not always better. In fact, it's better to consider both headsets as unique products, rather than an upgrade of another.
So, looking at these two Bluetooth earphones, which one is more suitable for you?
Which is better for exercise and sports?
Between Elite 85t and Elite 75t, which is more durable?
All these questions and more will be answered by the conclusion of this article.
Jabra Elite 85t and Jabra Elite 75t compared
Noise cancellation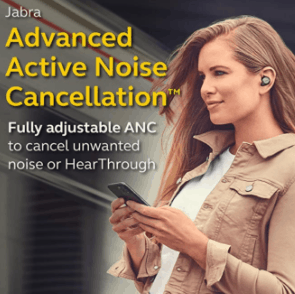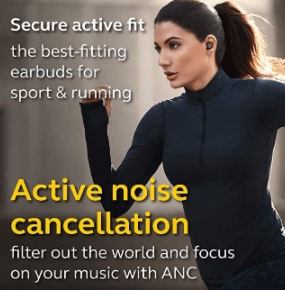 The Jabra Elite 85t's passive noise isolation is impressive, even if we consider just the design's impact. However, these earbuds have more than that.
To keep out all the background noises, you must enable the active noise cancellation (ANC) feature. This technology ensures that no noises get in your ears from outside the headset.
The Elite 75t has this same active noise cancellation feature. However, using the function comes at the cost of slightly shorter battery life.
Also, in both headphones, you can hear your surroundings by engaging the hearthrough feature. This allows you to hear outside noises through the earbuds.
In the Jabra Elite 85t, you can select how much external noise you want to hear. On the other hand, the 75t chooses how much ambient sound that comes in automatically.
Comfort and fit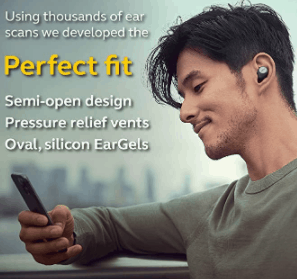 The Elite 85t earbuds sit in your ears securely without falling out. The eartips have an oblong shape, and not circular. This shape helps you to secure a better fit.
However, unlike the Elite 75t, there are no extra eartips. This means that it's possible for some users to experience poor fitting.
The Elite 75t ensures that every user has a snug fit by providing extra eartips. This pair of earbuds can sit in your ears for several hours without causing any inconvenience.
Also, you can wear both Jabra headphones while jogging and exercising without worrying about them falling off.
Battery life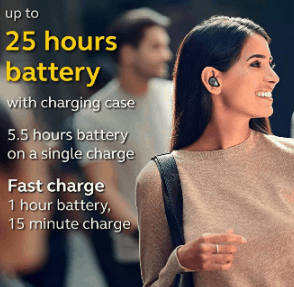 Elite 85t's batteries give you about 5.5 hours with active noise cancelation enabled. If you don't use active noise cancellation, you can get an additional two hours from them.
The charging case gives you a lot more backup power. With the case fully charged you can get up to 25 hours of battery life with ANC. If ANC is disabled, the charging case can give you up to 31 hours.
The Elite 75t's battery performance is similar – 5.5 to 7.5 hours from the earbuds depending on ANC use.
Also, its charging case gives you close to 28 hours without ANC and 24 hours when active noise cancellation is enabled.
The real difference here is how you charge the case. Jabra elite 85t has a wireless charging feature. You can charge your earbuds and the case without plugging them in.
Using this method, it will take one extra hour to reach a full charge. With a USB-C cable, the charging case batteries will be full in 2.5 hours. This is similar to the 75t's charging time. But with wireless charging, the Elite 85ts will take 3.5 hours.
Portability
Jabra Elite 85t has an IPX4 water resistance rating. This means that it is fully sweat-resistant and can survive a few accidental splashes. But that's where the waterproofing stops. If you take them swimming, they will surely become damaged in the process.
Since they are sweat-resistant, they are perfect for both gym and outdoor workouts. Even if you sweat a lot, you have nothing to worry about.
Jabra elite 75t is similar to the 85t in its water resistance, though it has a different rating. Its IP55 rating shows that it's not only water-resistant, it's also dustproof. This can come in handy when you're at the beach or just doing some outdoor activities in a dusty area.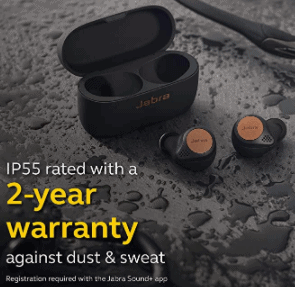 The Elite 85t is not dustproof, so if you use it where there's a lot of dirt, you may get sand in vital parts. Like Jabra Elite 85t, the 75t is suitable for running, cycling, and any other workout.
Microphone
Both microphones have crisp, clear call quality. Jabra used multi-microphone technology to suppress the surrounding noise when you're speaking.
This ensures that whoever is on the other end gets everything you say. However, there's a slight difference between the Elite 85t and Elite 75t microphone sound quality.
Jabra definitely made some improvements in the Elite85t. Although the mic doesn't capture anything below 500Hz, it maintains the voice timbre and doesn't make you sound weird.
Sound quality and performance
What we have in these two true wireless earbuds is the Jabra signature sound. Both Jabra Elite 85t and Elite 75t adopt the bass-first approach.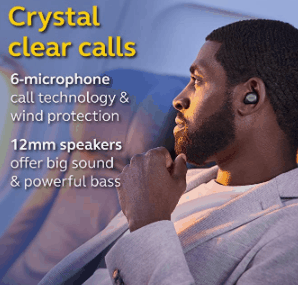 For some songs, the bass may feel like it's almost twice the mids and highs. Speaking of midrange and treble, some of the bass boosts spills over, and masks the higher frequencies a bit.
So, when listening to music, you may enjoy all the energy in hip-hop, EDM, and other bass-heavy genres.
But if you prefer music with lots of midrange detail like jazz and classical, you need to use the EQ in the Soundplus app.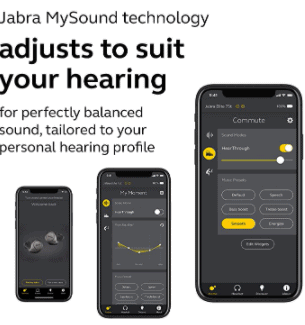 For movies, there will be a lot of rumbles and explosions. But if you want to hear the dialogue during the commotion, try using the EQ to reduce the bass response.
This sound production just shows you that these headphones are primarily for exercise. Most people prefer bass-heavy energetic sound for intense workout sessions.
Other features
Just like they did with the sound production, Jabra barely changed anything in terms of connection and other features. Both the Jabra Elite 85t and Jabra Elite 75t have a Bluetooth connection range of 10 meters or 33 feet.
Also, they both have the multipoint function. It enables you to connect the headphones to two different devices at the same time.
If you have your phone and laptop connected to the earbuds, you don't need to take them off your ears every time you have a call.
Also, you can give voice commands to your voice assistant through the headphones' microphone. Both Jabra earbuds are compatible with Siri, Alexa Google Assistant, and Cortana.
That's not all. Both Jabra Elite Bluetooth headsets only have AAC codecs. Other codecs like AptX, AptX HD, and SBC are absent. This is why iPhone users may have a better experience using the headphones than Android owners.
For a more expansive control, download the Jabra Soundplus app on your device. With the software, you can easily manage pairings, adjust EQ, and access other functions.
Similarities and differences of Jabra Elite 85t vs Jabra Elite 75t
Similarities
Both Jabra Bluetooth headphones have active noise canceling technology.
These true wireless earbuds sound almost the same – enhanced bass, recessed mids, and a slight lift in the treble.
Both Jabra Elite 85t and 75t give you a combined battery life of at least 30 hours.
They are both sweat-resistant, which makes them excellent workout buddies.
Differences
While both are sweat-resistant, only Jabra elite 75t is dust resistant.
Though both mics are good, the Elite 85t gives you slightly better call quality.
Jabra Elite 75t comes with multiple ear tip sizes for a better fit. The 85t only comes with one pair.
Pros and cons
Pros
The Bluetooth headphones are sweat-resistant – good for exercise.
They can connect to two devices at the same time.
The noise-canceling is manually adjustable.
Cons
The Jabra Elite 85t does not support the AptX codec.
It is not dust resistant.
Pros
It is dust-resistant and sweat-resistant.
It comes with multiple ear tip options for a better fit.
It can connect to two devices at once.
Cons
It has only AAC Codec, no AptX.
The touch controls are quite sensitive.
Also read: Best Bluetooth Headsets For Truckers With Noise-Canceling Mic
Conclusion
Obviously, both Jabra headsets are similar in many aspects, and Elite 85t seems like a slight upgrade on 75t.
However, the subtle differences are enough to sway your decision. Since Jabra Elite 75t is dust resistant, you should go for it if your lifestyle takes you to dusty environments.
On the other hand, if it's important that you have full control over how much noise you hear from your environment, only Jabra Elite 85t gives you such. The 75t's Hearthrough function is automatic. Elite 85t allows you to choose manually.