This year everything is getting more compact. Pianos too!! Now, we have piano keyboards you can toss in your backpack – they're Roll Up Piano Keyboards.
So, what are the best roll-up piano keyboards you can buy today?
In this article, I'll be reviewing 7 of the best roll up piano keyboards and showing you why they are the best options.
Top 7 roll-up piano keyboards reviewed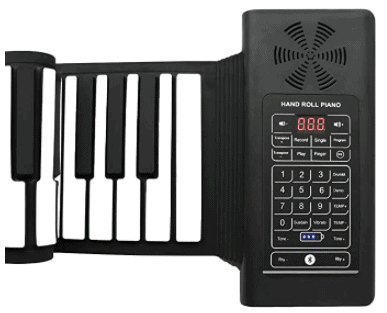 Specifications:
128 built-in tones
128 built-in rhythms
61 Keys
Powered by built-in lithium batteries
Record & Playback
Student/Teaching Mode
14 Demo Songs
Built-In Speaker with headphones or external speaker support
This roll-up keyboard has 88 keys, and it spreads the whole length. When you spread it out, it takes up almost the same space as a 7 ½ octave keyboard. It's made of soft silicone material, so you only need to touch the keys lightly for them to respond.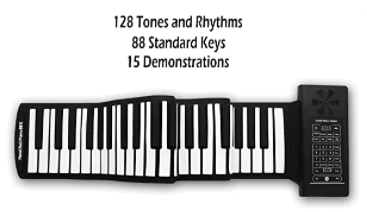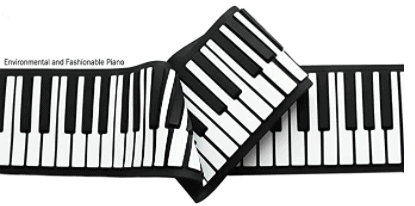 This roll-up synthesizer allows you to record and playback your performance, adjust the tempo, and volume, also, you can select from the various tones and rhythms with the Numpad controls.
If you need more sound options, you can connect the KikerTech keyboard to your computer via the midi output port. In addition to that, you can connect your phone or computer to the keyboard through Bluetooth. It helps you to play back your audio smoothly without cable clutter.
Also, this roll-up piano has a built-in speaker that you can listen through. You can play your backing tracks through Bluetooth while you play the piano. For a more flexible performance, you can hook your sustain pedal up to the keyboard. It gives a better live piano feel.
With its rechargeable battery, you can pack the piano into your backpack and you're ready to perform anywhere, anytime. Talk about convenience in a box.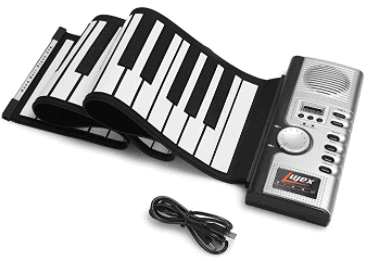 Specifications:
Keyboard model: 61key(standard piano key 5 octave +1 key)
Tone: 128
Rhythm: 100
Demonstration songs: 40
Keyboard: 88(l)x17.4(W) x 0.5(D)cm
This Lujex roll-up piano keyboard has 61 keys. That's 5 octaves. If you're not doing a full piano performance, this length is enough for a performance.
The controls are on one side of the keyboard. You can use the buttons to adjust the volume rhythm, tone, and playback.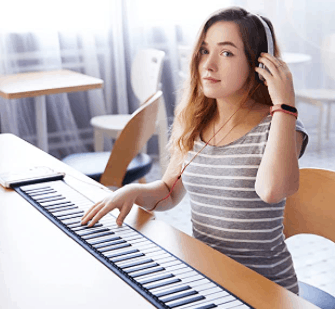 You need those rhythm and tone controls because the Lujex gives you 128 different tones and 100 rhythms. You can send MIDI to another synthesizer or your computer if you need access to more tones. Also, you can connect via USB or 3.5mm ports.
The built-in speaker is pretty decent for a roll-up piano. But if you want better output, you can connect to bookshelf speakers or headphones through the 3.5mm port.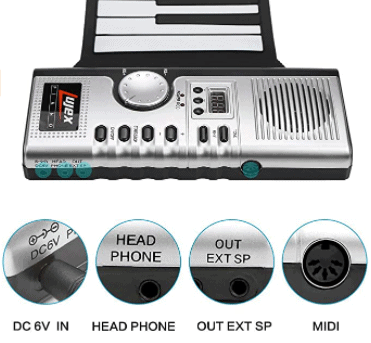 Furthermore, you have options for powering the keyboard. Either connect it to power directly or insert AA 1.5V batteries. You'll need four of those.
Just like in the Kikertech roll-up keyboard, recording, and playback is supported here.
This keyboard is more suited to beginner piano players who don't know their chords yet. The piano only supports playing a maximum of 3 notes at once. So, nothing but triads.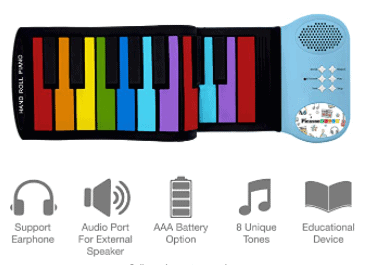 Specifications:
Tone: 8 Tones
Demo Songs: 6 Demo Songs
Volume: Knob Volume Control in Clockwise/Counterclockwise
Record and Play Function
Stop Function, Echo Sustain Function

Built-in Speaker: Support External Speaker and Earphone
Picasso tiles rollup piano keyboard has a colorful design. It's obviously made for kids, but if it tickles an adult's fancy, why not?
This one is smaller than the Lujex and Kikertech pianos because it has 49 keys. That's 4 octaves. Several MIDI keyboards are around this size.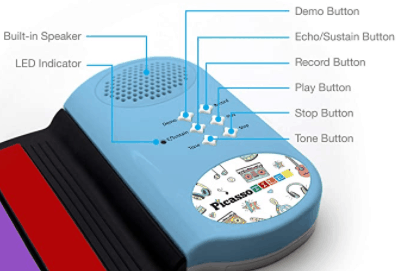 You can power Picasso Tiles with either AAA batteries or via USB. there's no built-in rechargeable battery, so you should always have extra in case they run out of power.
The piano comes with a speaker, but you can connect external speakers or headphones through the 3.5mm port for louder playback.
Even though it's mainly designed for kids, the Picasso Tiles roll-up piano gives you some controls, including tone, sustain, record, and play buttons. Also, note that it's only for kids aged 3 and above.
Also, unlike Lujex and Kikertech, there's no MP3 playback function on this keyboard.
Even though it may be a little lacking in some features, kids who are just starting to learn the piano would love this. It can also be a great gift option to give a kid.
Specifications:
Connectivity Technology Bluetooth
Power Source Corded Electric, Battery Powered
Number of Keys 88
Size: Available in 88/61 Standard Keys
Length for 88 Keys: 54"x7"
Length for 61 Keys: 41"x7"
Net Weight: 3.3/2.3LB
Like the Kikertech piano, iLearnmusic is an 88-key roll-up piano with silicone keys. It has a sleeker and more stylish white design. However, unlike the Picasso Tiles, it's created to work for more mature keyboard players.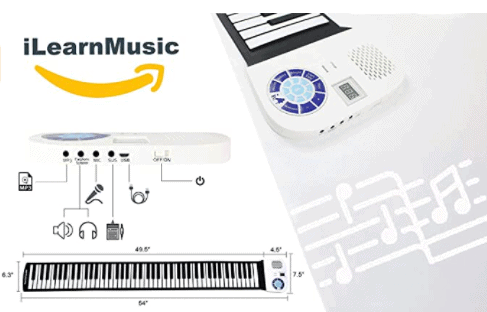 It has outputs for speakers, headphones, a mic, and MIDI USB. The USB is for connection to your computer if you need more sound layering. Speaking of sounds, the Ilearnmusic piano has 128 different tones.
This roll-up keyboard is not only mobile, it is convenient for on-the-go use. Its rechargeable battery ensures that you can pop it open and play even in the absence of a power outlet.
For more advanced players, you can connect your sustain pedal to give it a better piano feel.
There's a built-in speaker for sound, but you can still connect an external unit via the 3.5mm port.
That's not all.
The iLearnmusic roll-up piano keyboard can also function as an mp player. Once you have your device connected by Bluetooth or 3.5mm aux, you're good to go.
This enables you to play your favorite tunes with the song or backing track on.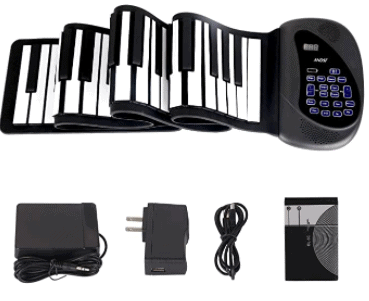 Specifications:
Built-in 128 kinds of tones, 100 kinds of rhythms.
Built-in 80 demos, for learning and listening to the classics.
Light and thin appearance design, concise and beautiful, with easy portability.

Built-in Lithium battery, rechargeable, no need for battery anymore.
The Portable Flexible Electronic is another 88-key roll-up piano that you can fold easily into your backpack.
However, to perform with this keyboard, you need a flat surface that will accommodate the whole length. If that's an issue, you may go for the more compact Lujex 61-key option.
This keyboard has control buttons that enable you to adjust the tone, rhythm, volume, tempo, and pitch. You can also connect your sustain pedal for the desired effect.
The Flexible Electronic roll-up piano has Bluetooth, which is for connecting to your device in case you wish to play mp3 audio through them.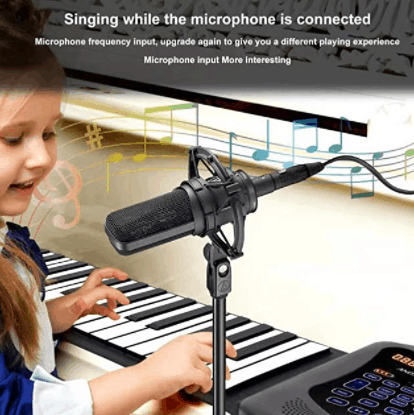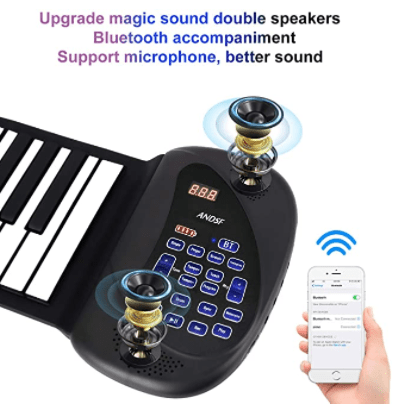 In addition, this piano is the loudest on this list because it has double speakers. However, if you still need more quality or volume in your playback, you can connect an external speaker via the 3.5mm aux port.
Aside from the speaker output, you can also connect a mic or get USB MIDI through the designated ports. Once you have enough flat space to play this piano, you can play virtually anywhere. The battery is rechargeable and lasts up to 15 hours.
If you're a keyboard learner, the playback and recording feature can be pretty cool. If you try out piano notes of any song, you can record and playback your performance to rate your effort accurately.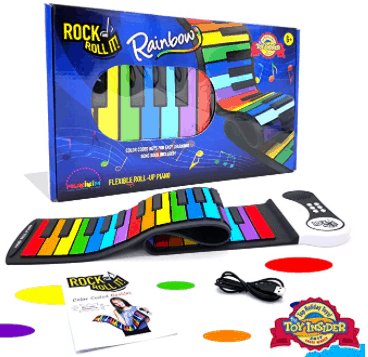 Specifications:
Hand roll piano
Rolls up to fit into your bag
49 Standard Keys
Color coded booklet included
Multiple tones & demos
Record & playback
Echo/sustain
The Mukikim Rock and Roll roll-up keyboard piano is another child-friendly option. With just 49 keys, it can easily fit in a compact space when spread out.
Like all the others here, it's made of silicone, and it has 8 tones and 6 demo songs.
The keys are also multicolored like the Picasso Tiles. It's sure to grab your kid's attention at first sight.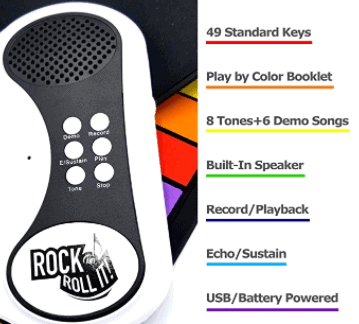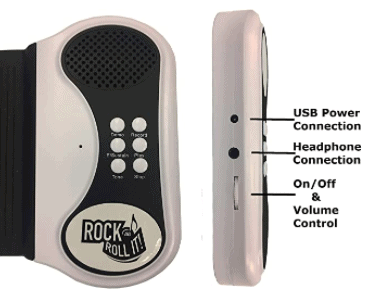 The only connection option is the one that goes into an external speaker. This will come in handy if your kid needs to perform in a house (or zoom) party.
This piano is also child-friendly in its power supply. You only need to slot in 4 AAA batteries. Since the batteries are properly secured, there's no danger of a child playing with them.
There's no Bluetooth or sustain pedal function – this is expected since it's a children-focused product. The few controls available are enough to keep their attention – especially the record and playback buttons. They can record short performances and hear them all over. It keeps them busy for several minutes, and helps develop hand-eye coordination.
If the Mukikim roll-up keyboard piano looks too much like a toy for you, you can go for other options with more "mature" designs, like the Kikertech and Lujex pianos.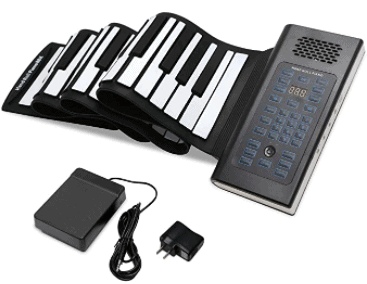 Specifications:
Material: Silicon + Plastic
Keyboard: 88 keys
Tone: 128
Rhythm: 128
Demonstration songs: 14
Power Supply: Built-in 1100mA Li-ion Battery or USB 5V Power
The Eosaga roll-up piano is another 7 ½ octave, 88-key piano. Like Kikertech and other 88-key options, it is easily transmitted when folded.
But you still need enough space to spread out the whole length before playing it. Looking at the things you can do with this piano, you can call it a fully-featured roll-up.
This roll-up piano has sustain, vibrato tempo, transpose, and programming controls. It also enables you to connect your device to it through Bluetooth for audio playback.

The double loudspeaker system means that you can perform in a medium-sized room without an external speaker.
However, if you still need more volume or better sound output, you can always hook your monitors or bookshelf speakers to it.
Aside from speaker outputs, the Eosaga roll-up piano also has a USB MIDI output. With this, you can connect to your computer for a larger selection of sounds.
Moving on, let's talk about the power supply. This keyboard has built-in rechargeable batteries. When fully charged, you can get up to 15 hours of use. So, you don't need to worry about plugging it in throughout your performance.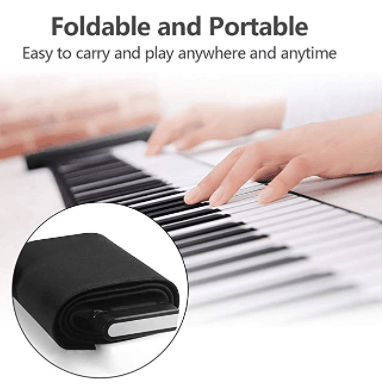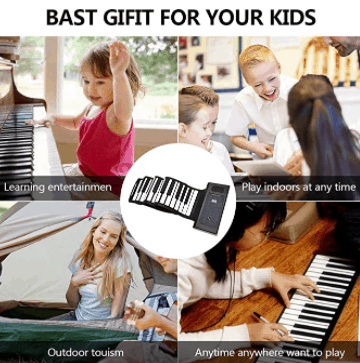 In addition, if you have an external mic, you can connect it to this piano and have a karaoke performance while playing your aching track through Bluetooth. It has everything you need to have fun with a roll-up piano keyboard, except one.
There's no transpose control. If transposing is essential for you, you may go for Kikertech. It also has 88 keys.
What to look for while buying a roll-up piano keyboard?
Number of keys
Even though roll-up keyboards are compact, you still need to lay them down when it's time to play. If you don't have so much space, consider pianos with 49 keys. If you have some space, you may go for 61 keys or 88 keys.
Power source
If you want a super mobile setup, you should go for a roll-up piano with a rechargeable battery. In essence, a power outlet shouldn't be an issue when you want to play.
Read Also: River Flows In You (Yiruma) – Easy Piano Notes With Letters
Conclusion
I have reviewed 7 roll-up piano keyboards in this article.
My top picks are the Lujex 61 keys, Portable Flexible Electronic 88-key, and Picasso Tiles. These three are unique in their own ways. The Lujex is not so compact, but it's not so long either. It also has great features that make it fun to use.
The Portable Flexible Electronic 88-key is a full-size piano with all the functions you can have in a roll-up. And lastly, Picasso Tiles is just perfect if you're getting a gift for your kid.