Affiliate disclosure: In full transparency – some of the links on this website are affiliate links, if you use them to make a purchase we will earn a commission at no additional cost for you (none whatsoever!). Will this be a problem? This is how we manage to create free content for you. Please know that your trust is so important for us. If we recommend anything, it is always because we believe it is worth exploring. And, buy me a coffee ☕️
In this post le us discuss the Neumann TLM 103 vs U87, two legendary Neumann microphones.
If you are a voice-over artist looking for good voice over mics, then you should be in a dilemma to choose between 103 and U87.
But don't worry. We will help you in finding the best bet among these two mics.
[amazon box="B00AAO3FQ2,B0016ZSIP2″ grid="2″ button_text="Buy from Amazon"]
Neumann U87 has created a niche for itself over the years. It looks, feels and sounds like a classic. Virtually every other mic on the planet has been compared to the U87.
It does amazing capturing of vocals and instruments alike. From the same company is the TLM 103 another industry sweetheart. Smaller in size, but awesome in performance.
These two mics are high-end gear that the greatest artists and producers have endorsed over the years.
Features

Switches

No switches

10db pad switch
low-frequency roll-off switch

Colors available

Nickel and black

Nickel and black

Polar patterns

Cardioid

Omnidirectional, figure-8 and cardioid

Frequency response

20Hz-20kHz.
20Hz-20kHz

Maximum SPL

138dB
117 dB
Amazon product page

Check price

Check price
Neumann TLM 103 vs U87: Here is the winner!
Build and design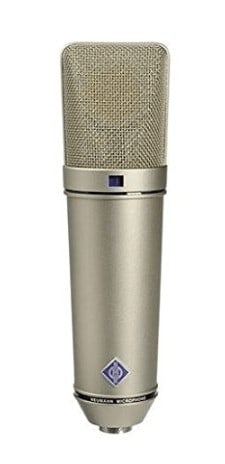 TLM 103 really looks and feels solid. It has an all-metal body with a metal mesh grille. The mesh grille does not feel quite as strong as the rest of the microphone; you sense that immediately you attempt to squeeze in a bit. TLM 103 and 102 have a similar shape.
The only uniqueness it has is that it's a bit smaller than most. U87 also has a metallic finish and solid feel, but the mesh grille feels stronger; it can actually take a little squeeze.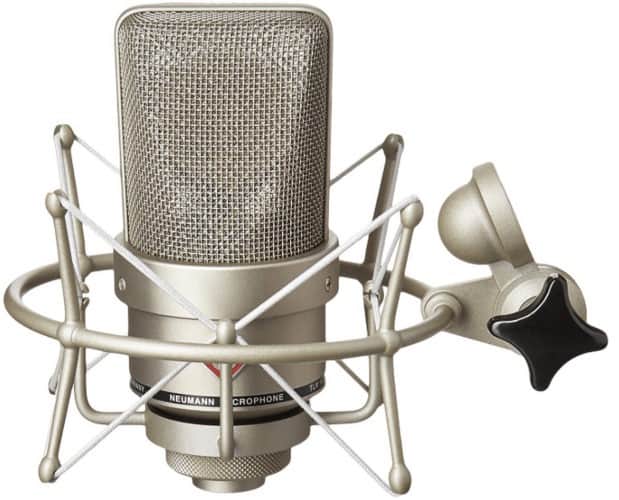 Both mics are available in two colors; nickel and black. Both colors bring out the beauty of these mics in their unique ways.
The U87 has a 10db pad switch that allows you to reduce the overall recording gain by flipping this switch. That's not all, you can also choose among different polar patterns to fit your recording plans, just by flipping a switch as well.
Lastly, the Neumann U87 has a low-frequency roll-off switch that you can engage in to reduce the rumble in your recording. On the other hand, TLM 103 has no single switch or knob on it, all you have to do is plug it in. If you need any changes made, you would have to use your DAW.
Sound quality
For the Neumann U87, there are two distinct forms of low-frequency response: with and without the bass roll-off.
Without the bass roll-off, both mics low-frequency sound identical, particularly when the U87 is in cardioid mode. In the omnidirectional mode, the U87 has a more natural low-frequency response, this is most likely due to the bass buildup due to proximity effect.
The mid frequencies in both mics are quite similar, diving flat responses for most of the range. However, both mics have a slight lift towards the end of the high midrange, around 5kHz upwards. This lift has more effect on the higher frequencies than the mids.

In the Neumann U87, the presence lift is very similar in all the available polar patterns. It begins around 5kHz and starts to dip just before 10kHz. The TLM 103's presence boost is maintained until around 16kHz.
This results in a brighter overall sound than the U87. Of course, this makes the TLM103 a bit less suitable for some uses, but for voiceovers, the presence boost is needed and makes the voice to cut through without much extra work.
Features
Opening the TLM 103's box you find a swivel mount together with the mic. For the U87, it's just the mic, unless you order for the studio set that includes a shock mount.
The major difference between both mics in terms of features is the available polar patterns. Neumann U87 gives you more freedom to choose among omnidirectional, figure-8 and cardioid polar patterns.
The omnidirectional pattern captures audio from all angles. Although this is pattern is not very common in voiceover use, you may have to record ten people speaking at the same time. The Omni pattern will make this sound so natural in a much easier way.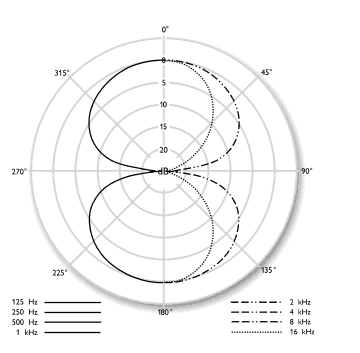 The figure-8 polar pattern works well when there's a dialogue and the subjects are facing each other.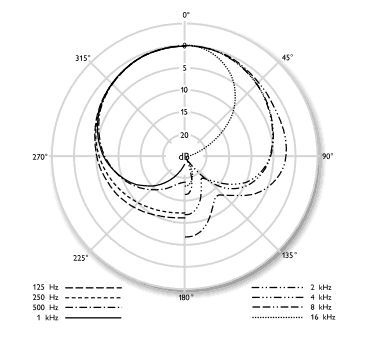 The cardioid pattern only allows the mic to capture what's right in front of it, so it works best with a single person per time.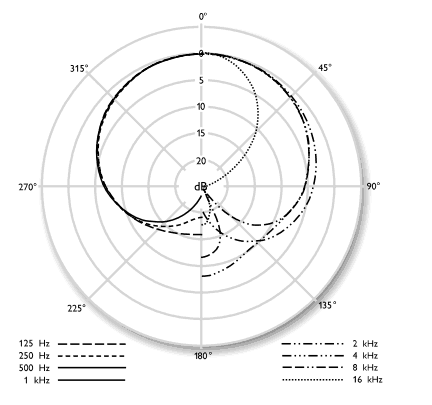 The TLM 103 only has a cardioid polar pattern, which limits the range of use in some ways. If you need to use it for these other purposes, you may need to be very creative with placement.
Additionally, U87 has an impedance of 200 ohms while TLM 103 has just 50 ohms. This means that TLM 103 would generally need less power to drive it than the Neumann U87. However, this difference is not significant since both are still classified as low impedance mics.
I would recommend that you use pop filters for any voiceover recording with any of them. On some occasions, you may need two pop filters.
Similarities and differences
Similarities
Both mics have a similar low-frequency response when in cardioid mode.
They both need 44-52V phantom power to work.
The frequency response of 20Hz to 20kHz.
Differences
The U87 is considerably larger than TLM103.
TLM103 has a higher maximum SPL, which makes it better equipped to deal with loud sources.
TLM103 only has one polar pattern (cardioid) but with the U87 you have up to three to choose from.
Pros and cons
Neumann TLM 103
Pros
Compact size
It does well with loud sources without distorting.
Presence boost good for voice-overs
Cons
No switches; you have to work with the mic as it is.
If the voice-over artist moves very close to the mic, there may be bass buildup.
Neumann U87
Pros
Bass roll-off switch prevents bass boost while in cardioid mode.
A versatile mic that fits different uses.
Highly sensitive; picks up transients and low sounds.
Cons
Price is on the high side
May pick up unwanted sound because of its high sensitivity.
Recommended read:
Verdict
For voice-overs, Neumann U87 seems to tick all the boxes. This is mainly due to the different polar patterns that are available on it.
That being said, we must not also forget that it's one of the most expensive mics that you'll find today. So, if you don't have a huge financial backing, it may be off-limits. TLM 103, on the other hand, ticks most boxes for voice over recording too.
The only drawback that you may have is that you have to record just one artist at once to get the best. We shouldn't forget that it has a higher maximum SPL too. With careful placement, you can have a wonderful recording experience with it.
The practical gap between the two mics is much less than the price gap. If we're comparing the cardioid U87 with the TLM 103, there's not much difference in quality. The multiple polar patterns give Neumann U87 the upper hand.
Hi, I'm Jennifer I'm a passionate singer and an audiophile from Detroit, MI. 
I'm on a mission to help music creators to create fine music that help them position uniquely in the saturated music space.
Follow my blog for regular content :-)