Who makes better earbuds – Jabra or Sony?
Of course, that's a hard nut to crack. So, we could look at just one product from each manufacturer.
The Jabra Elite 85t is a pair of truly wireless earbuds that boast of long battery life and being your best companion for exercise. On the other hand, the Sony WF-1000XM3 boasts a robust sound quality and excellent noise cancellation.
In this article, we will compare Jabra Elite 85t vs Sony WF-1000XM3 Bluetooth earbuds, and see which comes out on top.
I will also answer some of your burning questions like:
Which earbuds are better for working out – the Sony WF 1000XM3 or Jabra Elite 85t?
Which headphones give you longer battery life – Jabra Elite 85t or Sony WF 1000XM3?
Let's dive in.
Jabra Elite 85t vs Sony WF-1000XM3
Noise cancellation
The Jabra Elite 85t has a fitting design that keeps out some low-frequency background noise. However, because the space allowed to reduce pressure, it allows a little more ambient noise than you may like. Not to worry, its ANC technology has you covered.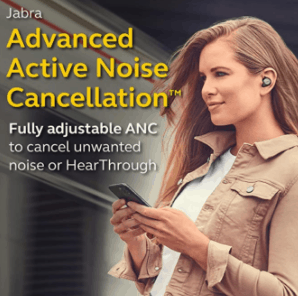 Jabra Elite 85t's active noise cancellation keeps out all background noises including traffic noise, office chatter, and even plane engine noise.
If you need to hear your surroundings for any reason, you can easily adjust the noise cancellation to your taste.
If you're cycling or running outdoors, you need some awareness of your environment for safety. If you don't enable active noise cancellation, Sony WF1000xm3 has a better passive noise isolation than the Elite 85t. But with ANC enabled, the Sony earbuds have a similar quality of nose reduction as the Jabra Elite.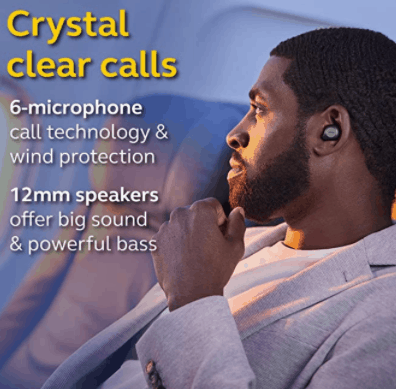 The WF 1000xm3 earbuds also allow you to hear your environment when you want to. You can achieve this by switching to ambient mode.
You can also allow the earbuds to automatically regulate the noise-canceling based on your environment at that time.
The difference between this and the Jabra Elite 85t is that you do not have total control over how much ANC the earbuds give you.
You can only choose the automatically generated option. The Jabra earbuds allow you to select how much of the ANC technology you want.
Comfort and fit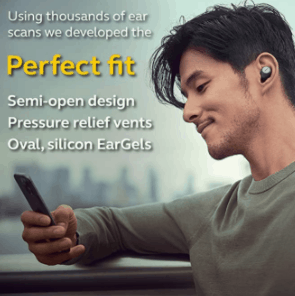 Sony WF 1000xm3 has a 3-point fit that ensures that the earbuds stay in your ears throughout your day's activities. It's on the bulkier side when you compare it to other earbuds, but it still stays in your ears without issues.
Also, the Sony Bluetooth headphones come with extra eartips so that everyone can have a snug fit.
The Jabra Elite 85t also has a snug fit with space to prevent pressure from building in your ear canal. Sadly, both earbuds do not come with any extra eartips. This could be a bummer for people who usually need smaller or larger eartips.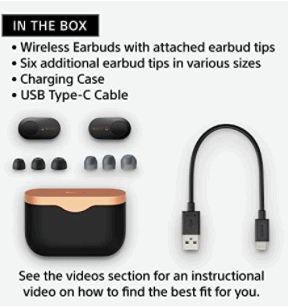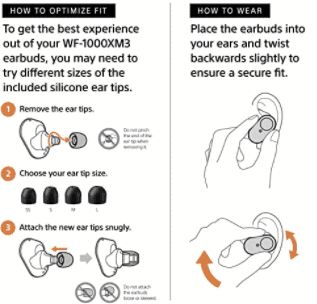 Personally, I prefer earbuds with different ear tip sizes, because most eartips turn out to be too large for my ears. They keep falling off unless I force the tip into my ear canal. Jabra Elite 75t and Bose QuietComfort earbuds are also good choices if you need those extra eartips.
Battery life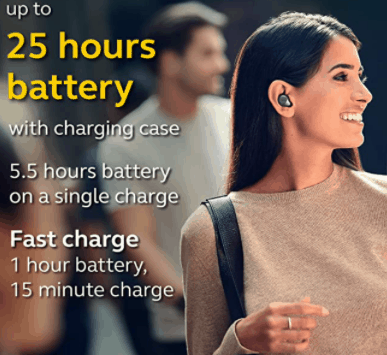 The Sony WF 1000xm3 earbuds can serve you for a whole day's activities. You can get a whole 24 hours out of these earbuds batteries.
That's not all. It takes between 3 and 4 hours to charge the buds and case batteries full. However, these earbuds don't have a wireless charging feature.
If you need wireless charging, go for Jabra Elite 85ts. In addition to the wireless charging feature, you can get a total of 30 hours of battery from the buds and charging case.
The only little drawback here is that it takes 6 hours to get the case batteries to full charge. Not to worry, you can simply plug them in while turning in for the night.
Portability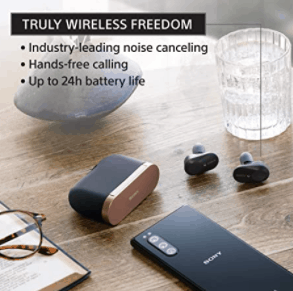 The Jabra Elite 85t has excellent sweat resistance. Its ipx4 rating means that you can use the earbuds while cycling, running, or working out.
However, you shouldn't take them swimming. While they will survive the accidental splash, a full-on dipping may be fatal (to the earbuds).
On the other hand, the Sony earbuds lack any form of water resistance. They are also not resistant to sweat. Hence, you use them on a hot day and get some sweat on them, wipe them off immediately. Also, the lack of sweat resistance means that you can't take them for running or cycling.
It's a real bummer because they fit so well and they won't fall even during intense workouts.
Microphone
For many Bluetooth earbuds, poor microphones or phone call quality is usually the main problem. Not with the Sony WF 1000xm3.
These Sony earbuds give you clear speech while suppressing the noise in your environment. The mic audio quality is optimized to deliver a clear speech, and it does the job pretty well.
Likewise, Jabra Elite 85t also got the microphone technology right. Aside from providing crisp and clear call quality, it reduces the background noise to make your voice more audible on the other side.
Your callers will be unaware even if you made the call in a noisy environment.
Sound quality and performance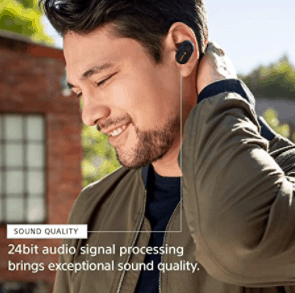 Jabra Elite 85t has a consumer-focused sound production. The bass response is almost two times the midrange and high frequencies.
This is why bassheads, hip-hop, and EDM fans love it. If you find the bass too much, you can reduce it in the EQ via the Jabra Soundplus app.
The mids and highs are a little overshadowed by the bass boost, but you can still feel the sizzle of your electronic songs.
While many modern music lovers will love this response, classical and jazz enthusiasts may not. Also, audiophiles who prefer a more neutral response may frown at it.
The bottom line is, if you love the bassy sound, then Jabra Elite 85t is for you.
Sony WF 1000 XM3 also has enhanced bass, but not as much as the Jabra earbuds. In the Sony headphones, both bass and midrange get a slight lift, so as you enjoy the bass punch, you don't lose any detail in the mid and treble.
So, Rock, classical, and Jazz music lovers can satisfy their sound production needs here. For audiophiles, it's not a flat frequency response, but it's more balanced than the Jabra earbuds.
Other features
Sony WF 1000xm3 has the NFC feature. If your phone is NFC enabled, you can pair it to the earbuds by simply tapping the device on the buds. Also, with the Sony earbuds, you can only connect one device at a time.
On the other hand, Jabra Elite 85t does not have NFC, so you have to connect using the traditional pairing. However, it allows you to connect two devices at once.
You can connect your laptop and phone so that you can easily receive calls while working without taking the earbuds off or losing connection.
Despite one using Bluetooth 5.0 and the other using Bluetooth 5.1, the range in both headphones is similar – 10 meters or 33 feet in range. Also, they both support voice assistants from your devices including Siri, Alexa, and Google Assistant.
To access additional features install the Soundplus app for the Jabra earbuds and Sony headphone connect app for the WF 1000XM3 earbuds.
Similarities and differences of Jabra Elite 85t vs Sony WF-1000XM3
Similarities
Both true wireless earbuds have a bass-enhanced sound production.
The Jabra Elite 85t and Sony WF 1000Xm3 give you a Bluetooth range of up to 10 meters (33 feet)
Both headphones give you the option to hear your surroundings while ANC is enabled.
Differences
While Jabra Elite 85t is sweat and water-resistant, the Sony WF 1000XM3 has no sweat resistance.
On these two earbuds, only Sony WF 1000XM3 has Bluetooth NFC.
Jabra Elite allows you to connect two devices to your earbuds at once, while the Sony headphones can only support one device at a time.
Pros and cons
Pros
The wireless charging feature makes it possible to charge anywhere and anytime.
Since the earbuds are sweat-resistant, you can take them running, cycling and to the gym for workouts.
With Jabra Elite 85t earphones, you have the advantage of connecting two devices at once.
Cons
It lacks the Bluetooth NFC feature.
It takes 6 hours to charge the case fully.
Sony WF 1000 XM3
Pros
Its NFC feature gives you a super-fast pairing process.
It comes with extra eartips to ensure that you have the best fit.
Its frequency response makes it sound good for multiple genres of music.
Cons
The Sony earbuds can only connect to one device at a time.
It is not sweat-resistant, so it can get damaged during workouts or other physically demanding activities.
Conclusion
Both the Sony WF 1000XM3 and Jabra Elite 85t have their strengths and weaknesses. It all boils down to what works for you. Personally, I prefer the midrange detail in the Sony earbuds – I enjoy my music better that way. Also, I don't go running outdoors, so I won't miss sweat resistance.
If working out with your headphones is important to you, then go for the Jabra Elite 85t.