What are the best budget soundbars under 150 you'll find today?
This is perhaps the question in your mind if you need better sound at a pocket-friendly price.
Soundbar With Excellent Bass
Rockville ROCKBAR 40" 400W Soundbar W/Wireless Subwoofer/Bluetooth/HDMI/Optical, Black
Excellent Compatibility
JBL Boost TV Compact Bluetooth Soundbar (Black)
Value For Money
Klipsch RSB-3 All-in-one Bluetooth Soundbar , Black
Last update on 2023-09-21 / Affiliate links / Images from Amazon Product Advertising API
A soundbar takes your TV sound to the next level. Very few TVs can give you the sound quality you need to enjoy your best movies.
This article shows you the cheap and best soundbars you can get while spending less than $150.
Here are the top soundbars under $150


Specifications:
One connection to your TV. Optical audio input (digital)
Coaxial audio input (digital), 3.5 mm aux input (analog)
Bluetooth connectivity to wirelessly stream music from any of your devices
Item dimensions: 3.4 x 21.5 x 2.8 inches
Design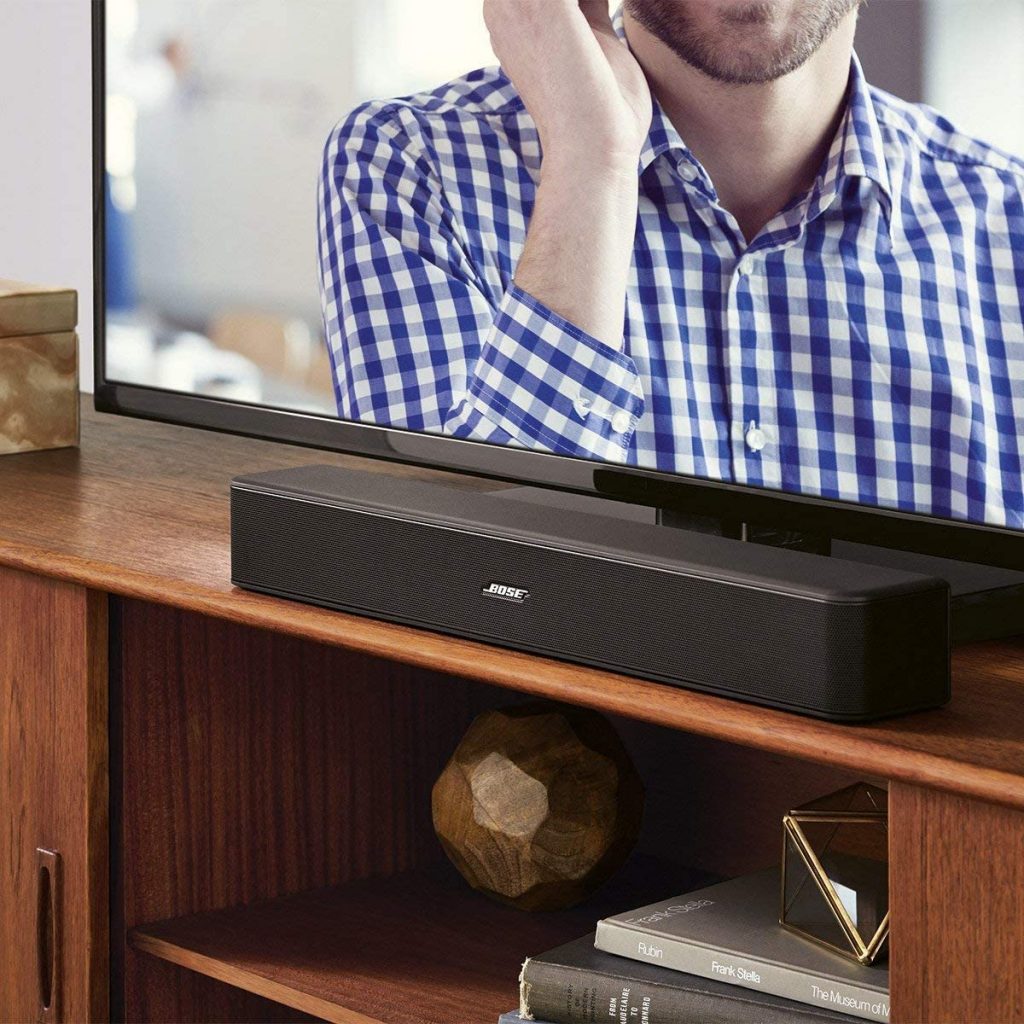 The Bose Solo 5 soundbar is made of plastic, with a metal grille on the front and sides. It has a solid frame that will surely last a long time. The bar has its built-in subwoofer at the rear.
Interestingly, this soundbar has no control buttons or knobs. You will control the settings and selections with the remote. You can either place the unit on a flat surface or mount it on a wall.
The remote may feel a little bulky, but there's a reason for that. You can use the soundbar's remote for your TV too.
The wired connection options include optical, coaxial, and 3.5mm connections. On the wireless side, Bluetooth streaming is available for your devices.
Setup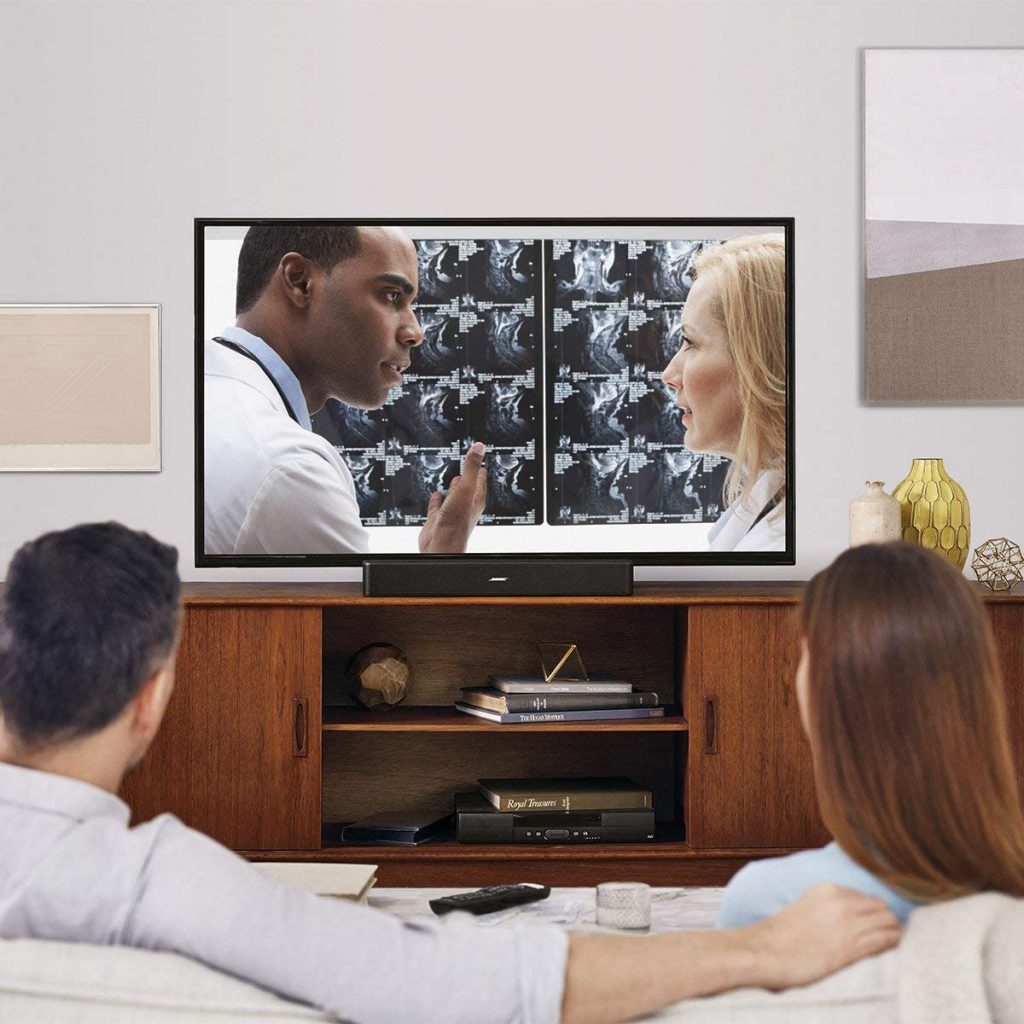 To have the best experience with the Solo 5, it's best to use it with smaller TVs, about 32 to 40 inches. For larger TVs, the sound may not match the size.
Sound quality and performance

Dialogue is clear on this soundbar when watching movies. However, even when we use the bass boost, explosions and other intense action moments don't have the full effect.
The added subwoofer does a pretty nice job, but it's not as deep as we'd want.
The Bose Solo 5 is a stereo setup, so the full sound is mixed down into two channels. So, the movie sound is not so immersive. Rather, it sounds like it's coming from the front.

Specification:
95 dB of room-filling, crystal clear sound with less than 1% total harmonic distortion
Sound Bar Frequency: 70 Hz – 19 kHz
Power requirements: 120VAC 60hz
Premium audio with DTS Studio SoundTM
Batteries: 2 AA batteries required
Design


This Vizio soundbar looks good in its black and silver color combo. It's a look that works for most rooms. It's also a compact soundbar that doesn't take so much space.
The controls on the soundbar are basic; just the input selector, power switch, and volume adjustment.
The soundbar is supplied with wall brackets should you decide to hang it up on the wall. If you choose to simply place it beneath your TV, it's all good too.
This Vizio soundbar does not have an HDMI port, but you can connect to your TV via optical cable, 3.5mm audio cable, or Bluetooth.
Setup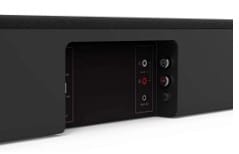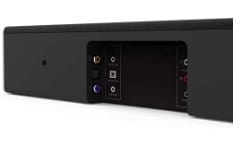 The C6 comes with two full-range drivers. No dedicated subwoofer or tweeter drivers.
To set it up with your TV, simply connect via the corresponding ports.
Since there's no HDMI, you can use wither the digital optical port or the 3.5mm input. If you have a TV that can pair via Bluetooth, you can use that too.
Sound quality and performance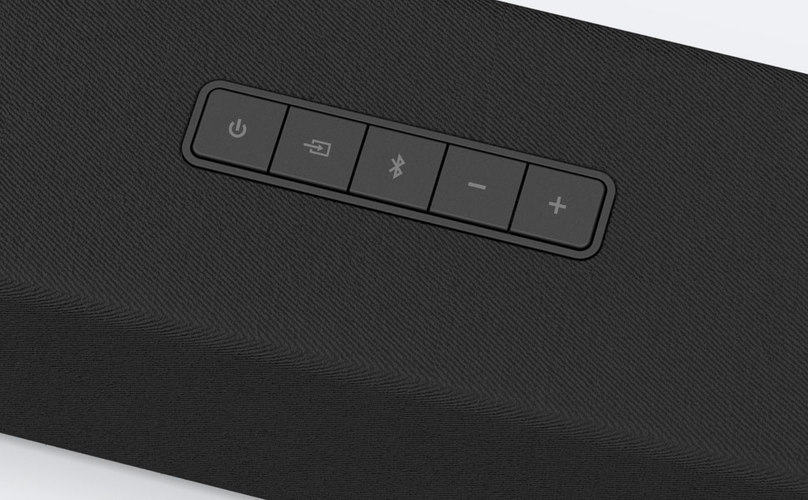 The DTS Tru Surround technolog7 attempts to provide a virtual surround sound experience. The result is somewhere in-between.
It's wider than the regular stereo sound but not as immersive as real surround sound.
With movies, the dialogue is pretty clear, even the quieter parts. The only laking area is the bass, which is where explosions and other boom sounds are made. The bass does not do enough justice to these explosive effects.


Specifications:
Frequency response 55hz to 20khz
2 Number of Sound Modes
40 W Total Power
2-Channel TV Mate Soundbar
Product dimensions: 28.1 x 6.9 x 6.7 inches
Design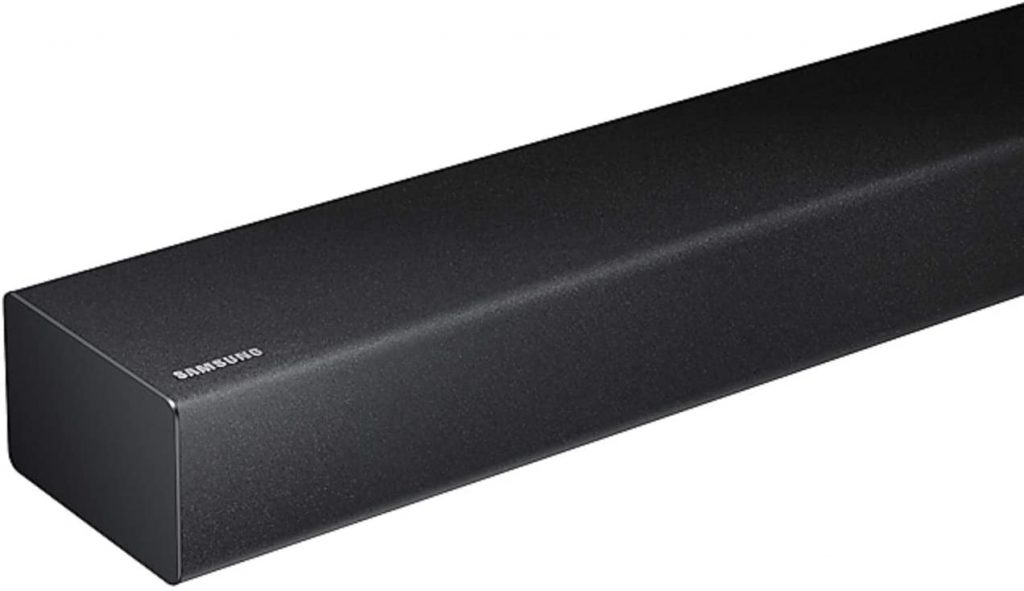 This Samsung soundbar is plastic for the most part, with a rectangular structure. This soundbar is not wall-mountable, but it's compact enough to be placed in front of your TV without blocking the images.
If you use a Samsung smart TV that has Bluetooth connection, you can connect the TV mate soundbar via Bluetooth.
This reduces cable clutter, making your room look better. Although the soundbar comes with a remote, you can control it with your smartphone.
Simply download the Samsung Audio remote append connect your phone to the soundbar via Bluetooth. Additionally, you can stream music from the same device using the Bluetooth connection.
Setup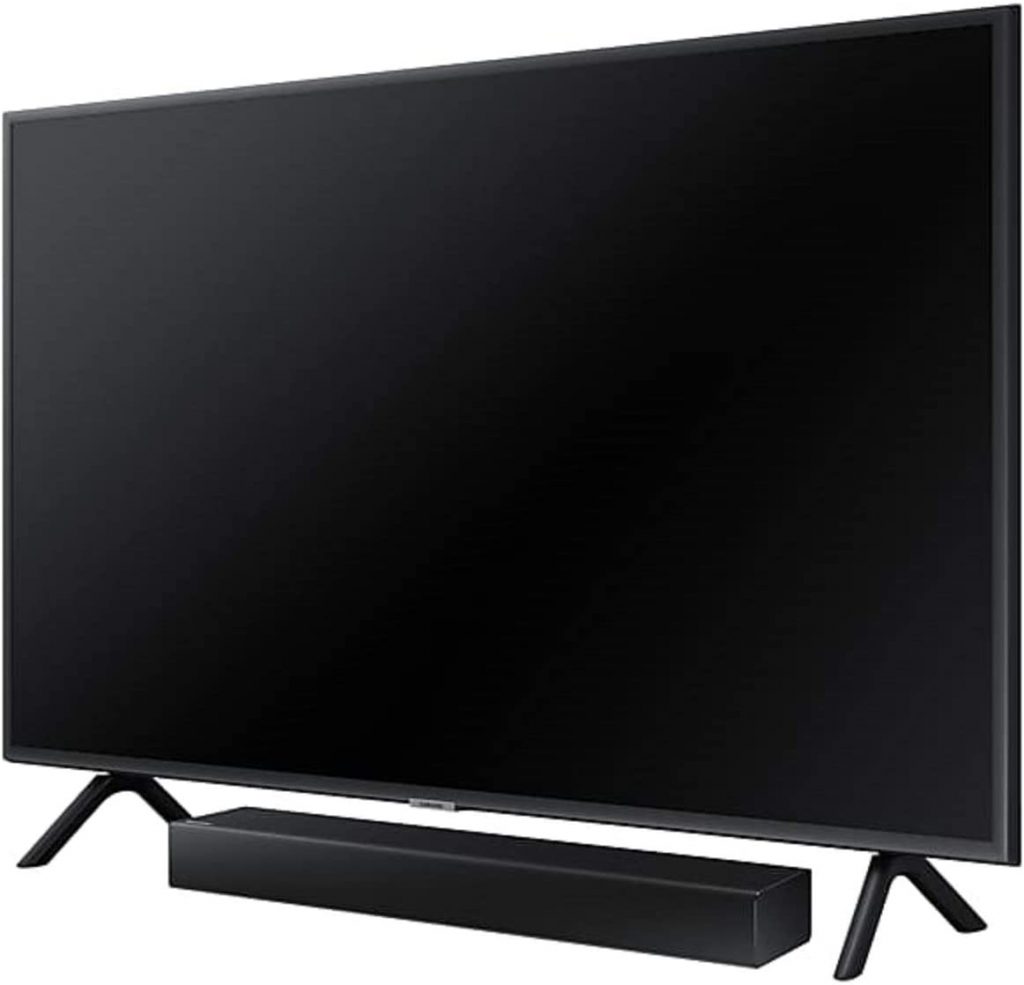 You should know that this soundbar has no HDMI port.
So, if your TV does not have Bluetooth, you'll have to use either the optical port or 3.5mm audio port.
The soundbar has four speakers; two tweeters and two woofers.
Sound quality and performance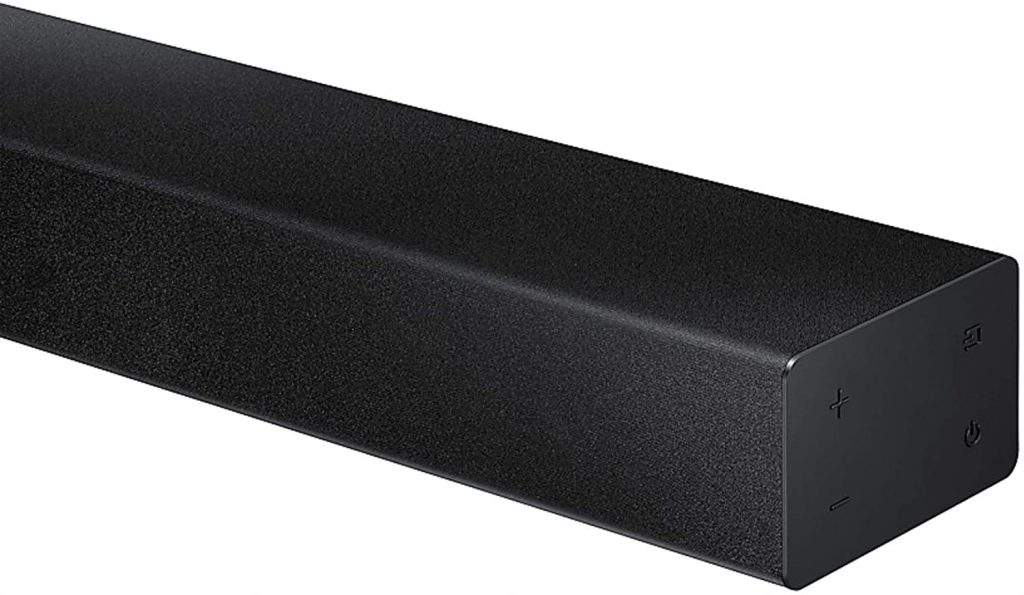 The HW-N300 has two built-in woofers, and they do a good job of making movie explosions come to life.
The lowest they can ogo is 55Hz, so you may not have a lot of sub-bass sounds.
The virtual surround technology works pretty well too. Although it's not quite as immersive as the real thing, it brings you into the action better than an ordinary stereo sound.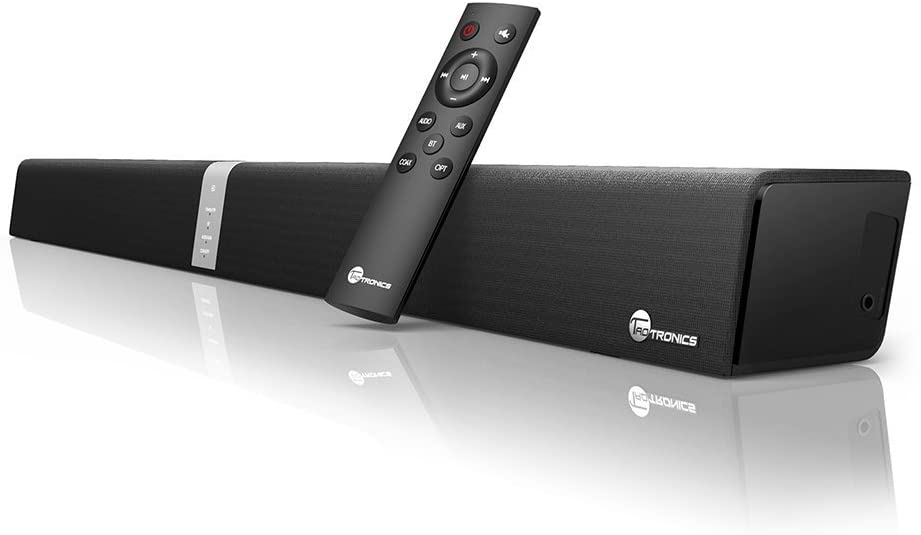 Specification:
Power Source: 100-240 V
Power Output (RMS): 40 W
Frequency Response: 20Hz-20kHz
Configuration: Stereo Channel
Memory Card Slot
Impedance: 32
Design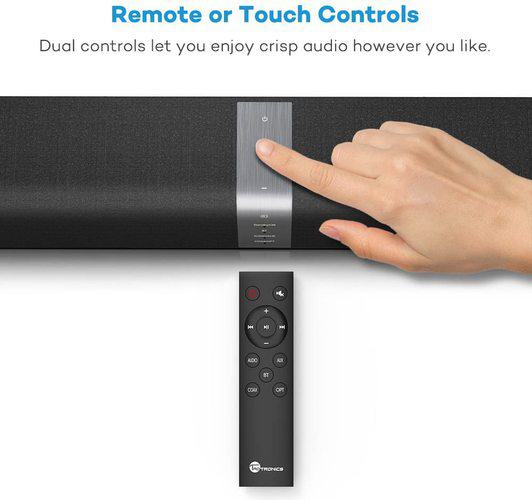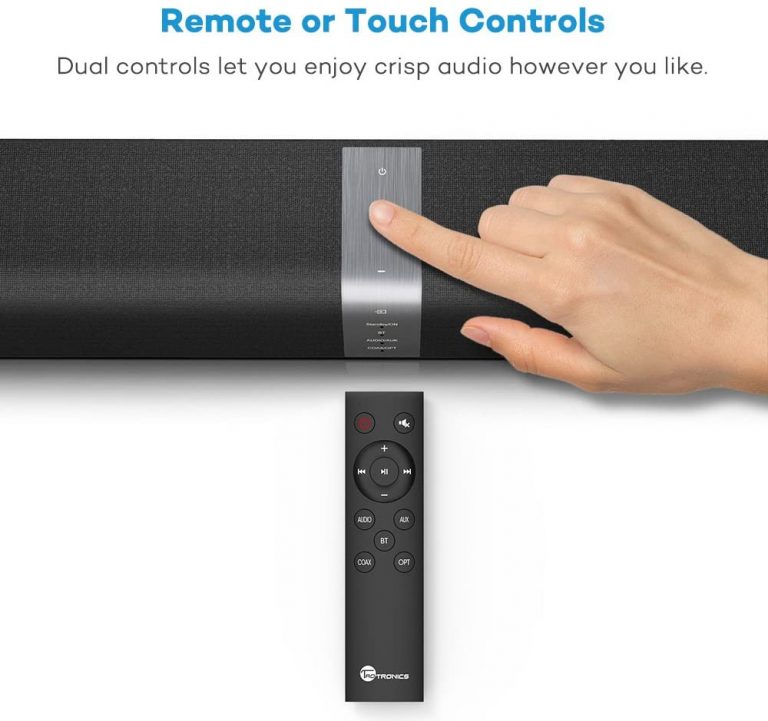 Like most soundbars at this price point, this one is made of plastic. The benefit is in its lightness. Even though it's 40-inches long, the Taotronics soundbar is quite light for its size. It's perfect for TVs 40 inches and above.
Taotronics has added wall mounts to help you fix the soundbar to your wall.

However, when you do, it sticks out a bit to accommodate the power cord behind. Of course, this may be an issue if you wish to place it in front of your TV too.
You can stream music from your device via Bluetooth. This is the only wireless option provided.
The wired options include RCA, Toslink optical, and coax. The manufacturers did not include HDMI in the options.
The remote is flat and controls basic features like volume, inputs, and playback navigation.
Setup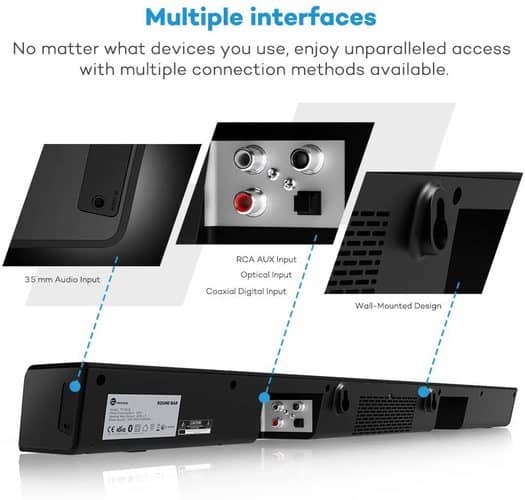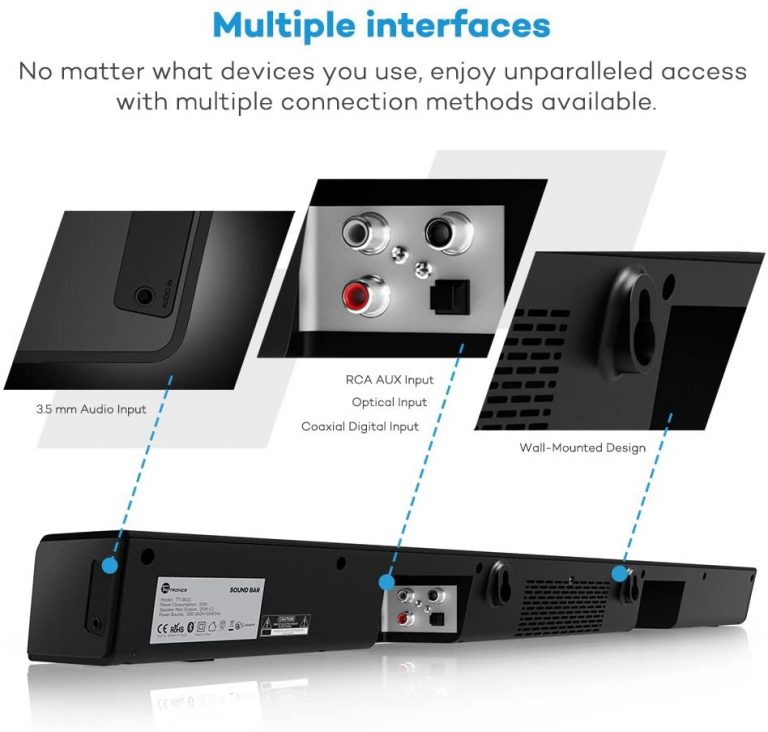 The soundbar has four drivers in all. Each one is a full range speaker. Simply plug in your TV or connect any other device with the corresponding inputs and outputs. Remember that there's no HDMI.
Sound quality and performance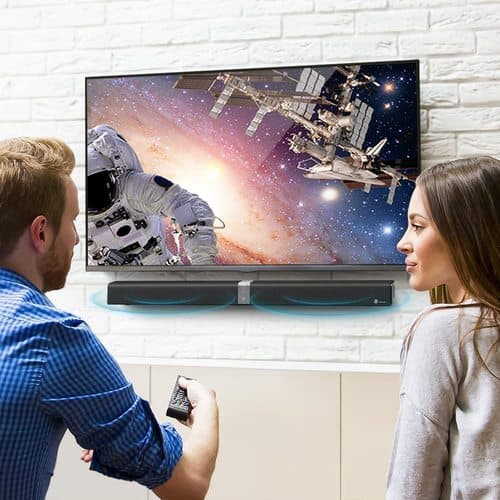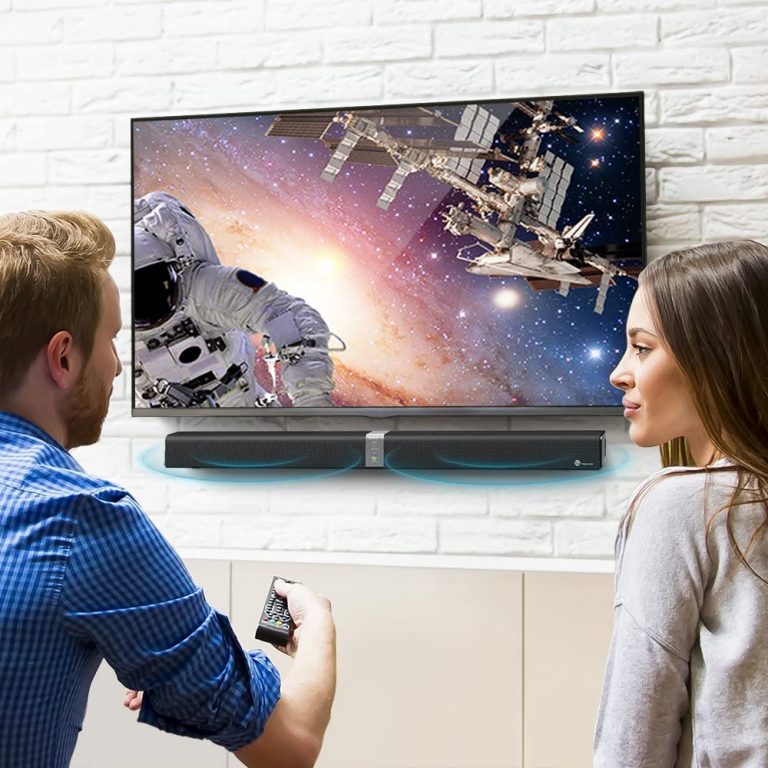 When watching movies, the best part is the dialogue. Conversations are crisp and you can even hear lower voices audibly.
The rumbles and explosions are a different story entirely. The soundbar fails to produce bass that's deep enough. Also, when you turn up the volume a lot, you begin to hear distortions.
This Taotronics soundbar does not give surround sound, it only does stereo.
It gives a wide soundstage with its stereo sound. So in a smaller room, you can have something close to an immersive sound.


Specifications:
2.1 Ch built-in subwoofer, with simple Bluetooth
Power output: 80W
Bluetooth version 4.2
Batteries: 2 AA batteries required
Power consumption: 25W
Product Dimensions: 38 x 19.1 x 9.5 inches
Design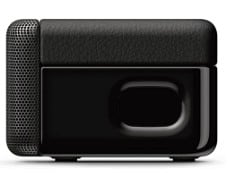 In terms of build and design, this Sony soundbar looks a lot like Bose Solo 5. You'll find a subwoofer speaker at the underside of the soundbar.
Be careful with it to prevent damage. This is because the subwoofer is exposed. You can mount the soundbar on your wall if it works for your room.
This soundbar can be limited in function because it lacks an analog audio input. If your Tv is not too old, you should have no worries though. There's an HDMI port that will serve your needs effectively.
Also, the sony soundbar has Bluetooth connection that you can use to stream music from your devices.
Setup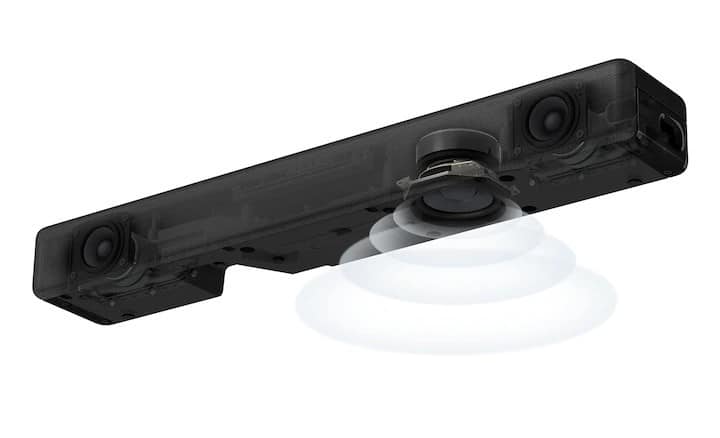 The whole soundbar has two speakers in it. One full-range speaker and one subwoofer at the rear. Though few, these speakers hold their own when compared to soundbars at this price point.
Depending on what input you choose, hook up your device to the TV. No technical procedures are needed.
Sound quality and performance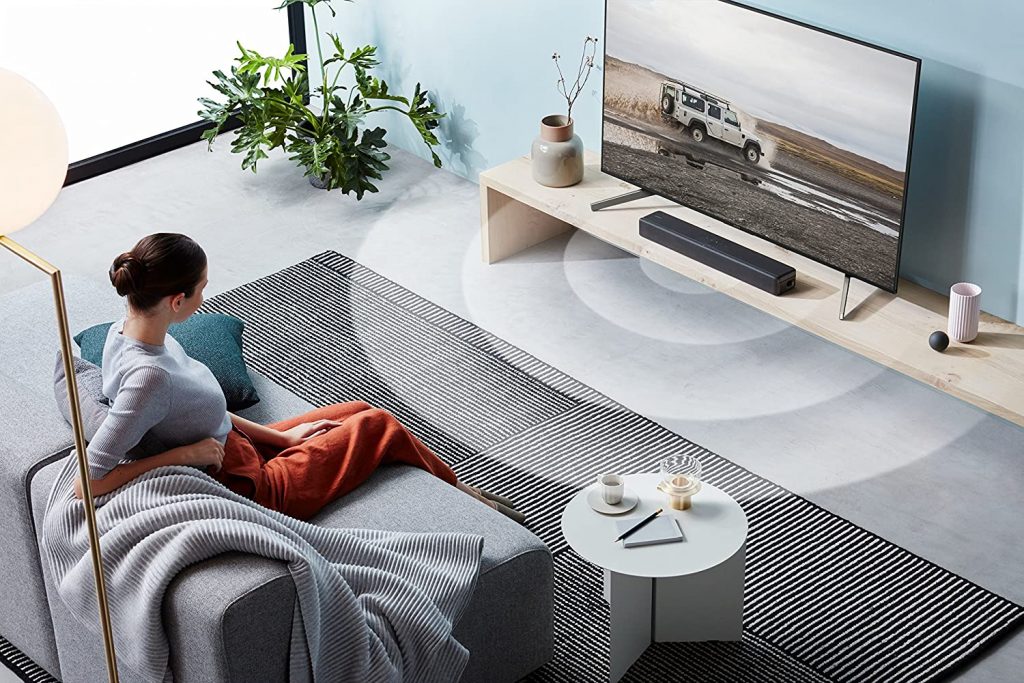 The virtual surround technology S-force Pro is evident in this soundbar. It enhances the stereo sound to provide a wider soundstage, but the sound is not as immersive as Dolby Atmos soundbars or real surround sound setups.
Even with the added subwoofer, booms and explosions still lack some low-frequency punch.
The subwoofer increases the level of the bass, but it doesn't make it deeper. Dialogues are crisp and clear, alongside other mid to high-frequency sounds in the movie.
Specifications:
110//20 Volt auto-switching power supply
S/N ratio: 72dB
USB input plays back music stored on a thumb drive (up to 32 GB)
Controls: volume, bass, treble, DSP mode.
Includes a wall bracket and mounting
Frequency response: 45hz-20khz
The subwoofer has a 6.5" driver
Dimensions: 6.7"" X 14.96"" X 12.05""
Design
Rockville Rockbar has a simple, unassuming design. It's a black, plastic unit with a grille in front.
The plastic material should not be an issue because your soundbar shouldn't drop too often since it's not a portable speaker.
The controls on this soundbar are pretty basic; just the volume and power buttons. Other advanced controls are on the remote.
The subwoofer pairs to the soundbar via a wireless connection. There's also a separate Bluetooth feature for streaming music from your devices.
Other inputs that you can use are USB, RCA, optical digital audio, digital USB, and HDMI.
Setup
Rockville Rockbar soundbar has five drivers in all; four 2.25" drivers and a single 6.5" subwoofer. This is a lot for its price range.
If your TV has HDMI, you can use the HDMI(arc) to connect. If you do, you will be able to use your TV remote to control the soundbar.
Sound quality and performance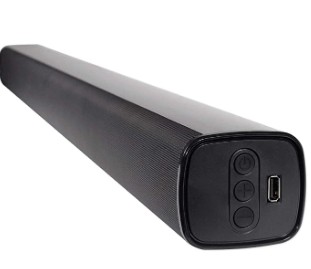 The soundbar has a good #D sound immersion. To enjoy this, you must enable the 3D DSP mode.
Because of the 6.5-inch external subwoofer, this soundbar has an extended bass response. This makes explosions, rumbles, and action-packed scenes sound captivating.

Specifications:
Frequency Response: 60Hz – 20kHz
Max SPL: 90dB
Total Maximum Power: 30W
Bluetooth Version 4.2
HDMI (ARC) connection
Works with your TV remote control
HDMI HDCP Version: 1.4
Design

JBL Bar Studio is about 32 feet long. It looks just in a place with 32-inch TVs. It is not wall-mountable, so you'll have to find a way to fit it beneath or in front of your TV. The controls are easily accessible at the top.
They are just the basic ones; volume, source selection, and power controls.

There is a wide range of devices that are compatible with the soundbar. This is because it has multiple input options. For TVs, you have the HDMI (ARC) and digital optical audio options.
The Bluetooth feature is also available for connecting your phone and other Bluetooth enabled devices.
Setup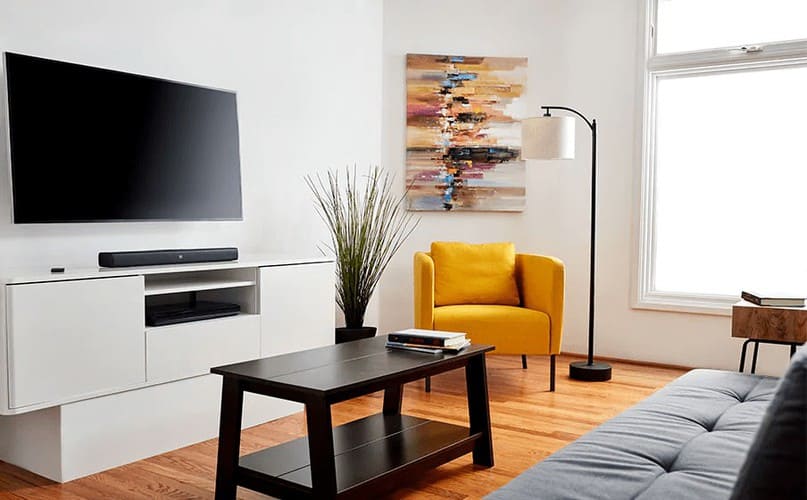 The JBL soundbar has two tweeters and one woofer. To enhance the bass production, there are two reflex ports.
Connect your TV via the HDMI (ARC) port to have a full experience. It allows you to control both the soundbar and TV with a single remote.
Sound quality and performance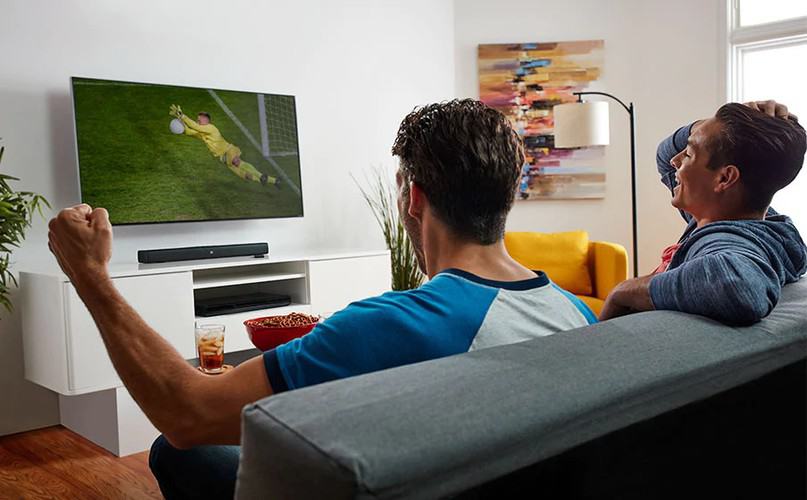 Movie dialogues are crisp and clear when played by this soundbar. However, the best part is the bass; it makes low-end rumbles and explosions in movies to have a more realistic effect.
When you turn up the volume, the dialogues may begin to get coarse, depending on the movie's original sound levels.
The JBL surround sound technology makes the soundbar give a "larger than life" effect. It sounds bigger than it looks. It's quite an immersive experience.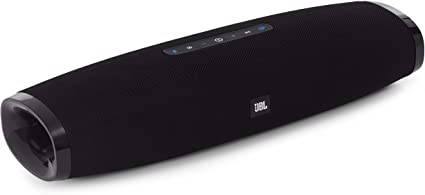 Specifications:
Maximum SPL: 92dB
Rated power: 30W
Transducer: 2 x 50mm
Optical Digital Audio with Dolby Digital
Frequency Response: 60Hz – 20kHz
Design

Here, the design is a little different than other soundbars on this list. It has a more rounded shape, similar to portable Bluetooth speakers. However, it's long enough to fill a room.
This speaker combines its soundbar duties with a Bluetooth speaker's features. It has an optical input, 3.5mm port, and Bluetooth for pairing. It can also connect with other JBL Bluetooth speakers.
This soundbar is not wall mountable. You can only place it on a flat surface.
Setup

Inside the soundbar, there are two full-range drivers. To enhance the bass production two bass ports have been added.
Sound quality and performance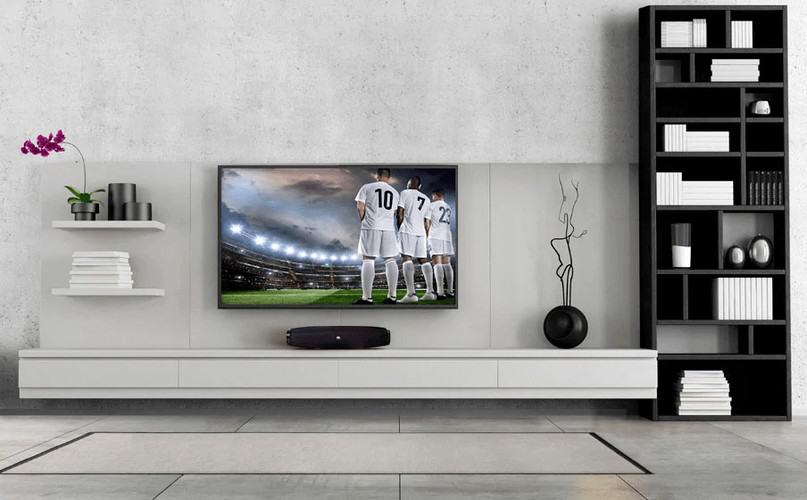 Deep thuds, stomps, and explosions are quite punchy, but no as deep as a dedicated external subwoofer would give.
The dialogue, on the other hand, is pristine. You won't need to crank up the volume to hear the conversations. The deep sounds have a more immersive effect than others.


Specifications:
Frequency Response: 55Hz – 18kHz +/- 3dB
Max output: 100 dB @ 1M
System power: 56W
High-frequency driver: 19mm
Crossover frequency: 2300 Hz
Voltage: 100V-240V 50/60Hz external power supply
Design


The RSB-3 soundbar has metal grilles in the front and top, while other parts of the frame are made of plastic.
To improve the sound, Klipsch added side ports for more air movement. Unlike most soundbars, the controls here are on the front panel.
Reaching them is a little tacky because they're so small. With the on-board controls, you can access Bluetooth pairing, volume adjustment, and others. The remote is quite small. Be careful with it so it doesn't get lost int he sofa.
The soundbar is also wall mountable. If you just want to lay it down, it has rubber feet to ensure that it stays grounded.
As for possible connections, you have the 3.5mm analog, HDMI, digital optical, and Bluetooth to choose from, depending on your device.
Setup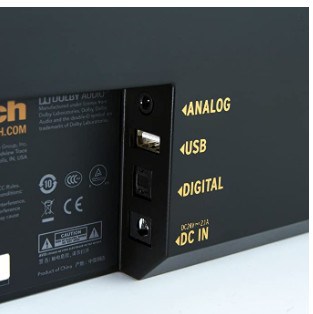 The RSB-3 has two 0.75-inch tweeters and two 2.5-inch woofers. To connect via Bluetooth, hold down the pairing button on the remote while you connect your device.
Sound quality and performance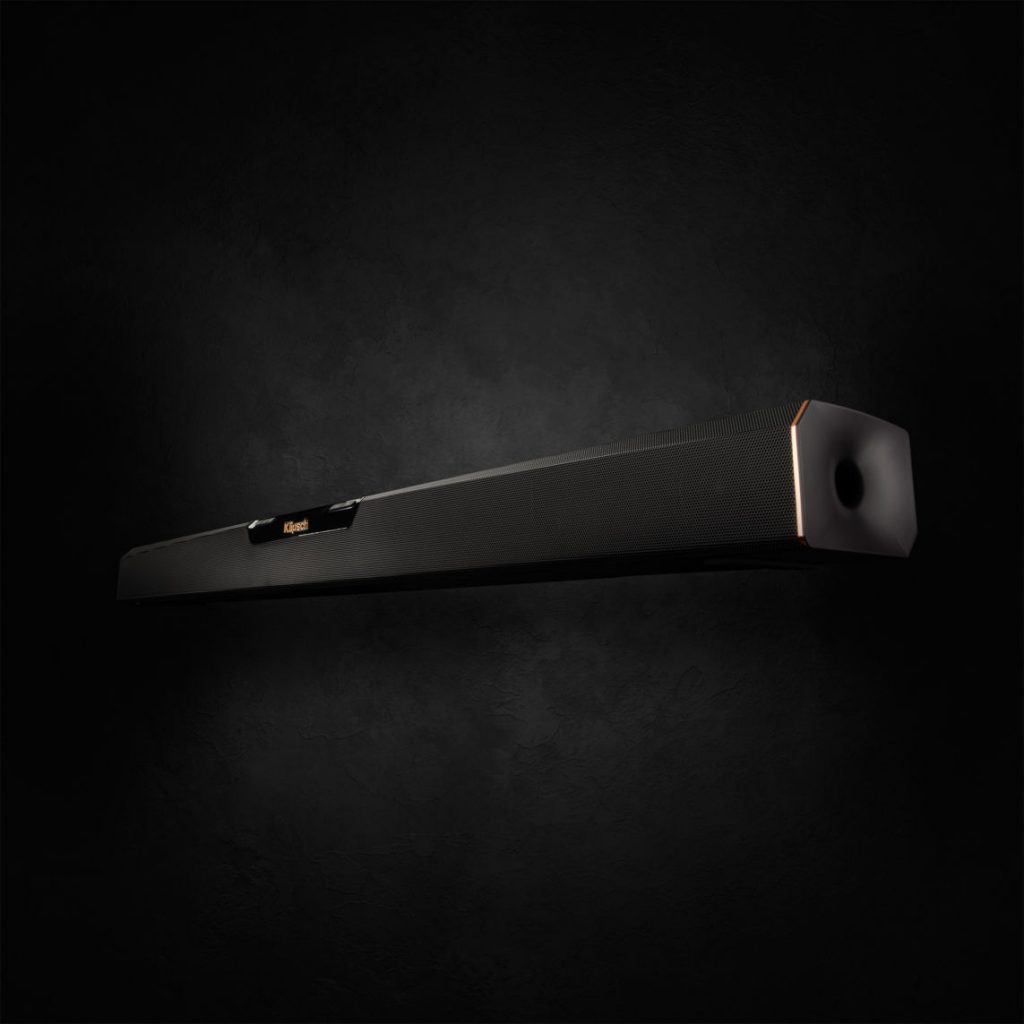 The surround sound feature is virtual, but it enhances the stereo speakers' job. It helps to give a more immersive experience.
Besides, the soundbar sounds really thin without the surround effect. Additionally, bassy movie sound effects like airplane booms and explosions have some real punch to them.


Specifications:
4-by-2.7-inch sub-range driver
2-piece passive radiator
3 sound modes: Standard, News, and Movie
31.5-inch soundbar with built-in subwoofer enhances home-audio systems
Full-range stereo speakers up to 92 dB (2.1 channels)
Design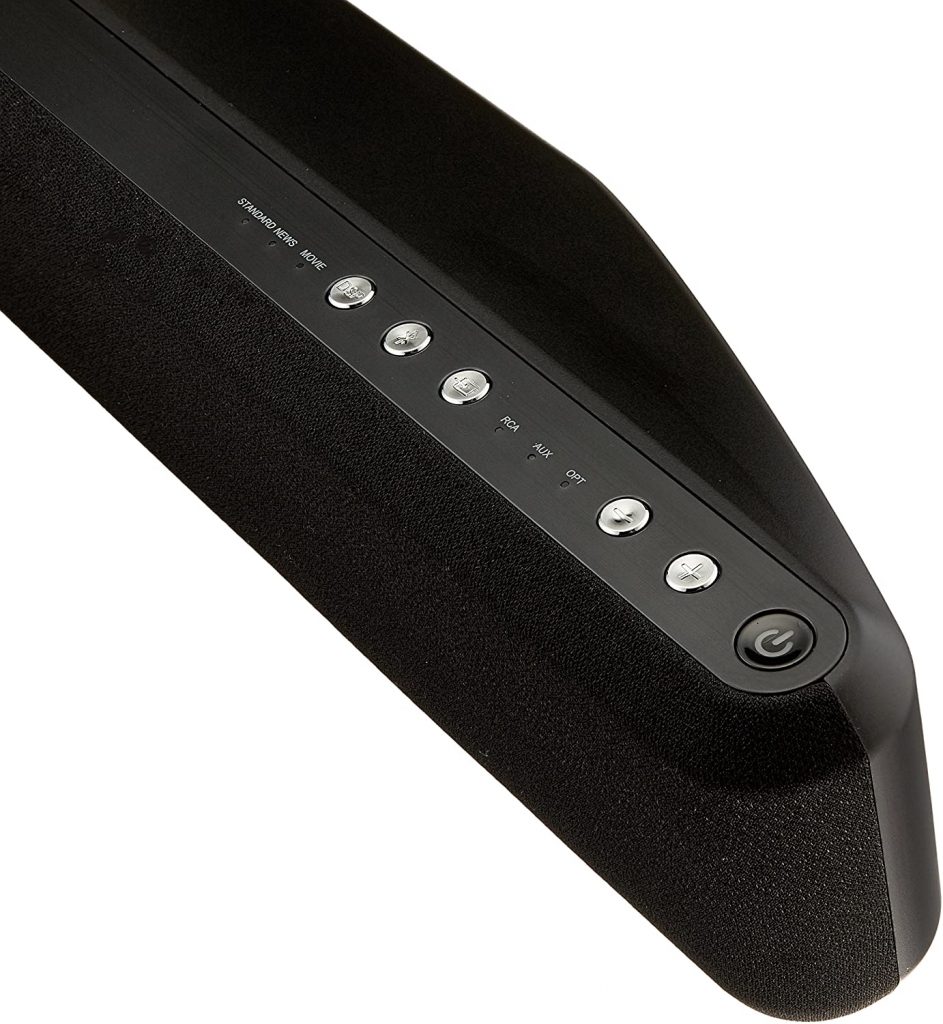 You must be careful when handling this one because it's quite fragile, with plastic and fabric material making up its whole frame.
If placing it on a surface will expose it to damage, try the wall mount method. All you need to set it up is added to the package.
Connection options include RCA, 3.5mm, digital optical, and Bluetooth. The remote is quite basic and has the controls for all features.
Setup


The soundbar consists of four 2-inch mid to high range drivers, one sub-range driver, and two passive radiators to help with the bass.
Sound quality and performance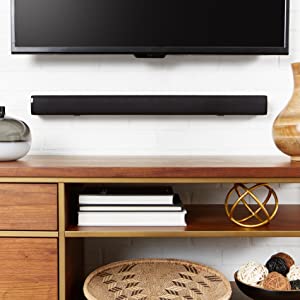 If you're a basshead, then this one is probably not for you. It's thin on movie explosions and rumbles. There's a very little immersive effect. The sound is strictly limited to stereo.
Conclusion
It's a long list of soundbars here, with very tempting options. However, I still have to choose my top 3.
My best picks of the lot are Rockville Rockbar, JBL Boost TV, and Klipsch RSB-3.
I like Rockville Rockbar because of the added external subwoofer. It gives better bass response than the built-in ones. Also, it stays within budget.
JBL Boost TV is also a favorite because of its versatility. You can use it as a regular JBL Bluetooth speaker, connecting it to other speakers in party mode.
The RSB-3 is another soundbar I really like because of its immersive virtual surround system.
Related articles: