Today we are going to look over some of the best rugged Bluetooth speakers that are as rugged as they get.
The popularity of Bluetooth speakers depends vastly on its low maintenance quotient. They are the most user-friendly audio companions, especially for those who prefer a little musical backdrop any time, any place.
But what if you want a Bluetooth speaker that is as hard as a rock? You are in good luck!
Here they are.
Let's get started with the review of the best rugged Bluetooth speakers with great audio.
Top 5 rugged Bluetooth speakers reviewed
Specifications:
FM Radio
Built-in microphone
35-hour battery
Built-in power bank, FM Radio
Speaker Type Outdoor, Soundbar, Subwoofer
Item Weight 609 Grams
Power Source Battery Powered
Up to 35 hours
Build and design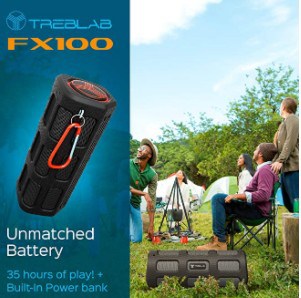 Inspite of having a beasty look, the TREBLAB FX100 has a sleek design. Shape-wise, it is a rather interesting fusion of a rectangle and a cylinder.
In terms of material, the body of TREBLAB FX100 is primarily covered with rubber while metal shrouds protect the internal drivers.
The controls are all aligned on one side of the speaker within a designated space. There is the power button right in the center. It is surrounded by the volume control button. You can even skip and rewind tracks by holding those buttons. There are two more buttons – to play/pause music and to accept/deny calls.
Coming to connectivity options, you can either connect the TREBLAB FX100 via Bluetooth or through an AUX cable.
TREBLAB FX100 has impressively high durability ratings as it is shockproof, waterproof, dust-proof, and shock-resistant.
Sound quality and performance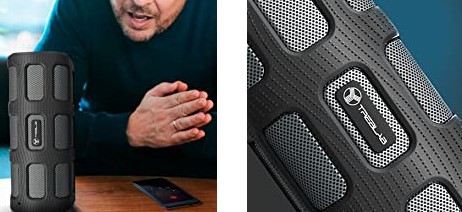 In TREBLAB FX100, the bass sounds tend to suffer a bit. There is less amount of thump in the lower end frequencies, especially during groovy beats.
Other than that, you can almost hear the midrange and higher frequencies without added attention.
TREBLAB FX100 is loaded with advanced Bluetooth 5 technology. Its 360degree output through its 10W speakers promises to deliver loud sounds in all directions.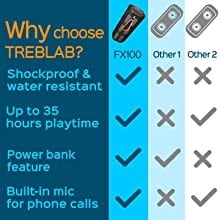 The frequency response in this speaker is adjusted in such a way that you can listen throughout the range decently. However, it still wouldn't be your first choice for listening to your favorite music.
Best for whom? TREBLAB FX100 will suit the needs of those who go for frequent camping trips. Because apart from being a Bluetooth speaker, it also works as a power bank. At this price, it is undoubtedly one of the best Bluetooth speakers for outdoor adventures.
Specifications:
Speaker Type Outdoor
Speakers Maximum Output Power 100 Watts
Speaker Size 5.25 Inches
built-in battery for 10+ hours at full volume; Up to 50+ hours on low volume; Battery fully re-charges in 7-8 hours
IP67 waterproof
Build and design
The design of ECOXGEAR EcoTrek GDI-EXTRK210 is somewhere between a suitcase and a trolley.
The entire structure is dominated by metal grilles, hence the improved sturdiness. At the bottom, there is a pair of wheels. The two strong handles on the top make it really easy to carry this beast of a Bluetooth speaker around.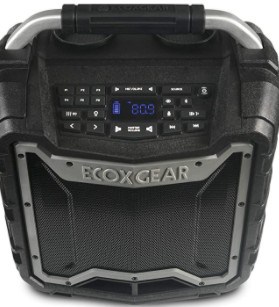 The control panel sits conveniently on top of the ECOXGEAR EcoTrek. The layout has the traditional controls – power button, master volume, music play/pause, track navigation buttons, sound input source, and Bluetooth pairing.
For FM/AM radio stations, five storage memory buttons are available. For controlling the phone's voice level, there is a dedicated button. Additionally, you can also find a mic volume control knob for increasing/decreasing the output levels for a guitar or a microphone.
ECOXGEAR EcoTrek features an ECOConnect button that allows you to pair multiple EcoXGear speakers with it.
Furthermore, it is equipped with Bluetooth 4.1 technology that enables it to detect any smart device with an audio streaming facility up to a distance of 100 feet. The signal is impressively strong.
Along with the ECOXGEAR EcoTrek, you get a power cable to charge its battery. The USB port is located just beside the aux input.
Sound quality and performance
The bass sounds in ECOXGEAR EcoTrek fluctuates depending on how it is from the listener. Up close, the lower-end frequencies have a pretty good thumping effect. But as you take the speaker away, the bass becomes flimsy.
When it comes to the midrange and higher frequencies, you have the liberty to toggle between mixer presets. So if you are not happy with the normal EQ settings, you can change it to either heavy bass, rock, jazz, or heavy treble.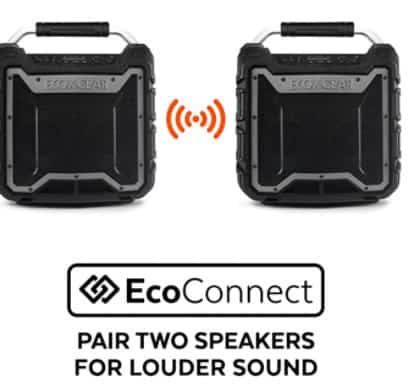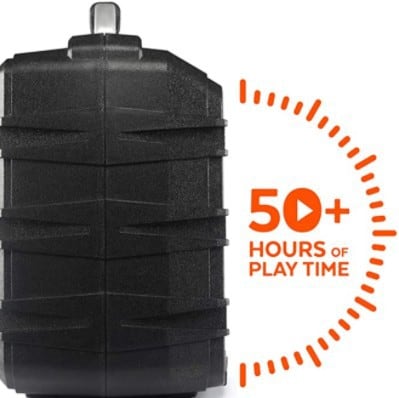 ECOXGEAR EcoTrek has a commendable frequency response that enables it to switch between different sound preset modes.
If you are looking for a rugged audio companion for a BBQ or a small outdoor get-together, ECOXGEAR EcoTrek would fit into the description aptly.
Best for whom? As the ECOXGEAR EcoTrek has quite an elaborate design, it may be sort of an acquired taste. If you do not mind showing off this bulky audio unit, then you're good to go with it. Just keep in mind not to place it too far away from the area of action.
Build and design
It would be completely fair to refer to the Pyle PWPBT60 SoundBox as a macho audio unit. Made with marine-grade materials, this Bluetooth speaker has a rubbery feel but it is solid as a brick.
It is designed to be completely shock-resistant and splash-proof. Hence it is more than qualified to be taken outdoors. Don't worry about accidentally dinging it on hard surfaces either.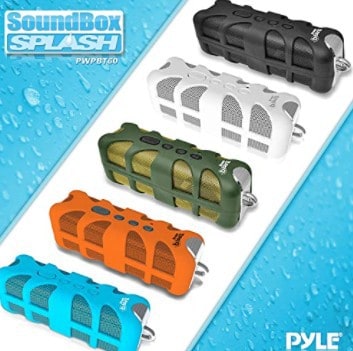 Pyle PWPBT60 aces in terms of portability as it does not weigh too much has a simple layout and remains clean after multiple usages.
You can find the controls perfectly laid out on one side of the speaker. Basically, there are three buttons with multiple functions.
For instance, the power button also acts as a button for playing, pausing, and Bluetooth pairing. Likewise, the two-volume control buttons can be used to change tracks.
Pyle PWPBT60 hits a bump in the case of Bluetooth connectivity as the range is considerably less and the signal starts dwindling. It can be charged via a USB cable. The port is under a rubber flap right next to the control buttons.
Sound quality and performance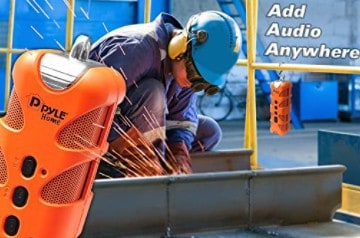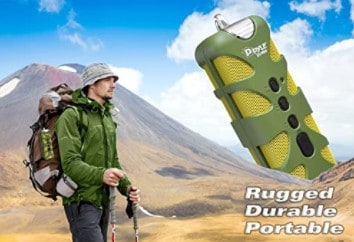 One thing that you'll definitely love about the Pyle PWPBT60 is its solid sounding bass output. It is meaty and powerful at the same time.
And it is not just the bass. Even the midrange and higher frequencies have the necessary crispiness and detailing.
In most Bluetooth speakers, the clarity of audio deteriorates when taken outdoors. However, it is not the case with Pyle PWPBT60. Even though it is specifically designed for adventurous ventures, special attention has been given to its audio quality.
Best for whom? The Pyle PWPBT60 won't impress audiophiles with its sound quality. But for the adventurous ones, it is a perfect match. It is highly portable, sounds good outdoors, and is durable enough to endure rough terrains.
Specifications:
Speaker Type Outdoor
Item Weight 8 Pounds
Color Original Green
Power Source AC & Battery
120dB of Distortion-Free Sound!
Bluetooth 4.0, and 100 ft range
Build and design
What could be better than stainless steel, right?
That is exactly what the body of Turtlebox is made of. And it is not just rugged, it remains free from corrosion as well. Apart from that, it is dustproof, waterproof, and shock-resistant too.
Its durability ratings go through the sky as it is resistant to almost anything that nature has to throw at it.

Turtlebox aces its games in terms of portability too. The ratio of its weight and size is engineered very strategically for swift maneuvering.
For controls, you get an illuminated LED rubber pad. There are volume control and track selection on the display. There is even a battery level indicator that lights up when it runs low on power.
Connectivity options in the Turtlebox include a Bluetooth 4.0 that pairs with your device automatically. On top of that, you can also choose to connect an aux cable to the 3.5mm input.
Interestingly, the Turtlebox is capable of pairing up with another Turtlebox for delivering supreme stereo L/R sound.
Sound quality and performance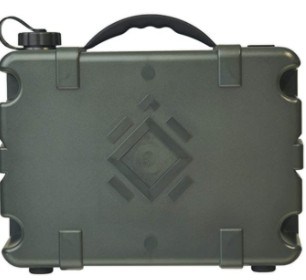 The frequency response in Turtlebox has been optimized in such a way that you can hear the bass, midrange, and high-frequency clarity. The sound detailing does not decrease with distance or during windy scenarios.
This speaker can get as loud as 120dB without getting distorted or noisy.
Turtlebox is a pioneer outdoor speaker. It sounds heavy irrespective of the outdoor environment. Its optimized frequency curve further catalyzes this process. The sound cuts through wind resistance and reaches the listeners in the best possible version.
Best for whom? Planning for a weekend camping, or canoeing through forest waters, or simply sailing in the bay? Turtlebox is what you need to carry along to experience a truly unmatched portable audio experience.
Specifications:
Connections Wireless, Bluetooth
Model Name Tough
Item Weight 1.4 Pounds
IP67 waterproof, snow proof, mud proof, and sand proof
Maximum 105db SPL-A volume level.
Playtime of 10 hours with the built in rechargeable battery
Build and design
The body of FUGOO Tough 2.0 is made from a combination of hardened plastic, soft rubber, and a polyester-like material. All these are responsible for creating this heavy-duty Bluetooth speaker.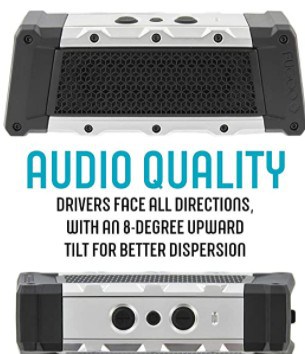 And it's not just the sturdiness. FUGOO Tough 2.0 is waterproof, shock-resistant, and mudproof as well.
It is designed to deliver prime portability, it doesn't occupy too much space in your backpack. It isn't that heavy either.
FUGOO Tough 2.0 has very basic and simple controls. The volume control button is on the top. Just beside that, you'll find a button to enable voice with either Google Now or Siri via your smartphone.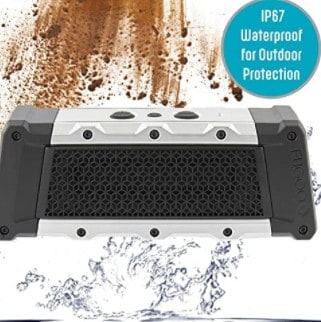 The power button and Bluetooth pairing button is on one end of the speaker. There is also a small light that indicates the battery level.
As an add-on, you can also choose to get a waterproof remote control for your FUGOO Tough 2.0.
Its basic functions include volume change, play/pause button, or skipping to the next track. Another interesting fact is that this remote can act as a bottle opener as well!
Pretty cool, right?
Now, coming to the connectivity options. In FUGOO Tough 2.0, you get Bluetooth 4.0 that follows a standard pairing procedure. It also supports AVRCP 1.5 in case you are using the remote.
If not that, you can always connect the speaker with your phone via the 3.5mm AUX cable.
Sound quality and performance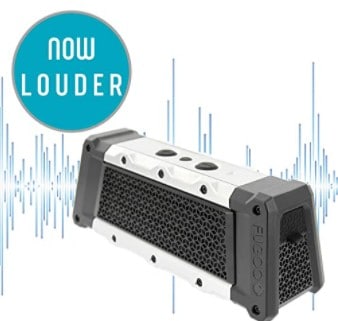 Considering the size of FUGOO Tough 2.0, the amount of bass sounds produced is appropriate. But do not expect anything too bassy. The speaker suffers especially in the area of tactical bass thumps.
The midrange driver and tweeter in the front handle the mid and high frequencies. This results in the rather bright sound of the speaker.
Due to the small frequency range of FUGOO Tough 2.0, the audio production would not impress audiophiles. The output is towards the lighter side with little detailing.
FUGOO Tough 2.0 becomes a wise choice for outdoor use because of its "Loud Mode" feature in terms of volume control.
However, keep in mind that this particular setting works fine when you are outside, for instance beside the pool or on the beach. Turning the Loud Mode on indoors will make the speaker distort.
Best for whom? High portability, ruggedness, and sound quality – if these are attributes that you are looking for all together in a Bluetooth speaker, FUGOO Tough 2.0 is the answer for you. You wouldn't have to keep a constant eye on it when you are adventuring. Just slide it on one side, hit the play button, and get busy exploring.
Read our other popular posts:
Conclusion
Finally, we have come to a crucial part of our discussion. Which one out of these five tops the other four? This is indeed a tough competition.
But fret not, as we have narrowed down our recommendations to three such speakers. They are – TREBLAB FX100, ECOXGEAR EcoTrek GDI-EXTRK210, and Turtlebox.
They are true beasts when it comes to solid, rock-like performance amongst Bluetooth speakers. Right from the materials, they are made of, to features they include and the quality they produce – they manage to ace in all these aspects.
The TREBLAB FX100 has a more traditional design of a Bluetooth speaker. You just slide it into your backpack and enjoy music anywhere you go.
With the ECOXGEAR EcoTrek GDI-EXTRK210, the durability game goes way higher. Its trolley-like design with wheels ensures portability.
And last but not the least, the Turtlebox is a macho sound beast. The remote control is meant for your convenience. Change the settings at your will without getting up.
These Bluetooth speakers may not be the prettiest looking ones in the market. But when it comes to outdoor environments and adventure companions, these are some of the best rugged Bluetooth speakers you can think of. And as we said in the beginning. They are built like rocks!