Affiliate disclosure: In full transparency – some of the links on this website are affiliate links, if you use them to make a purchase we will earn a commission at no additional cost for you (none whatsoever!). Will this be a problem? This is how we manage to create free content for you. Please know that your trust is so important for us. If we recommend anything, it is always because we believe it is worth exploring. And, buy me a coffee ☕️
Are you looking to buy the best Cajon available in the market?
Best Value for Money
Pyle String Cajon - Wooden Percussion Box, with Internal Guitar Strings, Full Size
Most Versatile
Meinl Jumbo Bass Subwoofer Cajon with Internal Snares - NOT MADE IN CHINA - Walnut Playing Surface, 2-YEAR WARRANTY (SUBCAJ5WN)
Our Best Pick
Schlagwerk CP404BLK 2inOne Series Snare Cajon l Black Baltic Birch Front Plate l Made in Germany
Best Value for Money
Pyle String Cajon - Wooden Percussion Box, with Internal Guitar Strings, Full Size
Most Versatile
Meinl Jumbo Bass Subwoofer Cajon with Internal Snares - NOT MADE IN CHINA - Walnut Playing Surface, 2-YEAR WARRANTY (SUBCAJ5WN)
Last update on 2022-12-06 / Affiliate links / Updated prices and images from Amazon Product Advertising API
Got stuck with so many options available? Then don't worry.
I have made your job easier by researching the best Cajons and narrowed down the list to the top 7.
Well.
If you are a beginner who doesn't know what a Cajon is, let me explain.
A Cajon is primarily a percussion box, but it has the potential to do a lot more.
In some situations, you can replace a drum set with a Cajon. There are instances where the Cajon has been used in conjunction with some drum set parts.
A Cajon snare will sound very much like a real drum set snare if you pick a really good Cajon.
Speaking of good Cajons, picking one out may be a tricky task, especially for non-professional buyers. This article saves you the trouble of endless searches.
Here are the 5 best Cajons you should consider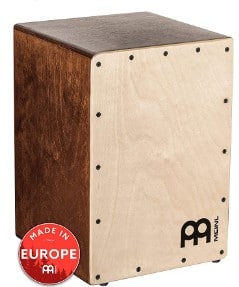 Specifications:
Wood playing surface has two zones for bass and snare
Perfect for acoustic shows and jam sessions
Rear port for microphone placement
Dual sets of internal fixed snare wires are positioned against the inside of the playing surface
Build and design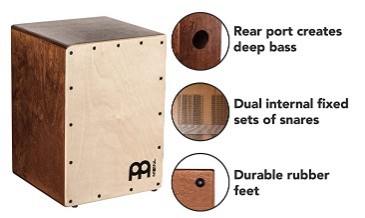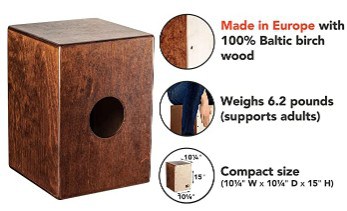 The Meinl Cajon Box is made of Birchwood. It is relatively compact when compared with some other Cajons.
You can place it between your legs comfortably to play. Also, it's quite portable.
However, its compact size does not reduce its capabilities.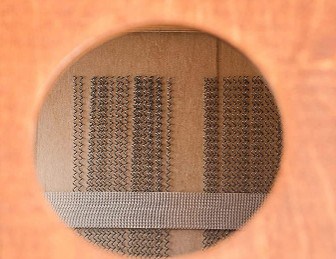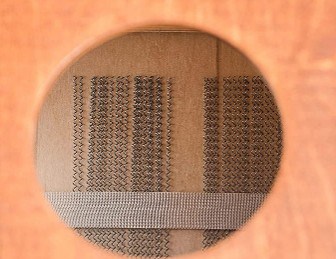 Inside this box drum, there's a set of wires that make some parts of the surface sound like a snare drum.
This can be quite a handy replacement for a drum set. Of course, it won't sound as full as a real set of drums, but it can be quite useful for small room sessions.
Sound quality and performance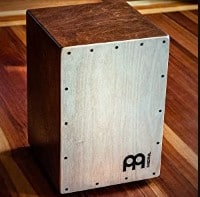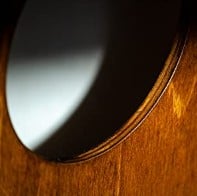 This Cajon sounds like a drum set, but it doesn't cover all parts. It imitates the bass drum and snare quite well, but doesn't cover the other parts. There's a plus side to the Cajon though, the wood has some percussive qualities that the drum set can't give you.
The deep bass part is at the center while the snare sound is found near the top corners. The bass is quite deep, and the snare parts are crisp and sharp. The snare is helped by the internal dual sets of fixed wired.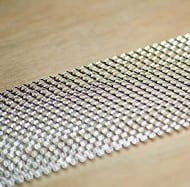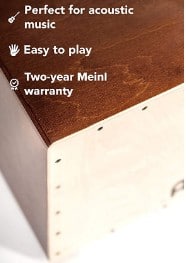 These wires are fixed on the inside of the playing surface to give you a clean snare sound. The Baltic birch wood ensures the deep-sounding bass. This wood is what is used in making most high-end drum sets.
Specifications:
Perfect handcraft
Adjustable guiter strings
Compact and lightweight
Anti-vibration interference
Build and design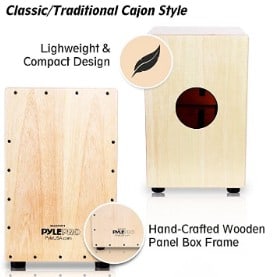 The Pyle String Cajon is a wooden percussion instrument. It's basically a Cajon with strings inside. We'll discuss the use of the strings later.
This Cajon is made with birch wood, popular for its strength and acoustic quality.
The strings inside the Cajon are actually guitar strings. It's good to know just in case you need to replace them. You can tune the strings from the bottom of the Cajon.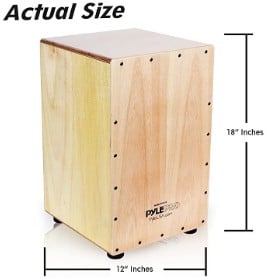 Like the Meinl Cajon, Pyle String Cajon is portable. It weighs just 10.9 pounds and is 18 inches tall.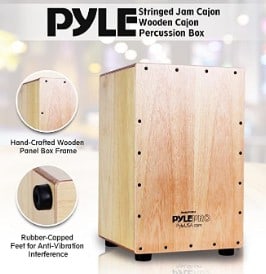 To prevent unwanted moving around while playing, this Cajon has rubber-capped feet. These feet also prevent vibrations from the floor or any other surface you place the Cajon.
Sound quality and performance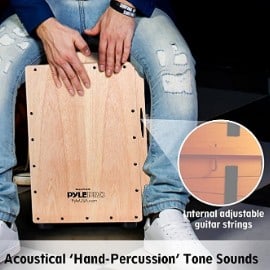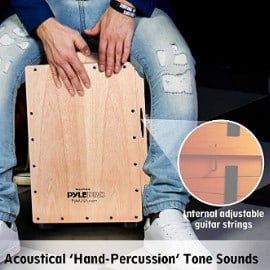 Pyle String Cajon gives you the Cajon sound you expect; bass and snare sounds.
However, the guitar strings inside add some twist to it. With the strings, the note you play on the Cajon surface sounds like it has a little distortion on it.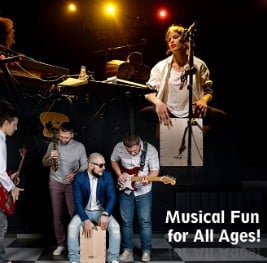 It's a really nice effect to have on your percussive sounds. It can also add a bit of tonal musicality to your performance. The rubber-covered feet of the Cajon help in the production of clear sound.
Also, the kick and snare imitations are solid. The acoustic environment inside the Cajon is very conducive to the sound's resonance. Birchwood enables good quality deep bass sound.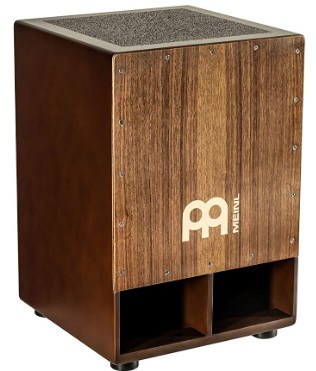 Specifications:
Biggest and bassiest cajon with a low end punch
Forward-facing ports with internal bass reflex
Internal fixed sets of snares
Walnut playing surface and MDF body
Build and design
As its name implies, this Meinl Cajon gives you jumbo bass sound. The Cajon's build suggests a departure from the previous one on this list.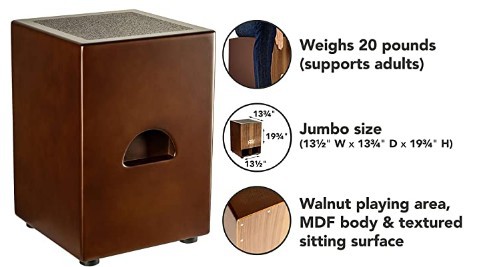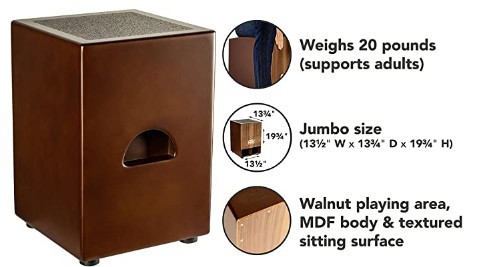 It's made from top-quality walnut wood and not birch wood like the others. Walnut wood offers impressive acoustic qualities. It has a well-sounding resonance that makes the bass even more captivating.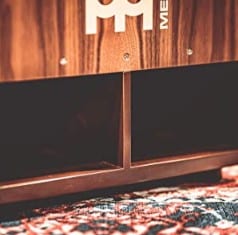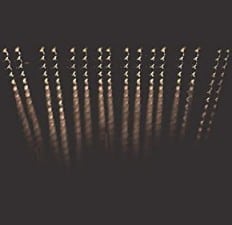 Aside from the wood type, there's one thing that separates this Cajon from the others. It's the front-facing bass reflex ports. These ports help the Cajon to give deep sounding bass.
The snare sound is not left out. There are internal strings at important spots to give the snapping snare sound.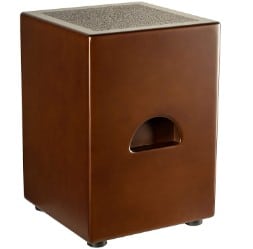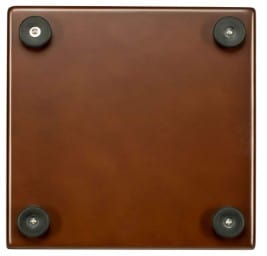 That's not all. At the base of the Jumbo bass Cajon, there are rubber tips covering the legs. These rubber tips prevent the Cajon from sliding when you're playing.
Also, the floor won't vibrate when you hit loud notes. This is important if you're playing on a wooden floor or any other resonant surface.
Sound quality and performance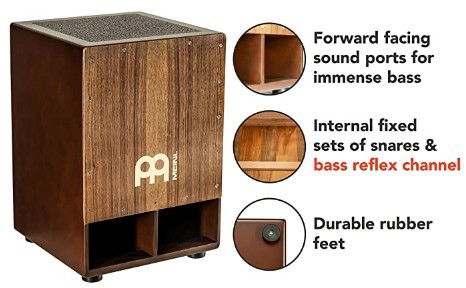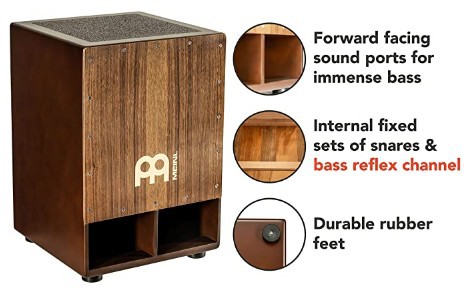 First, let's talk about what makes this Cajon unique; the bass reflex ports.
This Cajon has two important features that give punchy bass; a large frame and bass reflex ports. Although they're features you expect to see in bookshelf speakers, they work in Cajons just as well.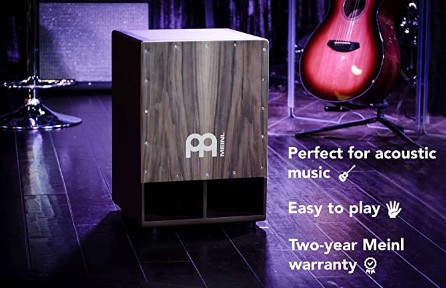 The snare strings are in strategic positions inside the Cajon.
With correct hand positioning, you can get two distinct sounds from the snare; the regular snappy snare sound and the muted, sharper snare sound. This one sounds more like a rim shot on a snare drum.
Additionally, the large size and acoustic environment make all notes to be heard. This includes even the quieter taps on the playing surface.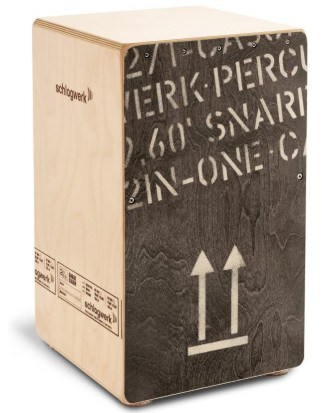 Specifications:
Beachwood Front Plate
Body Constructed of 8 Ply's of Birch
2inOne-Technique with 40 Snares
Snares inside the Cajon press against the playing surface at a precisely defined angle
Snares can be removed from the 2inOne Cajon in one quick movement
Build and design
The Schlagwerk 2-in-1 Cajon is another unique member of this elite group. It's made of a combo of both Beachwood and birch wood. The playing face is made of Beachwood while the rest of the Cajon's frame is birchwood.
The design is quite interesting. At first glance, it looks like it's in a shipping package. Most people will be divided on this sort of design. In my opinion, it's a good choice of aesthetic.
It has two snare string sets placed inside the box. Each one of these string sets has 40 strings. The strings help your Cao to sound more like a drum snare in some areas.
The snare strings set is the reason why Schlagwerk CP404 is called a 2-in-1 Cajon. The snare strings are detachable. This means that you can change the Cajon from a kick and snare combo into a generic percussion, just like the conga.
Sound quality and performance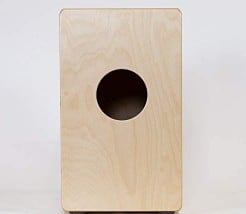 The bass drum part of the Schlagwerk has a lot of body and sounds quite deep.
When the strings are inside the soundbox, their effect is felt even when you're playing the bass drum sound.
There's an added buzz to the bass sound. The snare sound is also good, but the effect is less when you slap the drum at the corners.
When you detach the strings, the Cajon's sound profile changes notably. The buzz is gone and you have no snare-like sound, though it still sounds good as a percussion instrument.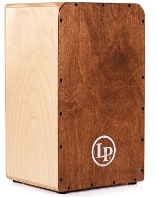 Specifications:
Hand-select Baltic Birch body and soundboard
Superior durability and resonance
Rounded corners for playing comfort
Made in the USA
Build and design
The LP1427 Wire Cajon is another birch wood Cajon. The birchwood covers the whole frame and not just the drumming face.
With birch wood, durability is surely not an issue. The LP is quite portable too. It is just 18.5 inches tall.
This Cajon has rounded corners. They make it easier to play the instrument, especially when slapping the corner area with your palm. Sharper corners are more likely to cause pain in your palm.
There are internal strings that add vibration to give the snare sound. They are not detachable like those in the Schlagwerk though.
Sound quality and performance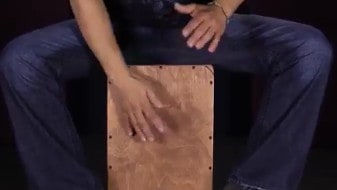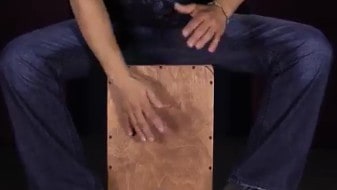 The bass sounds well rounded despite the portable size. The strings inside the Cajon give ample vibration as soon as you hit the correct location.
Even though the strings are fixed, you can get a variety of tones by changing the points you'll hit on the soundboard.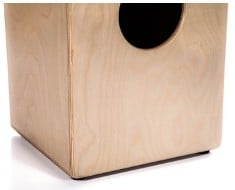 Also, to get a really punchy kick drum sound, you don't need to take your hand all the way down. You can easily reach the deep bass spot by stretching your hand while sitting on the Cajon.
Conclusion
These are all the best Cajon choices; the best you'll find actually.
However, if I have to pick my top 3 Cajons from this list, I'll go with Pyle String Cajon, Meinl Jumbo Bass Subwoofer Cajon, and Schlagwerk CP404.
Pyle String Cajon makes the cut for its uniqueness. The strings in the soundbox are guitar strings. This gives the drum sounds a special feel that you won't get with the others.
Meinl Jumbo Bass is my second pick because it's the most versatile of the lot. It has a subwoofer capability while retaining its snare drum qualities.
Lastly, I like Schlagwerk because it's 2-in-1. This means you can use it as a percussion when the band doesn't need its snare functions.
Hi, I'm Jennifer I'm a passionate singer and an audiophile from Detroit, MI. 
I'm on a mission to help music creators to create fine music that help them position uniquely in the saturated music space.
Follow my blog for regular content :-)