Have you ever wondered what is Mic Monitoring Xbox? Is mic monitoring a good feature to help you play a wonderful game with your teammates?
Let us dive deep into whether it is a great improvement or not. Stay tuned till the end.
A Quick Answer
The Mic monitoring feature simply offers users to monitor their audio quality, intonation, and volume.
It can help to communicate better when playing.
It can be great for people with hearing impairment.
Or, it can be a distracting sod if not used well.
So, is it really worth your attention? Can it really work well in the gaming session? Continue reading to learn how it works.
What is mic monitoring Xbox and How Does it Work?
It is an audio feature that allows its users to listen to their mic input through their headset. It basically conveys your own voice to you so that you can monitor and adjust accordingly.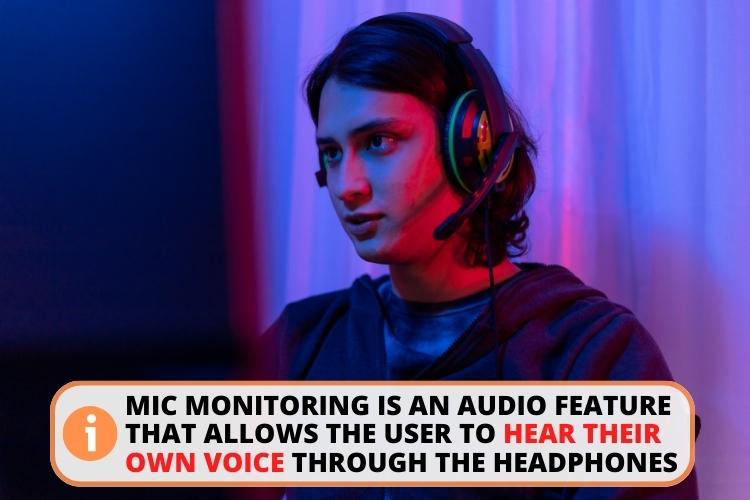 But how does it work? Well, the working process is quite simple here.
Whatever you speak to your teammates, the microphone captures that voice.
The sound is then conveyed through the headphone.
It doesn't disrupt the sound you hear from your mates.
So, mic monitoring can improve your gaming experience to the next level.
Advantages of Mic Monitoring
You shall get certain benefits using mic monitoring. Let me list them for you one by one.
1. Better Communication
our gaming experience would be priceless if you can communicate better. But how can you be sure you are not yelling at your teammates, or that your voice is audible at all? That's why you need mic monitoring to know how loud you are. It provides better voice modulation and, therefore, impacts your gaming experience to a certain extent.
2. Easy Troubleshooting
This feature provides a comprehensive understanding of your audio output. It tells you when your sound is high-pitched and when your voice is inaudible. Sometimes, the mic simply cuts off, and you continue talking without knowing. You can fix this sort of sound problem easily with this feature.
3. Hearing Impairment
Some people have hearing impairments and find it difficult to adjust their sound level. Mic monitoring can greatly help such people as they can also enjoy the sound effects of their gaming.
Disadvantages of Mic Monitoring
Everything that has an upside must have a downside. If you use mic monitoring on Xbox, you shall also face certain drawbacks. Let me list them for you.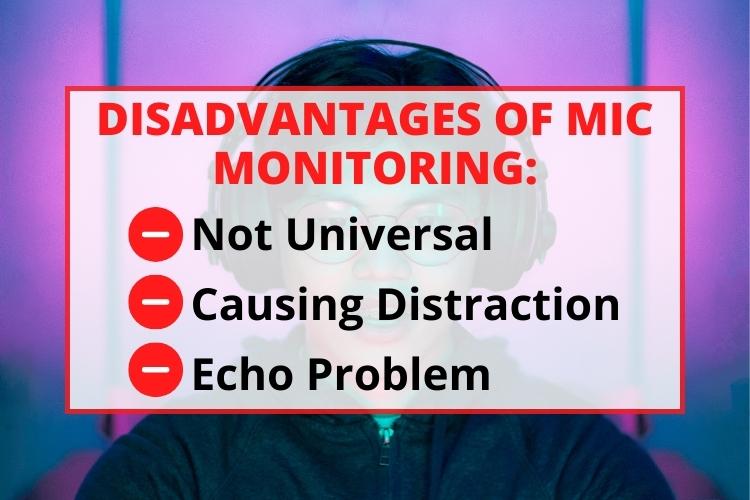 1. Not Universal
It doesn't support all gaming headsets. You can check whether your headset support mic monitoring or not by attaching it to the Xbox controller. Or you can search by your model name.
2. Causing Distraction
It is quite distracting when you repeatedly hear your own voice. Sometimes, gamers cannot focus on the overall conversation due to his/her voice sounds. Moreover, too much background noise can also be highly irritating. You should keep the mic volume down to avoid distraction.
3. Echo Problem
The echo problem is another disadvantage of this feature. If your headset leaks noises, the microphone will consider it as yours. Then it will carry the noise into the headset again, thus creating a spiral of sound echoes. To avoid this issue, keep the headphone away from the microphone. Reducing the Mic volume is also a good option.
How to Enable Mic Monitoring Feature on the Xbox?
Enabling the mic monitoring function is an easy-breezy task. But make sure you have mic-monitoring capable headphones in your repertoire. Then you should follow these steps: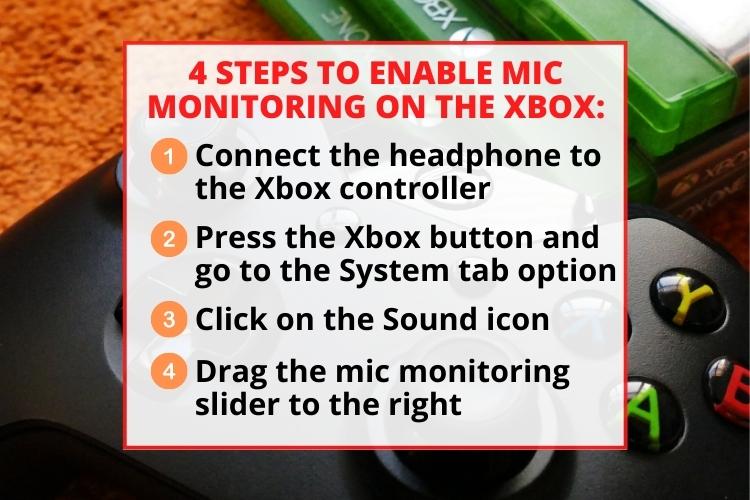 First of all, connect the headphone to the Xbox controller.
Then press the Xbox button and go to the System tab option.
If you scroll down, you shall get a Sound icon. Click on it.
Now drag the mic monitoring slider to the right.
If you drag the slider to the extreme right, you shall hear your voice more loudly. But don't worry, others won't find your voice chat loud.
Important! You must have a compatible headset to use mic monitoring on Xbox. Moreover, some headsets have their own controlling method of mic monitoring. In that case, you can enable mic monitoring with the headset button or headset app.
How Can You Disable Mic Monitoring on the Xbox?
The disabling process of mic monitoring is similar to its enabling process. To disable mic monitoring, you just need to follow similar easy-peasy steps:
First of all, go to the Xbox home screen and Click on the Xbox button.
Now navigate the system tab and click on the Audio icon.
Drag the mic monitoring slider to the left and keep it at zero.
In this way, you can easily disable the mic monitoring feature.
What Problems Can I Face with Mic Monitoring on Xbox One?
It is a common phenomenon to face certain issues with Microphone monitoring on Xbox One. Here I'm going to tell you about some of the problems and how to troubleshoot them.
1. Mic Monitoring Not Working
This is a common problem faced by Xbox users. You can troubleshoot the issue by following these simple steps: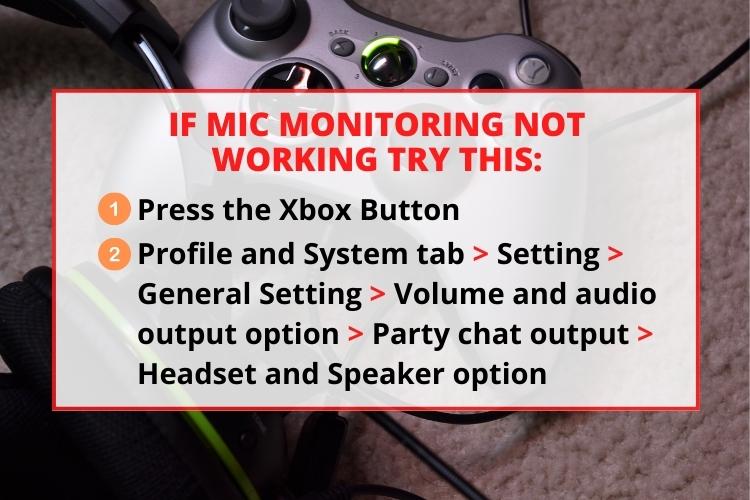 First of all, you need to press the Xbox Button
Now open the Profile and System tab.
Next, select the Setting option and then go to General Setting.
Then click on the Volume and audio output option.
Now choose the second option–Party chat output.
At last, choose Headset and Speaker option, and the issue will be solved.
Note that if you select the Headset option, mic monitoring on Xbox One will work as well.
Important! Your Xbox Controller should have the latest firmware installed to work properly with Mic monitoring.
2. Greyed Out Mic Monitoring
Sometimes this problem occurs due to an adapter problem. Or the problem may be in the wireless connection. What you need to do is to clean the port and 3.5mm jack properly before connecting them. Use a 3.5mm jack instead of an adapter. I found it to be more reliable.
3. Mic Monitoring Not Showing
This is a simple problem that you can fix with just a reset of your console. However, I suggest you check whether your gaming headset is properly connected to the mic monitoring or not. You can connect another headset to confirm whether the problem is with the console or not.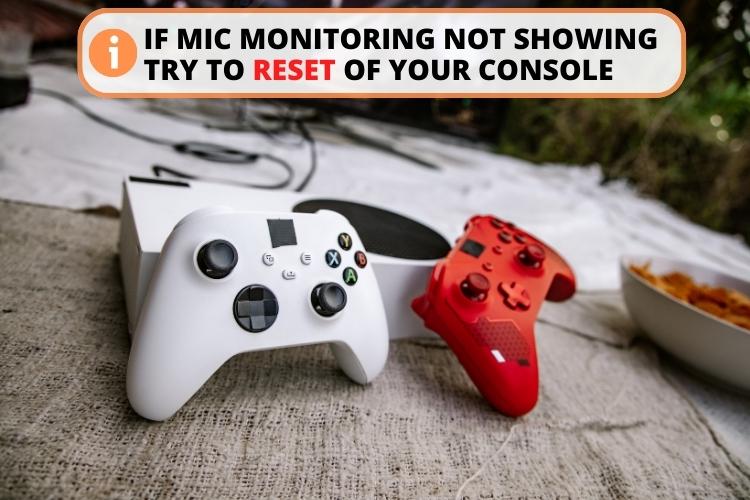 Alternatives When Headset Does not Support Mic Monitoring
All headset doesn't support mic monitoring, do they? So you won't be able to enjoy this feature with incompatible headphones. However, I have come up with alternative audio devices here. Let's see what we have got here.
ASTRO Gaming MixAmp: This is a great alternative that you can use in your Xbox series. It has four varied EQ modes and is compatible with almost all MAC and PC devices. This MixAmp works with Dolby sound effects and gives you an opportunity to control audio settings. It works pretty well with Xbox.
Turtle Beach Audio Controller: This is another great alternative to mic monitoring. The device gives you control over chat and volume settings. It gives a number of EQ options as well as access to the console's settings.
Read Also: How to Earrape Mic? (Discord, Zoom) – Don't Miss this Guide
Frequently Asked Questions
What Does Mic Monitoring Do on Xbox?
Mic monitoring on Xbox allows the user to listen to the mic input, voice chat, volume level, and sound quality.
Do I Need Mic Monitoring?
Yes, you should get mic monitoring for better communication. You will be able to understand the volume of your chats, your intonation, and background noise.
Should Mic Monitoring be On or Off Xbox?
I recommend you enable Mic monitoring on Xbox. If you don't want to hear your own voice, you simply can turn it off.
What Does Mic Monitor Level Mean?
The Mic monitoring level tells you how loud you will listen through your headset.
How do I Fix my Xbox Mic Monitoring?
Try to keep your firmware updated and restart both the device to fix any issues. Then you should test the Mic monitoring system to check if it is solved or not.
Why do I Hear Myself in an Xbox Party?
You are getting sound because your mic monitoring is enabled.
Conclusion
So mic monitoring is an interesting feature you can utilize when playing. Your interaction will be more accurate and graspable when you know your own voice level. You won't accidentally yell at your partners, nor will you be inaudible for minutes.
It really helps with better communication. However, if you want something different than mic monitoring, then ASTRO MixAmp should be your first choice. It works with Dolby Sound processing to provide top-notch interference and lag-free gaming sound.
ASTRO MixAmp
Astro MixAmp is a great audio solution for pro-level gamers and is compatible with all PC and MAC devices. It works perfectly with the Xbox series as it maintains a premium level of audio quality.
Last update on 2023-09-21 / Affiliate links / Images from Amazon Product Advertising API