What are the best speakers for rock music? Is it best to use floorstanding speakers, bookshelf speakers, or studio monitors?
To enjoy rock music, you need speakers that can get quite loud with energetic bass. In this article, I will review the best options for different users. Hopefully, after reading, you'll find which one is best for you.
Here are the top 5 speakers for rock music
Specifications:
Frequency Response: 45 Hz – 20 kHz (-3 dB), 38 Hz – 20 kHz (-10 dB)
Power Capacity: 200 watts (Peak)
Impedance: 6 ohms
Crossover Frequencies: 380 Hz / 2.4 kHz
Weight: 43 lb
Dimensions (HxWxD): 33.7 x 11.1 x 12.2 inches
Feature and performances
The Cerwin Vega XLS-28 floor standing tower speaker is the ideal speaker you need to consider when looking for an intense home theater experience.
With 200 watts at its peak power capacity, it emphasizes bass and power handling. If you want that big sound from just one speaker unit, this is the one for you.
It features a dual 8" Cast Frame High Execution Woofer, 1" Soft Dome Tweeter with Ferrofluid, and 6.5 mid-range speakers. Even though the sound focuses on bass production, it retains the clarity in the midrange and high frequencies.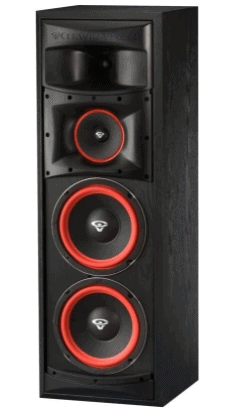 With a frequency response of 38Hz to 20kHz, you only need a subwoofer if you want the added rumble.
The Cerwin Vega XLS-28 is designed to bring a powerful sound to life with more emphasis on the bass and also not neglecting the clarity needed in that wider room, it is a beautiful combination of punch and crispiness.
You will enjoy death metal, heavy metal, and all forms of bass heavy rock music on this speaker.
Pros
Removable Grill
Intense home theater experience
Fuse protection
Cons
Not suitable for use in a larger room
Only comes in one color category
It has no video shielding
Bottomline: If you are a fan of bassy music such as pop, rock or you want a live concert experience or even looking for the kind of audio you hear in the theater. Then the Cerwin Vega XLS-28 is the perfect option for you.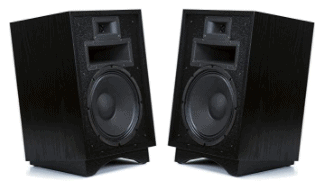 Specifications:
Amplification Type: Passive
Crossover Channel Qty: 3-way
Nominal Output Power: 100 Watt
Max (RMS) Output Power: 400 Watt
Frequency Response: 58 – 20000 Hz
Nominal Impedance: 8 Ohm
Feature and performances
Klipsch Heresy III is a beautifully designed floorstanding speaker that comes out in different colors from cherry, walnut, or black ash wood veneer finish, accompany it is a slight rise in the base for floor placement that can be easily removed and put in the back.
Aside from having one of the best designs around, the Klipsch Heresy III is a three-way design using horn-loaded Titanium diaphragm midrange and high-frequency compression drivers.
The woofer is a powerful 12-inch low frequency direct radiating and 1inch loaded twitter, with 99db sensitivity that delivers smooth, dynamic, and low distortion sound.
Whether you play your music from these speakers at low or high volume, you get the same sound quality. With many other speakers, some sounds only come to life after you turn up the volume.
This speaker is better suited to classic rock and acoustic rock because of its excellent production of analog sounds.
Another unique feature is the compact size. It makes it quite easy to place these speakers in your room.
Pros
Doesn't take a lot of power, very efficient.
No difference in sound quality even at low volume
Available in 3 different kinds of colors
Cons
Not very good with modern pop music (pop-rock)
Exposes recording issues, so may not sound good on some songs.
Made of fiberboard (MDF) material which is not ideal for durability.
Bottomline: The Klipsch Heresy III offers great placement flexibility because of its design and at the same time not neglecting that quality sound you've always wanted to hear.
Specifications:
Frequency Range: 47Hz – 45kHz (-6dB)

Frequency Response : 79Hz – 28kHz (±3dB)
Crossover Frequencies: 2.2 kHz
Dimensions (H x W x D): 302 x 200 x 278 mm, 11.9 x 7.9 x 10.9 inches
Weight : 7.2kg (15.8lbs.)
Feature and performances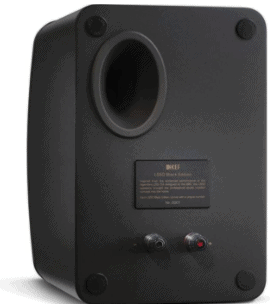 KEF LS50 is a bookshelf speaker that gives you a clean, crisp, and natural sound.
KEF has a longstanding reputation as a respected audio brand for many years.
Also, KEF LS50 offers a remarkably detailed, fast, large sweet spot, natural and transparent sound. Despite its small and compact size, it still manages to give a full, accurate, and distinctive sound beyond expectation.
The construction and the body design play a big role in their sound, from baffle shaping and port design the LS50 produces your audio completely flat and unaltered.
Aside from the body design and construction, another important feature the KEF LS50 put into consideration is the color, it comes in four different spectacular colors with its own corresponding unit-Q array color.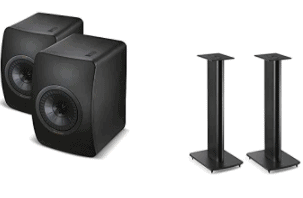 It carries a compact size of (11.9 x 7.9 x 10.9 inches) and a frequency response of 79Hz – 28Khz. It has a one-inch vented aluminum dome tweeter and a 5.2inch magnesium/ aluminum alloy driver.
Since you cannot get sounds below 79Hz, you need a subwoofer if you need very deep bass sounds.
Because of the sound transparency, you will enjoy any rock genre with these speakers.
Pros
Combination of Natural sound and Clarity
Constrained layer damping that prevents surface vibration
Compact design that comes in different colors
Cons
It can't play really low bass
It hides no details, if audio is not well mixed or mastered it sounds awful on it.
The frequency response is slightly uneven.
Bottomline: Considering the price, KEF LS50 is a good speaker with a wonderful sound and will always be a better recommendation.
Specifications:
Transmitter frequency: 5.2 / 5.8 GHz Dual Band
Frequency response: 10Hz ~ 23 kHz
Signal-to-noise ratio: >80dB
Audio Output Level: 2V
Dimensions (transmitter & receiver): 2.6" x 2.3" x 1.1" (66mm x 59 mm x 29 mm)
Feature and performances

If you ever consider a low-cost bookshelf speaker yet with an amazing sound, then Micca MB42 is definitely an option to consider.
The Micca MB42 comes with a classic appearance that makes it fit perfectly any room you place it. It also takes very little space.
The sound is quite balanced, and the bass does not overshadow the mids and treble. This gives the whole sound quality a lot of clarity and crispness. It's good for most styles of rock music but does not enhance the energy of heavy metal.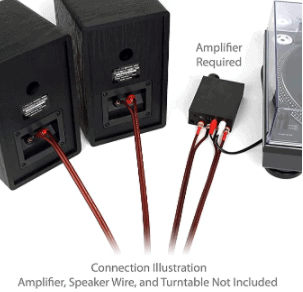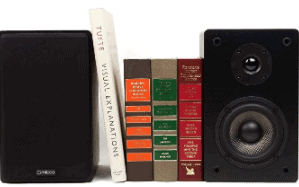 It comes with a right woven carbon fiber woofer impactful bass and transient that is perfectly enhanced. The silk dome Twitter is for smooth treble and also not neglecting your mid ranges.
The ported enclosure delivers an extended bass response with low distortion, giving you a neutral and accurate sound signature with perfect vocal clarity.
It is a great ideal for the personal stereo system for your home and office.
It can serve the purpose of home theater use and TV sound, though lightly.
Pros
Vinyl to cover the wood for durability
Removable grille
Compact and classy design that comes in different colors.
Cons
It cannot be connected directly to a turntable
Needs an amplifier to work
It lacks the resolution of a larger speaker
Bottomline: If you have a good amp, these Micca bookshelf speakers can fit on your work table or TV cabinet easily.
Specifications:
Total power output: 21W x 2.
SNR: ≥85dBA.
Input sensitivity: 750mV ± 50mV.
Distortion: ≤0.05%
Subwoofer / bass unit: 4 inch (106mm), 6Ω
Tweeter unit: Φ13mm silk domed tweeter, 4Ω
Feature and performances
Edifier understands the modern sense of audio quality, that's why the R1280T is equipped with a 4-inch bass unit and 13mm silk dome tweeter to give you the output top quality audio.
If you are looking for an affordable bookshelf speaker with perfect sound, then you should consider Edifier R1280T.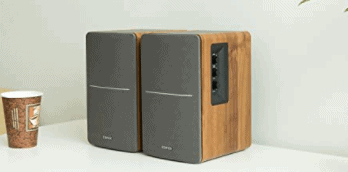 It comes with a 4inch bass driver and calibrated, bass reflex port that delivers a deep and robust bass note full of depth and presence. You can easily connect to your turntable for best audio experience with the powerful bookshelf speakers.
Another sweet feature available on this bookshelf speaker is the being able to personalize what you want to hear or how you desire your mix to sound.
It comes with a bass, treble and volume knobs that carefully brings out every aspect of your audio, from the bass, to midrange and your treble without leaving any details of your audio out.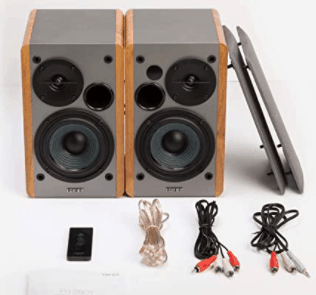 The speaker also comes with a handy remote that you can use to adjust your volume and even mute the speakers, without having to reach for them.
It comes with a built-in tone control and can comfortably set or adjust your treble and bass from -6db to +6db, depending on the kind of sound you want to hear, there is no restriction to what you can do with your active speakers.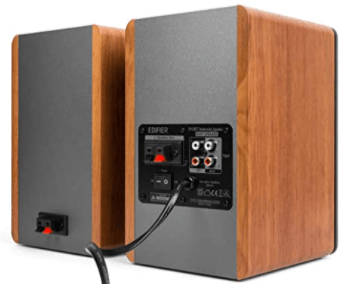 With dual RCA input that comes with your R1280t powered bookshelf speaker, you can connect to multiple audio devices using the dual RCA Inputs.
Because it sounds more digitized you will enjoy more of punk rock, pop rock and other electronic versions of rock.
Pros
Dual RCA inputs for connectivity
Wireless Remote control
Precision Control
Cons
No volume indicator
Not a perfect choice for a larger room
They are a bit bulky
Bottomline: If you're a lover of pop rock and other modern forms of music, Edifier R1280T is a good option for you.
Conclusion
Of all these great speakers, my top 3 picks are the KEF LS50, Micca MB42 and Klipsch Heresy III. I like these 3 speakers because of their compact design.
Since I have a small space, I need speakers that will fit in. Also, the Heresy III and KEF LS50 have neutral sound production.
They're good choices for checking your recordings and mixes for issues before releasing them.
Read our other popular posts: