Does your child have a flair for singing? Do they start singing along whenever their favorite song is on?
If yes, then you should not delay in giving them the platform for improving their skills.
We have brought you some of the best microphones especially made for kids. With one of these, your kids can now start singing with karaoke and rock stage!
Loaded with fun features, these microphones will definitely make singing very exciting for your children.
Check them out right now:
7 best kids microphones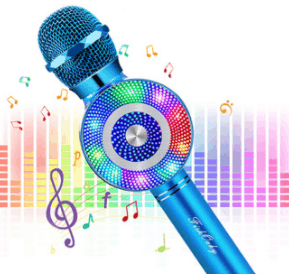 Build and design
Funky and colorful, the FishOaky Karaoke Microphone catches the eye instantly. And it's not all about its looks, as it has superior build quality.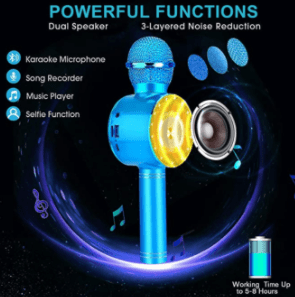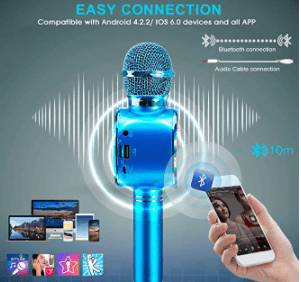 The Update Bass Diaphragm Cavity is 30% better than its previous version. The results can be felt by its heavier sense and stronger shock.
The microphone weighs 14 ounces so that kids do not have a problem in maneuvering it, making the unit highly portable.
FishOaky Karaoke Microphone has LED lights in six different colors. The lights flicker according to the rhythm that makes live singing even more lively!
As far as controls are concerned, this microphone is as simple as it gets.
[There is an 'M' voice changing button for toggling between the five sound modes. You can choose any mode: original sound, female voice, male voice, child voice, and old male voice.
FishOaky Karaoke Microphone guarantees supreme ease of use with its amazing audio processor and professional tuning system.
Features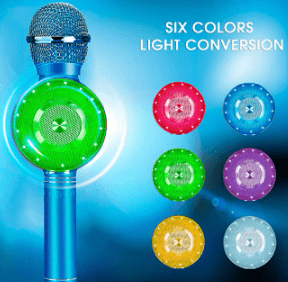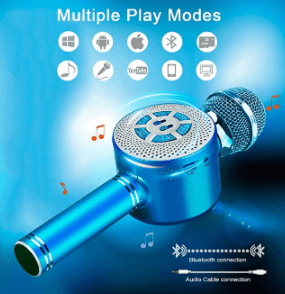 FishOaky Karaoke Microphone is safe, it is kid-friendly and works well without any trouble, making it perfect for karaoke.
It is a battery-powered microphone with a rechargeable 2600mAh lithium-ion battery. On a single charge, it can last easily for 5 to 8 hours.
FishOaky has succeeded extensively in delivering a superb sound experience with its dual-channel stereo speakers. It combines with the mesh filter in order to maintain a sound equilibrium.
The microphone also has noise reduction capabilities with a 3-layer filter.
FishOaky Karaoke Microphone is easily compatible with iOS and Android devices.
With that being said, there are some downsides to this microphone as well. Initially, it can be a little difficult to switch the functions. Also, while connecting the microphone via Bluetooth, there is some kind of interference noise.
Build and design
The first thing about the BONAOK Q37 3-in-1 karaoke microphone that will impress you is its comfortable design. It is specifically designed by considering the needs of the user, in this case – children.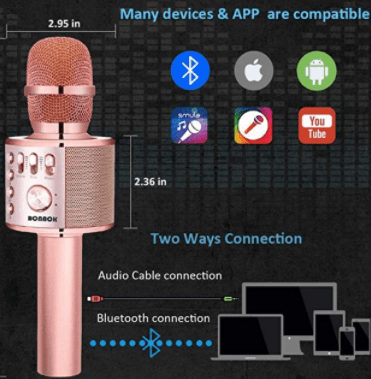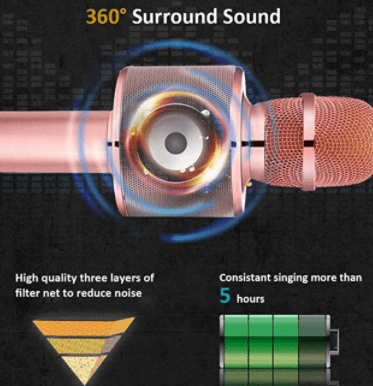 Holding the microphone in the hand is very easy and so is operating it. You can either choose to connect the microphone via Bluetooth or through a cable.
It weighs only 365grams, thus children can easily sing with it for hours without getting tired of holding it.
BONAOK Q37 has high portability ratings and it offers a good grip with its dull polish handle.
One reason why it is ideal for kids is that it's very durable. Good quality materials have been used to manufacture this karaoke microphone.
You can find all the controls on the front face of the microphone. There is a power on/off button and sliders to change the volume, echo, voice, and background music.
Features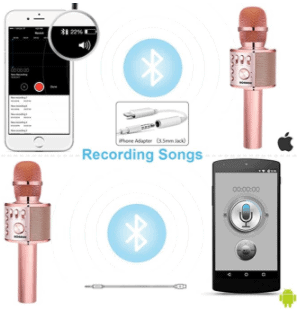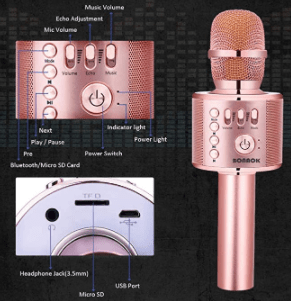 BONAOK Q37 is an all-around karaoke system. It is a package of several functionalities – a handheld microphone, a recording device, a Bluetooth speaker.
This microphone is battery powered with a rechargeable 2600mAh lithium-ion battery. The battery life is rated at 5 hours for a single charge.
Coming to its sound quality, BONAOK Q37 precisely delivers clear audio along with crisp sound effects.
The three-layered filter head of the microphones works significantly towards reducing any extra noise produced while singing. Furthermore, it features a denoising technology that filters the wind noises and airflow effectively.
BONAOK Q37 is easily supported in various devices such as iOS smartphones, Android devices, Sony devices, and PC. It is also compatible with many singing apps.
One downside that can be noticed in this microphone is its average performance in terms of surround effects.
Build and design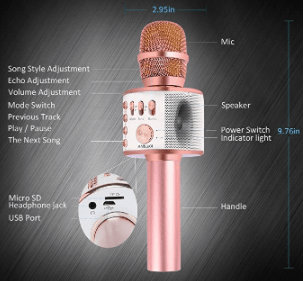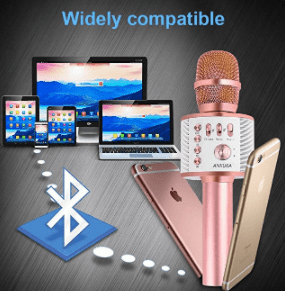 With a lightweight design and stylish colors, the Ankuka karaoke microphone becomes perfect for arranging singing events at parties and get-togethers.
The body is made of aluminum, and that is one reason why it looks so good on the hands. Along with that, it is very durable as well and capable of enduring damage.
As it weighs very light, portability is never an issue with this microphone and is absolutely kid-friendly and safe.
Features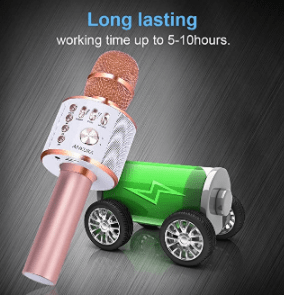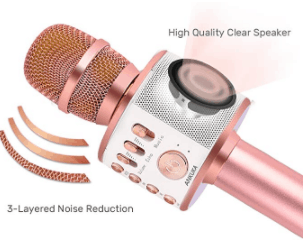 Ankuka karaoke microphone is a 3-in-1 sound system that works as a microphone, as a speaker, and as a music player as well.
It is not only a karaoke mic as it delivers amazing acoustic performance as well.
A 2200mAh rechargeable battery acts as the power source for this mic. The battery can run for a decent 4 to 8 hours at a stretch.
[Ankuka features the qualities of an intelligent mixing chip with the 3-layered noise-cancellation filter head to produce clear audio output.

The sound is not affected by wind noises and airflow. The filter also takes care of excess reverberation. ]
The microphone is compatible with iOS and Android devices and has a connectivity range of 32.8 feet.
Ankuka smoothly blends vocals with background music and enables the user in touching the higher notes without any reduction in crispiness.
One major issue with this microphone is that in spite of plugging in headphones, the background music keeps playing through the speakers. Additionally, the maximum volume can be attained only in the echo mode.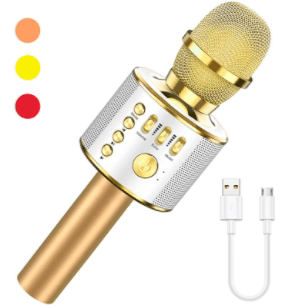 Build and design
The LET'S GO! Portable mic has a rather fashionable look finely built into a professional design. Aluminum alloy is the main building material of the microphone. Thus it is stylish and durable at the same time.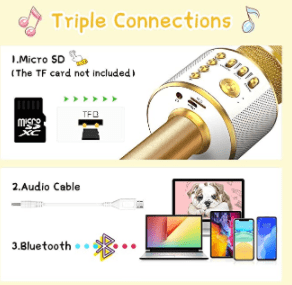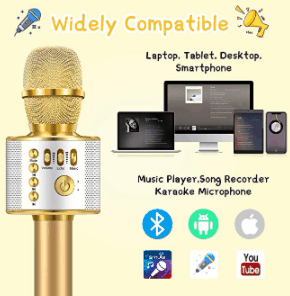 This handheld karaoke mic is very lightweight due to its miniature size. The grip is very firm and can be grasped easily by kids above 4 years and adults as well.
LET'S GO! is a highly portable microphone and can be taken anywhere – family partiers, while traveling, during camping.
In terms of controls, you can find buttons on the microphone to adjust volume levels, background music, and the amount of echo.
Features
LET'S GO! Portable mic is an excellent choice for live shows and karaokes without any doubt.
It has a three-way connection – Bluetooth, Cable, and TF Card.
The rechargeable battery is capable of supplying power to the microphone for hours at a stretch so you don't have to keep on charging it frequently.
LET'S GO! features two high-quality inner-magnet loudspeakers, whose job is to produce the perfect voice with immaculate sound quality.
It also features a Stereo Echo Effect that helps is giving a live-show experience and making the rhythmic music clearer.
Additionally, the microphone is built-in with noise-canceling technology to remove any unwanted frequencies picked up while singing.
LET'S GO! Portable mic is compatible with any device that has a Bluetooth version of 4.1 or more.
Taking a took at the downsides, it is often seen that children get confused by the features of the microphone as they cannot figure them out.

Build and design
The design of Frozen Magical microphone is an exciting one and definitely not boring. It easily fits into the tiny hands of the kids. And since it is extremely lightweight, it is very portable as well.
The outer body of the microphone is beautifully designed with illustrations from Disney World.
Frozen Magical microphones come with a bunch of flashing and colorful LED lights. These lights light up during any musical performance.
Features
This microphone isn't a karaoke microphone, although it is a sing-along microphone.
It operates on 2 AAA batteries. They are already fitted into the microphone.
Frozen Magical features a song – Into the Unknown – that is already pre-installed into the system.
Since it is not a karaoke microphone, there is no scope for compatibility issues or sound quality. This is a microphone strictly for very young kids who love the cartoon characters from the movie Frozen.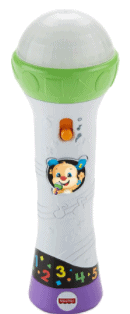 Build and design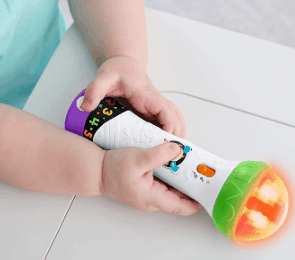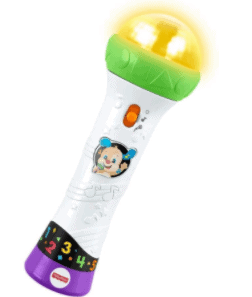 This Fisher-Price microphone is absolutely perfect for toddlers. It has a cute little size and design. It is light enough to easily fit into the tiny hands of your newborn.
The mic is full of colorful and bright lights that switch on when the playback music starts playing. '
The lights of particular color light up when that color is narrated in the song. This process helps the toddlers to relate with the concept of color very well.
Pressing the Puppy button lets your kid record whatever they are singing and encourages them to put on a little show.
Features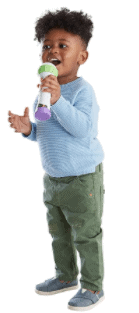 The Fisher-Price toddler microphone operates with the help of 2 AAA batteries. They are included with the set.
[This microphone has dual features. Your kids can record their songs and play them back by adding cool effects and fun music. ]
The second feature is more of a learning experience. There are several tunes that are meant to teach toddlers about colors, counting, body parts, alphabets, and opposites.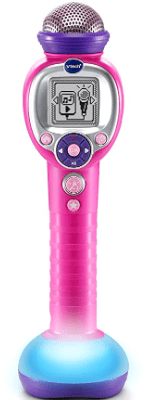 Build and design
Simple and cute – that's exactly how the Vtech Kidi Star Music Magic microphone looks.
It is an extremely portable microphone that is capable of functioning as a karaoke machine as well.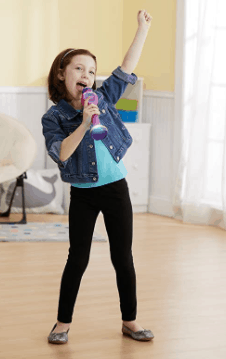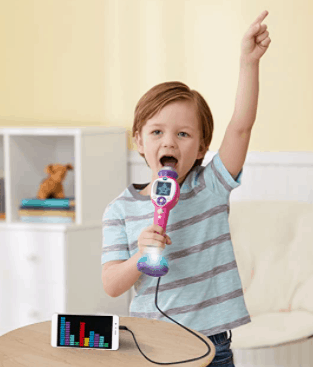 The base of the microphone has color-changing abilities. While performing, it lights up and keeps on changing color to make your songs even more lively.
Vtech Kidi Star features a Music Magic button. Its function is to reduce the main vocal track from the song, allowing the user to sing to that track.
This microphone is specially made for kids aging 5 years and more than that. It will particularly interest those kids who have an imaginative mind in terms of singing and performing.
Features
Two AA batteries are required to operate the Vtech Kidi Star microphone.
The Sound Effects button allows you to add applause and various funny audio clips to your performance. Likewise, the voice changing button will change your voice into four modes – Deep, Echo, Robot, and Squeaky.
Kids will especially love the microphone's voice recording feature.
Conclusion
Aren't all of them exciting karaoke microphones? We surely agree with that.
However, the time has come when we shortlist a few of the best among them to make your task even easier.
So which one do we like the most?
Firstly, it's the FishOaky Karaoke Microphone. It is stylish, it is full of features and it is exactly what your kid needs to go forward with singing as a passion.
Next up, we have the BONAOK wireless karaoke microphone. On top of being a karaoke microphone, it also functions as a Bluetooth speaker and a recording device as well. Versatility at its best is ensured with the microphone.
And finally, we like the Ankuka bluetooth karaoke microphone. Its durable aluminum design makes it durable in case of frequent damages. It comes with an in-built music player so you can sing karaoke on the go.
So hurry up and get one of these karaoke microphones for your kids and let them rock the stage!
Read Also: How to Fix Bluetooth Lag in Car? – 8 Super Quick Solutions