Today in this post I am going to review the best iPod speakers with great audio quality.
So you bought your new iPod and you are looking to buy some apple speakers, right?
Editor's Best Pick
Ultimate Ears Boom 3 Portable Waterproof Bluetooth Speaker - Night Black
Best Party Speaker
Bose SoundLink Revolve+ Portable and Long-Lasting Bluetooth 360 Speaker - Triple Black
Cheap Bluetooth speaker
DOSS Bluetooth Speaker, SoundBox Touch Portable Wireless Speaker with 12W HD Sound and Bass, IPX5 Water-Resistant, 20H Playtime, Touch Control, Handsfree, Speaker for Home, Outdoor, Travel-Black
Best Party Speaker
Bose SoundLink Revolve+ Portable and Long-Lasting Bluetooth 360 Speaker - Triple Black
Last update on 2023-09-21 / Affiliate links / Images from Amazon Product Advertising API
I know, listening to the phone's internal speaker is not ideal, it just doesn't sound very good.
Have you thought about maybe getting some portable iPod Bluetooth speakers?
I mean it would be cool to have them set in your room and just connect to them whenever you want to rock some music!
Whatever your decision is, the truth is that you will need some kind of wireless speaker for your iPod.
Trust me, after you read this article you will have a vast knowledge on iPod speakers and you will know which one to buy.
Satisfaction guaranteed!
Bluetooth range: 45 meters

Two 40x80mm passive radiators

Maximum sound level: 90 dB

#2. Bose SoundLink Revolve+

NFC tap-to-pair technology

Controls Bass Level Controls

- Cheap Bluetooth speaker

Waterproof and dustproof (IP67)

Can be linked to another StormBox Micro for stereo mode

Controls: play/pause, power on/off, volume

Power source: USB, battery

Built-in Decoders SBC decoder
Top 5 iPod speakers reviewed
Specifications:
Weight: 608 grams (21.4 ounces)
Wireless capabilities: Pair up to eight Bluetooth-enabled source devices, connecting up to two source devices at the same time.
Bluetooth range: 45 meters (150 feet — Boom 2 had 100 feet)
Battery Life: Up to 15 hours
Charge time: 2.75 hours
Two 40x80mm passive radiators
Maximum sound level: 90 dB
Sound quality
The cylindrical design makes it possible for these speakers to deliver great 360-degree sound with stereophonic feel.
It has two drivers and two radiators so that you can get powerful mids and deep bass on a small portable enclosure at 90 dBC.
It connects via Bluetooth to your iPod, iPhone, Android, etc.
This system lets you pair up to 150 of these speakers to playback the same audio material at the same time, boosting the overall volume.
Features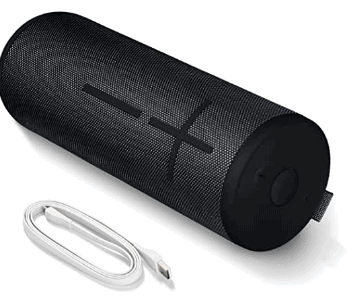 It features four different EQ presets ideal for different occasions and a customized tuner.
The rechargeable battery is capable of running for 15 hours straight!
The rugged and waterproof case makes this ideal for users trying to carry this speaker on outdoor environments like the pool or the park.
The waterproof feature lets you submerge it for up to 30 minutes, and as soon as you get it out of the water, it will keep blasting music, pretty impressive, right?
What do we like?
Very nice looking design, ideal for younger users trying to buy a stylish speaker
Great battery life!
Sounds good and loud for pool and outdoor uses.
What we don't like?
No aux input options, so your old devices that have no Bluetooth won't be connected.
Specifications:
IPX4 water-resistant
Shock resistant
Threaded tripod mount on the bottom of the speaker
Battery life: 12 hours (Revolve), 16 hours (Revolve Plus)
NFC tap-to-pair technology (with devices that support NFC)
Controls Bass Level Control
Power Input 110-240V, 50 Hz
Sound quality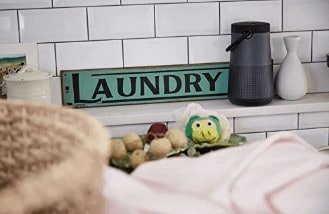 The SoundLink Revolve+ is a complete 360-degrees speaker that can be placed anywhere in the room to create powerful sounding music that irradiates in all directions.
The frequency response is very impressive and the dispersion of the speakers is flawless.
It has dual passive radiators for the mid and high frequencies set in a concentric fashion. There is also a downward-facing transducer for low frequencies. The combination of these elements makes the overall extended frequency response of this unit.
The casing resists accidental shocks and drops due to its construction, and it also resists water spills and splashes.
Pairing with other SoundLink Revolve+ units is possible so you can set them across your home.
Features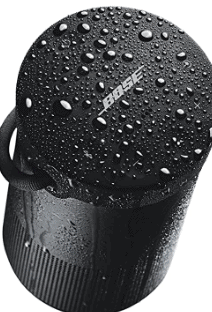 The grille has absolutely no seam for a more stylish and elegant look.
The rechargeable battery lasts up to 16 hours.
There is a built-in microphone so you can answer calls over speakerphone.
The speaker is also compatible with voice input, so you can control your phone by simply talking to the speaker!
The connection is done via Bluetooth to your phone, iPod, tablet or laptop device.
What do we like?
The amazing grille design looks very good.
Built-in microphone lets you take calls and control your device from the speaker
What we don't like?
It can resist water splashes, but it cannot be submerged.
Specifications:
Sound Driver: 2 x 6W High-Performance Drivers
Waterproof: IPX4
Bluetooth Version: Bluetooth 4.0 + EDR
Feature: Touch Control
Playtime: 12 hrs
Size: 6.6 x 2.9 x 2.7 in
Weight: 1.23 lbs
Sound quality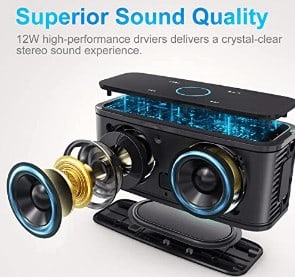 The DOSS SoundBox portable speakers deliver outstanding stereophonic and 360-degree sound under a small portable enclosure.
It has two 6-watts front-firing drivers that are capable of reproducing crystal-clear high and mid frequencies, ideal for most recorded music.
The lack of a bass radiator makes the low frequencies less noticeable when reproduced on this system.
The system is designed to be used indoors, perhaps in your kitchen or studio. However, you can also take it out for camping or hiking. But be careful, it is not water-proof.
Features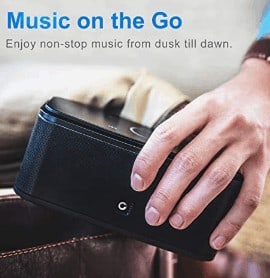 The black finish looks very modern and it has touch controls for play, pause, skip, adjust volume, and select input sources.
You can connect your iPod, phone, or tablet using Bluetooth.
However, there are also other options such as MicroSD to playback audio from your own MicroSD card, and even a 3.5mm auxiliary input for your older music player with no Bluetooth.
The battery can resist up to 12 hours of continuous operation.
What do we like?
MicroSD and 3.5mm inputs apart from Bluetooth are very useful for users that have older player devices.
The touch controls make this device look very modern and elegant.
What we don't like?
The low-end response is not that great because it has no dedicated subwoofer driver.
Specifications:
Very compact (pocket-friendly)
More bass and volume than most speakers this small
Waterproof and dustproof (IP67)
Integrated strap
Can be linked to another StormBox Micro for stereo mode
USB-C charging
8 hours of battery life
Sound quality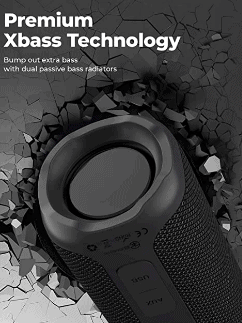 The Tribit StormBox is another incredibly portable and versatile 360-degree sound speaker.
Designed with two passive radiators that work together, this speaker is capable of providing a very convincing low-end response in parallel to a flat and solid mid and high-frequency response.
The speaker is designed for users trying to use this speaker on-the-fly, perhaps when hiking, biking outdoors, camping, picnics, or doing outdoor sports.
If you have two of these systems, you can pair them together in order to obtain twice the amount of volume! Rock that party!
Features

The system is IPX7, yes, waterproof. You can let it submerge in the pool or ocean and it will be fine!
The playback systems can be connected wirelessly using Bluetooth or wired using the 3.5 mm auxiliary input included.
The portability it delivers is simply great. It has a dedicated handle to carry it around everywhere.
The rechargeable battery lasts up to 20 hours straight on a single charge!
What do we like?
20 hours of battery life makes this really great for camping trips.
Bluetooth and 3.5mm inputs are available.
A built-in mic is available for speakerphone operation.
What we don't like?
No voice control capabilities.
Key features:
Connectivity Technology: wired, wireless
Controls: play/pause, power on/off, volume
Built-in Decoders SBC decoder
Battery: rechargeable
Run time: (Up To)12 hour(s)
Power source: USB, battery
Charging options: USB charging (power bank function)
Sound quality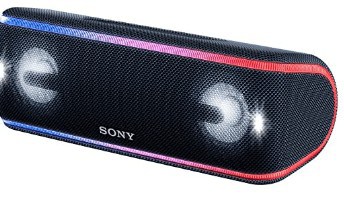 The Sony SRS-XB41 delivers excellent 3-dimensional sound quality with an extended frequency response from 20 Hz to 20 KHz because of its embedded DSP technology that enhances the sound no matter where the speaker is located.
This system features the "Extra Bass" and "Live Sound" modes that use the DSP inside to enhance the overall sound quality to boost your party to the next level.
It has two 2.28" speaker units made of Mica Reinforced Cellular cones that work effortlessly to control the sound and boost their driving power.
The speaker can be used indoors for your home, office, or even your party! But it can also be easily taken outside for camping and outdoor activities due to its waterproof and dustproof capabilities.
In case you need even more power, you can pair up to 100 of these units into a single huge sound source that can rock your house and party in seconds!
Features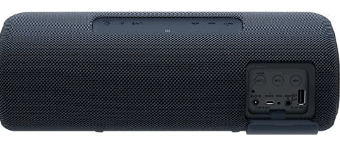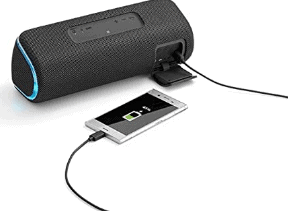 These speakers are waterproof, rustproof, and dustproof, so yeah, you can be confident of using them outside!
You can connect your devices to the speakers using Bluetooth, but also NFC and an auxiliary 3.5mm input jack available for legacy devices.
It has a USB charging port and plenty of lights all around, making it very versatile.
And the best, the battery lasts for 24 hours!
What do we like?
24-hour lasting battery
Embedded DSP enhances the overall sound quality of the product
What we don't like?
Size can be a bit bulky for users looking for extreme portability
Read Also: How to Fix Bluetooth Lag in Car? – 8 Super Quick Solutions
Conclusion
If you want a portable Bluetooth speaker for your iPod or mobile device that can last for the longest amount of possible hours, don't look further, get the Sony SRS-XB4.
Let's say your priority is finding an elegant and stylish-looking product, that sounds good, then your best bet is to buy the Bose SoundLink Revolve+. No other system looks better than that one!
Do you like pool parties? Thinking about possibly submerging the speaker? The Ultimate Ears BOOM 3 is in fact the best option in that case.