What kind of headphones are the best for travelers, explorers, and wanderlusts?
There are no headphones labeled "for wanderlusts", but if we look closely at some features, we'll find some of the best ones for you.
In this article, I show you the headphones that will serve your unique needs as a frequent traveler.
Let's get started with the best foldable headphones.
Here are the top 7 headphones for wanderlusts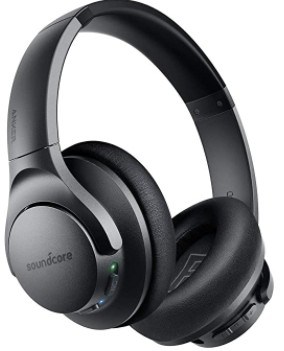 Specifications:
Impedance 16Ω
Driver (Full Range) 2 × 40 mm
Frequency Response 16 Hz – 40 kHz
Range 15 m / 49.21 ft
Box includes – Micro-USB Cable: 3.5 mm AUX Cable, Travel Pouch
Connectiivity: Bluetooth 5, AUX
Recommended for – Travel, flight, train, commute
Charging port – Micro-USB
Build and design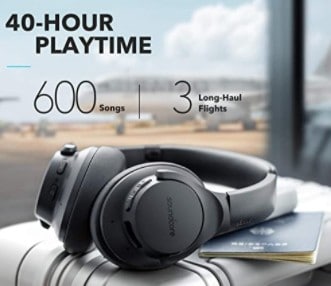 The Soundcore Life Bluetooth headset weighs just 263 grams. A pair of headphones this light already wins the heart of many travelers, especially for long trips.
However, that's not all. These headphones' earcups are foldable over a 90-degree angle. Added to that they also swivel. So, they collapse and become smaller and easier for packing.

Also, the headbands are super comfy. They hug your head softly for the whole trip. The Bluetooth pairing and active noise cancellation controls are on the left earcup.
Likewise, on the right earcup, you have the other controls. Even though there are just a few control buttons, the functions they control are way more,
The play/pause button also answers your calls and activates the bass boost. It may take some time to memorize all these controls but it's worth it. Oh, I forget, the same button engages Siri, Google Assistant, or other voice command assistant on your phone.
Sound quality and performance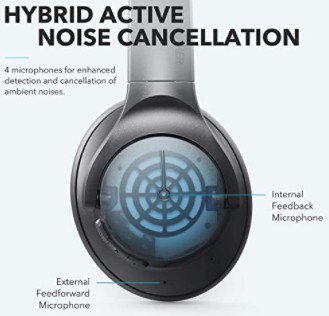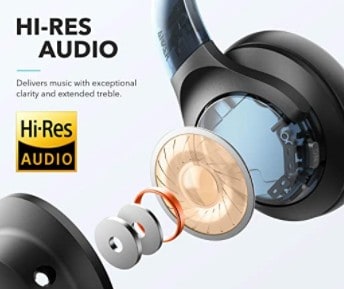 When you engage the bass boost function, the headphones give great emphasis to the bass response. Without the boost, the bass feels a little underwhelming.
The midrange is where the juices really are. It has a lot of detail, making musical vocals shine through. If you listen to audiobooks a lot, you will enjoy the richness of the reader's voice.
The treble is decent, nicely avoiding any unnecessary harshness.
Let's talk about how well these headphones keep out noise. The Anker Soundcore Life has the active noise canceling(ANC) feature.
This means that it keeps external noise out of your ears by actively blocking them out. It blocks out 90% of the noise with these headphones. The 10% is mostly treble sounds like whistles. Airplane rumbles and bus engine roars are well blocked out.
Pros
You have the freedom to either have a bass boost or not.
The foldable ear cups are perfect for travelers.
The fully padded headband gives added comfort.
Cons
Active noise cancellation still allows some high-frequency sounds to pass through.
The controls are tricky to master.
Bottomline: Most ANC headphones have a bass boost, but the Soundcore Life gives you the option of taking it off. This makes it perfect for a wide range of travelers.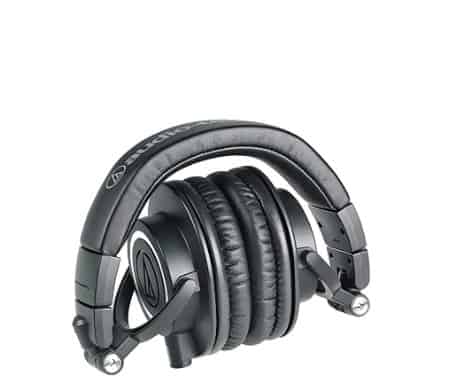 Specifications:
Headphone design – Closed back
Driver size – 45 mm
Magnet type – Neodymium
Voice coil – CCAW (Copper-clad aluminum wire)
Frequency response – 15 – 28,000 Hz
Maximum input power – 1,600 mW at 1 kHz
Sensitivity – 99 dB
Impedance – 38 ohms
Build and design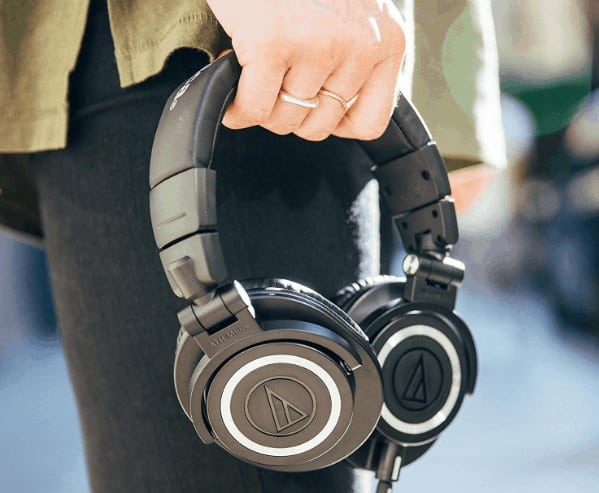 The ATH-M50x is a wired headset that looks and feels sturdy. Even though the frame is solid, the headphone still maintains its sleek aesthetic.
The earcup swivels and makes the headphones easy to pack because it collapses the size.
Also, even if you choose to place the headphones on your neck, the earcups still fold into a flat position. This can come in handy when you're on a trip and you need to take in the whole environment.
Weighing 283 grams, they have just the right heft to stay on your head without feeling like a load. While the headphones are generally comfortable, if you're traveling on a hot summer day, you may feel a little sweaty after some hours.
The closed-back over-ear design makes the earcups cover the whole of your ears.
Sound quality and performance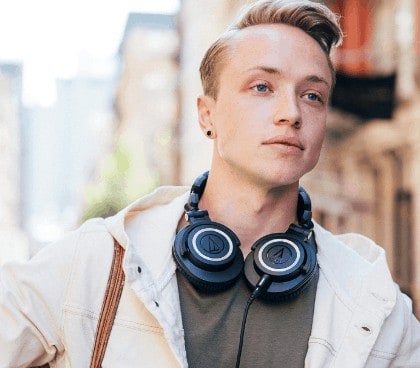 These headphones have a balanced response with a slight enhancement of the bass. In fact, you won't notice this boost in most songs. If you're a fan of big, banging bass, you may need to look to other headphones.
However, there is a lot of detail in the mids. If you love jazz, classical or you have an eclectic music taste like me, the ATH-M50x is for you.
The treble or high frequencies also shine through really well. This is where classical music takes its space.
These headphones do not have active noise canceling, but the snug fit of the earpads do their bit of passive isolation.
Pros
The balanced response makes the headset effective across different genres.
There is good passive noise isolation with the snugly fitting earcups.
The cable is detachable, making the headphone last much longer.
Cons
With no considerable bass boost, it may not appeal to bass loving consumers.
During air travel, some noise will get in because there's no ANC.
Bottomline: These headphones are the perfect choice for travellers who are also audiophiles. Since it's not wireless, you can conserve your phone battery better.
Specifications:
Size and Weight. • Height: 7.2 in / 184 cm. • Weight: 9.17 oz / 260 g.
Form factor: Over-Ear.
Connections and Expansion – Bluetooth, Wireless.
Power. – Rechargeable Lithium-Ion.
Other Features. • Bluetooth® • Adaptive Noise Canceling (ANC) • ANC on/off function. • On-Board Call and Music Controls.
Build and design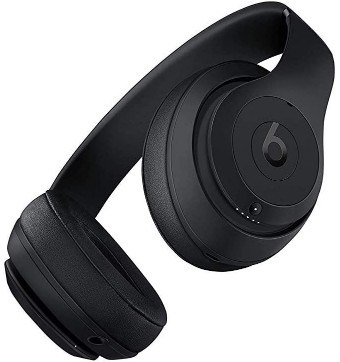 The Beats Studio 3 pair are Bluetooth headphones with a frame made of plastic. The plastic frame is an efficient choice because it keeps the headset light and still maintains enough strength to withstand some drops.
The ear cups cover your ears completely. It increases comfort by not putting pressure on your ears. However, it can make your ears feel a bit warm after some hours, especially if you're on a long trip on a hot day.
So what makes these headphones best for travel?
It's the foldable earcups. When you fold the headphones, they contract to almost half the original size. If you suck at packing up stuff, the Beats Studio makes your job easier.
Sound quality and performance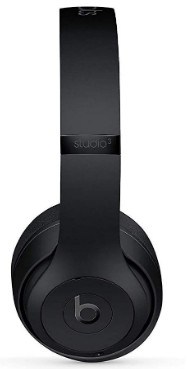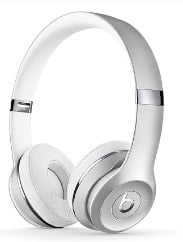 One thing stands out with these headphones – it's bass, bass, and more bass. The bass boost is way up.

Bassheads and some trap and EDM lovers will be excited with this kind of sound. For audiophiles and other normal people like me, we have to look for our balanced sound elsewhere – probably get the ATH-M50x.
The enhanced bass overshadows the mid frequencies making most jazz and classical music less enjoyable. Even audiobooks and podcasts are audible, but the rich tone of the reader's voice will give way to more heft in the low end.
With the active noise canceling engaged, you will feel the deep bass even more, and you can be sure that your air trips and train travels will be undisturbed.
Pros
Active noise cancellation eliminates rumbles and airplane engine roars during the trip.
These headphones have a bass-first approach, which will favor lots of trap heads.
They are lightweight while maintaining their strength.
Cons
The abundant bass may be too much for some listeners.
Bottomline: Surely not for everybody, but if you love a lot of bass, you're gonna love these Bose Studio 3 headphones.
Specifications:
Driver Size 1.2" / 30 mm
Design On-Ear (Supra-aural)
Earcup Style Closed-Back
Frequency Response 12 Hz to 22 kHz
Impedance 24 Ohms
Maximum Sound Pressure Level (SPL) 98 dB
Maximum Power Handling 1000 mW
Build and design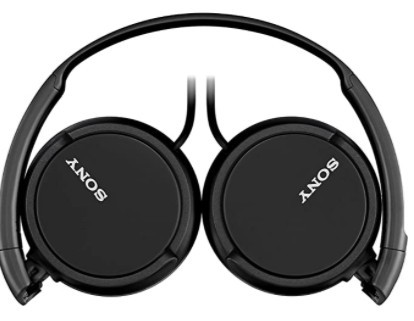 Like most traveling headphones, the MDR-ZX110 has a plastic frame that makes it lighter and easier to use for a long time. On the flip side, the same plastic frame makes it feel a bit flimsy. I didn't see it break, but it feels like it needs some care.
To store these headphones for traveling, Sony has made your job easier by making the earcups foldable.
Also, since the headphones are wired, we need to talk about the cable. The Sony MDR-ZX110 comes with a flat cable that is tangle-resistant and does not stain easily. That's not all; the cable makes little to zero noise when it brushes against your body or clothes.
Sound quality and performance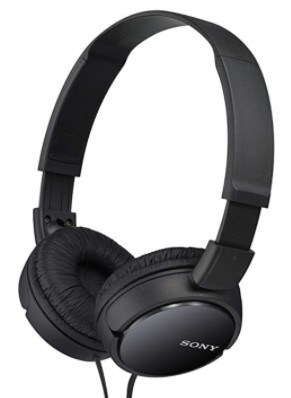 Like many consumer headphones, the MDR-ZX110 has an audible bass bias. The bass is tight and punchy and has more heft than other frequencies.
The low mids also carry some weight, giving the sound some warmth. However, all this low-end emphasis results in a recessed treble.
Consequently, your hip hop songs will sound bass-heavy but may be lacking some high-end openness.
The only noise isolation in these headphones is the passive kind. It works decently, but leaks in some outside noise because it doesn't have a super tight fit.
The soundstage is another essential factor in sound quality. In this case, they're not as wide as you may expect, but still, give you the stereo feel throughout.
Pros
The flat cable is tangle-resistant and strong
The passive noise isolation is decent.
The sound has some weight and warmth, with a lot of potentials to impress rock and metal lovers.
Cons
The soundstage is not very wide.
The treble is a little recessed.
Bottomline: These headphones are the perfect size for both indoor and outdoor use. It's even better if you're a metalhead.
Specifications:
Speaker: 50 mm
Impedance: 32 Ohms
Sensitivity: 110dB+- 3dB
Plug Type: 3.5mm/6.35mm stereo
Works with: iPad, iPod, iPhone, Android, and many other Audio devices.
Frequency Response: 20Hz-20KHz
Build and design
These over-the-ear headphones are built to make your trip super comfortable. The padded headband and earcups are soft. You can take long flights with this pair and be comfortable for several hours.
Aside from the softness, the headphones are adjustable at the headbands, giving you a good gift regardless of head size.

We can't talk about the design without mentioning the swiveling earcups. The earcups swing at a 90-degree angle. So, if you need to hear more of your surroundings, you can easily turn one of the earcups away from your ear to hear other stuff.
Also, the earcups are foldable – easy to pack for wanderlusts.
Sound quality and performance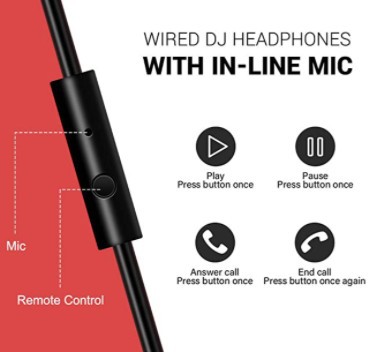 These wired headphones have good noise isolation. Remember that it's not active noise canceling, so all the isolation you get is courtesy of the snugly fitting earcups and earpads.
Metal music lovers will be impressed by the amount of bass you can get from these headphones. Even with the enhanced bass, you can still hear the detail in the midrange and treble.
The high frequencies shine through without adding any extra harshness of its own.
Pros
Comfy earpads and headband make it easy to use the headphones for a long time.
The headbands can adjust to any head size, giving a snug fit always.
It's foldable, making it an easy-to-pack item.
Cons
The abundant bass may be a turn off for jazz and classical music lovers.
Bottomline: If you're often on long flights, these headphones will be perfect companions on your journey. Also, you don't need to worry about charging them
Build and design
The V-Moda Crossfade M-100 is one of the strongest, most durable headphones you will find today.
Let's start with the headband. Its frame is made of steel and always snaps back into place no matter how much you bend it out of shape. If you're going hiking, camping, and other demanding trips, these are the cans for you.
In terms of comfort, the headband does not give the super-soft plushness of a thick padded band. However, the cushion inside still makes you comfortable most times.
On the other hand, the earpads cushion make up for the lightly padded headband, so the headphones are still very comfortable.
Sound quality and performance
I would describe the V-Moda M-100's sound as pristine. It combines a strong bass with a well-detailed midrange and sparkling treble. The bass has just a little push, but not enough to change the original sound significantly.
Sure, bassheads may not like this much, but it means that the majority of music lovers can enjoy their favorite genres with the M-100s.
The soundstage is also wide, giving your music enough room to breathe.
Pros
These headphones are super strong and will serve you for a long time.
The bass has just enough enhancement to satisfy lovers of all genres of music.
The in-line mic gives you a hands-free calling option.
Cons
The headband is only lightly padded, so you'll feel it on your head.
Bottomline: if you are a tourist who goes camping, hiking, and other adventures, these headphones are good for you. The in-line remote gives you more freedom.
Specifications:
Bluetooth Specification: Bluetooth 5.0+EDR
CVC 6.0 Dual Microphone Noise Reduction echo cancellation
Loudspeaker Frequency Response: 110HZ ¨C 20,000HZ
Loudspeaker Impedance: 32 ohm
Battery: Lithium polymer – 400mAh
Music Playback Time: 15 hours
Weight: 165g
Build and design
The PowerLocus design is something you will love if you are a fan of traveling in style. They come in plain colors with a stripe design.
It's actually cooler than I'm describing, I promise. The headphones come with a case that protects it while you pack it up for traveling. The case looks like it's too small to contain the headphones, but it's not.

The headphones are foldable at the earcups. Folding them makes them fit in the case. It's easier to pack a pair of headphones when you can make them compact like this one.
The Powerlocus headphones are made of plastic and they feel a little fragile. The ports are on the right earbuds while the controls are on the left.
Sound quality and performance
There is some bass enhancement here, with a tight low-end. The mids and highs are not as detailed as the bass, but they have what most hip hop fans, metal fans, and bassheads want – a lot of bass.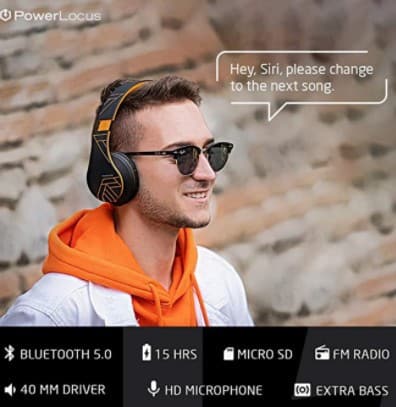 The Bluetooth 5.0 connection ensures that you have no latency in your playback. This means that while watching a movie or playing a game, the audio does not lag behind the video.
There is not a lot of sound isolation because the design of the headphone is the on-ear type. This means that the earcup sits on your ear instead of around it like over-ear headphones.
Pros
The Bluetooth connection has very low latency and high-quality audio.
The headphones have a stylish design.
They are super light and you can wear them for hours without feeling the weight.
Cons
The on-ear design allows external noise through your ears.
They feel fragile and need extra care.
Bottomline: If you go on day-long hiking trips, then these PowerLocus headphones are great for you. You also don't need to take out your phone – simply use voice commands.
Also read:
Conclusion
All of these headphones have valid reasons to be on this list.
Each of them has something unique to offer on your adventures. Having said that, my top 3 picks are PowerLocus, Beats Studio 3, and Anker Soundcore Lite.
These three are wireless headphones that give you more mobility. Also, you don't have to worry about in-line mics for your calls.
The wireless factor is everything for me. However, your own choices may be different. Just pick a good one from this list and you'll be fine.
.