Are you looking to buy the best floating pool speakers for your next beach party?
Table could not be displayed.
The floating pool speakers are a relatively new invention that provides unique waterproof properties, allowing users to enjoy music while relaxing in the pool, bathtub, kayak, lake, and other wet environments.
The waterproofness of a floating pool speaker is measured by its IPX rating. IP stands for Ingress/International protection, while the 'X' is a two-digit numerical placeholder.
The first digit provides the degree of protection against solid objects and it ranges from 0 to 6. The second digit, on the other hand, reveals the degree of protection against water. It ranges from 0 to 8.
For instance, an IP67-rated pool speaker has no ingress of dust (totally dustproof) and is protected against damage caused by temporary water submersion.
Apart from having a good IPX rating, your ideal floating pool speaker should provide sufficient moisture and humidity resistance.
So in this post, we have reviewed the top 5 floating speakers for pool.
Let's get started.
wireless range of about 30 feet

Wireless connectivity for up to 20 meters

5 hours of music playing time

Playback Time: Up to 8 Hours

Operating Distance: Up to 66 ft

Wireless connectivity - 15m
Top 5 floating pool speakers reviewed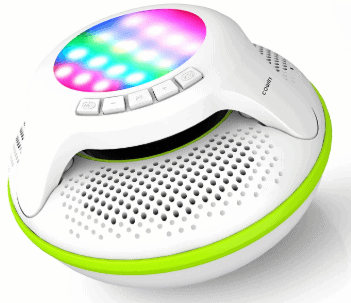 Sound quality and performance
The Cowin IPX7 Bluetooth speakers deliver 10W+ of crisp-clear stereo sound.
It has 3 passive radiators that offer remarkable clarity and full-spectrum audio, providing listeners with an immersive listening experience.
These speakers are equipped with advanced Bluetooth 4.0 which not only consumes less energy than other wireless connections but also delivers unrivaled audio devoid of glitches.
These IPX7 rated speakers provide rich bass and the volume can be amped up as desired.
Waterproofness and IPX rating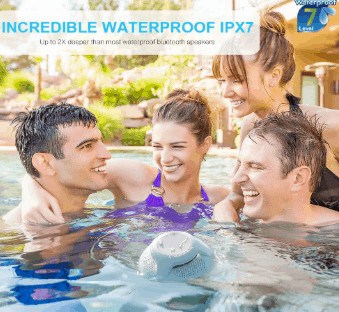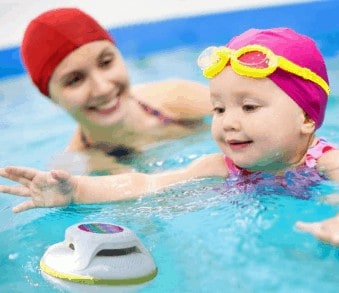 Pool speakers ought to have outstanding waterproof properties. The COWIN IPX7 is a floating waterproof speaker that has a rugged rubberized exterior that provides 100% protection against dust and water.
These speakers are certified with an International Protection (IPX7) waterproof rating. It can function when fully submerged one meter below the water surface for about 30 minutes.
The COWIN IPX7 wireless floating pool speakers are ideal for outdoor activities such as camping, swimming, fishing, hiking, and kayaking. In addition, they are perfect for summer pool parties or hot tub moments.
These floating speakers for pool come with two 1200 mAH rechargeable lithium-ion batteries that provide 10 hours of playtime max.
What we like
It has LED lights with 5 color modes which make it fun for kids
Bluetooth 4.0 provides 33ft of full-range wireless connectivity
Provides high volume, rich bass, and superior sound quality
This product is totally waterproof and retains the charge for long
What we don't like
The speaker's design is wanting.
It gets easily soaked in water when slight ripples occur. Luckily, it has a superb water resistance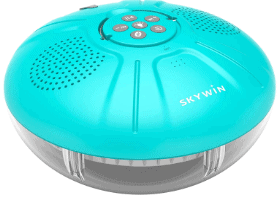 Sound quality and performance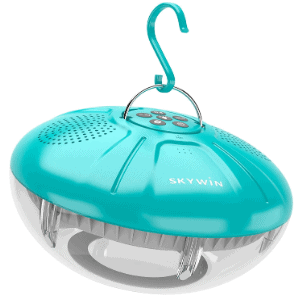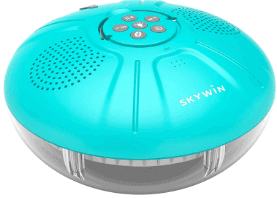 The Skywin wireless underwater speakers deliver rich, high fidelity sound for both indoor and outdoor environments.
This speaker delivers exceptional Hi-Def surround sound. It has adjustable volume levels and runs on Dual 5W power, allowing users to enjoy music in the shower, pool, and hot tub.
It's equipped with Bluetooth connectivity that provides up to 20 meters of wireless connectivity. You can control this speaker from your tablet or smartphone – pairing takes less than 5 seconds.
Waterproofness and IPX rating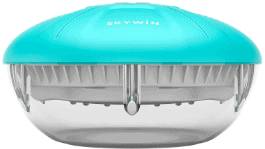 This IPX7 rated speaker might not be the loudest waterproof speaker, but its design allows it to function even when submerged 3 feet underwater.
It's built using high-quality materials, making it shock resistant and dust-proof. This speaker also has an inbuilt hanger that provides easy suspension.
These outdoor poolside speakers have impeccable buoyancy since they are designed to float on water. Apart from placing it on the pool, you can also use it in other wet environments such as the shower, lake, and boat.
What we like
Sturdy, durable and lightweight design
Sound quality is very good
LED lights make this pool speaker fun for kids
Its exquisite water resistance makes this one of the best front gate floatings LED pool speakers
What we don't like
Batteries provide a mere 5 hours of playtime, which is relatively short
Provides little range of motion when connected via Bluetooth
Bass quality is not the best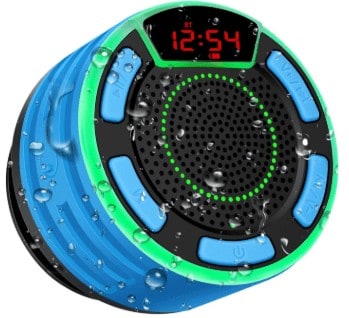 The BassPal IPX7 is a powerful speaker that can be integrated into your outdoor sound system for the pool. It's portable and remarkably affordable. In addition, it can be used in the shower, pool, or bath.
Sound quality and performance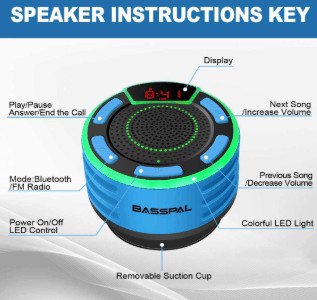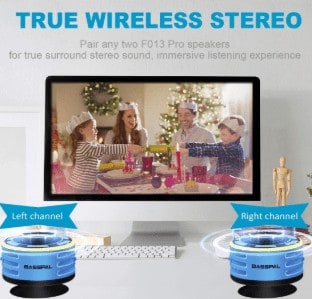 The BassPal IPX7 is one of a few outdoor poolside speakers that feature True Wireless Stereo (TWS) 3D technology. This feature uses Bluetooth to support the synchronous playing of music on two wireless speakers.
These amazing speakers deliver 3600 surround HD sound with zero discernible distortion at maximum volume.
It supports Bluetooth 5.0 that permits quicker and more stable device pairing.
Waterproofness and IPX rating
This BassPal speaker has an IPX7 rating which means it can withstand being submerged 3 feet underwater for up to 30 minutes without damage.
You can use it indoors and outdoors. This includes the car, pool, boat, and a variety of water environments.
The BassPal IPX7 speakers have a cylindrical design. At the bottom, each speaker has a suction cup that helps users to secure it on any flat surface.
Omnidirectional speakers lie at the top and are encased using a waterproof, shockproof, dustproof, and scratchproof casing.
What we like
It's quite affordable
Remarkable frequency response ranging between 120Hz – 22KHz
The battery provides 8 hours of playtime
Bluetooth wireless range reaches 33 feet
What we don't like
It does not save your preferred settings
Always defaults to BT mode and volume level 17 when turned on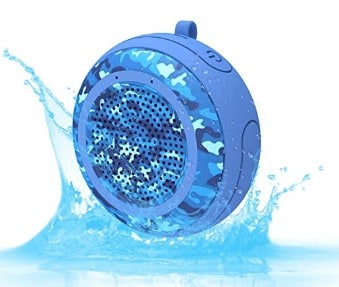 Sound quality and performance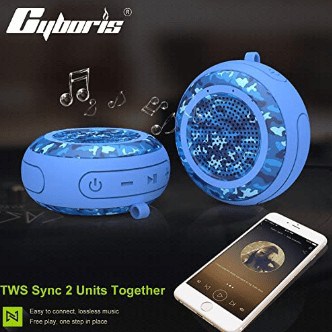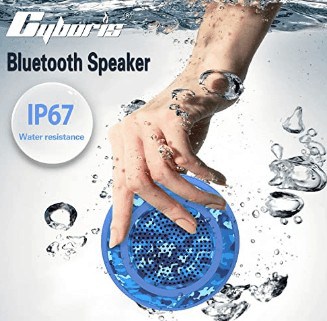 The CYBORIS IPX7 delivers crisp Hi-Def audio quality. It provides superior volume levels in rich stereo, offering listeners an immersive listening experience.
It uses the latest TWS technology that effectively syncs two speaker units together to provide more stereo bass sound.
This speaker's Bluetooth range is 100 – 120 feet. However, water might affect the quality and range of transmitted signals.
This 5W speaker is probably the loudest waterproof speaker in the market.
Waterproofness and IPX rating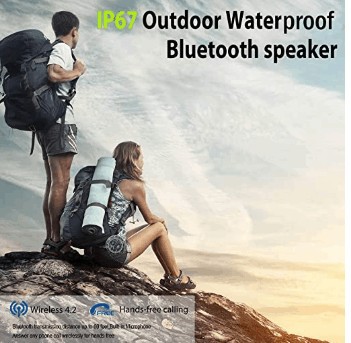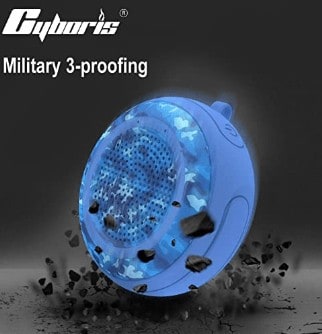 The CYBORIS IPX7 has an IP67 rating. It can maintain its waterproof properties when submersed 3 feet underwater for around 30 minutes without causing damage.
Users must clear the speaker holes to avoid getting mumbled sound. When these holes are blocked with water, the audio will not be clear.
This mini speaker is extremely portable. It can float on the pool for many hours, providing you with enjoyable music.
What we like
SD card slots provided
Waterproof and quite portable
Bluetooth wireless range of up to 120 feet
Amazing audio and bass quality
What we don't like
The sound might not be loud enough for outdoor pool parties
You need to constantly clear water from the speaker holes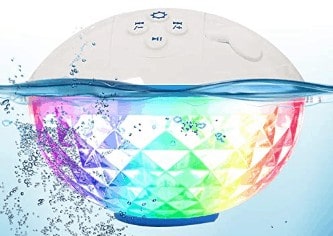 Bluefree makes the most attractive outdoor poolside speakers in the market. Their IPX7 waterproof Bluetooth speakers have a built-in mic and colorful LED lights.
Sound quality and performance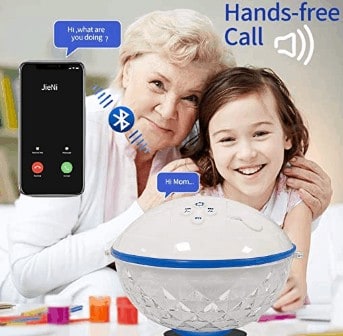 The Bluefree IPX7 portable speakers deliver excellent, high-fidelity stereo sound. Users will find its adjustable wide-ranging volume levels quite useful.
These wireless speakers deliver rich, clear sound with superb bass quality. They have built-in LED lights that offer 7 different color themes as well as slow/fast flashing modes.
Apart from having Bluetooth 4.2 that provides wireless connectivity up to 15 meters, the Bluefree IPX7 speakers are equipped with a micro-USB charging cable and inbuilt mic.
Waterproofness and IPX rating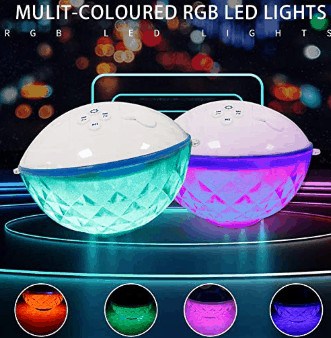 The Bluefree wireless floating pool speakers provide IPX7 waterproofing – one of the highest. It can withstand immersion of 3 feet underwater for about 30 minutes.
This waterproof speaker is also splash-proof and rainproof.
Another interesting feature of the Bluefree IPX7 floating speakers is its durable build and buoyant design. Its bubble-like shape helps protect the internal electronics as it floats on the water.
It comes with one rechargeable battery that provides 8 hours of playtime when fully charged.
What we like
Remarkable audio quality. Sound is clear and loud
Fun LED light modes
Lightweight and waterproof
Versatile and multipurpose
Provides amazing value for money
What we don't like
Water might affect its volume
Some people might find its small size might to be intimidating
Also read:
Conclusion
Each of the floating pool speakers discussed above has wide-ranging advantages. Apart from being remarkably affordable, these speakers perform brilliantly and have outstanding IPX ratings.
In terms of value for money, the BassPal IPX7 Wireless Shower Speaker comes out on top. It has one of the best customer ratings online, thanks to its affordability, portability, suction power, sound quality, and several other features.
The COWIN Swimmer IPX7 Floating Bluetooth Speakers have the best bass quality and battery. They deliver crisp stereo sound with rich bass and balanced mids.
If you're looking for a small, eye-catching pool speaker, the Bluefree Portable Speaker IPX7 will suit you perfectly. This speaker is affordable and provides 7 light modes that will keep your kids mesmerized during pool time.