If you've ever shopped for a car speaker, amplifier, subwoofer or head unit, then you have had contact with some car audio brands.
Each car speaker manufacturer has some features that make them unique. In this article, we will explore some of the car audio brands and their products. Hopefully, you'll get a few pointers for which brand fits your needs best.
Here are the best car audio brands you should know:
Top 15 car audio brands
Alpine
Alpine has been in the car audio industry for over 25 years. They make great head units for both wired and wireless audio playback. If you have an Alpine wireless head unit, you may need a firmware update with new devices sometimes, but it works great.
The head units give you a lot of room to adjust the sound production using an EQ of up to 9 bands. Also, if you like your head units blending in with your dash, you should consider Alpine.
Alpine speakers are also some of the best in the market. They give you great sound at competitive prices. Your car's built-in head unit can give decent power to Alpine speakers without needing an external amp.
Also, the magnets on the Alpine speakers make them easy to fit into your car doors. The fixer doesn't have to move window parts around to give room for the speaker.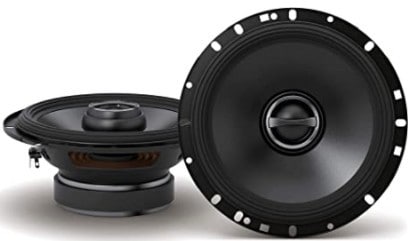 The Alpine S-S65 is a coaxial, top mount car speaker with a maximum 80W RMS power rating. With a frequency response of 70Hz to 22000 Hz, this speaker gives you great production with just your car's factory head unit, and no external amp needed.
Sony
Sony has good head units like Alpine and other great car audio brands, but what sets them apart is their HD receiver heads. If you want to play lossless audio from your car, Sony has head units that can achieve that.
Unlike Alpine head units, Sony designs stand out on your dashboard with the shapes and lights.
Sony speakers are also decent for their price. They are good for people who need car speakers on a tight budget. It sounds better than most factory speakers, but not as great as other big brand speakers. It's a good choice if you're trying to cut costs though.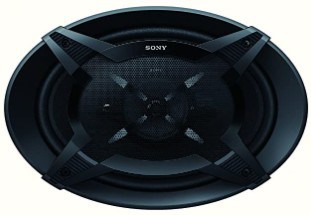 One of the best-selling Sony car speakers is the XSFB6930. It has a frequency response of 40 Hz to 22000 Hz, making it a great option if you don't have a subwoofer. Most stock head units will drive this speaker since it has a 60W power handling rating and 450 W maximum.
Pioneer
Pioneer also makes standout head unit designs like Sony. They have a unique feature that mixes your music like a DJ. It's not like the real thing, but it could be fun.
They also have good aftermarket speakers that will work with your stock head unit. Pioneer car speakers sound good and will probably be better than most built-in car speakers. But if you're an audiophile, they may not be your best pick.
TS-A1676R is one of the Pioneer car speakers with the most value for money. It's a 3-way speaker with a woofer made of carbon and mica-reinforced propylene for great bass response and good performance in severe weather conditions. Your factory car stereo will power this 70W RMS speaker with ease.
Rockford Fosgate
The American car audio manufacturers stopped making head units and focused on speakers, subs, and amps. The speakers are powerful and can reach high volumes without giving distorted sounds. The sound quality is also great, and they're worth considering if you want your music to sound original.
However, if your car or truck regularly endures abuse, then Rockford Fosgate speakers may not be best. The build quality can't withstand too much pressure for long.
Rockford Fosgate was the first car audio brand to build a power amplifier, and they've been building those beasts ever since.
Their amps put out more power than the ratings you find on the package. With Rockford Fosgate amps, you will have lots of power with small-sized units. They're great if you need more power than your built-in head unit can't give.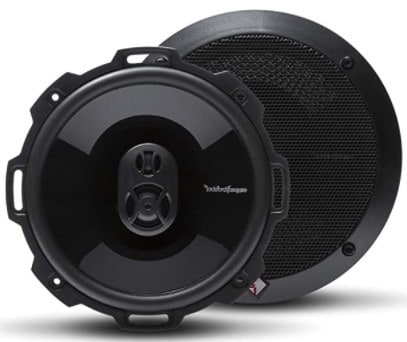 For superb sound at a great price, look no further than the Punch P1675. This 3-way full-range speaker has a power handling rating of 55 Watts RMS. Also, the PEI dome tweeter has a built-in crossover that gives you accurate high midrange and treble production. You can also power this speaker with any decent car stereo.
Focal
Like Rockford, Focal also does not make head units. They make speakers, amps, and subs. The French brand makes speakers with one of the best build qualities in the world. If your car, truck, or van does a lot of work, these are the speakers that can withstand those severe conditions.
Their Utopia series 3-way speakers are some of the best in the world. If you're an audiophile who is looking to spare no cost, Focal car speakers are for you.
Focal amps are great, but they're not the cheapest in the market. Rockford has amps that cost less and give lots of power.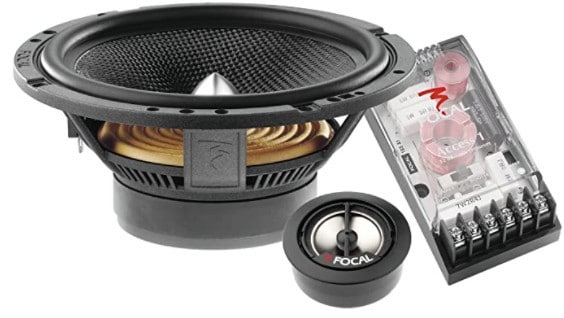 The Focal Access 165 A1 is an example of great sound in a small package. This 6.5-inch speaker is a 2-way component kit that comes with a separate crossover, which has a 3-level tweeter control. The Aluminum inverted dome tweeters make the speakers sound bigger than your car space.
JBL
JBL makes some of the most accessible car speakers. Of course, the cheaper speakers do not sound as great as some of the pricier ones, but they sound much better than most stock speakers. Their amps are also good, but the unique thing about them is the input and output clipping detector. This helps to keep your music clean even though it's coming in hot.
If you have a bigger budget, you can find some great-sounding JBL speaker options as well. But their amps are some of the best in the market.
The JBL GTO609C is popular among car owners because it gives you that extra bonus for its price. its larger cones produce more bass than most speakers of that size by moving more air. The high frequencies are also well handled by the soft dome tweeters' oversized coils.
Infinity speakers are also decent, although the more expensive ones sound really great. Also, the amps are good, but they need more room than Rockford or Focal amps. Some of the amps look a little large when considering how much power they have.
The Infinity KAPPA-93iX is a 6" x 9" 3-way speaker with a wide frequency response range. With a power handling rating of 110W rms, you may need something more than a stock head unit to drive it.
Orion
Orion makes great speakers and amps, but the best part of their products are the subwoofers. Orion subs pack lots of punch and carry the bass of any song without distorting it. Also, if you're looking for amps to drive your subwoofers, Orion has some of the best.
So, if you're building your car audio system with the best of each brand, you should consider Orion when choosing subwoofers and subwoofer amps.
The Orion Cobalt CT-M8 is a 4-ohm, 225Wrms rated car speaker. This means that you may need to check if your car stereo can drive it satisfactorily. Once you get enough power, the pair gives you deep and loud bass with crisp and clear highs.
Fusion
Here's another super-affordable audio brand that makes speakers, amps, and subwoofers. Even though they have now focused on marine audio products, their car audio products are still available for sale.
If you need loud subwoofers that pump out the bass, then Fusion has what you need. They're relatively cheap, but the sound quality is not great. You basically get what you're paying for. So, if you need some bug bass till you can afford better speakers, you can try Fusion.
On the other hand, their marine products are top quality. The head units will work even if they're submerged in water.
One of the rugged car speakers from Fusion is the EL-FL651SPG. It works great on both boats and cars. The cone is made of injection-molded polypropylene for clear sound production.
Kicker
Kicker is another famous name in car audio, known for its speakers, amps, subwoofers, and head units. Kicker speakers have great tonal balance whether you choose to separate the tweeters and subs, or you use a full-range unit.
Each of the kicker speaker series has a unique feature. The KS series are focused on giving you the best sound. You can rely on them to faithfully playback what's coming from the head unit. The CS series gives you clean, clear, and punchy bass. Other aspects of the sound are good, but the bass here is unique.
The DS series are the easy-to-install ones. They're good for car owners who want to fix the speakers without help.
Lastly, the QS series are the top-of-the-shelf car speakers with great build quality and great tonal balance.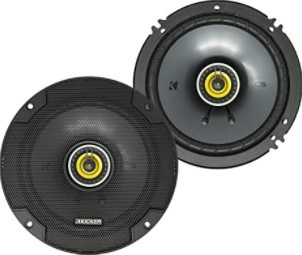 One of the more popular Kicker speakers is the CSC65. This pair is rated 100W rms, which means most car stereos can power it. Also, the PEI dome tweeters ensure that you get clean sound even at high volumes.
JL Audio
JL Audio started making car speakers in the 1970s, and they are known for top-shelf products. Of all their car speakers, the C7 series are the ones I find most interesting. They are called reference speakers. This means that they have a natural response, and you hear your audio just as it comes from the head unit.
This is a big deal for audiophiles because only very few car speakers give you anything close to a flat response.
Of course, this level of precision does not come cheap. However, aside from the audio quality, JL car speakers and subwoofers are also durable. Certainly, they're worth the extra cost.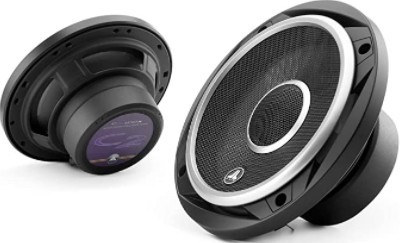 If you need a pair of JL Audio speakers that will work with your current car stereo, you should check the C2-650X. These 2-way speakers have butyl rubber surround giving you great bass production. It's a good option if you don't have enough space for a separate subwoofer.
Boss
Boss offers a very wide range of car speakers that suit different needs. They have both single unit speakers and units with tweeters and subwoofers separated. Boss speakers help you to maintain a clean listening experience by using the autopilot noise compensation system. This reduces the effect of external noise like traffic and pavement sounds.
Also, Boss car speakers are not too heavy, so they don't impact your car performance significantly even if you place them on your trunk. Some of the better boss speakers have up to 400W power rating, so you may need to upgrade your head unit or add an amp.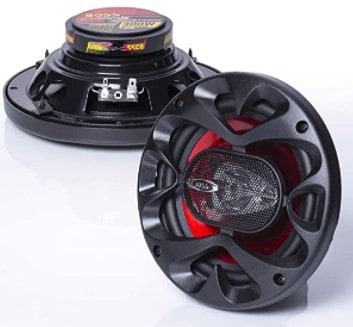 One of the Boss speakers with a lower power rating is the CH6530. This pair does not give deep bass tones, but they get louder and have more definition than most factory car speakers.
Polk Audio
Polk car audio products have one special feature: durability. Their car speakers are marine certified. This means that they're fit to use on boats. Interestingly, some people have installed some of the speakers on motorcycles with positive results.
Not only are Polk Audio speakers durable, but they are also affordable. The Mobile Monitor (MM1) series is a group of speakers designed to give you great sonic detail with high build quality. The DB+ series consists of subwoofers that fit into small spaces. If you drive a small car and you need more bass, you can be sure that a DB+ would always fit.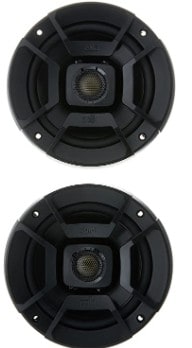 One of the Polk Audio super durable options is the DB522. They have a 100 W RMS power rating and produce a frequency range of 55Hz to 22000 Hz. They're waterproof and can withstand severe weather conditions.
Kenwood
Kenwood car audio speakers enable you to give your car a personalized look and feel. Most car audio brands make their head units and speakers either to blend in with the car or stand out. Kenwood allows you to choose your style.
Kenwood's Performance series consists of speakers with component units. Their high-grade crossover technology ensures that you don't miss out on any part of the bass or midrange.
If you love your car speakers to stand out, the Sports series is for you. The speakers will be easily noticed in a plain car design and would fit into most exotic fast cars.
That's not all. Kenwood also has a series for users who want their own custom designs. They come as component units that you can place at different unusual spots in your car.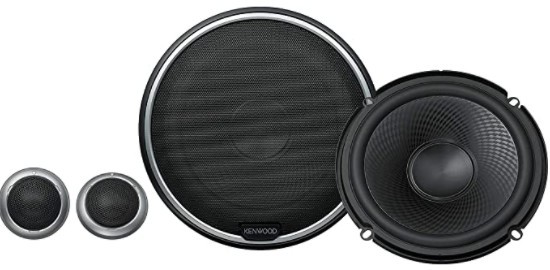 The KFC-P710PS is one of the better options for great sound with average power requirement. With a maximum power output of 280 Watts, this component speaker system can get enough juice from your regular car stereo – no need for an extra amp.
Morel
Morel speakers may be less discussed than some others, but that's partly because they only make top-shelf products.
Their most affordable car speakers are a big step up from your car's built-in units. The Maximo and Tempo Ultra series give you detailed sound with great power handling.
Morel also has reference speakers for the pickier listeners. If your budget allows it, they're worth the price. The premium series are the resolution speakers. Clean, solid bass from the subwoofers, highly detailed midrange, and crisp, clear treble. It's the best you'll get in terms of audio fidelity.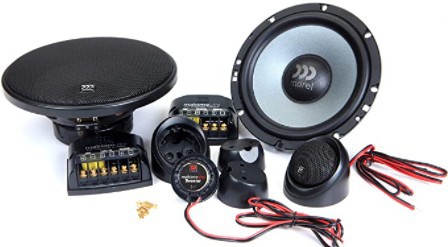 The Maximo Ultra 602 is a 6.5-inch component speaker system, with a power rating of 90W RMS. The system includes a separate crossover unit. The tweeter is great at power handling while delivering a smooth sound with no distortion.
Wrap up
This list is a good place to start when searching for car audio brands, but it is not exhaustive. You may know some other brands not mentioned here.
Lastly, you should always check the power rating of car speakers before buying. This tells you whether you need an eternal amp or not.