Affiliate disclosure: In full transparency – some of the links on this website are affiliate links, if you use them to make a purchase we will earn a commission at no additional cost for you (none whatsoever!). Will this be a problem? This is how we manage to create free content for you. Please know that your trust is so important for us. If we recommend anything, it is always because we believe it is worth exploring. And, buy me a coffee ☕️
Have you been trying to make your music louder but failing because you can't find the best app to assist you?
You've spent time and money downloading and purchasing such apps, but none of them have increased the volume of your music. Seems familiar, huh?
Finding the right app to make your music louder is difficult because the internet is flooded with hundreds of bogus apps.
I know this from personal experience because I ran into the same issue while looking for the best app to make my music louder.
I switched from app to app but couldn't find a solution to my low-volume music problem.
After conducting extensive research, I separated the wheat from the chaff and compiled a list of the top ten apps for making your music louder.
Trust me these are amazing.
Please keep in mind that I have tested these ten apps and am confident that they will assist you in reaching your desired maximum loudness without breaking a sweat.
Let's get started.
Top 10 Apps to Make Music Louder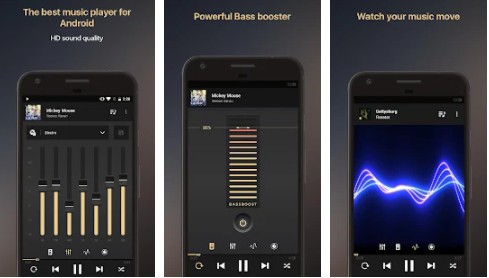 Equalizer + HD music player is a great all-in-one music player and one of the best of today's music apps.
What exactly does this mean?
Not only you can use it to make your music louder, but you can also use it to equalize the sound for the best quality.
It also includes a built-in bass booster. So, if you prefer punchy heavy bass on your headphones, you can use this app to adjust the bass or any frequency to your preference.
This app is available for both iOS products and Android devices.

Get VLC if you want more flexibility with your music. This is why: VLC is cross-platform, which means it works on both Android and iOS.
You can download it for free. The best feature of VLC is its ability to play music in any file format, whether it's an mp3, WA, DVD, or CD. VLC differs from other music apps in that it is both flexible and simple to use.
KaiserTone audio player is another excellent app for increasing the volume of your music. Despite the fact that this app is only available for the iPhone, I can confidently say that it is one of the best in the game.
Kaiser has an equalizer built-in and can playback any high-resolution source. Because of its AQS-XI sound engine, KaiserTone should be your go-to app if you want to listen to high-quality music.
This app's best feature is that it has one of the best designs and operability.
What if you could increase the volume of your music by 20% to 30%? Wouldn't that be fantastic? You can accomplish this by using GOODEV's Volume Booster.
The volume booster is free, although it is only compatible with Android.
If you like to fine-tune your settings while listening to music, get a volume booster because it allows you to do so.
This way, whether you're listening to music, watching a movie, or listening to audiobooks or podcasts, you'll get high-quality sound.
Speaker Boost: Volume Booster & Sound Amplifier 3D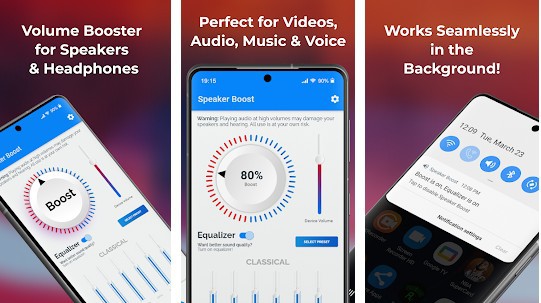 Another app to add to your sound arsenal is Speaker Boost. It's free and works with Android.
This app differs from others in the way that you can use it to increase the volume of your speakers, earphones, and headphones.
Speaker boost works perfectly when listening to music, watching videos, or playing video games.
The best thing about this powerful app is that it runs in the background and has a simple, intuitive interface.
Download for Android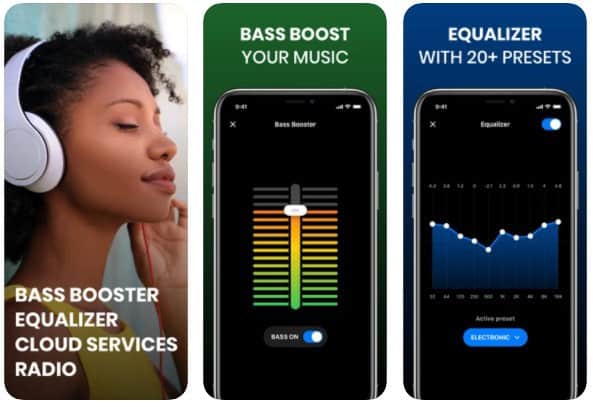 Bass booster is another excellent all-in-one music app. This app includes a built-in 10-band equalizer that allows you to adjust the frequencies to your liking.
This app is excellent for enhancing audio when listening to music, watching videos, or playing video games. You can also use it to download music from the cloud.
The bass booster works with the iPhone, iPad, Mac, and iPad touch. My favorite feature of this app is the ability to listen to the radio.
Boom: Music Player, Bass Booster, and Equalizer – Magical 3D sound
Boom is the app to use if you want a magical 3D sound. Boom works with both Android and iOS devices, and it's great for increasing the volume of your music.
Let me elaborate.
Boom also includes a powerful bass booster, allowing you to customize your bass to your liking.
Another feature that differentiates Boom from the competition is its equalizer.
Their equalizer is advanced, versatile, and allows you to manipulate any frequency.
You can use it to listen to over 20,000 radio stations and podcasts and to play music from other apps such as Spotify, Tidal, or your local library.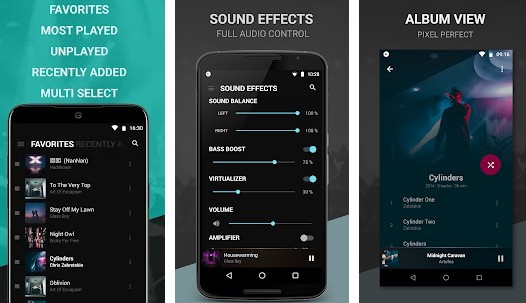 BlackPlayer Free Music Player is another excellent app. This app can only be used to manipulate music and audio from your local library.
Blackplayer's 5-band inbuilt equalizer allows you to manipulate the frequencies of your music. It also includes a bass boost, an amplifier, and a 3D surround visualizer.
BlackPlayer is Android-compatible. It's sturdy and adaptable.
AmpMe – Speaker & Music Sync
AmpMe is the best app if you want to listen to music or watch videos loudly while syncing playlists with friends or family. The more people who are in sync, the louder the music becomes.
Unlike BlackPlayer, which is limited to your local library, AmpMe allows you to stream from YouTube, Deezer, Spotify, SoundCloud, and your local library.
AmpMe is compatible with Bluetooth speakers and Android, iPhone, Windows, and Mac devices.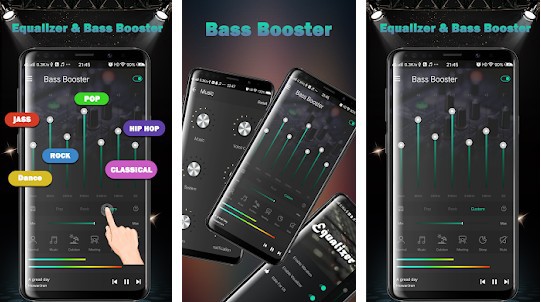 Equalizer FX is the final app we recommend. Equalizer FX differs from other apps in that it allows you to manipulate audio with special effects.
Their equalizer has over 15 presets. You can customize your audio to match the genre you're listening to.
My favorite feature of the Equalizer FX app is its bass boost. It's fantastic if you're looking for a crunchy, punchy bass.
You can get subwoofer bass sound from the comfort of your device using this app.
Their equalizer has a 7-band EQ you can use to manipulate music from the cloud and local library.
This app has an easy-to-use interface and the ability to play music in the background. Equalizer FX is available for both iOS and Android.
Wrapping up
You now know the best app for increasing the volume of your music.
You've seen their advantages and disadvantages, as well as how they will satisfy your desire.
Here are our top three recommendations.
We recommend Speaker Boost for Android users because it will help you get high-quality sound.
If you have an iOS device, we recommend a Bass Booster because it is powerful and works with all iOS devices.
VLC is our third choice. It is cross-platform compatible and works with both iOS and Android.
Get AmpMe if you want to sync and play music with friends both locally and remotely.
Let us know which of these apps piqued your interest the most.
Hi, I'm Jennifer I'm a passionate singer and an audiophile from Detroit, MI. 
I'm on a mission to help music creators to create fine music that help them position uniquely in the saturated music space.
Follow my blog for regular content :-)