Last update on 2023-09-21 / Affiliate links / Images from Amazon Product Advertising API
Today in this post I am going to review JBL Pulse 2 vs Charge 3 and help you decide which one is the best for you.
Bluetooth speakers are a dime a dozen these days.
However, finding a stylish, functional, portable, durable, and the great sounding speaker isn't easy due to the hundreds of options on the market.
JBL's Charge 3 and Pulse 2 speakers remain popular choices because when it comes down to the features mentioned above, they tick all of the boxes mentioned above.
But how do you compare these two speakers JBL Pulse 2 vs Charge 3 from the same manufacturer that from a distance look so similar?
The truth is it's easier than you think.
Despite some similarities these two speakers are actually quite different and offer some unique selling points that are difficult to find in other speakers at the same price point.
With that in mind let's dive in and see whether JBL Pulse 2 or Charge 3 is better suited to meet your audio needs.
Features
JBL Pulse 2
JBL Charge 3
Battery life
10hrs
20 hrs
Weight
0.77kg
0.8kg
Speakerphone
Built-in
Built-in
Waterproof
Splash-proof
Waterproof
Audio input
Bluetooth 4.1
3.5mm aux port
Bluetooth 4.1
3.5mm aux port
Amazon product page

Check price

Check price
JBL Pulse 2 vs Charge 3: Let's find the winner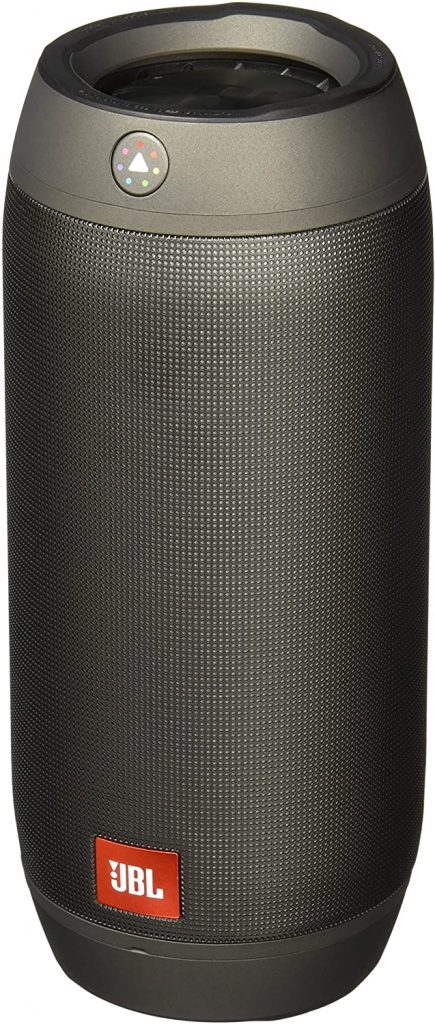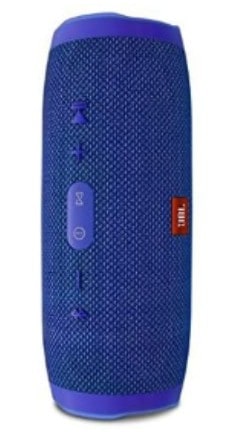 Build and design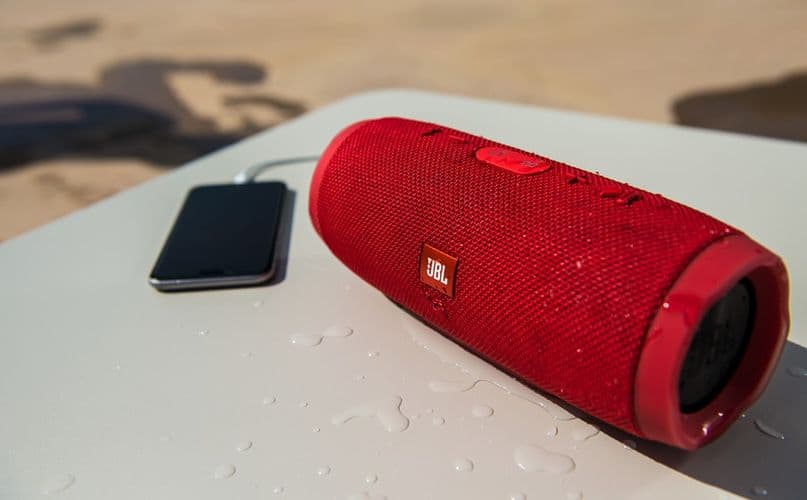 JBL Charge 3 is made of durable rubber and fabric. It has a clean, simple, industrial physical design which is quite pleasant to look at. It weighs in at 0.8kg and measures 8.38 x 3.42 x 3.48 inches.
It's designed to sit in a horizontal manner and has power, play, skip forward, Bluetooth, JBL Connect, volume up, and volume down button.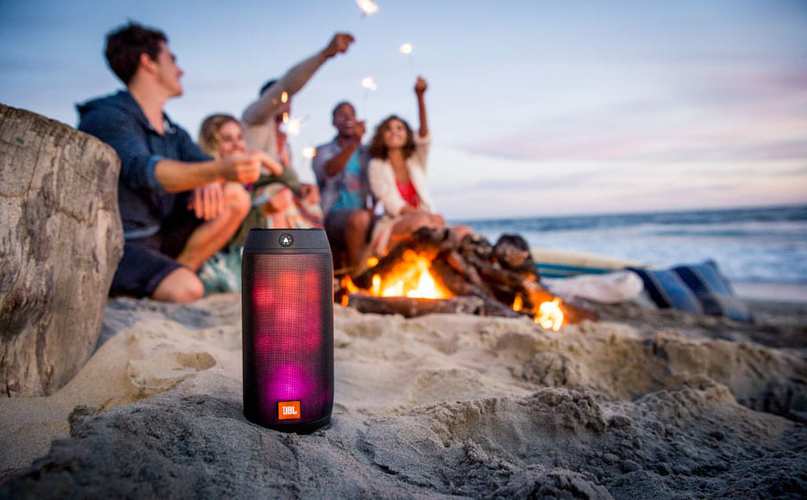 JBL Pulse 2 sports a stylish design with LED lights on the outside. It weighs 0.77kg and measures 7 x 3.3 x 3.3 inches making it slightly smaller than Charge 3.
The exterior has an array of LEDs that light up when powered on. It has the same buttons as Charge 3 alongside a sensor that detects the color of any object you place in front of it and modifies the LED colors to match it.
These two speakers are aesthetically different, thanks to Pulse 2's LEDs which cover most of the surface area on the outside in contrast to Charge 3's fabric-covered exterior.
Charge 3 is the more durable physical design of the two as it has fewer electronic parts on its exterior.
Features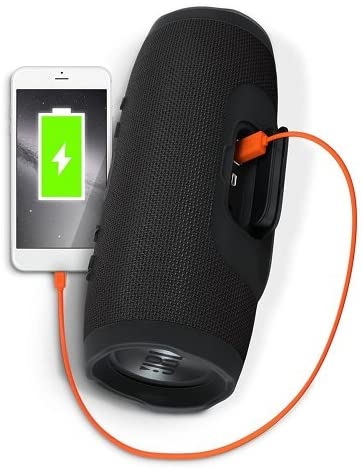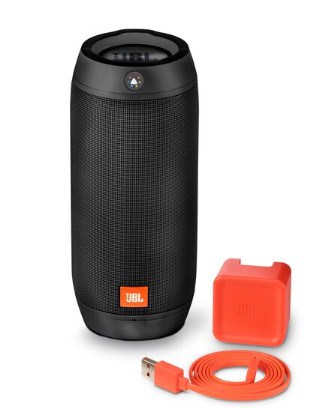 Both speakers support audio input via Bluetooth 4.1 and a 3.5mm aux port.
Despite both speakers having a 6000mAH battery, JBL Charge 3 provides 20 hours of battery life when fully-charged in comparison to Pulse 2's 10-hour battery life when using it to only play sound.
Here is the one more thing: Pulse 2's battery life drops to 5 hours if you decide to use the lights show feature. This is expected because the LEDs use up a reasonable amount of power to run.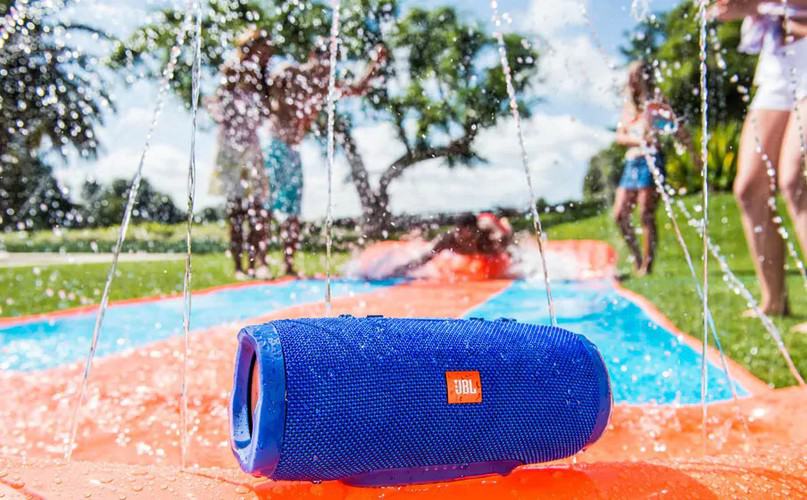 Pulse 2 is splash-proof meaning it can take some minor rain showers but exposure to too much water will damage your speaker so you need to be mindful of that. On the other hand Charge 3 is waterproof for up to 30 minutes in 1-meter deep water.
One of JBL Charge 3's key features is its power bank which enables you to charge other devices via USB straight from your speaker. This is very convenient when you're far from a power outlet to charge your small devices such as mobile phones, iPods, MP3 players, etc.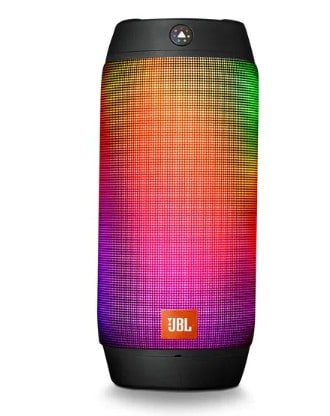 green – On the other hand, Pulse 2's differentiating feature is its ability to display different light shows when playing music to provide a visual accompaniment to your audio.
This can be a real party starter or great mood-setter, especially at night or in a dimly-lit room. There are 12 light shows to pick from including fire and water
Both speakers have the capability of pairing with other JBL speakers to amplify your sound via the JBL Connect feature.
Both JBL Pulse 2 and Charge 3 have a built-in speakerphone with echo-cancellation which is convenient if you wish to use it as a hands-free device with your phone.
Sound quality and performance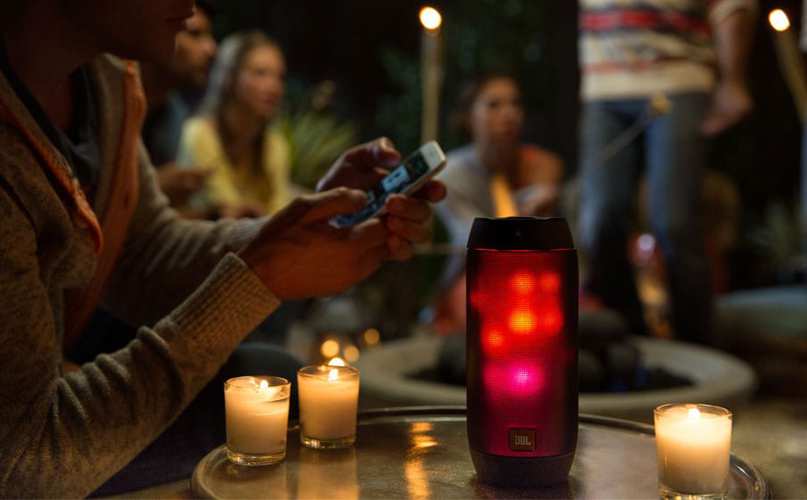 Lows
JBL Charge 3 has excellent bass output. It sounds deep, natural, and punchy thanks to the passive radiators.
Whether you're listening to music such as trap which uses a lot of 808s, or jazz which uses traditional bass guitars the sound is brilliant. The speaker is able to playback frequencies as low as 65Hz.
JBL Pulse 2 also has passive radiators and decent bass reproduction but is not as heavy as Charge 3's.
If we compare Pulse 2 vs Charge 2, Pulse 2's performance is more comparable to Charge 2 albeit with less bass.
Its frequency response goes down to 85Hz which accounts for its inferior bass reproduction compared to charge 3.
Mids
The mids on Charge 3 are well-balanced and surprisingly clear with minimal distortion. The speaker doesn't sound colored or exaggerated in the midrange.
red – However, Pulse 2 has a relatively muddy midrange in comparison, meaning the speaker's clarity is no match for JBL Charge 3.

With that being said Pulse 2 is a good speaker for its size. It is definitely an improvement over the original JBL Pulse.
Highs
The highs on JBL Charge 3 are bright without sounding irritating or piercing. Pulse 2 also has a clear and upper range, albeit a little colored.
It may trick the ear into believing the speaker is louder than it actually is due to its brightness. Both speakers' high-frequency response maxes out at 20,000Hz.
Verdict: Overall, Charge 3 is the better speaker as far as audio quality is concerned. It's balanced in all areas and offers a brilliant bass response.
Whereas JBL Pulse 2 isn't as loud or clear as Charge 3. All genres of music sound better on Charge 3 which is also the better performer for outdoors.
The consolation for Pulse 2 is that if you wish to increase the audio output you can pair two or more speakers together via JBL Connect.
The good thing is that the audio and light show in the speakers synchronizes when you connect multiple Pulse 2s together.
Similarities
Both Pulse 2 and Charge 3 can pair with other JBL speakers to amplify the sound.
Both of these speakers have 6000mAh battery capacity and have a micro-USB port for charging.
These 2 speakers support JBL Connect for pairing with other speakers to amplify the sound.
Both support Bluetooth 4.1 for pairing and have a 3.5mm aux input port.
Differences
JBL Pulse 2 has a light show feature that JBL Charge 3 lacks.
JBL Charge 3 has a power bank feature that is lacking in JBL Pulse 2.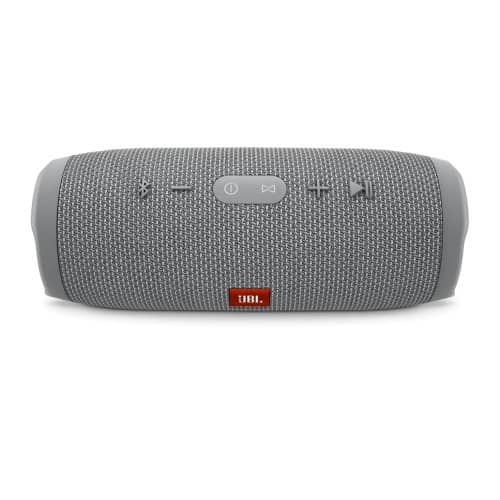 Pros
Charge 3 has a long battery life (20 hours) and comes with power bank
It's waterproof for up to 30 minutes in 1-meter deep water.
JBL Charge 3 offers excellent sound quality.
It's built from durable material.
This portable Bluetooth speaker has voice assistant integration.
Cons
It lacks a button to navigate songs backward. You can only skip forward.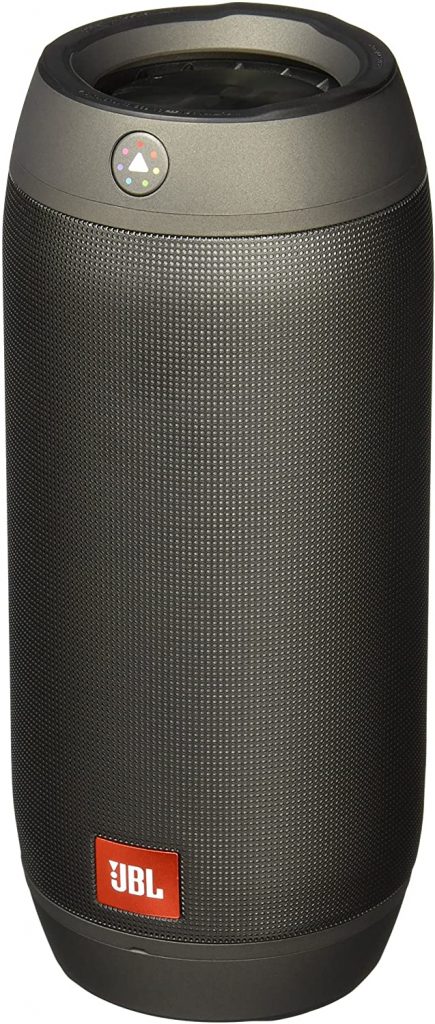 Pros
Pulse 2 has a beautiful light show feature.
It offers good sound quality.
This speaker comes with a built-in speakerphone.
The speaker is splash-proof meaning a little bit of water won't destroy it.
Cons
Pulse 2 battery life is short.
It's more expensive than Charge 3
Also read: JBL Flip 4 vs Charge 4: Why Comparing them is Stupidity
Verdict
Both speakers covered here i.e. JBL Pulse 2 vs Charge 3 are good options.
If you consider yourself an audiophile and sound quality is your main priority then the right speaker for you is JBL Charge 3 because it outperforms Pulse 2 in that department.
It's a louder speaker with better-balanced sound and it has a better bass response. Not to mention Charge 3 has a power bank and a better battery life.
If you want something more fun and lively then Pulse 2 is the better option because the light show option if very pretty to look at and is a great mood-setter whether for slow music or a more disco-like approach.