Almost everyone loves listening to music while they are driving. The fun doubles up when you're going for a ride. So there's no way one would like to compromise on their car audio systems, isn't it?
A car booming down the road always turns eyes. And who doesn't love bassy sounds, right?
For that very reason, we have brought forward for you some of the best door speakers for bass. Do you dig the heavy low end? Check these out quickly:
Top 5 door speakers reviewed
Specifications:
Configuration: 3-Way Full-Range
Midrange Nominal Diameter: 6.5"
Midrange Mounting Depth: 2.15"
Power Handling (RMS): 45 Watts RMS, 90 Watts MAX
Crossover: Tweeter High-Pass (HP): 6dB
Sensitivity: 91 dB
Build and design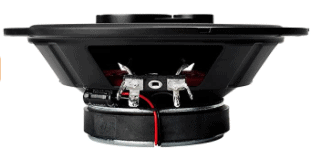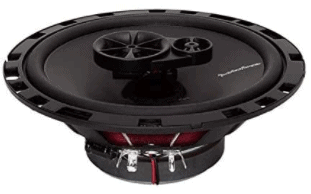 Yes, speakers are judged by how they sound. But you cannot overlook how well a speaker is built. The Rockford Fosgate R165X3 has a long-lasting life. And it's not just that. You can rest assured of getting consistent performance from this speaker, no matter what!
Let's start by talking about the tweeter and midrange. For a speaker to have good high-frequency reproduction, it should be made of soft material.
And for that matter, R165X3 features a silk dome tweeter. But that's not all. The speaker also houses a piezo super tweeter to reinforce precise audio reproduction!
So whenever you play a song with many high notes on the R165X3, you will get a loud and clear output. The sound won't get distorted or dull.
Up next, we have the woofer. The prime highlight is its stiff polypropylene woofer cone. Its surface area is larger than most car speaker cones. This is important when it comes to impressive bass performance.
For midrange woofers, this material is considered to be one of the best and most used as well. Due to its durability properties, the cone is very rigid and pumps great bass.
For a good bass performance, it is very crucial that the woofer cone has enough flexibility. For that very reason, the R165X3 features a rubber surround around its woofer cone. Apart from its amazing sound production, this material is resistant to heat, cold, and sweat.
Sound quality and performance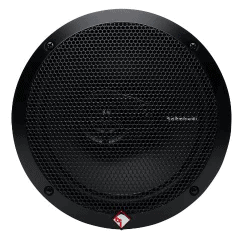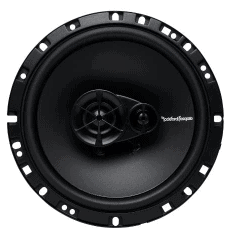 Just like its design and build, R165X3 impresses with its sound quality as well. Being a door speaker, it has an amazing soundstage. Credit for its great amazing bass performance goes to its polypropylene cones.
Even the mid-frequency range of the speaker is amazing.
R165X3 is rated with 90 Watt peak power and 45 Watt RMS. These are quite outstanding ratings for a car speaker. It is important that you keep an eye out for the RMS power range. Using more than the RMS power rating can be damaging to the speaker.
The second sound quality is sensitivity. The higher the sensitivity, the louder your speaker will be without any distortion. 88 dB is the standard for a good quality speaker. R165X3 has a high sensitivity of 91 dB. So you can imagine how great this speaker will sound – both lows and highs.
R165X3 features an integrated tweeter crossover. How does it improve the sound quality? Simply by directing the higher frequencies to the tweeter efficiently.
The crossover has a 6 dB high pass filter. Thanks to that, R165X3 has the perfect soundstage no matter where you install them.
R165X3 has a frequency range that starts from 52Hz and goes all the way up to 20kHz. Not only is the low-frequency output bassy and heavy, but even the high end also has clarity and prominence.
What do we like?
Compact and durable design, perfect for car doors
Natural sound profile with great bass and clear highs
Amazing power range
What we don't like?
Not water resistant
Gets slightly distorted at higher volume levels
Definitely not made for cold weather conditions
Bottomline: From an amateur to an audiophile, the Rockford Fosgate R165X3 will satisfy the audio needs. If you are looking for replacements for your factory speakers, this speaker will definitely be the ideal choice to go with.

You get a durable design and impressive sound at a very affordable price. And it's not just a door speaker – you can fit it anywhere in your car!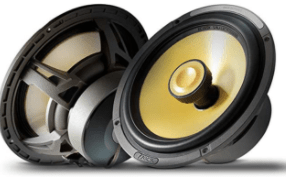 Specifications:
Speaker Type Surround Sound
Speaker Size 6.5
Item Weight 8 Pounds
Speakers Maximum Output Power
Composite K2 Power "W" sandwich cone
Max Power 160W
Nominal Power 80W RMS
Build and design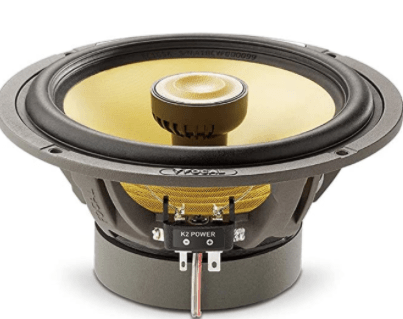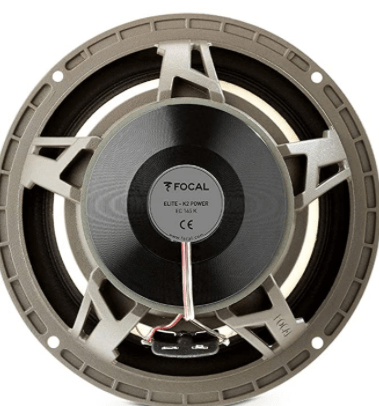 As far as car speakers go, the Focal EC165K has a fabulous design. They have been built with greater attention to detail.
A special attraction in EC165K is its inverted dome theatre. In this particular model, the tweeter is elevated more than previous models.
Coming to the woofer, EC165K has a 6-½ inch woofer. The cones are designed as the classic Focal "W" sandwich design. There is an advantage to this woofer design.
Any possibilities of cone deformation are eliminated. Depending on the resonance, the cone also stabilizes the dynamic surrounding behavior.
Sound quality and performance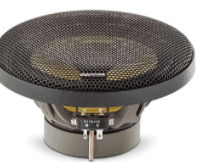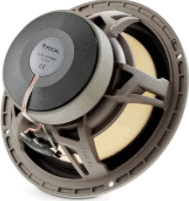 Focal EC165K will surely transform your car audio experience for the better. If you love a power-packed performance, this impactful speaker is the ideal choice for you.
They have undergone multiple tests to achieve the perfect sound quality. You can hear the results through its wide dynamic range and amazing musical depth.
The woofer has a great contribution to EC165K's high-quality sound. The woofer design totally optimizes the frequency response curve to the highest level. On top of that, the woofer delivers accurate simulation audio with superior precision.
Even the tweeter design has a lot to offer to the overall tonal quality of EC165K. It comes with a rubber surround – Tuned Mass Damper. This enables the speaker to produce a very bright and clean midrange.
Moreover, the tweeter of EC165K is made of unique aramid fiber. It scatters the high frequencies with enhanced accuracy. So much so that it goes all the way to 22,000Hz.
What do we like?
Distortion is reduced by the TMD system
Slick and attractive speaker design
Excellent build quality
What we don't like?
Very costly and not at all budget-friendly
Bottomline: Price is the only factor for Focal EC165K. The availability of other affordable alternatives in the market makes it a challenging pick. Of course, if you do not want to compromise on looks and have a decent enough budget, you can absolutely opt for these ideal car speakers.
Specifications:
Speaker Size 6.5 Inches
Item Weight 4.6 Pounds
Speakers Maximum Output Power 240 Watts
Polyethylene-naphthalate domed tweeters
2-way coaxial speaker
Build and design
Kicker DSC650 is a 2-way coaxial speaker. These are some of the best bass speakers for cars that you will come across.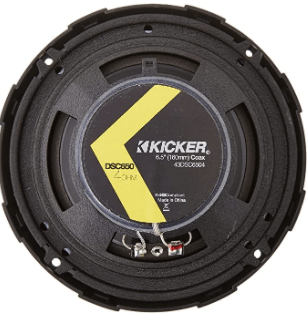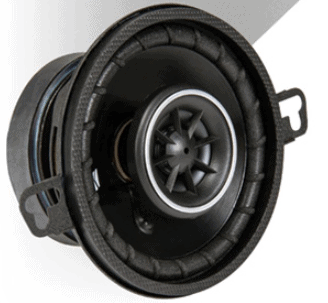 The speaker features foam surrounds made of robust polyester. Unlike those bulky trunk subwoofers, the DSC650 is rather compact and easy to fit.
The speaker also houses ½ inch dome tweeters made of polyethylene naphthalate. They are durable enough to perform smoothly even during heavy high-frequency ranges.
You can largely benefit from the stress-free mounting system of DSC650. The speaker houses splice connectors that make speaker placement an easy task for you.
Sound quality and performance
Straight up. Kicker DSC650 is represented by its good bass and clear sound quality. Since it is a door speaker for bass, you can imagine the amount of solid low end it will pump out.
But there's more. DSC650 is also known for its excellent midrange and high end too!
Once you listen to the output, you will fill the energy and ambiance in it. Credit for that goes to its super-efficient tweeter.
Also, DSC650 is capable of handling enormous power. It can get very loud as well. How does a peak power range of 240 watts sound? We know, it is mindblowing!
What do we like?
Sound output is well-balanced
Reliable build quality
Compact sized and easy to install
What we don't like?
Sound distorts at times at higher levels
Lacks the heavy bass performance
Bottomline: The Kicker DSC650 is an ideal choice in an affordable price range. If you want to upgrade your car's factory speakers, this Kicker D-series speaker is worth checking out.

If not outstanding, the bass performance is quite decent for rocking your car's sound system. You can always add a subwoofer with it and fill out that missing low-end kick.
Specifications:
Speaker Type Car Speaker
Model Name Db Series Car Speakers
Speaker Size 6.5 Inches
6 1/2 inches, 6 3/4 inches 2 way Coaxial Speakers (Marine Certified)
Power Handling: Peak: 360 watts per pair / RMS: 120 watts per pair
Build and design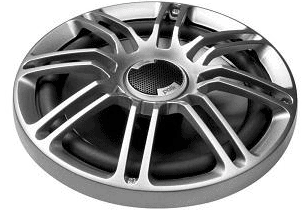 The bold design of Polk Audio DB651 will not fail to impress you. The shape of this two-way speaker perfectly replicates a car wheel. And how can we forget the ABS-type grilles made from stainless steel!
They are shiny and polished and no wires can be seen. This intensifies the make-believe illusion furthermore.
Construction-wise, DB651 is very lightweight and extremely portable. The kind of material used for making the speaker is what makes the speaker so light.
The cones are made by combining polymer and mica composition minerals. On the other hand, liquid-cooled silk and polymer composite is filled into the dome tweeter.
DB651 is a top marine grade speaker. Hence they are built to be extra resilient and durable. The speaker is resistant to moisture, air, humidity, wind, and water splashes. DB651 can also withstand ultraviolet light and harsh temperatures!
Sound quality and performance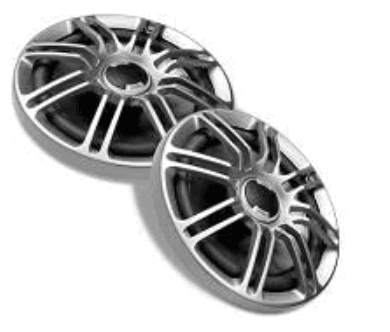 Let's talk about the sound and performance aspects of DB651. The speaker has been developed by using laser imaging technology. This is how the speaker acquires a smooth frequency response and higher volume level output.
An important feature of DB651 is the Dynamic Balance Driver. By virtue of this, the speaker produces distortion-free and crispy audio.
The sound quality does not deteriorate even under the open sky and motor noises!
Furthermore, DB651 features a high pass and low pass crossover filter. The low and high frequencies are directed precisely to the woofer and tweeter respectively. This enables the speaker to get a wide and better soundstage.
With a high sensitivity of 92 dB, DB651 delivers amazing clarity even at high volume levels. The usage of power is optimized as well. In short, it is one heck of a powerful speaker
What do we like?
Fits both in cars and boats
Strong and durable build and design
No scope for resonance and distortion
What we don't like?
Weak midrange performance
Mounting brackets can be problematic for some cars
Bottomline: Before buying the DB651, make sure you really need them! Because these are marine grade speakers. And until and unless you own an adventurous car model or a super boat – these speakers will not be the ideal investment.
Specifications:
700 watts Max power (120 watts nominal)
2-1/4" Polyetherimide (PEI) film cone midrange
6 x 9" Carbon and mica reinforced injection-molded polypropylene (IMPP) cone construction
Battery Average Life 0.01 seconds
Build and design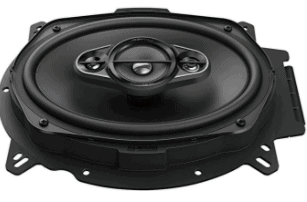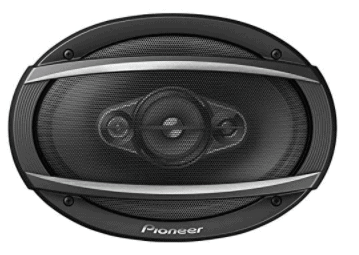 First things first, Pioneer TS-A6990F is a 5-Way speaker. So you can expect a lot of awesomeness from this particular car speaker!
One design feature will definitely catch your eye – the full grille covering. Gone are the days when you used to worry about your car speaker being damaged. The highly durable grille is what makes the TS-A6990F such a reliable choice.
Digging in deeper, the speaker houses two hard dome tweeters made of polyethylene. The woofer is deep with an oversized motor structure design.
Pioneer has paid special attention to the cone construction of TS-A6990F. They have used injection-molded polypropylene reinforced with carbon and mica for the cone.
Sound quality and performance
TS-A6990F will amaze you with its highly dynamic sound characteristics. Bass lovers will be thrilled by its low-end power. The woofer cone optimizes the low-frequencies for improved bass output.
The dual tweeters and midrange combine together to produce a well-pronounced midrange and high end.
Thanks to its special construction and use of materials, this speaker is able to produce a wider range of frequencies without any kind of distortion.
Each speaker has 60 Watts of RMS power. That adds up to 120 Watts per pair.
Plus, TS-A6990F has a sensitivity rating of 90 dB that lets you crank up the volume as much as you want without worrying about any distortion.
What do we like?
Very affordable car speaker
Has a warm sound profile
Amazing deep bass output
What we don't like?
Grille is optional and costs extra
Bottomline: Bored with the factory speakers in your car? Do you want heavy bass booming while driving? TS-A6990F is here at your rescue!

Forget about getting an extra subwoofer or amp. It has superb bass and amazing high-end clarity. This car speaker is no less than a one-man army!
What to consider before buying door speakers for bass?
Crossover
Any component speaker has two things – a woofer and a tweeter. The low and midrange frequencies pumped by the woofer while the tweeter handles the high frequencies.
A crossover is what deviates between the two. It sends the appropriate signals to the dedicated drivers. When signals get mixed up, it leads to the poor performance of the speaker.
Basically, it has two types – active crossovers and passive crossovers. To define them simply, active crossovers need extra power and passive crossovers don't.
Woofers
The woofer is that part of a speaker that produces the bass. It pumps out that powerful sounding kick and thump.
A woofer has a cone. Ideally, it is made from a material that is both lightweight and stiff. Also, the cone has to be moisture and temperature resistant.
Tweeters
Contrary to the woofer, the tweeter is in charge of the high frequencies. A speaker gets its crispiness and clarity because of its tweeter.
The sound characteristics of tweeters depend on what they are made of. The soft material will produce a refined and smooth sound. Likewise, a tougher material will make the speaker sound bright. It's nothing but personal preference.
Tweeters made with silk or a blend of poly textile deliver high-quality output.
The best tweeter performance can be heard when they are placed at ear level.
Power-handling
In simple words, power handling means the capability of a speaker to handle power.
Speakers with a low-power system do not require much power handling capacity. On the other hand, when a system has powerful external amps, the speakers must have a high RMS rating.
Budget
Sticking to a budget while buying any speaker comes really handy. It's no different in the case of car door speakers. It is always recommended to buy affordable speakers according to the budget.
Normally, the speakers with top bass output are a bit pricey.
Speaker sensitivity
The sensitivity of a speaker is directly linked with its performance. It has a correlation with the power of the car stereo.
For a low-powered stereo, speakers with high sensitivity range are suitable. And vice versa.
Aftermarket stereo systems and external amps have high power ratings. Thus, speakers with a low sensitivity range are recommended.
Portability
The portability of any speaker depends on two variables – weight and dimensions. For a car door speaker, the speaker should not be either too big or heavy.
Do not go by the notion that big speakers sound better. It is not always the case.
Conclusion
Door speakers give you an all-round car-audio experience. And if you are a sound junkie, you would never want to compromise on the quality of the speaker.
That is why we have narrowed the list of best door speakers for bass to three!
Our first favorite is the Rockford Fosgate R165X3. It is undoubtedly one of the best door speakers. Talk about its compact design, durability, heavy bass, and clear sound output – everything is right on the money!
Up next, we really like the Focal EC165K. Not only does the bass sound amazing, but even the midrange and high end are superb. With unique features like TMD (Tuned Mass Damper) and its sleek design, this speaker is definitely worth the investment.
And lastly, we also loved the Polk Audio DB651. Yes, you are right – it is a marine-grade speaker. And it is made both for cars and boats. But when you look at its build quality and performance, you cannot bat an eye on it! Everything about the speaker is top-grade!