Keyboard speakers…
Which one should you buy?
A tough topic, but don't worry, I will explain it all!
What is the best option?
Are there any differences between keyboard speakers or are they all the same?
Some people talk about legendary keyboard speakers, while some others think at the end they are all the same…
I mean, are there any real differences?
Perhaps aspects such as weight matters?
What about portability and durability?
Do they have the controls you are looking for?
I know these questions might sound a bit overwhelming, but trust me, you are in good hands.
By the end of this article you will know for a fact which are the best keyboard speakers so you can make a decision and buy the right speaker!
Buying considerations for keyboard speakers
Portability
Are you looking for something you can carry around in your car for every gig during weekends?
Or do you want something big and bulky that will stay in place forever?
This will be very important because some speakers are designed to be portable while others are not.
Weight
Depending on the design, keyboard speakers can be lightweight and easy to lift, while others, especially the oldest models, will be very heavy and you will probably need some extra help!
Durability
They are companies that build keyboard speakers that can literally survive the apocalypse.
But, there are others that make fragile speakers that you can't just "abuse" of them, unless you want them to stop working!
Mounting Options
You will find speakers that are designed to be mounted on stage, held from walls, or even hanging from the ceiling (larger venues). These are cool options but require more setup time.
Others are more simple, and have their own "feet" that you just stand them on stage vertically or horizontally and start playing!
Top 5 keyboard speakers reviewed
Specifications:
Item Dimensions LxWxH 18.66 x 21.73 x 31.14 inches
Mounting Type Floor Standing
15" Powered Speaker
High Performance Main or Monitor Speaker
7-Year Warranty
1000 Watts of Clean Digital Power, 132 dB SPL
Sound quality and performance
Yamaha has always been known for high quality products and the DBR15 is not the exception.
The speaker is designed to reproduce a wide range of the spectrum, covering anything from 50 to 20 kHz, which can cover most of the human spectrum.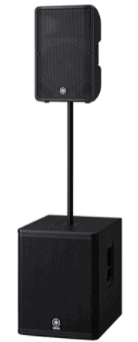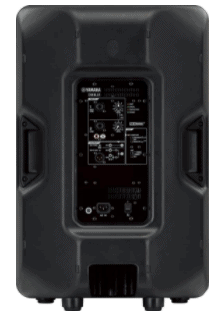 As most two way speakers, they behave very nicely on the low end as well as highs, but the mids are not as clear as we might want.
They are extremely clean and made for loud levels and no distortion.
The DBR15 is not a keyboard-oriented speaker, but just an active PA speaker. This means that the frequency response is not optimized for keyboards, however, you can use them on acoustic guitars, as keyboard amps, electronic drums, and even vocals.
Additional features

As all Yamaha products, the built quality is on point. Designed to last forever under the most extreme circumstances.
It weighs 43 pounds, so be ready to lift!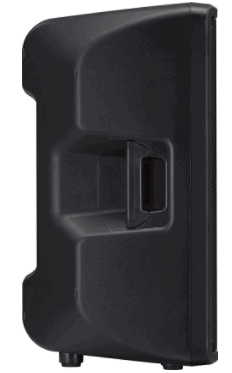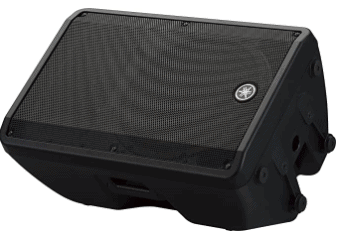 This is not considered to be a portable speaker, you will need a truck or pickup to carry it.
It comes with a mic level control (XLR input) as well as a line level control, that you can tweak accordingly.
This is an active speaker, so you will need a power cord and line to turn it ON.
Pros
Max SPL of 132 dB, which is pretty loud, great for rock keyboardists!
Built to last by Yamaha, one of the best audio companies out there.
Super clear sound reproduction.
Cons
Heavy, bulky, and hard to carry around, especially on a larger venue.
No wheels at the bottom making it hard to push or pull.
Bottomline: If you are looking for a great PA speaker that also works nicely on keyboards. This Yamaha DBR15 is for you!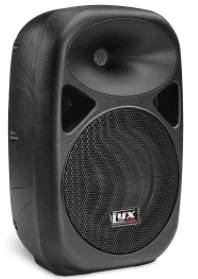 Specifications:
Frequency Response: 40Hz-19KHz
Maximum Sound Pressure Level (SPL): 106dB
Nominal Sensitivity: 91dB
Impedance: 4ohm
Dimensions: 14"H x 9.25"W x 8"D
Weight: 14.7 Pounds
Sound quality and performance
The SPA-8-8 is the entry-level affordable PA speaker system developed by LyxPro.
As a very simple speaker with 8 inch woofers, it can reproduce the spectrum range from 40 to 19 KHz, which is enough for live sound.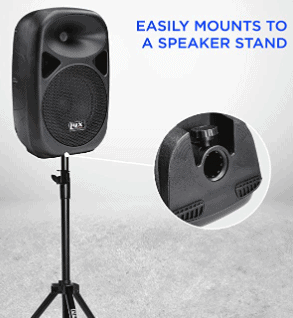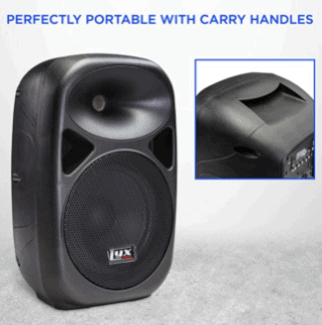 The 4 ohm driver tends to get distorted when driven at high volumes, so be careful with your levels.
This is a system that was not designed for keyboard players, but just to playback pre-recorded music intdoors, so do not expect high quality sound.
Its 91 dB SPL maximum rate makes it impossible to use them outdoors or large areas because it would simply not be enough.
Additional features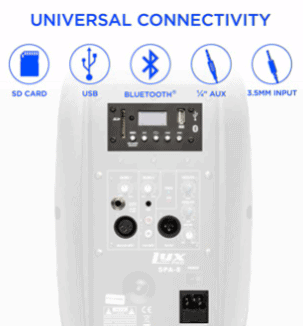 The built quality of these speakers is decent and the finish looks shiny and uniform.
Each speaker weighs around 15 pounds, so they can easily be carried around if necessary.
The size isn't small enough to consider it "portable", but since it is lightweight, you can really take them anywhere.
If the SPA-8-8 are operated with all the precautions, they can last for long periods of time, just make sure you do not let them fall on the floor or in the pool.
The included controls are really nice because you can modify the volume of the speaker, the microphone gain, skip, rewind, play and pause music from the SD card. It even comes with a remote control for easier access!
The speaker needs to be connected to a power outlet, no battery options included.
Pros
Easy to carry around due to its low weight.
Control remote operation makes it very convenient for small gatherings.
Cons
Overall low output volume
It can distort when run too "hot"
Bottomline: If you are looking for a speaker to play music at home with friends, that you can easily control from your couch, the SPA-8-8 is the best option.
Specifications:
Powered: Yes

Speaker Size: 1 x 5.25"
Total Power: 150W Class D
Inputs: 1 x XLR-1/4" combo (main in), 2 x XLR-1/4" combo (mic/line), 1 x Dual RCA Stereo
Outputs: 1 x XLR (thru)
Frequency Range: 105Hz-10kHz
Sound quality and performance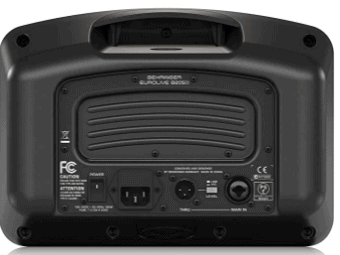 The B205D is Behringer's famous Ultra-Compact speaker system, designed to be used as a personal monitor system or PA for live performances.
The frequency response of this speaker is reduced (100 to 10 KHz) because it only has a single 5 inch driver.
The bass response is poor, while the high frequencies are a bit lost. The mids however, are present and punchy.
The 150 watt system can resist high level content without considerable distortion.
The speaker is mostly used as a personal monitor on stage for each musician, it can sound loud, perfect for keyboard players.
Additional features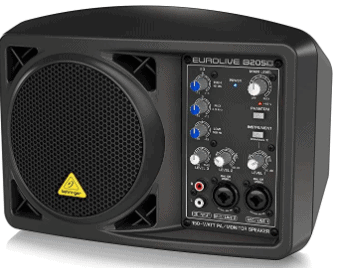 Like all Behringer products and their keyboard amps, the build quality is really good. This speaker is made to be used every single day and lasts for years!
The B205D is super lightweight, less than 8 pounds, making it ideal for the touring musician that plays on different stages every night.
It even comes with a handle on top so you can carry it around, making it portable.
The system comes with plenty of controls on the front panel that include a 3-band EQ, the main output level and the input gain controls for each channel. You also get an input switch for the instrument as well as microphone/line switch for your mic input and MP3 player.
Pros
Its lightweight makes it super portable for the musicians on tour.
High volume output is great for loud stages.
Cons
The frequency range is very poor compared to other speaker options, do not expect high sound quality.
Bottomline: If you need a speaker to use as a personal monitor that you can carry around and you do not care about sound quality, get the 205D from Behringer.
Specifications:
Power Consumption 70 W
Dimensions (W x D x H) 19.0 x 11.0 x 17.0" (480 x 295 x 435 mm)
Weight 33 lb (15 kg)
Rated Power Output 100W
Speakers 1 x 12" (30 cm) woofer, 1 x tweeter
Sound quality and performance
The KC-200 is one of the most famous keyboard speakers built by Roland.
This system was designed as part of their keyboard amps line to be connected to a keyboard, for live performance and rehearsal purposes.
It comes with a 12" driver and a horn that can deliver up to 100 watts of power with zero distortion!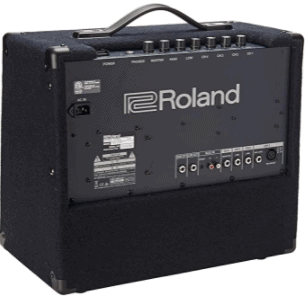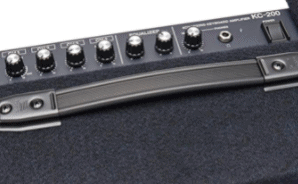 This is the perfect speaker for the stage performance keyboardist. It really sounds good, loud and clear.
The lows are deep, the mids are present and the high frequencies are bright. Perfect for keys, organs, synths, pianos and pads.
Additional features
The KC-200 has been designed to be "abused" on stage if needed. The metallic grill protects the cones and the steel borders makes it extremely durable.
This speaker weighs 33 pounds, which isn't that much considering it has a big cone, a horn and an amp all included.
It comes with a top handle that you can use to carry it around from the stage to your car and vice versa.
The amp comes with plenty of input gain controls, a 2-band equalizer and a master output.
It has all kinds of inputs and outputs in TRS input, XLR input and RCA connector styles for stereo inputs.
Pros
Great sound quality optimized for keyboards.
High output, ideal for stage performance purposes.
Cons
No remote control options included
No wheels to push/pull the amp on stage.
Bottomline: If you play keyboards and you are looking for an amp that will last forever that you can use live on every stage, go get the Roland KC-200.
Specifications:
Transmitter frequency: 5.2 / 5.8 GHz Dual Band
Frequency response: 10Hz ~ 23 kHz
Signal-to-noise ratio: >80dB
Audio Output Level: 2V
Dimensions (transmitter & receiver): 2.6" x 2.3" x 1.1" (66mm x 59 mm x 29 mm)
Sound quality and performance
The Studio 12+ is the modern "remake" of the classic Leslie rotary speaker found on the vast majority of hit records where an organ (or electric guitar) was featured using keyboard amps.
The Leslie speaker is famous for its "vintage" pleasing sound that is characterized by having a deep bass response, punchy mids and soft high frequencies, which are typical on this 12-inch woofer paired with horn tweeters.
By default the Leslie speaker has no distortion, however, it does have an overdrive control that you can use to make it "break" into distortion when needed.
The big size of this unit makes it ideal for a recording studio where you can just "set and forget", or a fixed stage where the speaker is always at the same place.
The speaker itself must be mixed in order to be able to use it for live performances thru a PA system.
Also, since this is an active speaker system, you must connect it to the power source.
Additional features
Leslie has built the Studio 12+ speaker to last forever. Its wood on the plastic structure is perfect for live stages where water, rain, and drinks can fall on top of it without harming it.
It weighs 85 pounds, so yes, it is heavy. Once you set it on a place, you just leave it there!
This is definitively not portable at all. It wont even fit in your car. You will need a pickup or a truck to move this unit.
Controls are crucial in this speaker. It comes with a 3-band EQ, independent gain for the solid state (clean) amp as well as the tube (overdrive) amp and speed adjustment for the rotary speakers.
Pros
Plenty of tone control with the EQ and the clean/overdrive amps.
Creative stereo effect from the rotary speakers.
Cons
Big and bulky, makes it hard to move.
Bottomline: If you play organ, keys, or guitars, and you are looking for a speaker that can yield the vintage stereo sound of the Leslie speaker in the studio or live, the Studio 12+ is your best bet!
Conclusion
Okay so here is the hard part!
If you are a professional touring keyboard player and musician, you play on different stages every night, you need something that is loud, well-built and high quality, the answer is for sure the Roland KC-200, the industry standard.
Now, if you play keys and your realm is the recording studio world, you should get the Leslie Studio 12+ because that will give you the classic and vintage stereo Leslie feel that you can apply to keyboards or even guitars!
Last, but not least, if you want an all-around solution for personal stage monitoring, portability and high output, your best bet is for sure the Behringer Eurolive B205D, no questions asked.