The AKG C414 is one of the best mics you can have in your studio. However, like other top-quality mic options, it comes at a high cost.
Aside from the price, there are other reasons why you may consider AKG C414 alternatives. It is highly sensitive, which means it will capture room reflections. This can be bad if your recording room is not well-treated.
Also, if you have different people handling your gear, there may be some accidental drops. The AKG C414 does not do well with wear and tear.
In this article, I review some AKG C414 alternatives that will give you quality audio output and fit better into your style.
Here are the top 5 alternatives to AKG C414.
5 Best Alternatives To Akg C414
Shure SM7B – Best for untreated rooms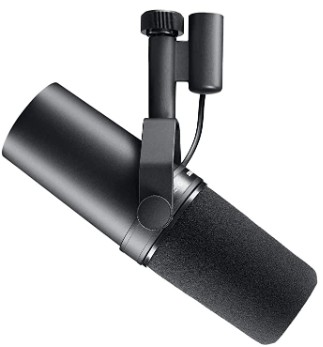 The Shure SM7B is a multipurpose microphone that works for your broadcasting, podcasting, vocal and instrumental recording, live performance, voice-over, and many more.
The mic has a solid frame that makes it durable. With its noise attenuating technology, you can be confident of taking a very clear recording whether for your vocals or instrumentals.
That's not all. The SM7B is great for recording in rooms that are not well treated for acoustics. It rejects background noise and room reflections.
The mic also comes with a pre-installed pop filter that helps to eliminate pop sounds and gives you a crisp recording.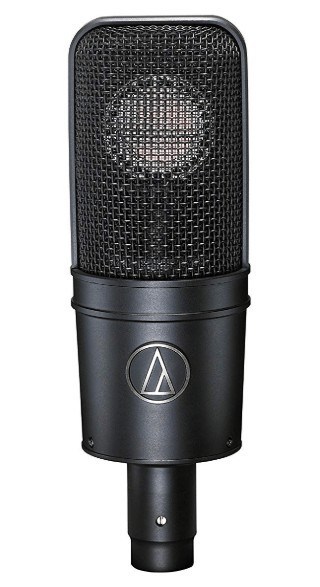 The AT 4040 is a condenser mic that can be used for studio and live purposes. The mic features a large diaphragm that captures smooth and ultra-sonic recording.
With its high SPL capabilities, dynamic wide range, and low noise circuitry, it picks all sounds cleanly. Whether you are recording a vocal or an electric guitar, you can be sure that it can handle the most demanding of your instruments.
Also, its switchable pattern gives you access to an 80Hz hi-pass filter and 10dB pad. The mic comes with a sturdy design that makes it perfect for indoor and outdoor settings.
With the shock-mount that comes with the mic, handling it for filming or video production makes it less reactive to unwanted vibrations and distortions, giving you clean audio.
Neumann TLM103 – Best for recording guitars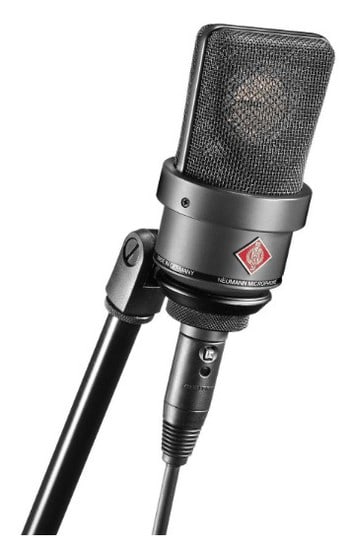 The Neumann TLM103 is a cardioid condenser mic that is ideal for studio, broadcasting, live and filming applications. The large-diaphragm FET microphone has a very low self-noise and is very sensitive which produces a warm and clear output. It's super effective when recording for quiet acoustic sources such as the acoustic guitar.
Though the mic does not have a pad or high pass filter, so it is advisable to get an elastic shock-mount and a pop filter to get the best of it.
The compatibility of the mic makes it easy for mobility. It has a stubby body and it's light in weight which makes it usable even on the go.
The mic does not have a foam windshield, but its strong double-layer mesh grille helps it in reducing popping and plosives.
Lastly, because the TLM103 is super-sensitive, it will pick room reflections if your room is not well treated for sound.
Rode NT1 – Highly durable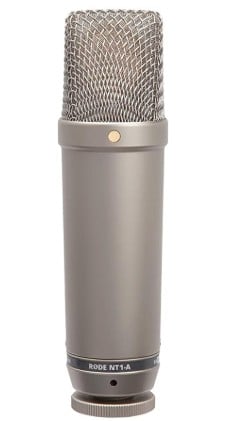 The Rode NT1 is an industry name and needs no introduction. It is a diaphragm condenser mic that does not only gives you a clear high end but also focuses on the midrange responses and its warm bass production.
The mic boasts itself as one of the industry-leading quiet microphones, boasting only 4.5Dba of self-noise.
It is a very strong and durable microphone that can deliver under any condition be it indoor or outdoor use. Its military-grade ceramic layer design makes it resistant to scratches and marks.
It also comes with a suspension shock-mount that protects the mic from unwanted vibrations when used outdoors.
HyperX Quadcast – Best for streaming and podcasting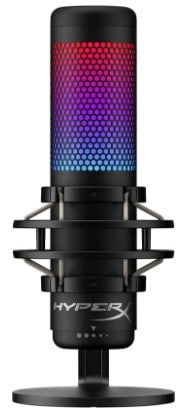 This is a mic that is also worth mentioning. It is a mic that is very common among streamers and podcasters.
Not everyone wants to record vocals or instrumentals. The Hyperx Quadcast is the ideal mic for gamers. The condenser microphone comes with an anti-vibration shock-mount that helps to reduce vibration and also a pop-filter to help reduce plosive sounds.
The mic comes with 4 selectable polar patterns, which makes it usable in any recording condition. With its led light that helps you to know your mic status, its tap to a mute function makes it user-friendly.
Being a USB-mic, you only need to plug it straight into your computer with no interface.
Wrap up
In this article, I have reviewed 5 alternatives to AKG C414.
Here are my top 3 picks:
Rode NT1 – Rode NT1 and AT4040 will not cost you too much and give you quality sound, especially for vocal and instrumental recording.
Shure SM7B – This is great if you're simply using your office or room for recording, but do not plan to do any acoustic treatments.
AT4040 – It gives you quality recording without breaking the bank.